The latest construction spending report shows activity increased nicely in May. Growth was driven by the private sector, with notable strength within residential construction. It's a development reflecting the still positive outlook for residential real estate, and it points to opportunity in recently weakened homebuilder shares.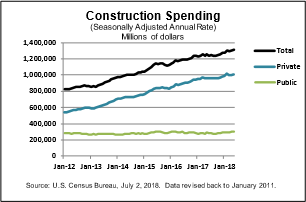 Construction Spending in May 2018
The latest construction spending data reported Monday by the U.S. Census Bureau showed the real estate recovery remains intact. Total construction spending increased 0.4% in May 2018, marking 4.5% growth year-to-year. As illustrated via the chart above, real estate construction growth was once again driven by the private sector. Private sector construction increased 0.3% month-to-month, marking 4.4% year-over-year expansion. Total public construction spending managed 0.7% growth in May and was up 4.7% on a year-to-year basis, but the public sector accounted for just 23% of total construction activity in May.
Importantly for our readers, residential construction grew nicely in May, rising 0.8% over April (which was up 0.4% over March). Within residential construction, we often focus on the single-family property market for a reading on housing generally, because it is a larger market and marks less volatility month-to-month than the multi-family unit market. The good news is that single-family residential property construction spending grew 0.6% in May and was up by a strong 8.2% year-to-year. That news sent housing stocks higher Monday, but not all.
Real Estate Relative Stock Performance
| | |
| --- | --- |
| Housing Shares vs. the Market | 07-02-18 Change |
| SPDR S&P 500 (SPY) | +0.2% |
| SPDR Homebuilders (XHB) | -0.1% |
| iShares US Home Construction (ITB) | -0.1% |
| Vanguard Real Estate (VNQ) | -0.6% |
| iShares US Real Estate (IYR) | -0.6% |
| PulteGroup (PHM) | +0.4% |
| D.R. Horton (DHI) | +0.2% |
| K.B. Home (KBH) | -4.7% |
| The Home Depot (HD) | -0.6% |
The market managed to squeeze out a gain Monday, but most real estate shares and relative ETFs lagged slightly. Note in the table here that two of the homebuilders' shares listed rose on the day and were relatively good performers. KB Home, however, lagged significantly, though investors should note that it backtracked off a large prior trading day gain. The lagged performance of other real estate and "builder" ETFs is because of their holdings, which include shares like Home Depot (NYSE: HD) and KB Home. These ETFs hold shares like HD to dilute risk. But with trade war worries atop the news wires, shares of consumer-related retailers face tighter margin prospects and are under some pressure.
Thus, if you're seeking to invest in the recovery of housing stocks off their recent short-term trough, you might want to use the shares of a broad national builder like PulteGroup (or another I'll be publishing on shortly) to get there - and avoid the ETFs for now. Or you may build a small portfolio of builder shares to reduce company specific risk, like that seen in KBH Monday.
May's construction spending change at 0.4% fell short of economists' expectations for 0.6%, which may also factored in the performance of relative shares. However, we have had other signs of health in housing to account for recently. New Home Sales for May, reported in late June, exceeded economists' expectations in rising by 6.7% to an annual pace of 689K. Housing Starts likewise exceeded economists' expectations in reaching an annual pace of 1.35 million in May, marking a 5.0% increase month-to-month.
Obviously, there's a reason housing stocks have been under pressure recently. Trade war actions and potential actions have raised the cost of some materials for builders, including for lumber and aluminum. Creeping interest rates also are a concern for the real estate sector, given they raise the cost of homeownership. However, the housing data trends remain positive for a reason as well.
Why I Still Favor Real Estate and Housing Stocks
The economy is still expanding at a good pace and is expected to continue to do so for the foreseeable future. Unemployment is very low (3.8% in May), and a fully employed America opens opportunity for the American dream of home ownership to more Americans. Regulations have been loosened on lenders, opening opportunity for more potential borrowers. Housing supply remains constrained against robust demand, and so rising costs to builders are being offset by rising home prices.
In conclusion, I continue to favor the real estate sector on a set of factors I see as conclusively net positive. Because the shares of homebuilders have slipped on recent concerns, I see opportunity in the industry's shares. I plan to provide one such specific stock recommendation in a near-term stock specific report. Readers are welcomed to follow the column here at Seeking Alpha to receive that report and all of my regular coverage of the real estate sector.
Disclosure: I/we have no positions in any stocks mentioned, and no plans to initiate any positions within the next 72 hours. I wrote this article myself, and it expresses my own opinions. I am not receiving compensation for it (other than from Seeking Alpha). I have no business relationship with any company whose stock is mentioned in this article.