Welcome to the will we have enough edition of Natural Gas Daily!
Housekeeping item first.
We expect a +77 Bcf change in the storage report for the week ended June 29. A storage report of +77 Bcf would compare with +62 Bcf last year and +70 Bcf for the 5-year average.

Source: ICE
Do We Have Enough Natural Gas In Storage For 2018 To 2019 Winter?
There seems to be a heated debate between the natural gas bulls and bears on this topic. On one end, natural gas bulls contend that with natural gas storages so low, the fact that weekly injections with the help of record warm heat are coming in at the 5-year average is fine.
On the other end, the natural gas bears contend that with production rising, even if we enter the winter withdrawal season with 300 to 500 Bcf below the 5-year average, natural gas storage will be fine by April 2019.
Who's right?
We wrote a piece previously on April 10th titled, "Do We Have Enough Gas In Storage For 2018 To 2019 Winter?" Our answer was yes, we will have enough natural gas in storage for this coming winter. But after what was 3 consecutively bullish weather months for natural gas storage, Lower 48 gas storage stands at 2.074 Tcf today. To give you an idea, we exited in April 2017 at 2.256 Tcf, and it's July today. So on the surface, the natural gas bulls make a compelling point.
However...
Here's the storage math breakdown:
We currently have injection estimates to the end of July. We estimate storage will exit July at 2.396 Tcf. From July 27 to November 2, there are 14 weeks left. If injections continue to average at the 5-year average from July 27 to November 2, natural gas storage will finish build season at 3.352 Tcf.
Now keep in mind that the weekly injections will have a very difficult time averaging at the 5-year average from the end of July to November considering that the fundamental balance is very oversupplied. If the weather outlook remains very bullish, then we can see this happening. But let's just entertain a scenario of 3.352 Tcf for the moment.
At 3.352 Tcf, we would be 477 Bcf below the 5-year average of 3.829 Tcf. A rather large deficit considering a bullish winter could really push storage lower.
But what's not being assumed in this outlook is the potential increase in Lower 48 production.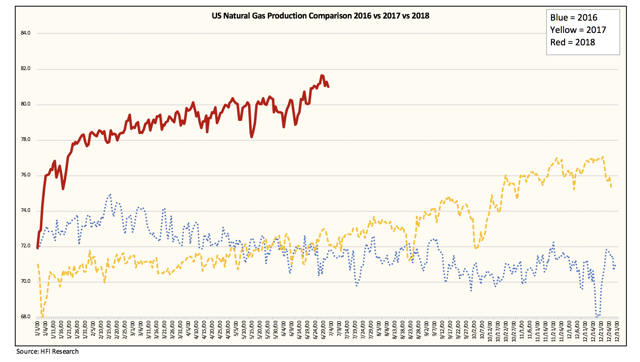 We are already seeing Lower 48 production average above 81 Bcf/d for July, and we expect the 2018-2019 winter season to show production average ~84.5 Bcf/d.
Why does factoring in production become so important in analyzing this? Because that's the variable that will keep the natural gas market well supplied even in the face of very bullish weather.
In the last winter (2017-2018), natural gas storage declined 2.455 Tcf. This was quite a large storage draw. Considering that February turned out to be mild in comparison, we could bump this figure to 2.7 Tcf for argumentative purposes.
But this is where the production difference y-o-y comes in. We estimate that net supply increase in 2018-2019 winter will be ~4 Bcf/d. Demand y-o-y will increase by ~3 Bcf/d, while production will increase by ~7 Bcf/d.
Over the span of 23 weeks in the withdrawal season, the 4 Bcf/d of higher supplies turn into 28 Bcf on a weekly basis or 644 Bcf over the course of the winter.
The theoretical cold winter of 2018-2019 with a draw potential of 2.7 Tcf would turn into 2.056 Tcf (reduction from higher net supply year over year). If storage does enter November at 3.352 Tcf, this would push natural gas storage to 1.296 Tcf by April 2019.
Considering that we were just at 1.281 Tcf in April this year and natural gas prices remain subdued below $3/MMBtu, you can see why we are leaning on the side that there will be enough natural gas in storage for this coming winter.
HFI Research Natural Gas
Thank you for reading. If you have historically found our public natural gas articles insightful, you will certainly find our premium write-ups to be even better now. We have made major improvements over the last year incorporating a dedicated section on weather, trader commentary, and fundamentals. Now we are introducing what we would do with our positioning. If you are interested, you can see here more info.