Waddell & Reed's (NYSE:NYSE:WDR) AUM reached $135.6B in Q2 2014 and has been declining ever since. Naturally, revenues, earnings and dividends fell as well and a violent selloff of the company's stock followed. As of May 2018, WDR's AUM stands slightly below the $80B mark, down more than 40% from the 2014 peak. Following a revenue decline of almost 29% between 2014 and 2017, net income is down by more than 50% during the same period.
Why invest in a business that appears to be in a permanent decline, you may ask? Because there's always a very good reason not to buy a value stock. If, however, the company meets a certain criteria, the value investor buys the stock anyway. That is what it means to be a contrarian. And in our case, WDR gets an A on a lot of my tests.
First, let's take a look at past performance, which is the best indicator of the future we can possibly get.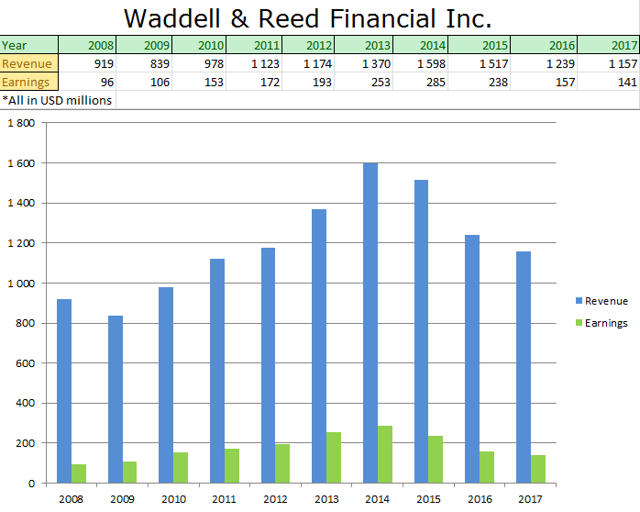 Source: Waddell & Reed Annual Reports
WDR has been profitable in each of the past 10 years, maintaining pretty decent profit margins the whole time and even increasing its top and bottom lines until 2013. The last three years have been somewhat of a company crisis, without which the stock would probably not be on sale right now.
Another negative to WDR's business is the investing public's switch from active to passive, low-cost investment strategies. The bull market is in its 10th year now, and buying an ETF based on the S&P 500 seems like a no brainer to the inexperienced majority of investors. In times like these it's important to remember that no trend lasts forever. As the great Peter Lynch once wrote "stocks are most likely to be accepted as prudent at the moment they're not." That's why he advised to invest in companies, not in the stock market. The S&P 500 currently has a P/E of 27 and the ETF industry is booming. Waddell & Reed, on the other hand, is left for dead at a forward P/E below 9.
But its low valuation is not the only reason I like WDR. 2017 total AUM actually stood slightly higher than in 2016, which suggests the company is finally putting the leak under control. In addition, WDR's performance is quite solid in terms of margins and returns, despite the recent pressures the company has been put under.
The calculations below are based on WDR's average results in 2017, 2016 and 2015. First, I do not believe that a single year is any guide, and second, the last three years allow us to see how Waddell & Reed looks like in a crisis.
Being an asset manager means low capital expenditures and amortization expenses. The company's interest expenses averaged 4.15% of the operating income in the discussed period, but given that the company recently reduced its debt load in half, it follows we can expect even smaller interest payments in the future. As of March 31, 2018, Waddell & Reed's debt to equity ratio is just 10.7%.
The declines in AUM and revenues have put the company's net profit margin under pressure, but it is still well above 10% - 12.1% in 2017, to be exact. This led to very decent ROA and ROE ratios of 13.9% and 23.6%, respectively, for the discussed three-year period. The ROA and ROE figures for 2017 alone are not that spectacular, but WDR's free cash flow last year actually exceeded its net income by $48 million, which I believe means the company is even more undervalued than the P/E suggests.
Furthermore, Waddell & Reed is returning money to shareholders at a very generous pace. The company has a dividend yield of 5.4% and also is regularly buying back its own stock.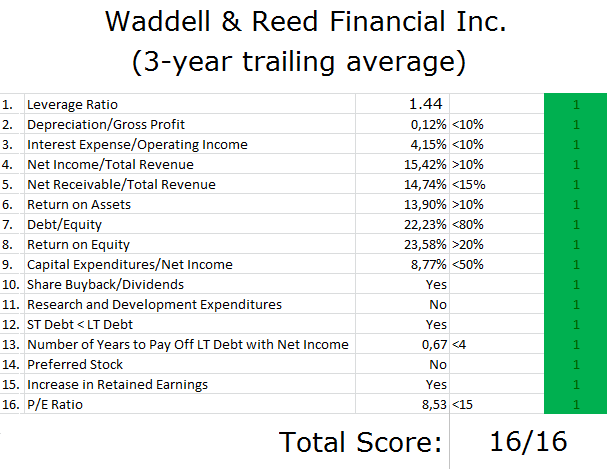 Source: Waddell & Reed Annual Reports
The table above summarizes all the number crunching so far and allows me to conclude that despite the headwinds the asset management industry at large and WDR in particular have been facing in recent years, the company is still strong enough to satisfy the value investor's taste.
Now let's pay attention to the current year. Following an earnings and revenue beat in Q1, analyst estimates suggest WDR is going to earn $2.11 per share in 2018, $2.07 in 2019 and return to growth in 2020.
Even if we assume the company won't make more than $2 per share in the next 10 years and attach a 10% discount rate, the discounted cash flow model still tells us the company is worth $25.95 a share, giving us a 28% margin of safety. Going with not-so-pessimistic assumptions point to an even bigger MOS. For example, a 5% growth rate and 3% terminal growth rate lead to $33.45 fair value for the stock.

Source: DCF Calculator by GuruFocus
Conclusion
Waddell & Reed has been heavily hit by "the market knows best" attitude that always grasps the investing public near all-time highs. I bet that retail investors will rush to bring their money back to the professionals as soon as the market starts to tank, which will inevitably happen sooner or later.
In the meantime, WDR is a profitable, FCF-positive and conservatively financed dividend payer, which trades at an attractive P/E ratio not only against its peer group, but in absolute terms as well.
That said, I do not expect it to start rising immediately. As the famous Walter Schloss said, "when you buy a depressed company it's not going to go up right after you buy it, believe me." Given all the negativism around it, I would not be surprised if Mr. Market drags the stock price to a new low before the bulls return. In my opinion, any weakness from now on should be seen as a buying opportunity by the long-term value investor.
If you liked this article, please do not forget to hit the "follow" button!