Mr. Market does not react in a consistent way to fundamentals, which is to say that it does not consistently react to economic data the way we logically think it should. Without consistency, there can be no prediction, and that's why we do not place much emphasis on fundamentals when assessing the direction of the market. While we keep an eye on the economy, we rely more on patterns in the market data that have some degree of consistent repetition through time. These patterns tend to be connected to irrational emotions that are so primitive and ingrained in humans as to be imprinted in our DNA itself. That cannot be said about any economic system. The markets that have the greatest potential for growth are those that have a healthy amount of skepticism, while at the same time, fundamentals that are expanding. That is where we are today -middle-of-the-road fear sentiment, and an expanding business cycle.
Fundamentals
GDP growth continues to expand, as the Atlanta Fed GDPNow model and the Blue Chip consensus both show in the chart below.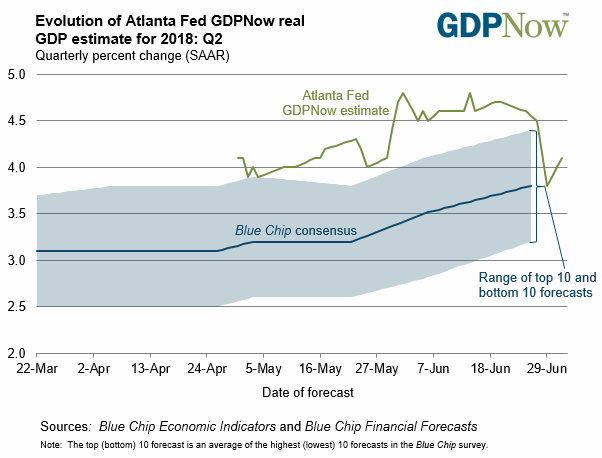 Even if the Fed's very strong 4.1% GDP increase prediction ends up not being met, the average consensus of 3.8% GDP growth is still solid and healthy. Since most (about 70%) of the economy is consumer driven, an important number to look at is the real disposable personal income (chart below).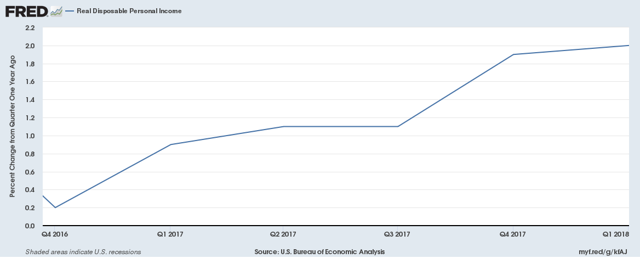 The fact that the "rate of increase" itself is increasing is a strong signal of economic growth. Real disposable income was increasing at a rate of 0.2% at the start of 2017 and is now increasing 10x faster at 2.0%. Industry sales (manufacturing and trade) continue to push higher, demonstrating ongoing economic growth (chart below).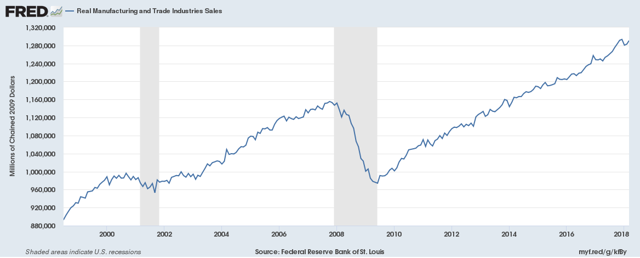 Industrial production continues to grow after the 2015 decrease. Growing industrial production correlates strongly with a rallying equity market (chart below).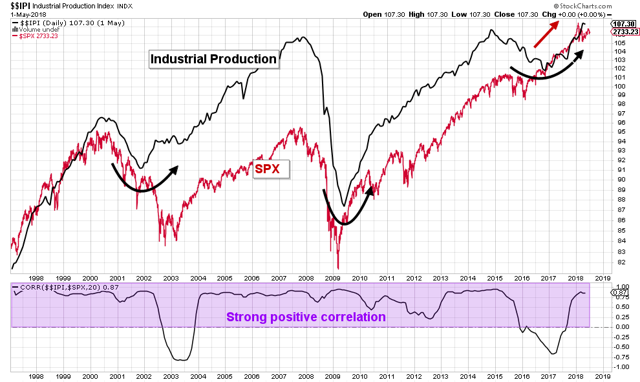 Sentiment
the AAII weekly survey organizes its data into bullish, neutral, and bearish sentiment. We like to take the bull-minus-bear sentiment differential percentages (one of our metrics) to gauge the amount of fear or optimism in the market. About 60% of the local market tops have occurred when the differential was above +40%, while only +16% occurred when it was below +15%, and no tops occurred when the differential was below 0%. The latest survey has the differential at -12%. This is a bullish level of fear (chart below).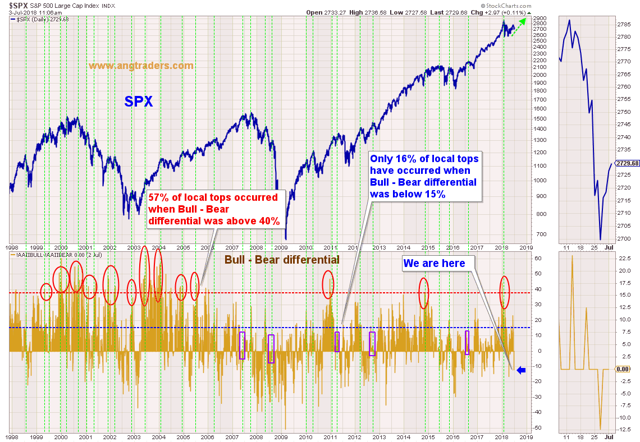 Another sentiment indicator is the CNN Fear and Greed index which combines seven different metrics. It is registering a healthy amount of fear with a reading of 36 (chart below).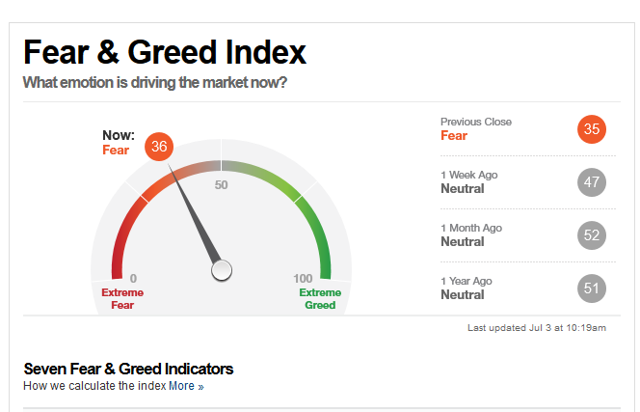 The point we are trying to make is that even though fundamentals cannot be relied on to explain, or predict market movements, when combined with the true driver of markets, sentiment, positive fundamentals provide support for the market as it uses the proverbial wall of worry like a climbing frame to reach new highs. Positive fundamentals and cautious sentiment provide the perfect conditions for a bull market.
Disclosure: I/we have no positions in any stocks mentioned, and no plans to initiate any positions within the next 72 hours.