Back in 2015, I wrote an article arguing the Danish stock market index (OMX Copenhagen 20 Index) to be significantly overvalued at the time.
At the time, the cyclically-adjusted P/E ratio (CAPE ratio) of the index was 36.7, which was significantly higher than the average of 20.5 for Nordic countries at the time. Moreover, with the healthcare sector accounting for almost 60% of all the stock on the OMXC20 index, overall returns were being significantly skewed by individual stock gains from this sector.
On an overall basis, we see that there has been little gain from 2015 levels on a holistic basis, with the index descending to a low of 800, before climbing back to 957.44 at the time of writing: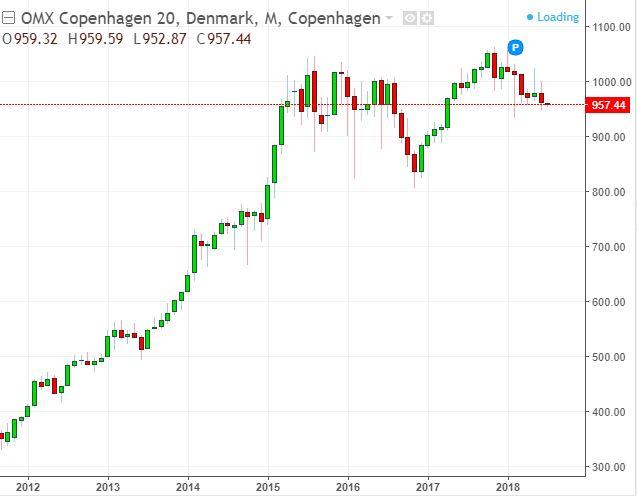 Denmark's CAPE ratio remains quite high at 34.6x, compared to that of 25.3x for Developed Markets and 18.9x for Developed Europe.
From a valuation perspective, there's little case for any upside on the OMXC20 at this point in time. Stock market valuations elsewhere in Europe are far cheaper, and we are not seeing any growth to justify the high valuation.
Even with negative interest rates being held for longer than any other country in Europe, Danes are still saving at record rates. Therefore, it's not surprising that we have seen stagnation in the index, as investors are reluctant to place their savings into equities and the gap between private consumption and household wealth has spiked.
We see that inflation has yet to return to pre-2012 levels, and the unemployment rate of 4% has largely leveled off since 2016: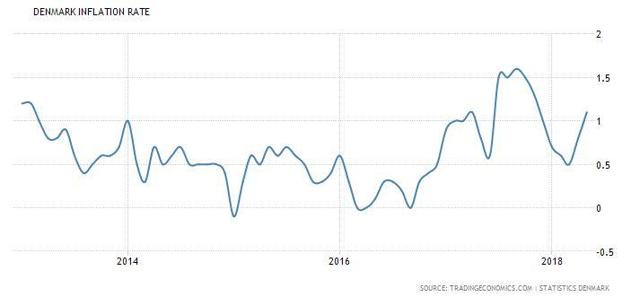 (Source: Trading Economics)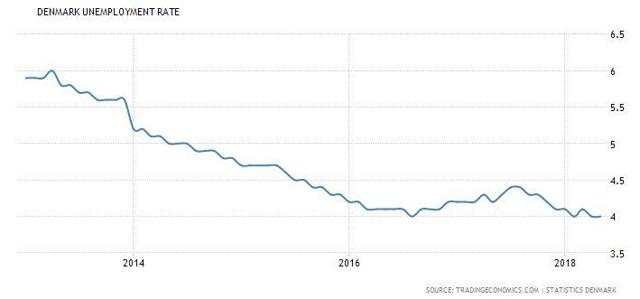 (Source: Trading Economics)
However, could Denmark's saving anomaly potentially make its stock market more attractive in the long run? After all, the country is in a financially healthy position, even if the Danes may be saving up for a rainy day.
For instance, we have seen that since 2016, the German DAX index is up by over 22%, while that of the OMXC20 has declined by nearly 3% overall: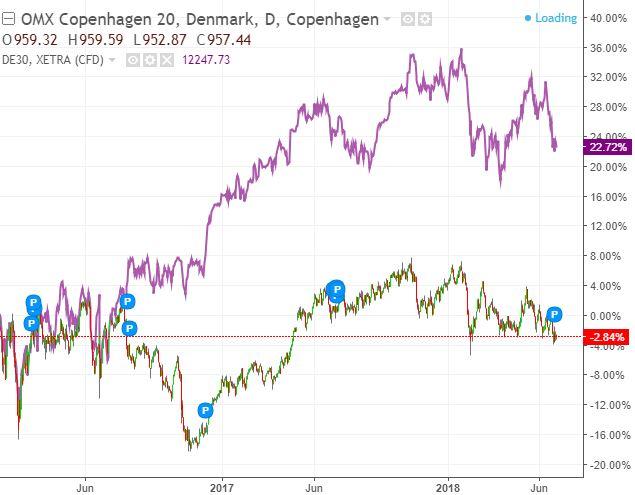 Eventually, stock markets in Europe will reach a peak in terms of their growth, and given an eventual increase in consumer spending in Denmark, this is likely to have a significantly positive impact on company earnings - concurrently lowering the CAPE ratio, while seeing steady gains on the index itself. While the savings rate in Denmark is quite high, consumer spending has been rising steadily since 2015: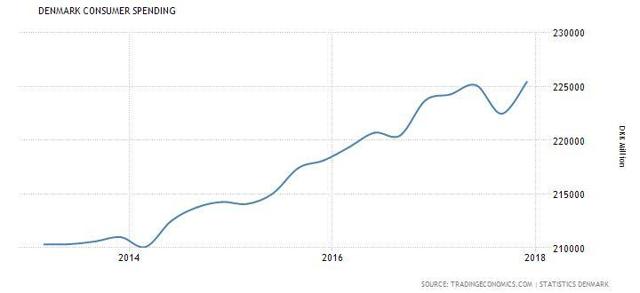 (Source: Trading Economics)
To conclude, while Denmark's stock market may be overvalued at this point in time, I would still take a long-term bullish view on the index. Once consumer spending picks up significantly - which it can, given the high savings rate - then we can expect that the index will rise significantly as gains across other European indices start to moderate.
Disclosure: I/we have no positions in any stocks mentioned, and no plans to initiate any positions within the next 72 hours.
I wrote this article myself, and it expresses my own opinions. I am not receiving compensation for it (other than from Seeking Alpha). I have no business relationship with any company whose stock is mentioned in this article.
Additional disclosure: This article is written on an "as is" basis and without warranty. The content represents my opinion only and in no way constitutes professional investment advice. It is the responsibility of the reader to conduct their due diligence and seek investment advice from a licensed professional before making any investment decisions.