Key points
Rising economic uncertainty argues for exposure to higher-quality positions in credit.
Global equity markets fell last week, and oil prices rose. The U.S. dollar strengthened. China's Shanghai Composite Index entered a bear market.
The June U.S. employment report is unlikely to sway the Federal Reserve from raising rates one to two more times this year.
The range of possible economic outcomes is widening, arguing for building higher quality ballast into portfolios. One way we advocate doing this: exposure to investment grade bonds.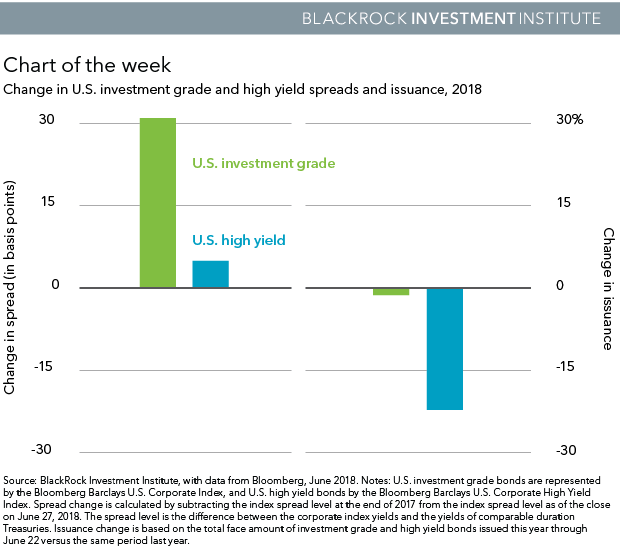 Investment grade (IG) bonds typically outperform their high yield counterparts when uncertainty rises, given their higher quality and lower default risks. The chart above shows this hasn't been the case lately thanks largely to issuance trends. The bars on the left depict the recent underperformance of IG. Yield spreads have widened versus Treasuries, putting downward pressure on prices. The move in the high yield market has been much more muted. The bars on the right show why. Actual, and anticipated, IG issuance has rapidly escalated amid a surge in mergers and acquisitions (M&A) activity, particularly in the media sector (overall IG issuance is still down just over 1% due to large repatriated cash balances providing less incentive to issue debt). Yet high yield issuance has slumped. The shrinking high yield market is not part of the M&A boom, and many high yield firms are issuing via loans rather than bonds.
An alternative to "TINA"
IG issuers' greater global exposure versus high yield issuers may also be playing a role in these performance trends as trade tensions rise. The trends have been exacerbated by a changing interest rate environment: IG issuers are wanting more debt funding in a more demanding environment. Rising short-term rates have increased competition for capital, posing a sea change for U.S. dollar-based investors. There is less need to stretch for yield when dollar-based investors can get above-inflation returns in short-term "risk-free" debt. Case in point: Hefty outflows from emerging market debt funds - contrasted with U.S. money fund assets up by $203 billion year over year, according to the Investment Company Institute. Investors now have an option other than "TINA" (there is no alternative).
Higher short-term rates may be here to stay, but we expect quality exposures to reassert their typical resilient nature following the recent surge in actual, and expected, IG issuance. We view the recent uptick as a temporary supply shock. It partly reflects a shift in issuance expectations after a mega media merger was given the green light. Yet for IG underperformance to persist, we would need to see a sustained rise in issuance expectations. We view this scenario as unlikely as the recent mega-merger news was a one-time event. Against this backdrop, investment grade valuations have become more attractive relative to those of high yield. Yields for short-maturity investment grade corporates are now well above the level of U.S. inflation. We see these assets again playing their traditional portfolio role - principal preservation, especially in an increasingly uncertain macro environment.
Our base case is that the post-crisis cycle still has room to run. Yet uncertainty around the growth outlook has widened, with the U.S. stimulus' boost to activity on one side - and trade war risks on the other. This greater uncertainty − along with rising interest rates − has contributed to tightening financial conditions and argues for higher-quality ballast in portfolios.
Week in review
Global equity markets fell for much of the week, led by technology stocks. Energy stocks outperformed as oil prices rallied on prospects of reduced supply. Government bond yields declined, and the U.S. dollar strengthened.
The Shanghai Composite Index entered bear market territory, and China's yuan weakened versus the U.S. dollar. U.S. President Donald Trump pushed back the implementation of investment restrictions that would have limited Chinese investment in U.S. technology. The administration will instead rely on existing processes to review China's investments. Prolonged tit-for-tat threatens to weigh on business confidence and lead companies to delay investment and spending.
European Union (EU) leaders struck a deal on a stop gap agreement that signals a more united approach to immigration. It should help to ease political tensions between the EU and Italy and within the German coalition.
Week ahead
| Date: | Event |
| --- | --- |
| July 2 | U.S. ISM manufacturing index |
| July 4 | Japan Nikkei services PMI; Germany services PMI |
| July 5 | U.S. ISM non-manufacturing index, FOMC minutes |
| July 6 | U.S. employment report, U.S. tariffs on $34 billion of Chinese goods take effect; Germany industrial production |
The U.S. employment report for June is likely to keep the Fed's policy path on track for 2018, with one to two more rate increases this year. Average hourly earnings growth in the U.S. hit a 2.7% annual growth rate last month, and economists expect a slight tick up in June, reinforcing an outlook for inflation to tick higher. U.S. nonfarm payroll growth is seen moderating in June from the strong May number, with retail job cuts and store closures posing potential drags. Consensus estimates point to gains of 198,000, down from May's better-than-expected 223,000 but still above the average rate over the prior 12 months as of May.
Global snapshot
Weekly and 12-month performance of selected assets
| Equities | Week | YTD | 12 Months | Div. Yield |
| --- | --- | --- | --- | --- |
| U.S. Large Caps | -1.3% | 1.7% | 12.3% | 2.0% |
| U.S. Small Caps | -2.5% | 7.7% | 17.5% | 1.2% |
| Non-U.S. World | -1.0% | -3.8% | 6.7% | 3.2% |
| Non-U.S. Developed | -1.0% | -2.7% | 6.1% | 3.4% |
| Japan | -1.4% | -2.0% | 9.9% | 2.3% |
| Emerging | -1.5% | -6.7% | 7.9% | 2.9% |
| Asia ex-Japan | -2.2% | -4.8% | 9.4% | 2.7% |
| Bonds | Week | YTD | 12 Months | Yield |
| --- | --- | --- | --- | --- |
| U.S. Treasuries | 0.4% | -1.1% | -0.8% | 2.9% |
| U.S. TIPS | 0.4% | 0.0% | 1.9% | 3.0% |
| U.S. Investment Grade | 0.4% | -3.3% | -1.0% | 4.0% |
| U.S. High Yield | -0.5% | 0.2% | 2.7% | 6.5% |
| U.S. Municipals | 0.1% | -0.2% | 1.5% | 2.7% |
| Non-U.S. Developed | 0.0% | -1.3% | 2.6% | 0.9% |
| Emerging Market $ Bonds | -0.4% | -5.2% | -1.7% | 6.5% |
| Commodities | Week | YTD | 12 Months | Level |
| --- | --- | --- | --- | --- |
| Brent Crude Oil | 5.1% | 18.8% | 67.5% | $79.44 |
| Gold | -1.4% | -3.9% | 0.6% | $1,253 |
| Copper | -2.4% | -8.6% | 11.5% | $6,626 |
| Currencies | Week | YTD | 12 Months | Level |
| --- | --- | --- | --- | --- |
| Euro/USD | 0.3% | -2.7% | 2.1% | 1.17 |
| USD/Yen | 0.7% | -1.7% | -1.3% | 110.76 |
| Pound/USD | -0.4% | -2.3% | 1.5% | 1.32 |
Source: Bloomberg. As of June 29, 2018
Notes: Weekly data through Friday. Equity and bond performance are measured in total index returns in U.S. dollars. U.S. large caps are represented by the S&P 500 Index; U.S. small caps are represented by the Russell 2000 Index; Non-U.S. world equity by the MSCI ACWI ex U.S.; non-U.S. developed equity by the MSCI EAFE Index; Japan, Emerging and Asia ex-Japan by their respective MSCI Indexes; U.S. Treasuries by the Bloomberg Barclays U.S. Treasury Index; U.S. TIPS by the U.S. Treasury Inflation Notes Total Return Index; U.S. investment grade by the Bloomberg Barclays U.S. Corporate Index; U.S. high yield by the Bloomberg Barclays U.S. Corporate High Yield 2% Issuer Capped Index; U.S. municipals by the Bloomberg Barclays Municipal Bond Index; non-U.S. developed bonds by the Bloomberg Barclays Global Aggregate ex USD; and emerging market $ bonds by the JP Morgan EMBI Global Diversified Index. Brent crude oil prices are in U.S. dollars per barrel, gold prices are in U.S. dollar per troy ounce and copper prices are in U.S. dollar per metric ton. The Euro/USD level is represented by U.S. dollar per euro, USD/JPY by yen per U.S. dollar and Pound/USD by U.S. dollar per pound. Index performance is shown for illustrative purposes only. It is not possible to invest directly in an index. Past performance is not indicative of future results.
Asset class views
Views from a U.S. dollar perspective over a three-month horizon
Asset Class
View
Comments
Equities
U.S.
Extraordinarily strong earnings momentum, corporate tax cuts and fiscal stimulus underpin our positive view. We see scope for the momentum factor to outperform further and like financials and technology.
Europe
We see a sustained global expansion supporting cyclical sectors. The moderation in domestic growth and rise in political risks pose headwinds for earnings, especially for banks.
Japan
Positives are improving global growth, more shareholder-friendly corporate behavior and solid earnings. We see Bank of Japan policy buying as supportive. Any yen appreciation would be a risk.
EM
Economic reforms, improving corporate fundamentals and reasonable valuations support EM stocks. Above-trend expansion in the developed world is another positive. Risks include a further sharp rise in the U.S. dollar, trade tensions and elections. We see the greatest opportunities in EM Asia.
Asia ex Japan
The economic backdrop is encouraging. China's growth and corporate earnings are solid. We like selected Southeast Asian markets but recognize a faster-than-expected Chinese slowdown or disruptions in global trade would pose risks to the entire region.
Fixed Income
U.S. government bonds
We see rates rising moderately amid economic expansion and Fed normalization. Shorter maturities offer a more compelling risk/reward tradeoff. They and inflation-linked securities can be buffers against rising rates and inflation. We like 15-year mortgages relative to their 30-year counterparts and to short-term corporates.
U.S. municipals
Solid retail investor demand and muted supply are supportive of munis, but rising rates weigh on absolute performance. A more defensive stance is warranted near term, we believe, though any material weakness due to supply may represent a buying opportunity. We favor a barbell approach focused on two- and 20-year maturities.
U.S. credit
Sustained growth supports credit, but high valuations limit upside. We prefer up-in-quality exposures as ballast to equity risk. Higher-quality floating rate instruments and shorter maturities are well positioned for rising rates, in our view.
European sovereigns
The ECB's negative interest rate policy has made yields unattractive and vulnerable to the improving growth outlook. We expect core eurozone yields to rise. We are cautious on peripherals given tight valuations, political risks in Italy and the prospect of the ECB reducing its asset purchases.
European credit
Recent spread widening driven by increased issuance has created some value, while ongoing ECB purchases should support the asset class. Negative rates have crimped absolute yields - but rising rate differentials make currency-hedged positions increasingly attractive for U.S.-dollar investors. Subordinated financial debt looks less compelling versus equities after a strong 2017.
EM debt
Recent price moves have improved the valuations of hard-currency debt, increasing the relative attractiveness both to local-currency bonds and to developed market corporates. Further support for valuations comes from slowing supply and strong EM fundamentals. Trade fears or geopolitical risks prompting a rapid tightening of global financial conditions represent downside risks.
Asia fixed income
Regional growth and inflation dynamics are supportive of credit. China's rising representation in the region's bond universe reflects its growing credit market. Higher-quality growth and a focus on financial sector reform are long-term positives, but any China growth slowdown would be a near-term challenge.
Other
Commodities and currencies
*
Declining global crude inventories underpin oil prices, with geopolitical tensions providing further support. We are neutral on the U.S. dollar. Factors driving its recent strengthening are likely temporary, but higher global uncertainty and a widening U.S. yield differential with other economies may provide support.

* Given the breadth of this category, we do not offer a consolidated view.
This post originally appeared on the BlackRock Blog.