The additional fiscal stimulus of boosting government spending and reducing income taxes have caused the economy to speed up rapidly, bringing GDP forecasts for 2Q and fiscal year 2018 higher along with pushing unemployment to 40-year lows.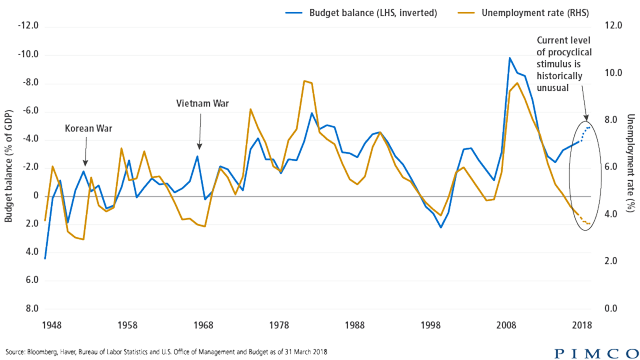 These conditions will lift the economy in the short term but will likely be the cause of an economic slow-down in the long run, as evidenced by the fact that, after 2020, the Fed and IMF sees the economy rising at only 1.8% and unemployment rising to 4.5% (up from 3.5% in 2020).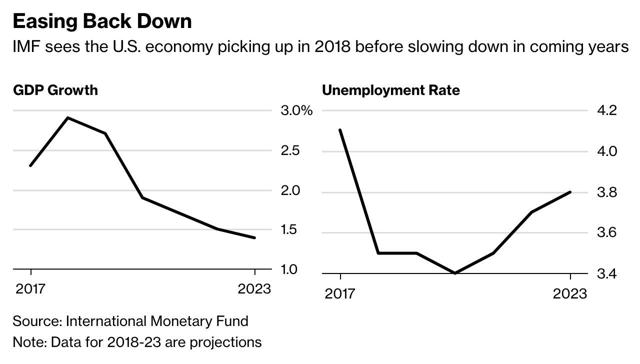 The unemployment shortage creates the risk of inflation getting out of control because the U.S. economy is currently operating under unfavorable conditions for employees, with a total of 6,700,000 job openings and 6,400,000 employers available. This situation is appearing for the first time in U.S. history.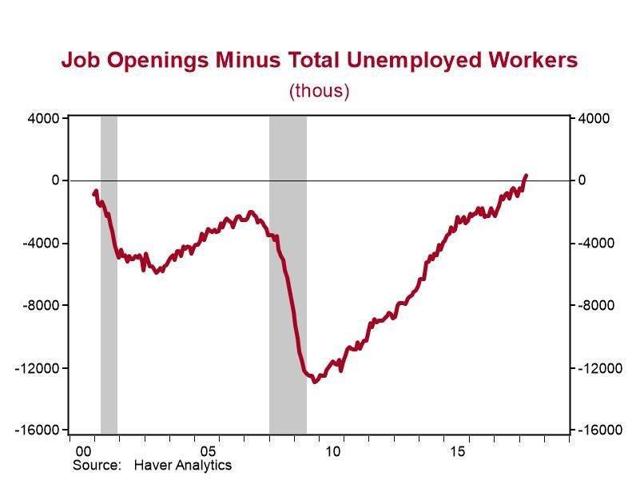 Under these circumstances, firms have to increase worker compensation in order to be able to hire high-quality specialists. As the expense of salaries constitutes a big part of a companies' total operational expenses, it's likely these conditions will lift inflation over the Fed's target of 2%. Without corresponding actions from the Fed, there is a risk that price growth will get out of control, which will be disruptive to the economy.
On the other hand, continuing the monetary policy of tightening in order to keep inflation in an acceptable range will likely push the spread between 2Y and 10Y yields towards flattening, which has historically been a really good indicator of a recession appearing, as the cost of money can't be the same for 2 years and 10 years maturity.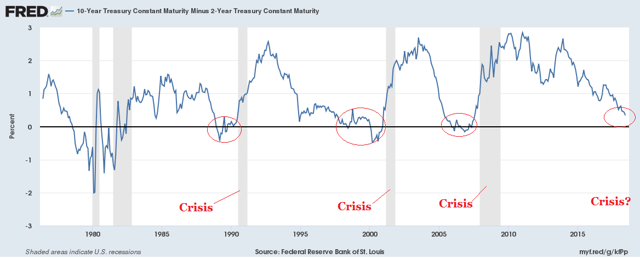 A flattening curve appears in situations where investors see some short-term risk and decide to sell short-term assets and relocate their capital into assets with a longer maturity term, where they see the economic situation normalizing (in the current situation - inflation growth and trade issues). The outflows from short-term bonds rise, lifting yields higher and inflows into long-term assets push yields down. As a result, the yield curve flattens.
The Fed stands at a tough decision where a lack of action will create the risk of uncontrolled inflation in an overheated economy and taking action will cause the yield curve to flatten, indicating an economy in disbalance.
Disclosure: I/we have no positions in any stocks mentioned, and no plans to initiate any positions within the next 72 hours.
I wrote this article myself, and it expresses my own opinions. I am not receiving compensation for it (other than from Seeking Alpha). I have no business relationship with any company whose stock is mentioned in this article.