It's time for the monthly dividend income update. As always, you can find the updated info at any time here Dividend Income Spreadsheet and the Portfolio Spreadsheet.
Summary
Dividend Income for June 2018: $210
Year to year growth: 499%
Purchased 27 Dominion Energy (D) at $67
Purchased 40 shares of Investor AB B at 360 SEK
Reinvested dividend into Veidekke (OTCPK:VDEKF)
Got hit by a typhoon and was stranded in Okinawa
Travelling to Seoul in South Korea
Living While Saving
I wonder what it would be like to live in a world where it was always June - L. M. Montgomery
June is now in the books and it's been a good month. As I wrote in my past dividend income update, I went on a trip with some friends to the west of Japan. First, we rented a car and went to Fukuoka and Nagasaki. Man, starting the day going to The Nagasaki Atomic Bomb Museum was hard. It was truly heartbreaking reading the stories from people and imagining the profound hopelessness people must have felt. I'm sure our experience even got strengthened since we travelled with a Japanese friend.
To recover, we went to the beach and bought a few bottles of tequila. You can imagine the rest of the story.
The trip to Okinawa, which is Japan's version of Hawaii, was amazing. Once again, we rented a car and drove all over the island. However, a typhoon hit us quite early, but who cares when you have cheap alcohol and the world cup?
This week, I'm heading to Seoul in South Korea to check out the food and hopefully, I'll be able to take a look at what's happening at the border to North Korea. Let's hope they don't catch me.
Dividend Income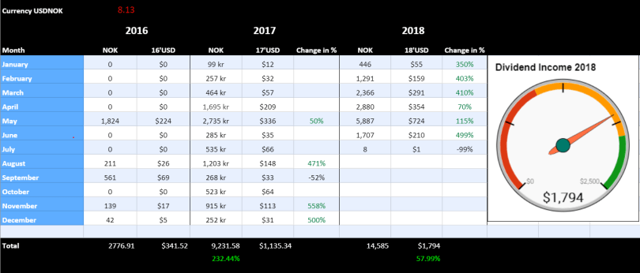 The total dividend income for June landed on $210 which is a 499% increase from June 2017. The total dividend for 2018 is now 14585 NOK or $1729 which means a 57.99% increase from 2017.
For the income per month, day, and hour, as well as the SleepMoneyTotal, go here Dividend Income Spreadsheet.
To summarize, the monthly income has gone from $233 to $245 in 2018, from $248 to $261 in 2019, and $265 to $278 in 2020. In 2020, I should get around $3300. That's awesome, and I'm sure the real number when considering new investments and dividend reinvesting will be $4000. That's pretty cool.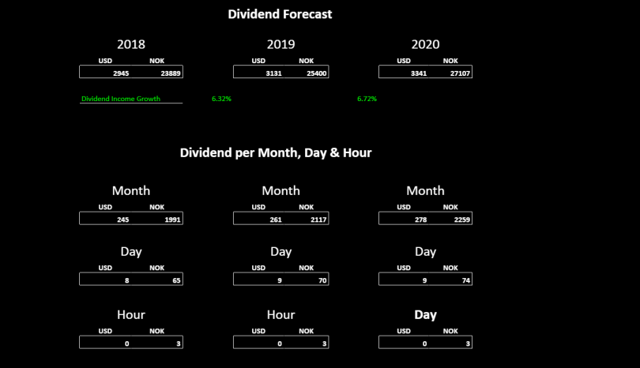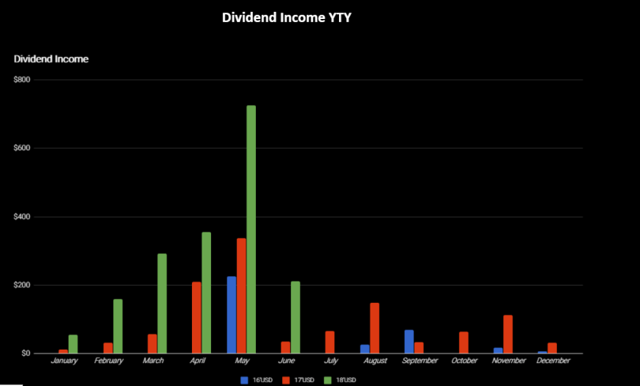 Purchases
I added 27 shares of Dominion Energy at $67 since I think it's a very good long-term holding. When Dominion trades around $62, the yield was a 20-year all-time low. In general, Consumer Staples and Utilities were at one point in a very negative momentum. Now, it seems like they rebounded a bit. Why? Because of the trade war between US and China. People will always move equity from risky to less risky investments when they get scared or feel that the future outlook is weaker.
I added to the long-term investment firm Investor AB by buying 40 shares when the discount to NAV was 28%. They hold many high-quality companies and have done very good when one compares against the Swedish index.