Editor's note: Seeking Alpha is proud to welcome Ivan Struk as a new contributor. It's easy to become a Seeking Alpha contributor and earn money for your best investment ideas. Active contributors also get free access to the SA PRO archive. Click here to find out more »
Emerging Markets Di-worsification
In the search for portfolio diversification, many investors like to shift their exposure outside the domestic market. Financial planners have always talked about how owning too much of your own employer's stock is a dangerous gamble - the same turmoil that might send shares down may kick the holder out the door. So, many investors have taken it upon themselves to diversify their portfolios outside the ramifications of domestic equity. Products such as the iShares MSCI Emerging Markets ETF (EEM) or the Invesco Emerging Markets Sovereign Debt Portfolio ETF (PCY) can offer investors the exposure they desire to foreign markets in equity and debt.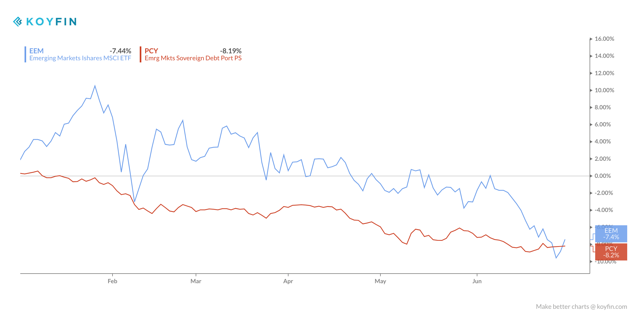 However, emerging market ETFs have seen a poor year so far, failing to live up to investor expectations and effectively diworsifying portfolios. The poor performance warranted investors discussing the actual efficacy in using EM ETFs during times of political unrest and economic instability in the underlying assets' nations.
Emerging market ETFs expose themselves to nations that are still subject to great political risk, which greatly impacts the fund's holdings. In emerging markets, it is often impossible for a company to warrant investor attention through its growth without having undertaken some political risk in achieving said growth.
The Staple EM Basket
A discussion of emerging markets is seldom complete without the mention of Turkey, Brazil, South Korea, and China. The performance of equity from these nations has been poor YTD. However, there may still be upside for some nations going into Q3.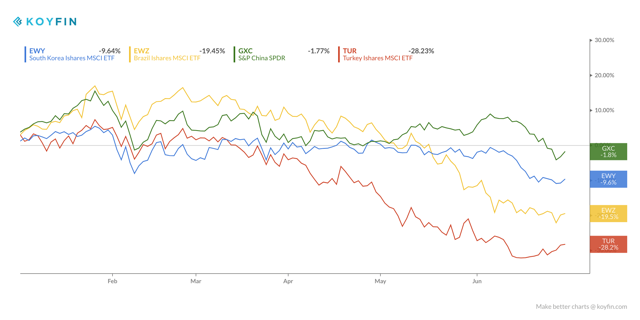 Turkey, a country that has been a staple of many emerging market portfolios, has dealt with close to 21% devaluation of the Lira against the US dollar since the start of the year that has put a strain on equity and debt markets. Economic instability has clearly reflected in the iShares MSCI Turkey ETF (TUR).
The re-election of Turkey's president, Recep Erdogan, has been poorly received by international investors, many of whom blame the leader for high corporate debt, interest rates, and inflation. TUR offers an exposure to 60+ Turkish assets with 33% exposure in the financial sector, which has weighed down the fund's value. Meanwhile, the political scene in Turkey has drifted further into what looks to be an increasingly autocratic regime. Foreign investors, who own 64% of Turkish-listed equities, have retreated, pulling out capital due to a fear of the unknown. For now, TUR remains an uncertain play that is best avoided. Several assets under the TUR umbrella may constitute a value investment at currently fallen valuations backed by the strong buying power of the dollar. However, it would be wiser to await and assess Erdogan's fiscal policies before committing to the Turkish ETF.
Brazilian company shares also remain under pressure as the weakening Brazilian real puts a dent in the iShares MSCI Brazil Capped ETF (EWZ). Last Wednesday, EWZ fell as much as 3.6% on the announcement of the Brazilian Central Bank cutting its 2018 GDP forecast from 2.6% to 1.6%.
Almost 10% of EWZ holdings are exposed to Petróleo Brasileiro S.A. (PBR), the Brazilian multinational oil company. Petrobras, an integral part of Brazil's economy, proved to be a pushover as it's administration was forced into restructuring due to countrywide protests in June over high fuel prices. Tension throughout the Brazilian economy is poised play a large role in the upcoming October election, with many reformist and extremist candidates taking to the field. Former president Luiz Inácio Lula da Silva - originally favoured to win - was excluded from preliminary polls, as he is serving time in prison for corruption and money laundering. Jair Bolsonaro now aims to capture most of the votes in what would mark a period of right-wing policies uncomfortable with capitalist markets. Investors should remain wary of the markets pricing in potential victories closer to the elections and await results.
While previously escalating tensions between North Korea and South Korea have played a large role in the iShares MSCI South Korea Capped ETF (EWY), despite political de-escalation Q2 has still left investors with a bitter taste in their mouths.
Despite a lacklustre second quarter, EWY may start turning heads soon. EWY is essentially a diversified technology portfolio that has been hammered by speculative geopolitical tensions. South Korea's technology sector is growing, and the government aims to ensure its growth is organic and sustainable. Although EWY currently represents a good buying opportunity for an investor wishing to expose themselves to Korean tech, trade war implications remain key obstacles in the fund's future performance. The US is South Korea's largest western export partner, accounting for 14% of total exports. US tariffs on automotive imports would greatly weigh down the ETF, which lists Hyundai (OTCPK:HYMLF) as one of its major holdings. Additionally, an escalated trade war between the US and China would also hurt South Korea's economy, as China is the nation's largest beneficiary of exports (24%) and mostly acts an intermediary for exporting the same products to the US. EWY remains a solid investment in the event of de-escalation of trade tensions and provides adequate exposure to South Korean tech.
Finally, Chinese companies have had to deal with a myriad of obstacles since the start of 2018 that have spanned across most industries. Hong Kong and China make up 31.59% of the EEM ETF exposure. Investors are pricing in the effect of trade wars into Chinese equity, and all factors point to things getting worse before they better. President Trump has repeatedly announced his plans to crack down on Chinese imports, limit investment in select US technology, and has expressed desires to get in the way of China's aspiration of expanding its global technology footprint. While these threats have iterated through countless investors' minds and caused enough selling to reflect noticeably on the iShares China Large-Cap ETF (FXI) and the aforementioned broad ETF EEM, many investors are taking a moment to collect their thoughts before deciding how to act in Q3.
Investors note Donald Trump's tendency for investment grandstanding - making big promises, but failing to deliver to the fullest extent. A full-blown trade war implicates US markets as much as it does China; it becomes a war of attrition. Beijing will move to dealing closer with other Asian countries and Russia, and the US will be forced to make do with Europe and NAFTA members. Meanwhile, China represents a market that will continue to grow despite Trump's efforts. Downside risk attributed to trade wars remains a valid concern for investors in FXI, but the ETF should not be discarded solely out of fear and should be considered by investors who wish to be highly exposed to the Chinese market.
With most emerging market ETFs affected by factors of economic or political adversity, a passive investment strategy has not come to yield the most opportune results. In the case of EEM, the fund is down 16% off its ATH in late January and has retraced to its August 2017 price levels, largely representing a huge opportunity cost to many investors. Broad emerging market ETFs are diversified to the wrong markets and expose the investor to more uncertainty than is worth. However, with active portfolio management, exposure into select emerging markets may be worth it in Q3.
Seeking Exposure
Individual investors should take note to rebalance their portfolios away from emerging market ETFs - unless their exposure is actively managed. While actively managing emerging markets exposure may go against many buy-and-hold ideologies prescribed by numerous bestselling investment books, emerging markets at wide exposure do not provide the investor any diversification benefits, and actively managed portfolios are able to circumvent times of economic uncertainty. Some investors go on to argue that the addition of a passive emerging markets investment strategy would provide less diversification than anticipated because growth portfolios are already exposed to emerging market uncertainty even through domestic stocks.
Most large-cap growth stocks have established relationships with international markets, whether they are filling an existing demand (exporting) or are the recipients of goods or services (importing). Ultimately, company revenues will be affected by emerging markets either way. Unboxing the holdings of the SPDR S&P 500 Trust ETF (SPY) or the Invesco QQQ ETF (QQQ) will show us that most large-cap growth companies are already exposed to emerging markets.
Intel Corp. (INTC) is leading manufacturer of microprocessors based out of California. It's a semi-conductor company that offers an investor exposure to both American companies and the Chinese emerging market - Intel's biggest customer. The company notably produces chipsets for other US companies such as Dell (DVMT) and server chips for Google (GOOG, GOOGL) and Facebook (FB). Instead of investing in emerging markets heavily weighted in Chinese equity, investors could consider adding more positions in semi-conductors.
The US is Brazil's second-largest trading partner, importing agricultural products, crude oil, iron, and steel. Ford Motor Company (F) exported 217,000 vehicles to Brazil, making it the company's sixth largest market. Although Chinese sales make up a lot of Ford's sales, most cars sold in China are also assembled in China, limiting Ford's exposure to auto tariff downsides.
South Korea's Samsung Electronics (OTCPK:SSNLF) is a major partner in producing components for Apple Inc. (AAPL) that are included in devices such as the iPhone. Although this exposes Apple directly to South Korea's technology sector, the focus remains on the company's 20% stake of doing business with China.
Further investment in broad emerging markets would only append more risk to the exposure already found in large-cap growth-style ETFs such as the iShares Russell 1000 ETF (IWB). China is the world's greatest emerging market and the largest export partner of the United States, which makes it increasingly difficult to sidestep its exposure when it performs poorly. However, it is important to note that while certain companies already offer exposure to emerging markets, in times of poor EM performance, further exposure to broad markets ETFs brings on an excessive downside.
The Bottom Line
Should an investor still seek emerging markets diversification, this can be done by outright ownership of foreign company shares listed domestically, such as Alibaba (BABA) or Yandex (YNDX), or through a country-specific ETF. Despite traditional EM players down YTD, other countries such as Russia, Columbia, and Israel remain positive. Q3 may demonstrate better performance in select emerging markets such as South Korea. However, broad emerging market ETFs with exposure to unfavourable markets or unbalanced exposure in Eastern Asia ultimately bring an imbalance to passive investor portfolios.