REIT Rankings: Shopping Center
In our REIT Rankings series, we analyze one of the fifteen real estate sectors. We rank REITs within the sectors based on both common and unique valuation metrics, presenting investors with numerous options that fit their own investing style and risk/return objectives. We update these rankings every quarter with new developments.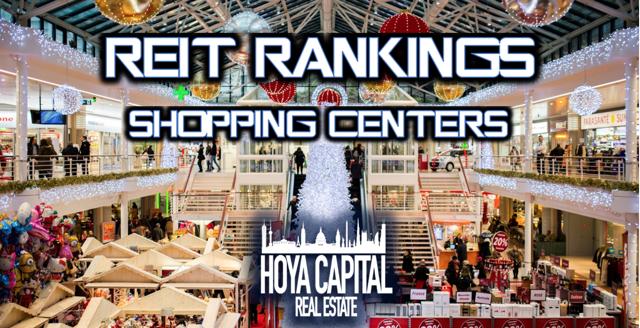 We encourage readers to follow our Seeking Alpha page (click "Follow" at the top) to continue to stay up-to-date on our REIT rankings, weekly recaps, and analysis on the REIT and broader real estate sector.
Shopping Center REIT Overview
Distinct from their enclosed mall REIT peers, shopping center REITs comprise roughly 7% of the REIT ETFs (VNQ and IYR). Within the Hoya Capital Shopping Center Index, we track the eleven largest shopping center REITs, which account for roughly $50 billion in market value. American Assets (AAT), Acadia Realty (AKR), Brixmor (BRX), DDR (DDR), Federal Realty (FRT), Kimco (KIM), Regency Centers (REG), Retail Opportunity (ROIC), Retail Properties of America (RPAI), Urban Edge (UE), and Weingarten (WRI).

We separate the space into three categories: power/strip centers, grocery-anchored centers, and street-level urban retail. Grocery-anchored centers have historically commanded premium valuations relative to power centers, a premium that has expanded in recent years as e-commerce has encroached on the competitive positioning of many "big-box" retailers that reside in power centers. Shopping center REITs have been proactive in recent years in transforming the tenant mix into a more "experience-oriented" portfolio that is less threatened by disintermediation.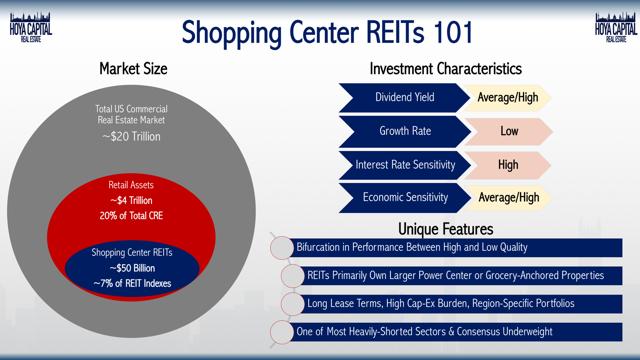 The Retail Apocalypse? Reality Is Far More Nuanced
Let's envision an alternative reality: for decades, the ubiquitous retail distribution model has been individual parcel delivery. Everything is purchased remotely and delivered to one's doorstep, and while shipping costs are purportedly "free," the costs are actually hidden within the total cost of the items. After all, last-mile delivery is awfully expensive, and it's likely to stay that way after aerial drones and robot drivers proved to be entirely unpalatable to the voting public after several high-profile tragic accidents that proved that trillions of dollars in public infrastructure spending was needed to make these technologies reliable and safe.
Along comes a Silicon Valley-based media darling with a revolutionary disruptive idea: self-distribution via centralized self-service centers. They begin to build these revolutionary technological innovations in every neighborhood. Consumers are enamored by the ability to physically browse the aisles of the distribution center, touch and try-on their purchases, and actually get to walk away with the item that moment without the 2-day wait. The cost savings from the revolution in efficiency are enormous: by removing the tremendously inefficient individual parcel delivery, consumers see cost savings of 10-25% per item. Difficult-to-deliver items like fresh groceries and frozen foods see even more substantial savings that far exceed the mild inconvenience of self-distribution.
Of course, this revolutionary and disruptive technology is the "store," and there's a reason it continues to be the most utilized and economically efficient distribution model, as it has been for the last several millennia. While this may be an extreme example, we think it's helpful to show the clear fallacies of the extreme hypothesis that e-commerce will entirely usurp the traditional brick and mortar as the chief retail distribution channel. Until the economics of last-mile delivery improve dramatically, the productivity-maximizing retail distribution model will continue to be these self-distribution centers, and betting on the demise of this technology is a fool's game.
While the brick and mortar concept may not be facing extinction anytime soon, the industry is certainly undergoing a transformation as the economics of last-mile delivery improve from "entirely unprofitable" to simply "marginally unprofitable" as a result of billions of dollars in investment and a tax environment that- until last month's Supreme Court ruling on state taxes- had given e-commerce a distinct tax advantage. Investors, both public and VC-backed private funds, continue to subside the build-out of e-commerce platforms like Blue Apron (APRN) and Uber that are great for consumers because they are essentially Robin Hood-style nonprofit charities that distribute investor money to lucky consumers on every sale.
But perhaps an even more powerful explanation for the changing retail environment that gets far less attention has been the broader demographic trends of population densification. The dynamics of the modern services-based American economy continue to pull workers towards higher-density population centers and away from the outer suburbs and exurbs where malls and shopping centers no longer have the population density needed to sustain operations. Lost in the media hysteria, coinciding with the store closings and declining values of these low productivity retail locations has been the rising values and continued success of the centrally-located retail centers that cater to this growing urban and core suburban population.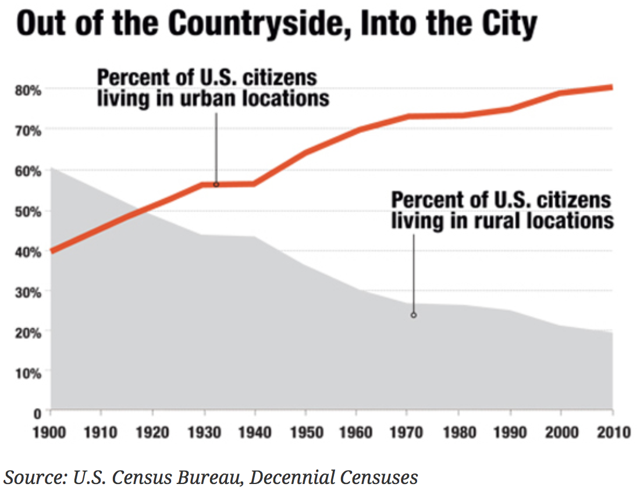 In short, yes the retail environment is changing. Yes, many shopping centers in lower-productivity areas are seeing higher vacancy and some are going completely dark. Yes, there is still too much total retail square footage and retailers will continue to "right-size" operations to focus on profitable core markets. And yes, the media will continue to jump all over at the click-bait stories about the death of brick and mortar retailers regardless of the evidence and data to the contrary.
But it's becoming harder and harder to argue that we are seeing anything close to a "retail apocalypse." While not immune from the broader disruption from alternative distribution methods, high-quality shopping centers, the type that many REITs concentrate their portfolios on, will continue to see steady demand for centrally-located retail space. Until last-mile individual parcel delivery proves that it can be a sustainable (and non-subsidized) superior value proposition for consumers and be a true improvement in economic productivity, the self-service distribution system of a store will continue to be the central hub of retail sales. Below, we outline five reasons to be bullish on shopping center REITs.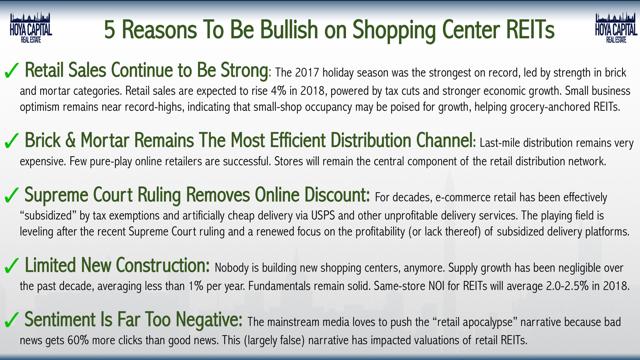 The retail landscape, however, remains challenging for both retailers and retail REITs. Anemic wage growth during the recession, combined with the rise of e-commerce, has forced many large retailers to halt expansion plans and redeploy capital towards their e-commerce platform. Overdevelopment of retail space in the lead-up to the recession, particularly in less desirable trade areas, has left an overhang of supply that remains partially unfilled. Additionally, "big-box" retailers now desire less square footage in new and existing stores, requiring many REITs to redevelop and " de-box" properties. Same-store NOI growth for shopping center REITs has lagged the REIT average in every quarter since 2005. Below, we outline the five reasons to be bearish on the sector.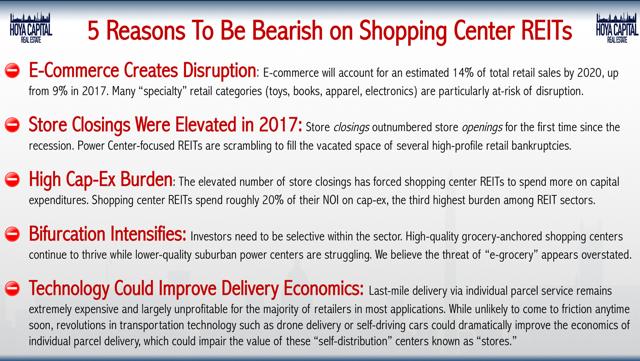 Recent Stock Performance
Shopping center REITs have been among the best-performing REIT sectors over the past quarter, but remain lower by 6% YTD. The sector was the second worst-performing REIT sector in 2017, dipping more than 13% despite a solid year of retail sales and a 20% rise in the S&P 500. Even after the recent outperformance, over the last two years, the sector has lost nearly 30% of its value.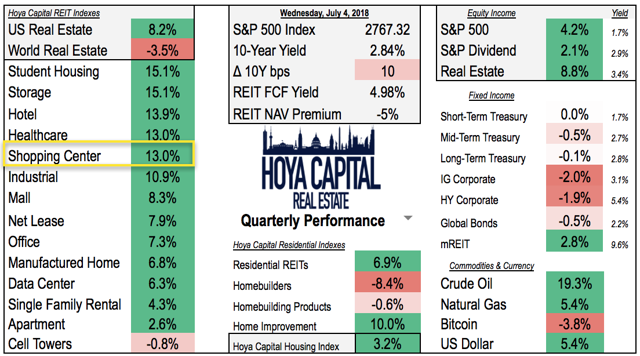 Since the start of the Modern REIT Era in 1994, shopping center REIT performance has lagged the broader REIT average by roughly 130 bps per year, a common theme among sectors with a higher-than-average capital expenditure burden. The sector has returned an average of 10.9% per year compared to the 12.2% average annual return on the NAREIT All Equity REIT index. The sector has finished in the top-half REIT sub-sector annual returns just three times over the last ten years.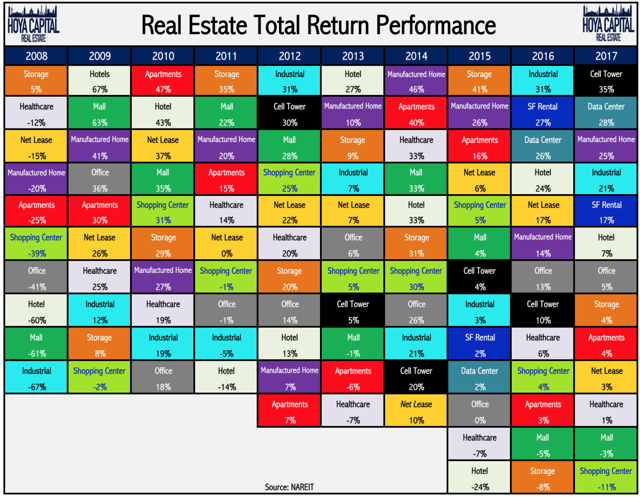 Over the last 52 weeks, we have seen continued bifurcating performance between the higher-quality and lower-quality portfolios. Regency and Federal Realty have been the top-performers while Kimco, Urban Edge, Brixmor, and DDR have been among the worst performers.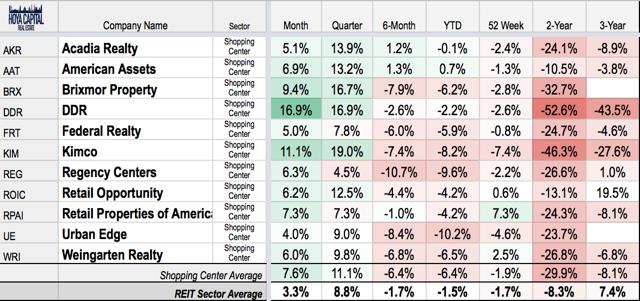 Recent Fundamental Performance
Following a stretch of disappointing earnings results throughout 2017, shopping center REITs delivered stronger-than-expected results in 1Q18. Five out of the eleven REITs (AAT, FRT, KIM, REG, ROIC) beat AFFO/NOI earnings estimates in the first quarter while the remaining six REITs met expectations. Perhaps fearing the investor backlash after missing overly optimistic guidance last year, these REITs generally maintained full-year guidance despite running ahead of their numbers through one quarter.
The elevated level of store closings in 2017 continue to have a particularly negative effect on power center REITs. Still dealing with the fallout from the Sports Authority bankruptcy in 2016, the Toys "R" Us bankruptcy creates hundreds of new big-box locations that will soon be vacated. Demand for big-box locations remains anemic. Shopping center owners have been forced to redevelop this space, at significant expense, into smaller formats. REITs expect to be net sellers in 2018, which will be a further drag on AFFO.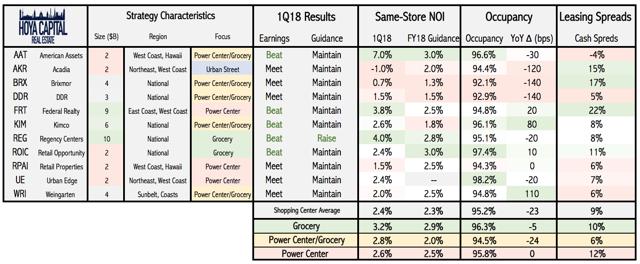 On the positive, many REIT executives expressed optimism regarding the tailwinds from tax reform, a strong labor market, and robust economic growth that will fuel retail sales in 2018. Grocery-anchored and higher-quality power center REITs remain the bright-spots within the sector and are more shielded from the disintermediation of e-commerce than lower-quality portfolios.
Occupancy remains strong at 95% despite the flurry of store closures announced in the first half of 2017. Same-store NOI growth has moderated to just under 2%, down from 3% achieved in 2016 and 3.5% in 2015. Leasing spreads continue to be robust at nearly 10%. If we see a slowdown in store closings this year (which we expect, based on the robust pace of retail sales), we expect to see moderate occupancy gains and a modest acceleration in same-store NOI growth in 2018. Small-shop occupancy dipped slightly, but surging small business optimism bodes well for future occupancy gains.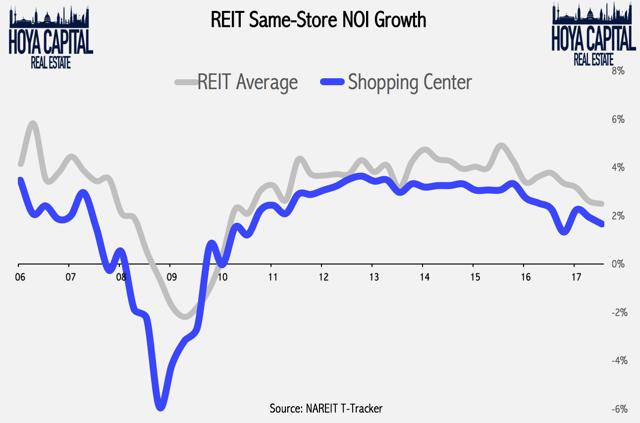 Many REITs reported increased capex and tenant improvement allowances, a function of the changing retail landscape and a potential drag on FFO growth. The retail development pipeline, however, remains muted as new ground-up development remains almost non-existent across the shopping center space. As outlined above, the lack of new supply growth has been a saving grace for the sector. While other REIT sectors are dealing with the effects of significant new development, supply growth in the retail space has averaged less than 0.5% per year since the recession.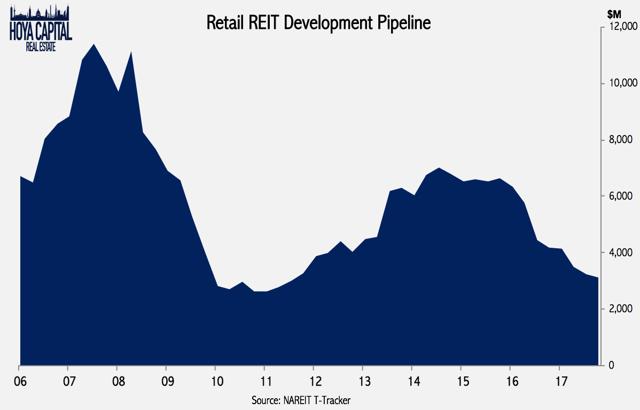 Aligned with underlying fundamentals, private market valuations have bifurcated as well, but not to the same extent as private market valuations. Based on estimated cap rates, grocery-anchored centers have appreciated 0-5% over the past year. High and average-quality power center valuations have fallen 5-10%. Lower quality power centers, particularly those without a grocer, have seen cap rates expand and valuations decline between 15% and 20%, a significant one-year change. On average, shopping center REITs trade at an estimated 5-15% discount to Net Asset Value. As a result, REITs expect to be net sellers in 2018, which will be a further drag on AFFO.
Recent Developments & Emerging Trends
On earnings calls and at the recent NAREIT and ICSC conferences, several key themes are being discussed. Overall, executives continue to express confidence that the flurry of store closings in 2017 was an unusual blip that should subside over the next year. Many executives acknowledged the intense challenge of remaining competitive in the changing retail landscape. Below, we discuss the four most important recent trends and developments in the sector.
1) Solid Trends in Retail Continue
Retail sales, particularly in the traditional brick and mortar categories, continued their positive momentum in May. On a trailing twelve-month basis, growth in total retail sales climbed 4.8% to the strongest rate since late-2012. After slowing from 2012 through 2016, there is mounting evidence that tax cuts have strengthened the spending capacity and willingness of the American consumer. Brick and mortar sales rose 3.5% on a TTM basis while nonstore (e-commerce) sales ticked lower from 10.9% to 10.5% growth.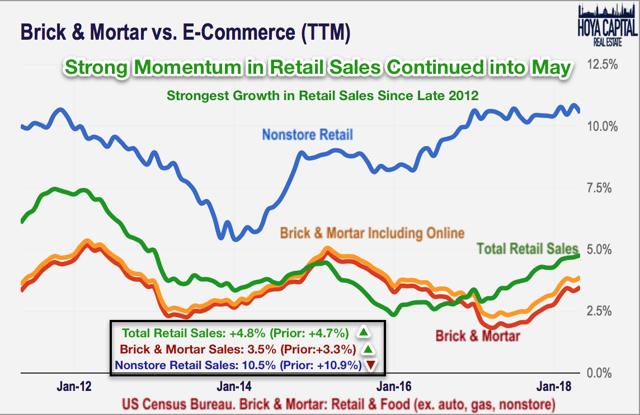 On a TTM basis, seven of the ten brick and mortar categories ticked higher on the month, led by the grocery, restaurant, clothing, electronics, general merchandise, miscellaneous, and sporting goods categories. The services, food-based, and discount retailers continue to thrive. Three categories ticked lower: furniture, building/materials, and health/beauty.

Most importantly for shopping center REITs, retail hiring has picked up over the past twelve months after a dismal stretch through 2017. We believe that retail hiring data is a more useful indicator of demand for retail real estate space than data from private providers on store openings/closings which tend to reflect only a small subset of retailers. Recent strength in inflation-adjusted retail sales also indicates that retail job growth should be robust in 2018 if past trends hold.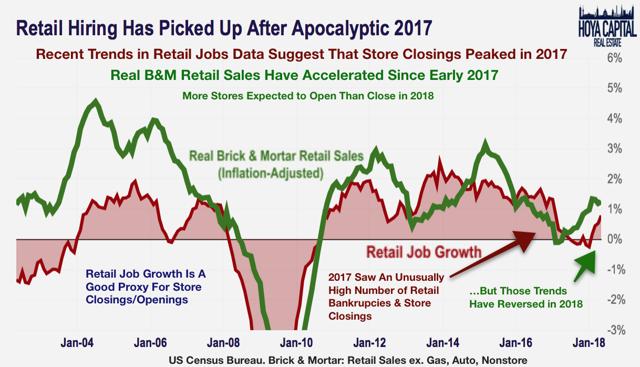 2) Supreme Court Ruling A Win for Shopping Center REITs
In a potentially game-changing ruling, the Supreme Court determined that online retailers can no longer escape state sales tax, effectively negating the "online discount" that had helped fuel e-commerce growth. In a much-anticipated case that we've discussed in reports for more than a year, South Dakota v. Wayfair, the court overturned precedent dating back to 1992 that had exempted online retailers without a physical presence in the state from local sales taxes.
Considering the vastly superior margins of store-purchased goods relative to parcel delivery, we believe that the elimination of the online sales tax "discount" will allow brick and mortar retailers to re-establish themselves as the lowest-cost and most economical option for most consumer purchases.
The ruling was cheered by the retail real estate industry, who for years had been vocal about the unequal retail playing field that had put brick and mortar retailers at an artificial disadvantage. "Today's decision is a positive step towards creating a level playing field for retailers," remarked Tom McGee, president of ICSC.
While it's true that retailers including Amazon (AMZN) and Walmart (WMT) are already paying sales taxes on many of their online sales through their own first-party retail channels, an estimated 50% or more of Amazon's sales are made via the company's third-party marketplace platform. Most sellers on that platform do not currently collect sales taxes but likely will have to begin collecting taxes as states adopt sales tax laws in coming months or years.
Survey data and several academic studies indicate that the positive impact on sales at brick and mortar retailers may be significant. 59% of consumers consider sales taxes when making an online purchase according to a Bizrate Insights survey. Other surveys (and personal experience) consistently indicate that sales tax avoidance is a significant consideration when deciding to purchase an item online or in-store and a sizable percentage of purchases are made online primarily to avoid sales tax. A 2014 study by researchers at Ohio State University concluded:
For years, online retailers have maintained a price advantage over brick-and-mortar retailers by not collecting sales tax at the time of sale. Recently, several states have required that online retailer Amazon collect sales tax during checkout. Using transaction-level data, we document that households living in these states reduced Amazon purchases by 9.4% after sales tax laws were implemented, implying elasticities ranging from –1.2 to –1.4. The effect is more pronounced for large purchases, for which we estimate a reduction of 29.1% in purchases, corresponding to an elasticity of –3.9. Studying competitors in the electronics field, we detect some evidence of substitution toward competing retailers.
Some analysts expect a more muted effect, noting that many consumers have been "trained" over many years to believe that e-commerce is, by default, the cheaper alternative to brick and mortar on many items. While we don't think the magnitude of the effect will be anywhere near as extreme as indicated in the Ohio State study, we do think that consumers will gradually and rationally alter their shopping patterns to the benefit of brick and mortar retailers. The effects, we believe, will be most pronounced in the electronics, sporting goods, furniture, and clothing sectors where consumers are most likely to shop online for the specific purpose of avoiding sales taxes. We expect many otherwise struggling big-box retailers including Best Buy (BBY), Dicks Sporting Goods (DKS), Macy's (M) and others to see a significant improvement in sales over the coming years specifically related to this ruling.
Valuation of the Shopping Center REITs
Despite the recent underperformance, shopping center REITs appear only moderately attractive across cash flow-based valuation and Net Asset Value metrics. Shopping center REITs trade roughly in line with the broader REIT Free Cash Flow (aka AFFO, FAD, CAD) average. When we factor in two-year growth potential, the sector appears mildly expensive relative to other sectors. Using an aggregation of analyst estimates of NAV, we see that shopping center REITs trade at a roughly 10% discount to NAV.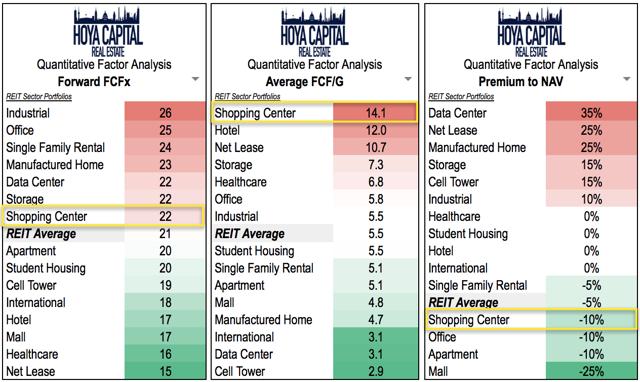 Similar to the mall sector, there is a significant bifurcation in valuation metrics between higher-quality and lower-quality REITs. The high-quality names, including Acadia, Federal Realty, and Regency, command significant premiums to the average. Lower-quality names, including Brixmor, DDR, Retail Properties of America, and Weingarten, trade at sizable discounts.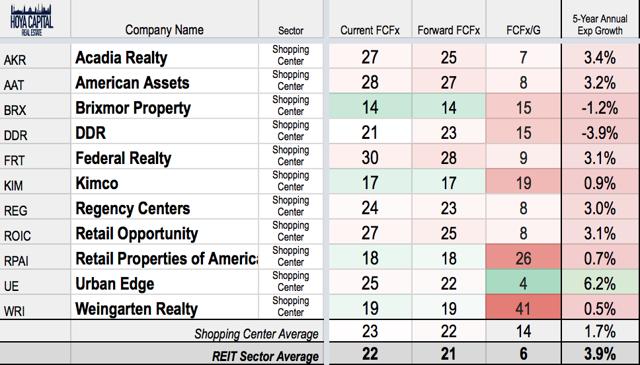 Interest-Rate Sensitivity
More bond-like than their mall REIT cousins, shopping center REITs are quite sensitive to movements in Treasury yields, a function of their long lease terms, high dividend yields, and relatively limited growth trajectory. Interestingly, the sector is also sensitive to movement in equity markets, reflecting the importance of the retail sales outlook on operating performance.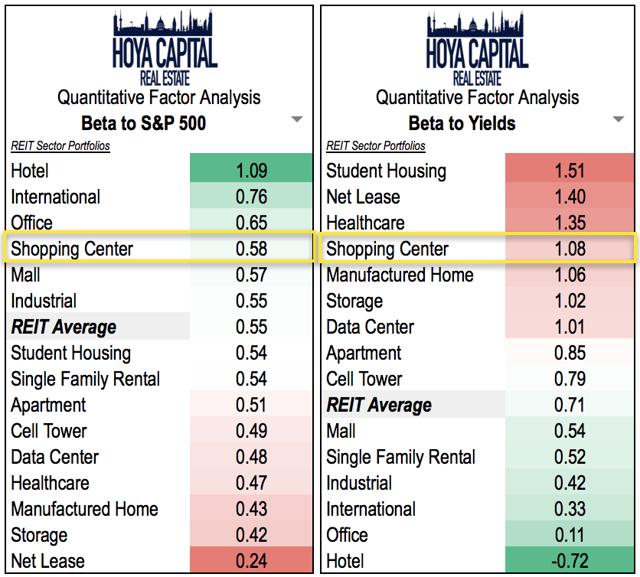 We separate REITs into three categories: Yield REITs, Growth REITs, and Hybrid REITs. (Click to read more information about our methodology).

As a sector, shopping center REITs straddle the line between the hybrid and yield REIT category. As we see below, the high-quality grocery-anchored centers have higher interest rate sensitivity while the lower-quality power-center REITs are more levered to an improving economy, reflected in the higher sensitivity to equity market movement.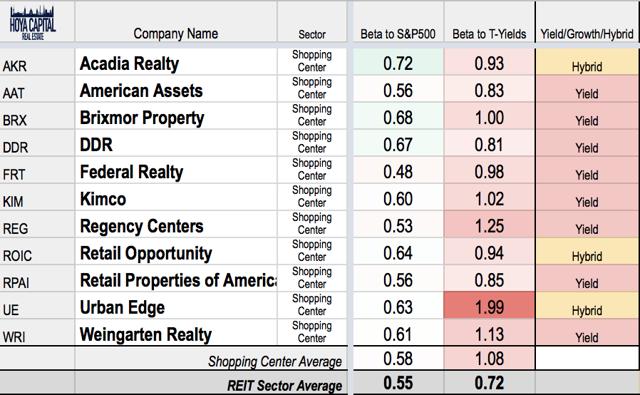 Dividend Yield and Payout Ratio
Shopping center REITs are one of the highest-yielding REIT sectors, paying an annualized dividend yield of 4.6%, above the REIT average of around 4.0%. To do so, though, these REITs payout more than 95% of their available free cash flow, limiting their flexibility to deploy the capital towards redevelopment, acquisitions, or increased dividends.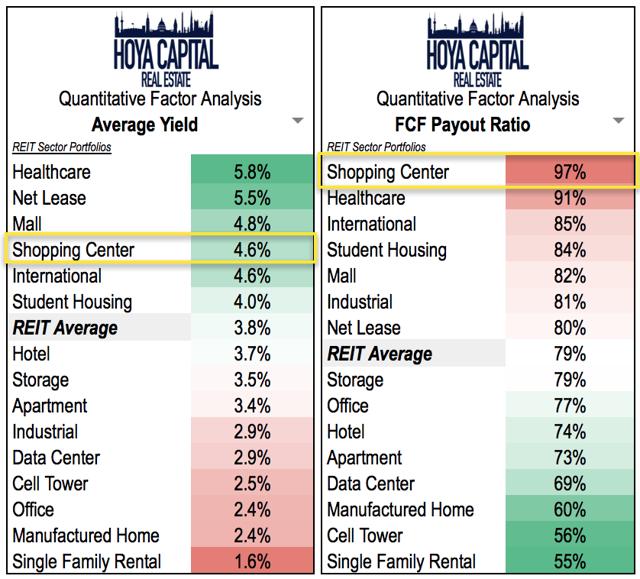 Within the sector, we note quote a bit of divergence in dividend yield, which is inversely related to the quality of the underlying portfolio. Kimco pays the highest yield of nearly 7% while American Assets pays a yield of just 2.8%. Several REITs are paying dividend yields above their 2017 free cash flows, so investors should expect more modest dividend growth from these REITs in future years.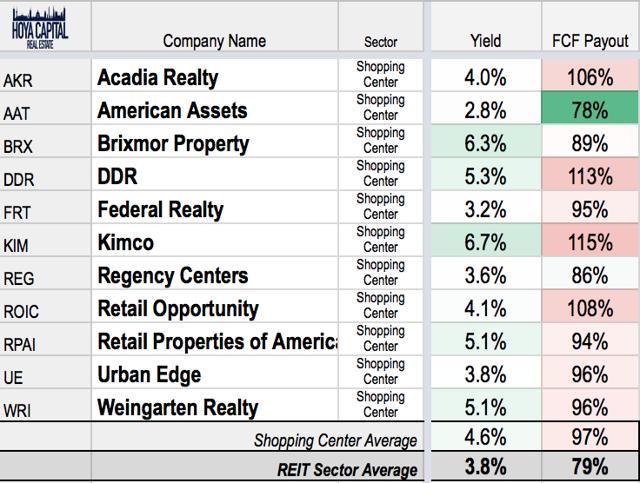 Bottom Line: Shopping Center REITs Bounce Back
Shopping Center REITs have surged more than 13% over the past quarter, bouncing back after a rough 2017. Powered by improving economic growth fundamentals have inflected higher in recent quarters. It's no "retail apocalypse," but there's little doubt that e-commerce and urbanization trends continue to weaken the outlook for lower-productivity retail assets, particularly in rural markets encumbered by slow economic growth. Absent a revolution in last-mile delivery technology, high-quality retail stores will continue to be the center of retail distribution. Physical stores are the cheapest and most economically efficient distribution center.
In a game-changing ruling, the Supreme Court determined that online retailers can no longer escape state sales tax, effectively negating the "online discount" that had helped fuel e-commerce growth. Our outlook on the retail REIT sector remains more positive than consensus. A sharp bifurcation has emerged within the shopping center sector. High-quality grocery-anchored REITs appear poised for continued growth.
As a whole, brick and mortar retail sales were strong in 2017, and this year should be even stronger. Service-based, food/restaurant, home improvement, and discount retailers have been thriving. A sharp bifurcation has emerged within the shopping center sector. High-quality grocery-anchored REITs appear poised for continued growth while lower-quality power center REITs will continue to struggle.
We aggregate our rankings into a single metric below, the Hoya Capital REIT Rank. We assume that the investor is seeking to maximize total return (rather than income yield) and has a medium- to long-term time horizon. Valuation, growth, NAV discounts/premiums, leverage, and long-term operating performance are all considered within the ranking.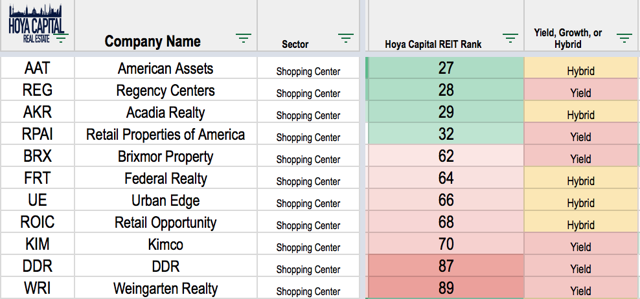 We currently view grocery-anchored and high-quality REIT portfolios as the most attractively-valued names including American Assets, Regency Centers, Acadia Realty, and Retail Properties of America. Be sure to check out all of our reports to see how each real estate sector stacks up: Net Lease, Malls, Industrial, Data Center, Apartments, Hotel, Office, Healthcare, Industrial, Single Family Rental, Cell Tower, Manufactured Housing, Storage, Homebuilders, and Student Housing.
Please add your comments if you have additional insight or opinions. Again, we encourage readers to follow our Seeking Alpha page (click "Follow" at the top) to continue to stay up to date on our REIT rankings, weekly recaps, and analysis on the REIT and broader real estate sector.