Summary
The average stock price of last year's CCAR winners was up 14% compared to the laggards whose shares were up only 3.8%.
CCAR 2018 is an even greater tailwind for banks than CCAR 2017.
Six banks are paying out more than 10% of capital and expect this group to be the top performers for shareholders in the year ahead.
Purpose
The purpose of this post is three-fold. First, CCAR 2017 numbers and stock price changes will be reviewed. Second, 2017 and 2018 CCAR numbers will be compared. And third, the CCAR details for 23 large banks will be highlighted and from this six banks will be identified as the group most likely to succeed in the year ahead.
2017 CCAR
A year ago, bank investors would have been wise to invest in the banks with the best 2017 CCAR results as reflected in chart 1. Banks that released capital (in the form of dividends and buybacks) greater than 8% of their market caps one year ago showed the best average stock price change over the past 365 days. Banks with the worst 2017 CCAR capital releases as percentage of market cap showed the worst returns.
Chart 1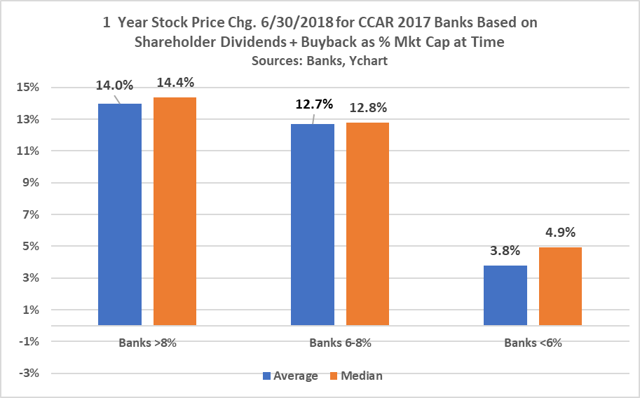 Charts 2, 3, and 4 provide the details behind chart 1.
Chart 2 shows that only Citigroup (C) failed to achieve double-digit stock price growth among the six banks with the best 2017 CCAR numbers. Citigroup has yet to persuade bank investors of its staying power through the ups and downs of business cycles.
Chart 2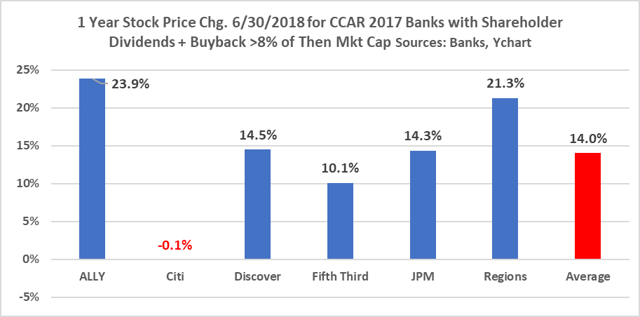 Chart 3 examines the one-year stock price changes for banks that released capital equivalent to 6% to 8% of their market caps a year ago. The two banks with the best returns, Comerica (CMA) and Zions (ZION) are two of the banks highlighted in my September 2016 Seeking Alpha article about banks benefiting from rising interest rates. Their relative superior returns since September 2016 is not at all surprising and can be attributed almost entirely to their business models and balance sheets that were well positioned for rising interest rates.
Chart 3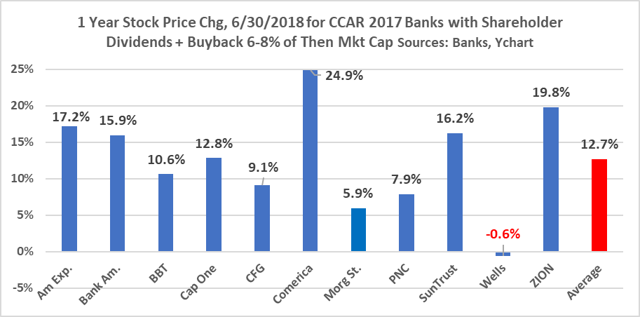 Chart 4 shows the one-year stock price changes for the banks with the lowest capital releases from the 2017 CCAR. No surprises here except perhaps Huntington Bank (HBAN). In my July 2017 Seeking Alpha "CCAR Cheat Sheet," I conjectured that Huntington was preserving capital for a future acquisition. I was proved wrong as evidenced by the fact that no acquisition has been announced. Importantly to Huntington investors today, it appears the bank's board has recognized the error of its ways, and consequently, Huntington has significantly increased projected capital release for the year ahead.
Chart 4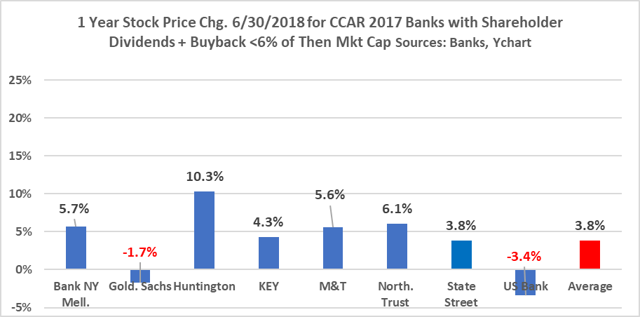 CCAR 2018
Our attention moves in Chart 5 to 2018 CCAR. The first observation that can be drawn from chart 5 is that 2018 CCAR capital releases are projected to be significantly greater than 2017 CCAR. Even more impressive, six banks project capital releases greater than 10% of market caps (as of July 3). And another six banks project capital releases of 8% to 10%. These are stunning numbers.
On the flipside, Capital One (COF), PNC (PNC), and State Street (STT) have 2018 CCAR numbers less than 6% of market cap. Investors need to keep a close eye on Capital One's Q2 and Q3 earnings reports. As the bank most sensitive to consumer credit quality, Capital One is the canary in the coal mine for bank credit quality. Bank investors will not be well served if Capital One's relatively weak capital release is related to credit concerns.
In the case of PNC, at the risk of making the same mistake I made a year ago with Huntington Bank, investors need to wonder if PNC is retaining capital for some future acquisition. However, their savvy CEO has expressed no interest in whole-bank acquisitions. Remember, PNC owns approximately 22% of BlackRock (BLK) which represents 17% of PNC's current market cap of $63 billion. Perhaps PNC is eyeing an investment interest in other non-banks, given its remarkable success with BlackRock.
Chart 5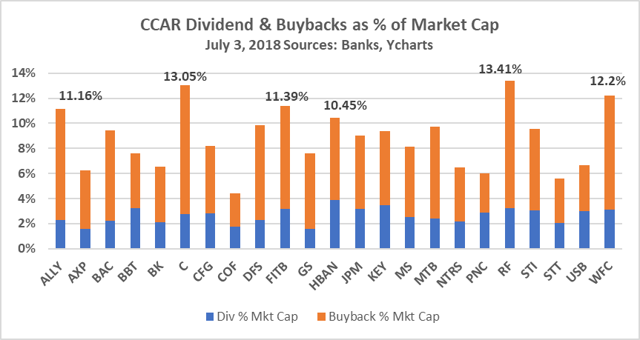 In the next chart, CCAR 2018 capital release numbers are compared to the Graham Multiple for each bank as of July 3. The Graham Multiple represents the product of a bank's book value multiplied by its P/E. For this chart the P/E reflects the forward one-year analyst estimated P/E.
Six banks are highlighted in green: Huntington, Wells Fargo (WFC), Regions (RF), Citigroup, Fifth Third (FITB), and Ally (ALLY). These are the six banks that project capital releases greater than 10% of market cap. If 2017 CCAR one-year stock price results are to be repeated in 2018, these are the six banks as a group likely to have the best shareholder returns over the next year.
Again, if 2017 is to repeat itself, the banks likely to have the worst relative shareholder performance for the year ahead are: Northern Trust (NTRS), State Street (NYSE:STT), U.S. Bancorp (USB), PNC, Capital One, and Bank of NY Mellon (BK).
Chart 6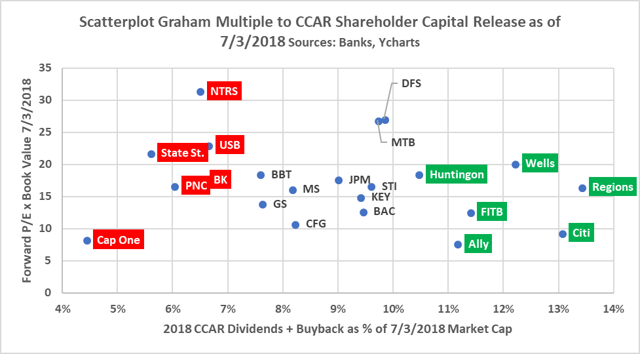 Chart 7 decomposes the capital release by focusing only on projected buybacks as a percentage of July 3 market caps. Two banks, Citigroup and Regions, show double-digit numbers. Regions closed on July 2 the sale of its insurance business for more than $300 million to BB&T (BBT). This number represents 15% of the bank's expected buyback of $2.031 billion.
Bank investors would be well-served to read the Q1 Regions earnings transcript. In it, the CEO is remarkably clear about maximizing the value of capital. He uses language on the call not customarily used by "grow-grow-grow" empire-building bank CEOs. The CEO actually sounds like a shareholder activist and this is the primary reason I have recently taken a growing position in RF.
Chart 7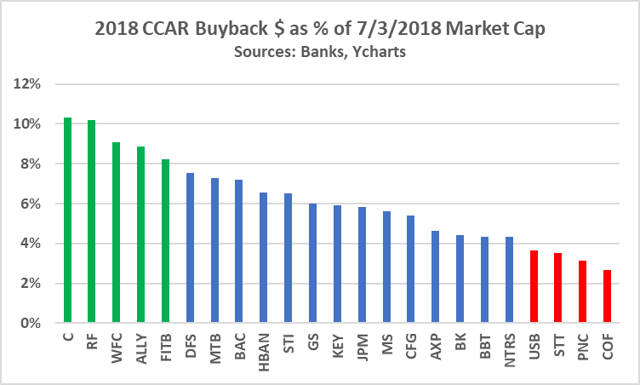 Chart 8 requires some explanation. Using data from Morningstar, the average number of shares traded per day per bank is compared to the CCAR 2018 buyback for each bank. The result is an interesting view on just how significant the buyback activity is when compared to historic trading activity for each bank.
Wells Fargo expects buybacks of $24.5 billion. Based on the bank's July 3 stock price and its average share trade volume for the past year, the buyback is equivalent to 33 days of WFC trading. Said another way, Wells Fargo's buybacks are the most material of any of the banks when compared to historic trading activity. Likely this fact will positively influence the market price of WFC shares much more than what investors will see in banks where buybacks represent far fewer days of trading activity. Citigroup, Bank of America (BAC), and JPMorgan Chase (JPM) also show significant numbers.
Chart 8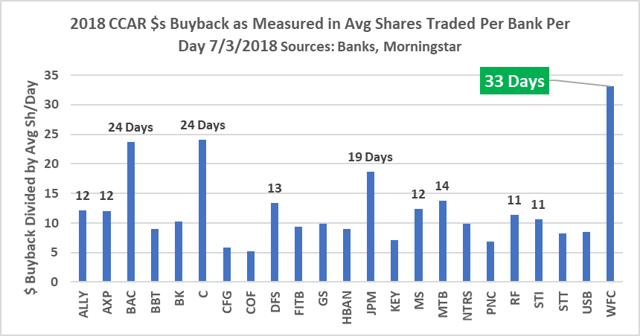 Chart 9 shows the dividend yield as of July 3 based on each bank's projected increase in dividend payouts from CCAR 2018. Huntington is approaching 4%. It's probably not a coincidence that all the directors of KEY (KEY) and Huntington made meaningful open market investments in their own stocks in 2016. Note those two banks now have the best dividend yields. Bank investors are ALWAYS well served when directors are owners and not just highly compensated part-time employees.
Chart 9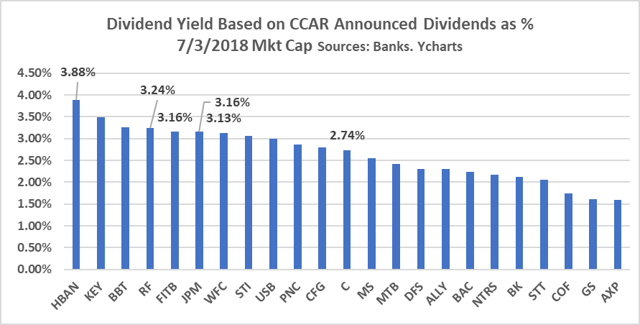 Summary
The strength of 2018 CCAR numbers is a key reason to own bank stocks. Absent a dramatic reversal in the S&P 500, it is difficult to foresee bank stocks not performing well in the year ahead.
The six banks with capital releases greater than 10% of market cap look appealing as a group.
Regions Bank, Wells Fargo, and Huntington Bank appear to be well-positioned based on double-digit releases of capital. These three banks are likely to be winners over the next 12 months if they can avoid credit problems.
Fifth Third recently announced a major acquisition of the Chicago bank. This merger creates some uncertainty for the year ahead. Fifth Third has reaped significant gains from the sale of non-bank assets in recent years. Arguably, the jury is still out on its earnings engine from core banking activities. Its acquisition of MB Financial (MBFI) could be a home run, but importantly, it is not an in-market acquisition. Therefore it is unlikely to realize the kind of synergies Huntington achieved with its brilliantly executed merger with FirstMerit.
Ally and Citigroup look downright cheap. Both financial institutions have a tremendous opportunity to acquire shares at attractive prices. Both are worthy of investor interest given valuations and capital releases.
That said, Citigroup has a history of breaking hearts. On the plus side, it is my opinion that Citigroup has an excellent board of directors. Investors in Wells Fargo have learned the value of skilled bank directors over the past two years. (By the way, the new crop of WFC directors, as measured by banking and investment experience, still does not match up well with the boards of peer banks.) Among big banks, I would not be surprised if Citigroup does not have the best returns for shareholders over the next three years.
Disclosure: I am/we are long JPM, RF, HBAN. I wrote this article myself, and it expresses my own opinions. I am not receiving compensation for it (other than from Seeking Alpha). I have no business relationship with any company whose stock is mentioned in this article.
Additional disclosure: As a retired Bank of America employee, I continue to have certain financial interests in BAC, but do not own BAC shares at present.