No one ever told me that I might be a position trader.
Do a search online for "position trading" and you will probably find a fair amount of information about forex trading. Nasdaq defines it in terms of commodities trading. Little information can be found about actually position trading stocks.
If you search for books on "position trading" in Amazon (NASDAQ:AMZN), you will find surprisingly few choices for books on the topic. The books that do address the topic have few reviewers, and the reviewers of the top listing, Fundamental Analysis and Position Trading, complain that it is overpriced. The second offering, Position Trading, comes only in paperback. I bought that book, but do not recommend it, since the author cares more about stop orders than fundamental analysis.
A Position Trader Defined
The first challenge, then, is to find a definition of position trading. Investopedia has the best I have found to date:
A position trader who holds a position, usually stocks, for the long-term; from weeks to months, and even years…Position traders may use a combination of technical and fundamental analysis to make trading decisions, and often perform more thorough evaluations of the companies behind the stocks.
Zacks' definition is similar but shorter:
Position traders use fundamental analysis to select buy candidates and technical analysis to pinpoint the correct buy points – breakouts.
FinancialTrading.com wrote that "Position Trading is also known as 'buy and hold.'"
Kirk Spano, a popular Seeking Alpha contributor, has written more than once about position trading. For him, the beauty of position trading is that once he has learned about a company, it is pretty easy to update what he knows, freeing up time for things like fishing. He also wrote that "I don't have to be a great trader, I only have to be a good trader finding better than average entry points on my stocks."
After reading through numerous descriptions of position trading, the general consensus is that position trader is a person who:
uses fundamental analysis to screen and identify qualified buy candidates

uses technical analysis to identify buy points for those candidates

holds a stock for months or years

is patient
The longer a position trader holds his stocks, the more he resembles a buy-and-hold investor. I personally am both.
Position Trading in Practice
How does a position trader go about finding the stocks he wants?
The fundamental analysis comes first. A possible reason no one has written a definitive position trading book may be because more than one approach can be used for fundamental analysis. Graham's pioneering work appeals to some, and Buffett appeals to others. Matching growth to earnings such as Lynch did appeals to still others.
I personally look for earnings growth, fundamental strength, dividend growth, and good employer/employee relations to screen stocks (See my recently updated list). I have been watching many of these companies for years and am fairly familiar with their businesses. Like Spano, I typically do not need to do a great deal of additional research on those companies. A new find, on the other hand, takes a good deal more up-front work.
Once a week, I look at charts for the stocks that have passed the screen, as well as a couple of other lists I have been developing. If a chart looks interesting, I dig deeper, or update my research. The result is a handful of stocks that I check on throughout the week to see if I want to buy them. I also consider now and then whether certain of my holdings should be sold yet.
Examples of Position Trades and Investments
Here are four examples of position trades and investments. All four companies pass my screen; that is, they are growing, fundamentally solid, and pay out dividends.
Miller Industries (MLR)
If you have ever had your car towed, chances are good that a Miller wrecker towed it. Miller is a manufacturer of tow trucks, one of the few companies to do so. It is the only pure play in the sector. It is not a very exciting business, but it is steady, has a habit of paying off debt quickly, and has an excellent balance sheet. I have bought shares at lows in July of 2015 and March of 2016, and have never seen the need to sell off those shares. They are not quite on track to double in five years, but that could change soon.
The company spent a year or more updating and expanding its plants. Once it finished that, the company started work on an office building. Those capital expenditures have hit the bottom line, and the share price reflects it. The share price has been more or less range-bound since the end of 2016.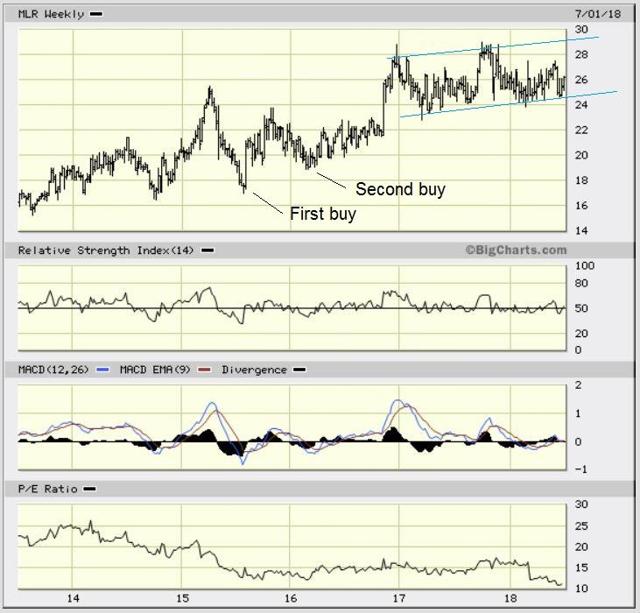 Source: BigCharts.com
I was already overweight with Miller shares, but the price dropped below $25.00 again on June 22nd, and I bought more as a position trade. I figure in the worst-case scenario I will hold those shares until the price reaches $26.75-27.00 again. Assuming the price begins to drop yet again then, I will sell them off, and see a return close to 10% in about a month. I will continue to hold the shares I bought in 2015 and 2016.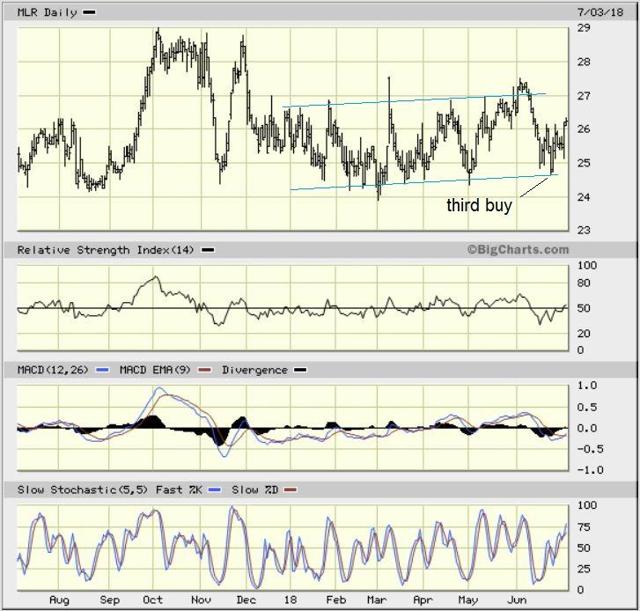 Source: BigCharts.com
However, I figure that is the worst-case scenario. Earnings for Miller should improve once the capital expenditures are complete. Then the price should resume the upward trend that it has been on for the past decade. If that happens, I could stand to gain a good deal more than 10% return within the year.
Tractor Supply Company (TSCO)
Tractor Supply is a niche retailor catering to a "rural lifestyle," primarily recreational farmers and ranchers. A fair amount of its revenue comes from the sale of feed. It also acquired Petsense, "America's hometown pet store", in the fall of 2016.
A combination of a premium price, disappointing quarterly results, and the retail "Amazon Apocalypse" brought the stock price down from a high of $97.25 in 2016 down $49.78 in July of 2017, essentially cutting the price in half. The price rallied at the end of 2017, but then fell again to $58.27.
I have always liked the company for both fundamental and personal reasons, and wanted to buy back in. The price popped and I missed the bottom. I finally bought in again higher than I wanted on May 11, at a cost basis of $69.44.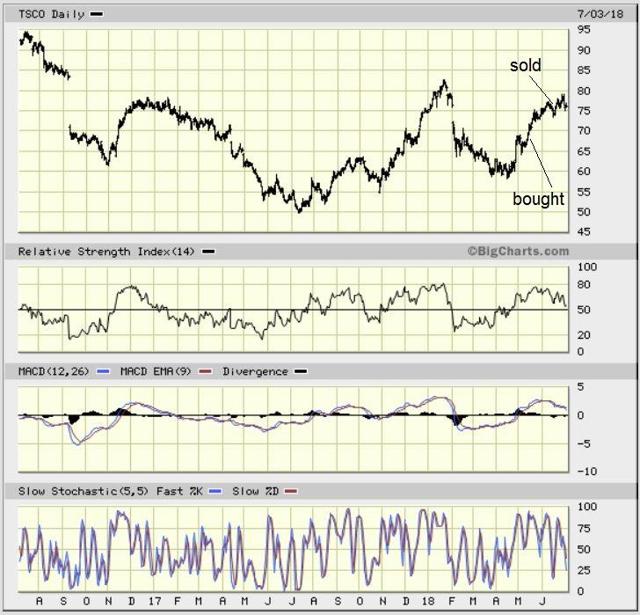 Source: BigCharts.com
The price went up very quickly again after buying, faster than the steady climb I like to see. Concerned that a head-and-shoulders pattern was developing, and that the price would drop again, I sold the shares just a month later at $76.16. Including the dividend, I saw a total return of just over 10% for one month. I would have preferred to hold the stock longer, but I did pocket 10% for very little work.
Computer Services (OTCQX:CSVI)
Computer Services offers a range of back office services for banks. It is hardly known and very lightly traded OTC, but with 46 years of dividend increases, it is approaching dividend king status.
I thought the stock price had bottomed and bought some shares On January 11th. The price drifted lower for the next three months. However, I was confident that it would come back. It did, but the pop some days after the earnings announcement was unexpected, and I missed buying in again at a lower price. The price rose rapidly over the next week or so, then appeared to be topping out. Preferring not to be caught with lightly traded shares in another downturn, I sold them off, realizing only 3% return. In retrospect, it probably would have been better to hold the shares. Now that I know the company better, I am hoping to find another entry point, then hold for much longer, hopefully indefinitely.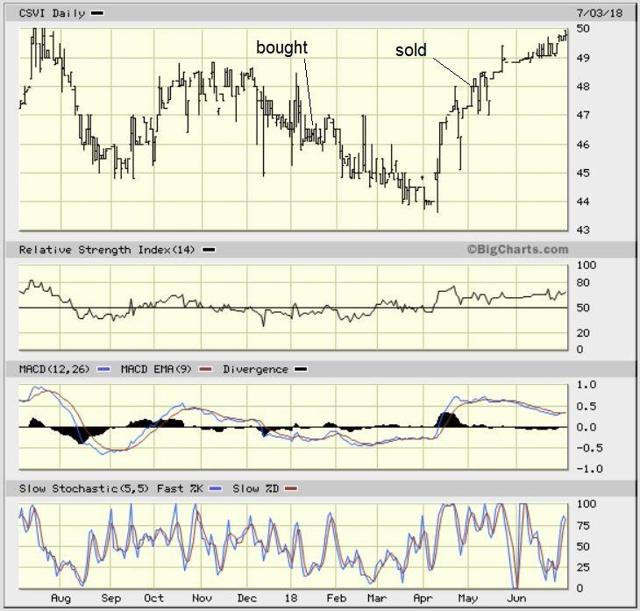 Source: BigCharts.com
Mastercard (MA)
Position trades can be good, but I still much prefer to find a stock that I can hold indefinitely. One of my favorites is Mastercard, which hardly needs an introduction, yet its business is very frequently misunderstood. The company is not a lender. It is a payments processor.
Few things make me happier as an investor than to open the chart for Mastercard and see that the price has once again reached a new high. I bought it four years ago, on June 30th, 2014, at a cost basis of $74.27. As of this writing, the price has increased 171% to $201.48, and has a Total Return of 176%. Better yet, it shows no sign of slowing down. I look forward to holding the stock indefinitely. I would not be surprised to find that it triples for me in less than five years.
MA data by YCharts
Summary
Position traders use a combination of fundamental and technical analysis. Fundamental analysis is used to understand the company. Technical analysis is used to understand the company's stock price. The combination can be a good way to see solid returns in a few months, if a longer-term investment cannot be established. Position trades can also become buy-and-hold investments, a much-desired outcome.
Disclosure: I am/we are long MLR, MA. I wrote this article myself, and it expresses my own opinions. I am not receiving compensation for it (other than from Seeking Alpha). I have no business relationship with any company whose stock is mentioned in this article.
Editor's Note: This article discusses one or more securities that do not trade on a major U.S. exchange. Please be aware of the risks associated with these stocks.