Performance Of My ETF Picks From One Year Ago
I publish a monthly newsletter which includes my Top 10 ETF picks, among other things. How well or how poorly have these picks performed in the 12 months following their publication to subscribers? Let's look at the numbers.
The Summary Table
Every month, I publish a new list of ETF picks. I have a screening methodology that includes valuation metrics, price and volume momentum, and sensitivity to where we are in the business cycle. Each of my Top 10 ETF lists has performed well over the following 12 months.
Below is the summary table showing the 12-month returns for each list and the benchmark I use for comparison. I chose the Vanguard Total World Stock ETF (VT) as the benchmark because it is the most widely diversified global ETF I can find.
The last row in the summary table below shows the Alpha, or the difference between the performance of my ETFs and the performance of the benchmark.

As you can see, my monthly ETF picks have captured Alpha every time. After a slow start in January and February 2017, the amount of Alpha captured started to become meaningful. As time passes and more of my monthly picks reach the 12-month mark, subscriber interest continues to build.
The fact that my ETF lists have not (so far) produced negative Alpha is also notable.
Next, we look at the details of each monthly list and how the individual ETFs performed. I'll start with the most recent list from June 2017 and work backwards in time from there.
The Monthly Tables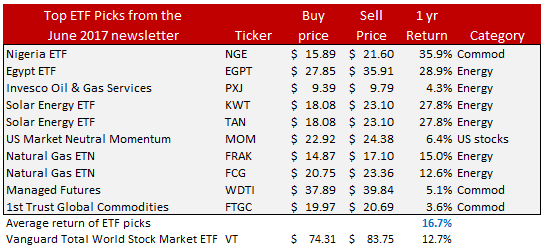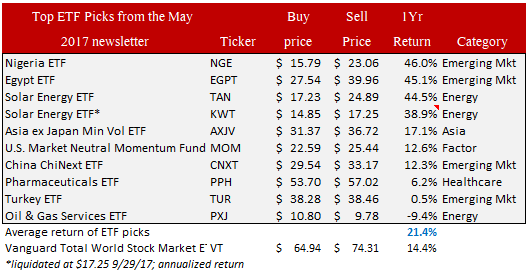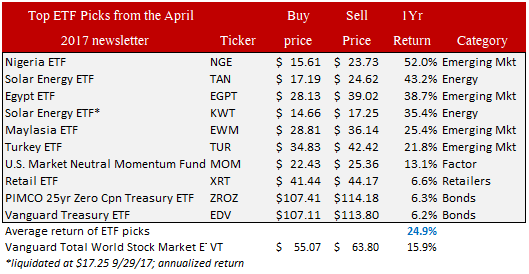 My list from last April did very well, with no losers and six Alpha producers. Next up is the list from March 2017.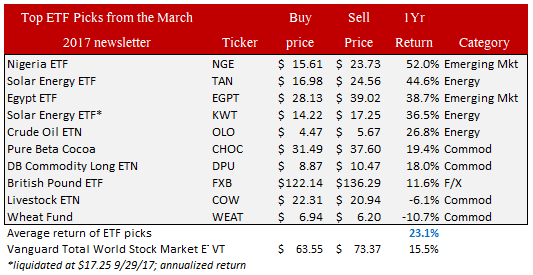 This list had two losers, both in the commodities space. The other eight were winners and produced strong Alpha for the 12 months.
Next, we look at the February 2017 list.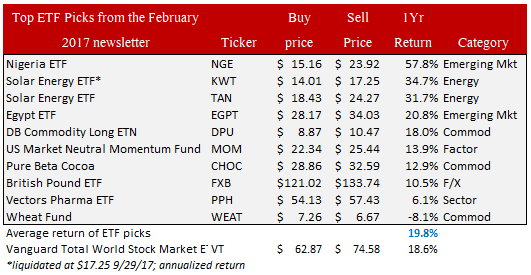 This list managed to capture Alpha, but not very much. Still, Alpha is Alpha. Only one ETF lost value, and again, it was commodity-based. The last list is from January 2017, which was a real squeaker in terms of Alpha.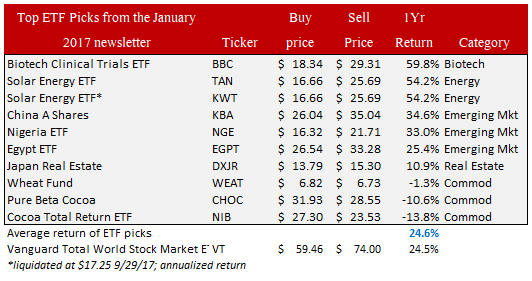 A tiny bit of Alpha for my first swing at this game is good enough for me. Once again, commodities were a big drag on performance. Will I ever learn? Yes, I think I will.
This article was written by
Trader, analyst & portfolio manager, from 1975 - 2001. Former head of equity trading at Northern Trust Co. in Chicago. Now a private investor, founder of a nonprofit investor advocacy firm, and private investing coach. It gives me great satisfaction to teach retail investors the same skills and strategies that I used with my high net worth clients as a private wealth manager. It may be a cliche, but giving something back to the community is more rewarding to me than helping very rich people get even richer.