Consumer discretionary stocks continue to lead US equity sectors for year-to-date performances, based on a set of exchange-traded funds through July 3. The former leader, technology, is in second place and has fallen further behind consumer discretionary in recent weeks.
The Consumer Discretionary Select SPDR (NYSEARCA:XLY) is up 11.0% so far this year, a modest return premium over tech. The Technology Select Sector SPDR (NYSEARCA:XLK) is ahead by around 9.0% in 2018 through Tuesday's close.
The source of XLY's bigger year-to-date lead over XLK reflects differences in recent declines. Both ETFs have fallen lately, in line with the broad market's weakness. Tech, however, has fallen more compared with consumer discretionary, which includes such firms as Amazon (NASDAQ:AMZN), Home Depot (NYSE:HD), and Netflix (NASDAQ:NFLX) in XLY's portfolio.
Minds will differ on whether stocks such as Amazon and Netflix are truly consumer firms rather than tech stocks. In any case, it's clear that XLY's holdings so far this year have an edge over XLK's mix, which is dominated by the likes of Apple (NASDAQ:AAPL), Microsoft (NASDAQ:MSFT), and Facebook (NASDAQ:FB).
Meanwhile, the consumer staples sector is still wallowing in last place year to date. The Consumer Staples Select Sector SPDR (NYSEARCA:XLP) - leading names include Procter & Gamble (NYSE:PG), Coca-Cola (NYSE:KO), and PepsiCo (NASDAQ:PEP) - is down 8.5% so far in 2018.
By comparison, the broad market is still posting a modestly positive gain this year. At the close on Tuesday, the SPDR S&P 500 (NYSEARCA:SPY) was ahead by 2.4%.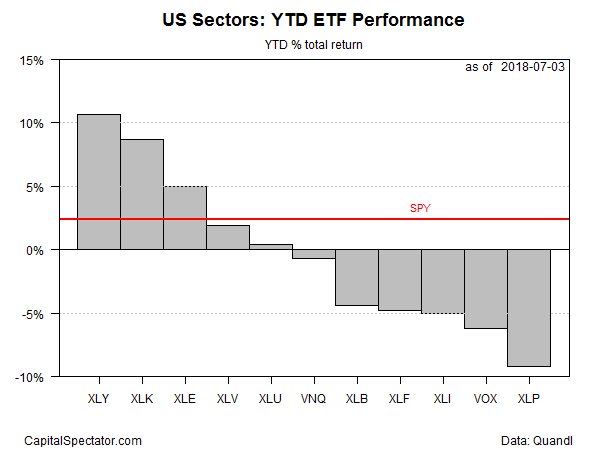 The recent fade for tech's leadership can be seen in the performance chart below: XLK (green line) has suffered a bigger setback lately vs. XLY (black line).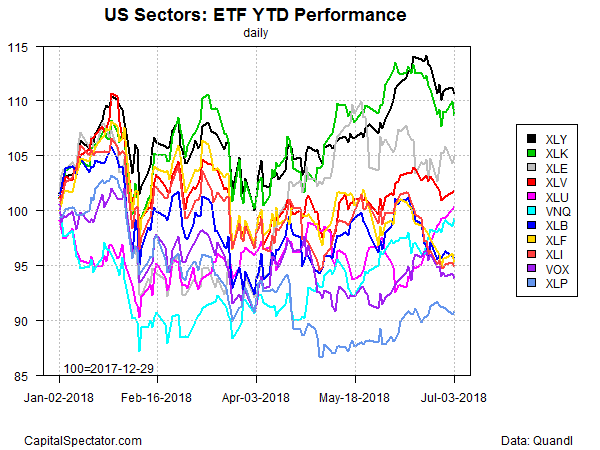 Ranking the sector ETFs by current price relative to the 200-day moving average also shows that consumer discretionary (XLY) leads the field with the strongest technical profile. Tech, by contrast, is in third place via XLK.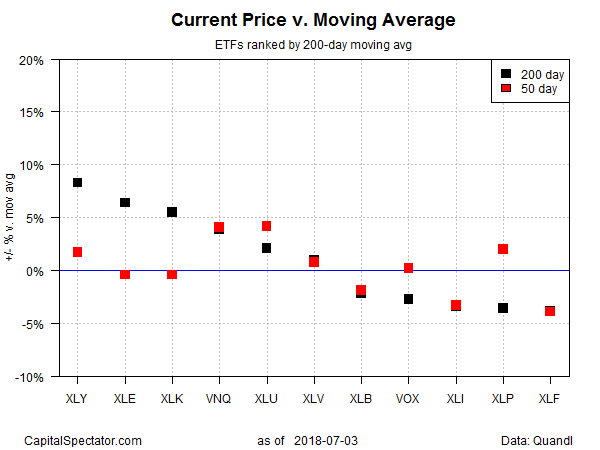 Reviewing the sector ETFS via current drawdown shows that consumer discretionary (XLY) has the smallest peak-to-trough slide (roughly 3.0%). Tech (XLK) is a close second, posting a current drawdown of 4.3% as of July 3. The biggest current drawdown for US equity sectors is in energy: Energy Select Sector SPDR (XLE) has tumbled more than 17% from its previous peak.