WEATHER
The U.S. Energy Information Administration should report a larger change in natural gas storage this week compared to the week prior. We anticipate an injection of 79 bcf (2 bcf larger than the comparable figure in ICE's latest report for the EII-U.S. EIA Financial Weekly Index, 19 bcf larger than a year ago and 9 bcf larger vs 5-year average for this time of the year).
Last week, the number of total degree-days (TDDs) increased by around 6% w-o-w, as cooling demand increased in virtually every consumption region of the United States, but particularly in the Southwest and Midwest. We estimate that total energy demand was some 15% above last year's level. Please note that heating degree-days (HDDs) have reached the point where they are no longer relevant and have no effect on natural gas consumption. Cooling degree-days (CDDs) now have a disproportionately stronger effect on consumption and traders should be paying attention to changes in CDDs.
This week, the weather has heated up quite noticeably. We estimate that the number of CDDs will surge by 23% w-o-w in the week ending July 6. In annual terms, CDDs should be almost 16% above last year's level. Next week, however, total energy demand is expected to weaken somewhat. We expect CDDs and TDDs to drop by 2.0% w-o-w in the week ending July 13 (see the chart below).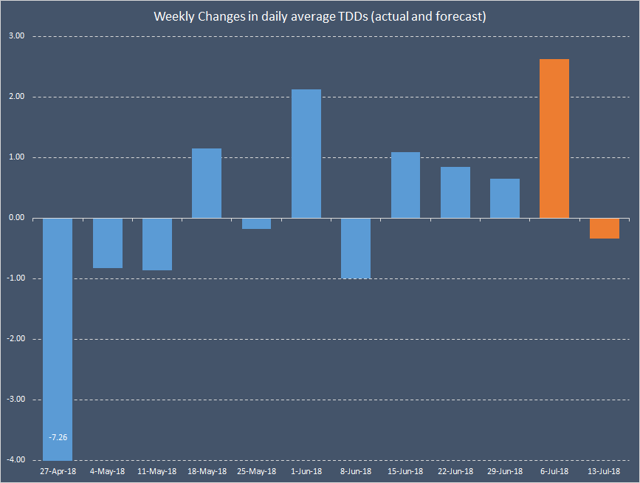 Source: Bluegold Research
The latest numerical weather prediction models are returning some bullish results (in absolute terms):
The ECMWF extended-range model (issued on July 2) is projected above normal CDDs in all five forecast weeks (July 13 – Aug 10). However, the results were slightly less bullish (compared to the previous forecast, issued on June 28) for week 1 (Jul. 13), but they were also more bullish for the subsequent four weeks (Jul. 20 – Aug. 10).
The latest CFSv2 long-range model is projecting above normal CDDs in both July and August;
The latest ECMWF 00z Ensemble and GFS 00z Ensemble mid-range models are both projecting above normal CDDs over the next 15 days (July 4 – July 19).
However, there is one very important factor that you need to take into account. Absolute values (such CDDs, HDDs and TDDs and their deviation from the norm) may not matter much in trading. It is assumed that absolute values determine the price regime, while the changes in absolute values determine the price direction. It is therefore further assumed that absolute values are already reflected in the current prices, whereas changes are not and thus a trader should pay a special attention to the actual changes in the forecast if he or she wants to anticipate the price direction.
Our subscribers receive daily (early morning) update on the latest weather forecast as well as afternoon (12z model runs) update on any additional changes. We also provide a regular update on extended-range ECMWF model (twice a week). Consider singing up, if interested (see the link below).
TRADING AND SD BALANCE
The logic of this injection season is such that higher prices create bearish risks, while lower prices create bullish risks. On June 27, we said that were starting to seriously consider shorting natural gas (see this article). Now, that the price has plunged 5.0% since June 27 close, we are beginning look for buying opportunities again.
The sharp decline in the value of natural gas is having the following immediate effects:
technically, the market is oversold (according to Cycle Deviations Tracker, a unique oscillator designed specifically for natural gas market);
long-term coal-to-gas switching outlook has improved, in turn, pulling down our long-term storage level projection.
That is why bullish risks have increased. Furthermore, while supply-demand balance may be loose relative to previous two years (2017 and 2016), it is not tremendously bearish compared to other periods. In the past, we have been witnessing much larger "gaps" between supply and demand during this time of the year (see the table below).

Source: Bluegold Research estimates and calculations
* - average daily price within the contract
Note: We have colored the results in accordance with their notional effect on the price (green being positive and red being negative) and also in accordance with their rank (dark shade for the leaders and light shade for the laggards).
STORAGE
There is currently a double deficit in natural gas inventories – i.e., the amount of natural gas in the underground storage is smaller compared to previous year and also compared to 5-year average. The next two EIA reports are expected to confirm the expansion of 5-year average deficit by a total of 13 bcf and the contraction of annual deficit by a total of 15 bcf. We currently expect this trend to continue – i.e., annual storage deficit will continue contracting (slowly), while 5-year average deficit will either expand or remain stable.
In case market variables do not change – i.e., under a perfect scenario of stable prices, stable supply and stable demand – natural gas storage level will decline below the 5-year minimum in four weeks (by August 5, 2018).
Disclosure: I/we have no positions in any stocks mentioned, and no plans to initiate any positions within the next 72 hours.
I wrote this article myself, and it expresses my own opinions. I am not receiving compensation for it (other than from Seeking Alpha). I have no business relationship with any company whose stock is mentioned in this article.