Current Market Overview
Over the last several weeks, oil market volatility has returned violently. Following the announcement of sanctions on Iranian oil, loss of oil production from Venezuela and Canada's Syncrude facility, and results from the OPEC meeting two weeks ago, the crude market has had a tremendous amount of information to digest. Below are examples of what has transpired over the last couple of weeks following this torrent of news flow.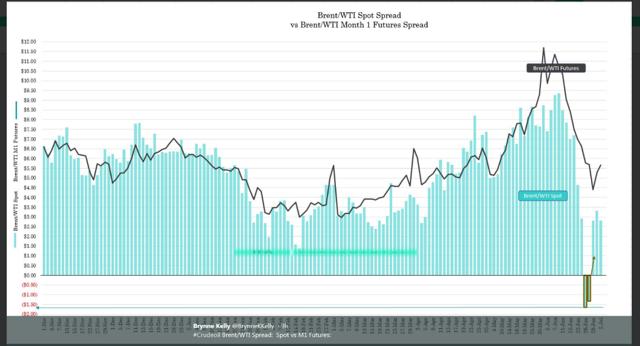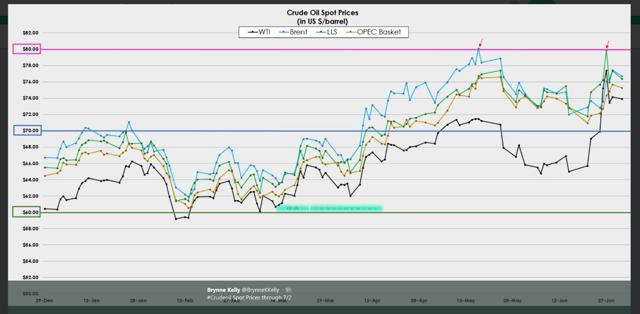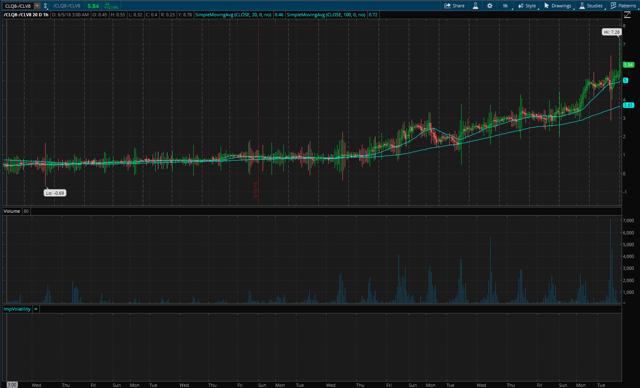 Source: Brynne Kelly
As you can see, major market moves have been taking place. First, the Brent/WTI front month spread exploded to over $10/contract before crashing back down to $4 following the announcement that OPEC was going to pump over 1 million more barrels of oil/day to offset production declines elsewhere in the world. The WTI market has seen starting seeing significant tightness the last few weeks as the spot price jump shows in the second chart. However, the price action in the third chart is where a true trading opportunity lies. Over the past few weeks, supply tightness at Cushing, OK has resulted in the M1/M3 spread going from roughly $.5 to over $5.8 in just a couple weeks! This significant of a move is unheard of in the WTI market, and has rarely happened. Let's examine its history and what opportunities it presents.
WTI Backwardation History
Looking back over the course of many years of data, WTI often trades in slight backwardation (particularly as the oil market tightens). Historically this range is anywhere from $0-2.00 a barrel depending on the level of tightness in the market. However, on rare occasions, this spread blows out when the market for WTI fears an all-out shortage as seen below: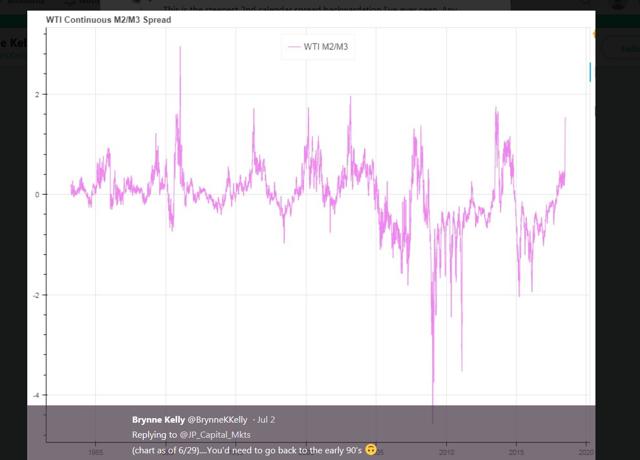 Source: Brynne Kelly
This is the spread between M2/M3 as of June 29th. Since then the CLU/CLV spread has widened to $2.97 as of 7/3! Currently if this trend continues this will be the single largest backwardation ever between some of the front month contracts in crude. This should present futures traders with an excellent opportunity to profit when this spread returns to the mean.
Setup
It's important in spread trading to understand that just because a spread has widened to an all-time high does not mean it should be sold. These extreme situations can continue for significant periods of time, particularly with supply shortages (such as the one in Cushing, OK currently). Once the spread begins to relax and additional oil begins returning to the market from Syncrude and Libya, selling this spread will become profitable as price reverts back towards the mean. Given that Syncrude is not expected to come back online until the end of the month, and that peak driving season is in full force, waiting for this spread to return to its normal range will take some time. Once fundamentals are in place for more crude supply, and price on this spread starts to retrace, it will be time to sell the CLU8-CLV8 spread.
Conclusion
It's exciting for anyone in the futures market to see scenarios like the one examined above. Rarely do we see these events, and when they appear, they offer the potential for excellent trade setups for the patient investor. Once again, selling a spread that is simply out of its normal range for that reason alone is a poor investment decision. Let the market fundamentals and price tell you when to enter this trade. Start with a small position, and add to it as the spread continues to collapse. It will be exciting to see where this spread ends in the next couple of months. Time will tell if supplies at Cushing, OK are relieved, but for now all WTI front months spread indicate extreme tightness.
Disclosure: I/we have no positions in any stocks mentioned, and no plans to initiate any positions within the next 72 hours.
I wrote this article myself, and it expresses my own opinions. I am not receiving compensation for it (other than from Seeking Alpha). I have no business relationship with any company whose stock is mentioned in this article.