Overview
While off to an excellent start in the first 5 months of the year, corn and soybean prices have recently plummeted because of a duel threat from excellent growing conditions in the US and the threat of significant tariff implications from many counties which buy large portions of the US grain crop. While many have recently jumped to the conclusion that the recent sell-off is all tariff related, I would argue it has more to do with the ideal growing conditions seen across the US ag belt. Below you can see just how significant the sell-off has been.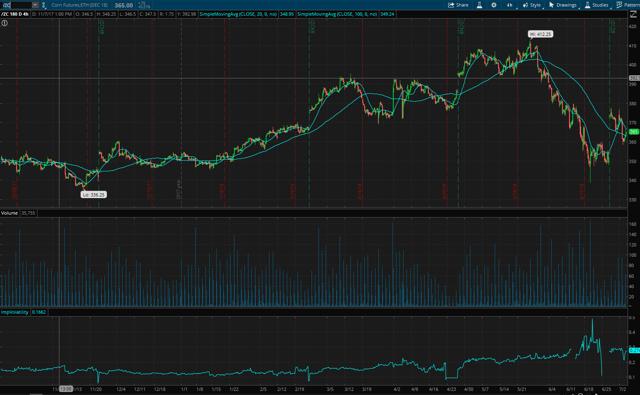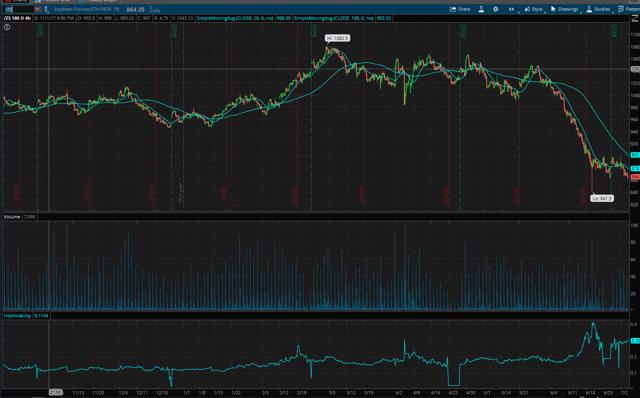 As you can see, in just four short weeks corn is down over 15% and soybeans are down nearly 18%. Let's examine these moves based on current fundamentals, tariff impacts, and projected growing weather to determine if the sell-off has been overdone, or if a rally is in order for corn and soybeans.
Current Crop Fundamentals
As of last week, the current US crop ratings were significantly higher than in previous years as seen below.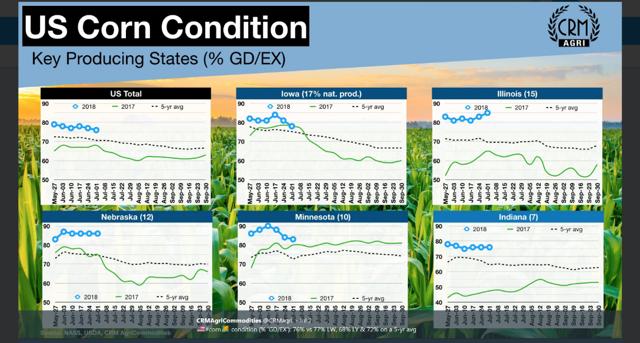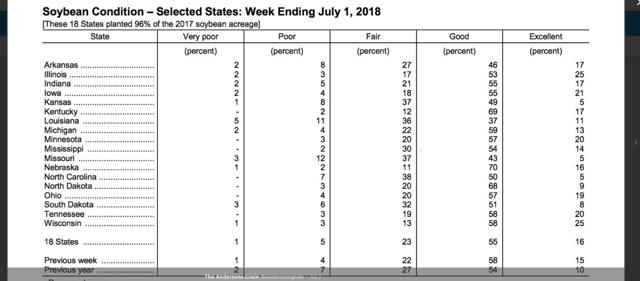 Since the start of the growing season, ratings for corn and soybeans both have run above not only last year's level but have also been running significantly above the 5 year average trendline. Corn acres currently stand at 76% good to excellent as opposed to 68% last year while soybean acres rated good to excellent are at 71% versus 64% last year. While the growing season is by no means over, particularly for soybeans, the table has been set for a bumper crop if current weather conditions continue for the next few months. The other item I will highlight with these kinds of ratings is the acreage report which came out last week.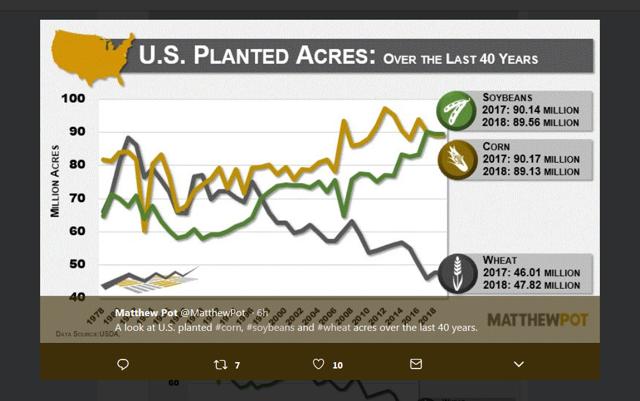 As you can see above, planted acres are near 40 year highs, and even more interesting is that for the first time since 1981 soybean acres actually will exceed corn acres. This combination of excellent crop fundamental conditions and large amount of plant acres most certainly explains a large portion of the price move we have seen recently.
Tariff Impact
Since the initial steel and aluminum tariff proposals made by the Trump administration, the US grain market has been on high alert. While not initially damaging, the threat of retaliatory tariffs on US grain farmers has become a very real threat. As you can see below, US farmers have nearly 75 billion dollars of export goods at risk just between China, Canada, and Mexico.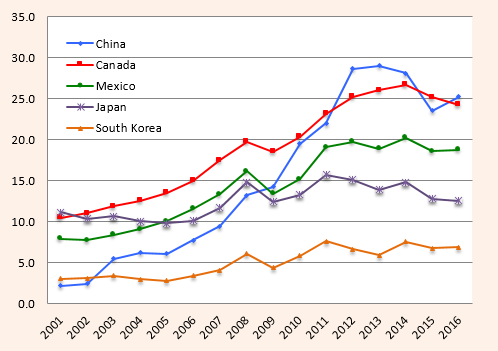 If all proposed tariffs go into effect, this easily could result in 10% to 20% declines in corn and soybean prices across the board. While some of these risks are priced in, there is still substantial downside risk, especially if the quality of the US crop continues to improve. The potential for massive US carryouts could crush the nearby futures markets, especially in the short term. In fact, the effect on the soybean market is already being seen.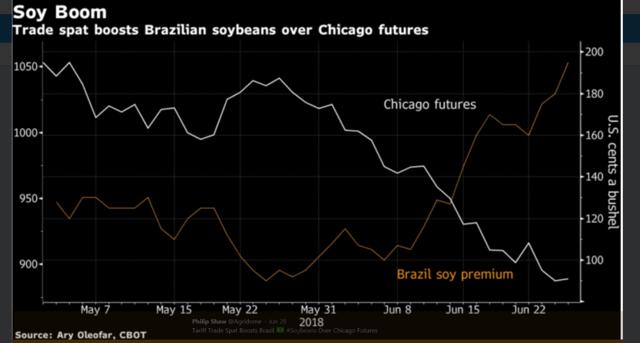 Brazilian soybeans now carry roughly a $1.5 premium on the world market, mainly due to a shift in Chinese buying from the US. Should trends like this continue, the US soybean and corn markets will see more bearish action in the months to come.
Weather
Up to this point in the growing season weather has been near ideal across much of the US. Major concerns at this point are potential high temps during corn pollination during the next few weeks and potential dryness that is developing across the Midwest. One item to watch in particular is what overnight low temps do over the next few weeks. High overnight temps can cause yield loss, especially on corn, since the plant must burn energy for cooling instead of kernel fill. Additional heat (GDU's) promotes more rapid plant development and basically shortens the time for pollination and grain fill.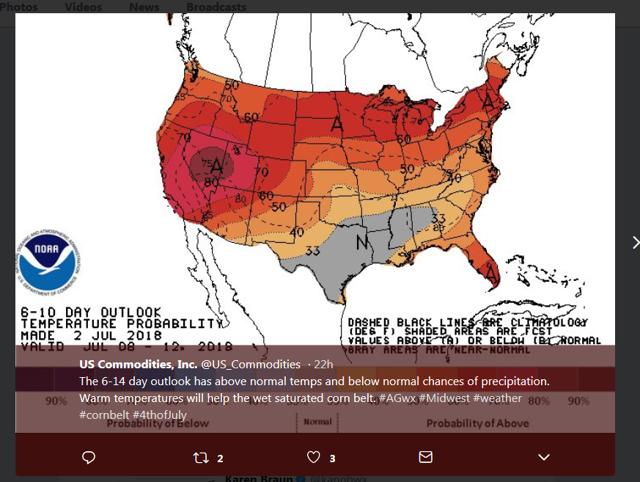 Based on the 6 to 10 day outlook, temps look to remain above average, with little to no rain across the entire Midwest. While not a huge concern yet, it will definitely be something to watch in the coming weeks.
Conclusion
Without question, current fundamentals are bearish for both corn and soybeans. Prices adequately reflect these bearish fundamentals at this point. What I believe is not fully priced in is the true impact of tariffs. There is significant downside risk (especially this fall) if major buyers of US grain impose large tariffs during the time of year when buyers are most needed. The only silver lining at this point for prices is weather has turned more bullish when considering the heat and dryness over the next two weeks. However, at this time, corn and soybeans should be avoided from a long position until greater clarity is given, especially on the implementation of tariffs. We would also avoid equities tied to the ag space, given their exposure on inputs and declines in consumer spending power, such as (DE), (AGCO), (CAT), (CF).