I trust you are all familiar with the word "FAANG", one on the financial world's most famous acronym. The commonly used acronym represents five of the most popular, leading and best-performing tech stocks in the market: Facebook (FB), Apple (AAPL), Amazon (AMZN), Netflix (NFLX), and Alphabet's Google (NASDAQ:GOOG) (GOOGL).
In case you missed the FAANG-gang amazing rally, here are the returns that these stocks - along with few others - have delivered over the past 10 years: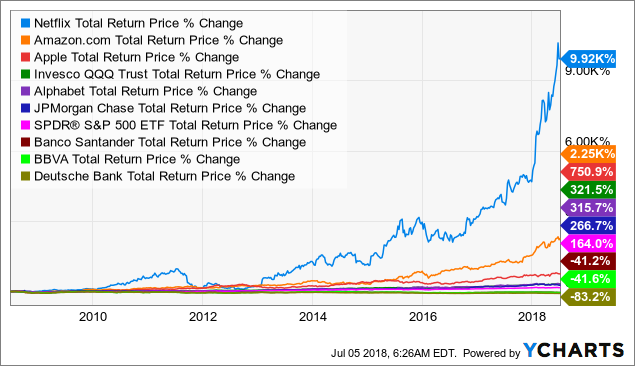 Interestingly enough...:
1. The Nasdaq index, represented by the Invesco QQQ Trust (QQQ), has performed better than Google.
2. While JPMorgan (JPM), the largest and best performing US bank has outperformed the S&P 500 (NYSEARCA:SPY) by over 100%, it has also under-performed Google by circa 50%.
3. European banks were and are still quite a disaster... While JPM delivered circa 267% total return, an investment in Deutsche Bank (DB) almost got wiped out. Spanish leading banks haven't done much better either with both Banco Santander (SAN) and BBVA (BBVA) losing over 41% each over the past 10 years. Over the past week, we have touched upon both the German leading banks and the two Spanish largest banks, explaining why we keep avoiding these stocks.
Facebook IPO took place on 5/18/2012. Here are the returns of the FAANG stocks as well as the leading indices since that date: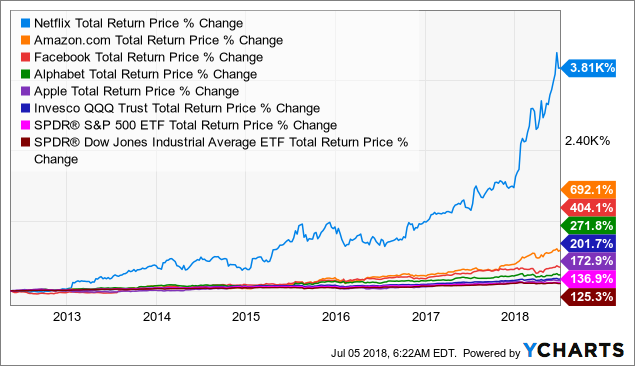 Interestingly enough...:
1. AAPL, which has beaten the QQQ by circa 430% over the past 10 years, is lagging the tech benchmark by almost 30% since Facebook's IPO.
2. In-spite of a rough beginning (losing over 50% of its value after 100 days post-IPO), FB has managed to recover fantastically. Only the unbeaten NFLX and AMZN managed to outperform it since its IPO.
3. The SPY and the SPDR® Dow Jones Industrial Average ETF (DIA) have delivered quite similar results. However, their performances are only ~2/3 of the tech QQQ gauge.
Nonetheless, a phenomenal performance is no reason (for itself) to get rid of a stock. However, overvaluation, i.e. a phenomenal performance that has lost touch with fundamentals and results, is!
In this article, I'm not going to claim that investors should trim some FAANG due to valuations. While the aggregate market-cap of the FAANG+BAT, i.e. Baidu (BIDU), Alibaba (BABA), and Tencent (OTCPK:TCEHY), has reached the unbelievable $5 Trillion (!!!) mark, it's not valuation that we fear of.
Here are ten (additional) reasons why investors in the FAANG stocks should lighten up (or at least be very minded of):
1. Trading closer to their price targets than ever before
While it may seem as if Wall Street still see a 10-15% upside for the gang (but Netflix), it's important to remember that i) analysts are always (too) optimistic, ii) we've already been there (close to the price targets) very recently, and iii) a 10-15% upside potential is nothing compared to the volatility and (past) performance potential of these stocks.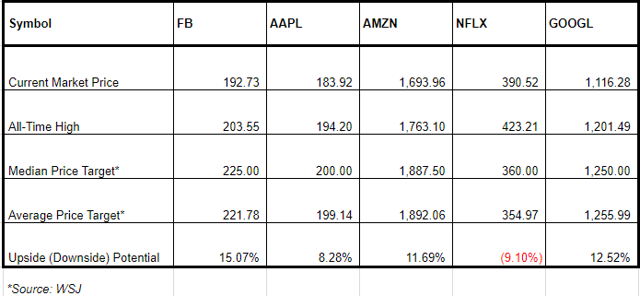 2. Making ~30% of the Nasdaq index total market cap
At the end of June, the FAANG stock accounted for ~30% of the Nasdaq total market cap. Five stocks with 30% weight. Hmmm...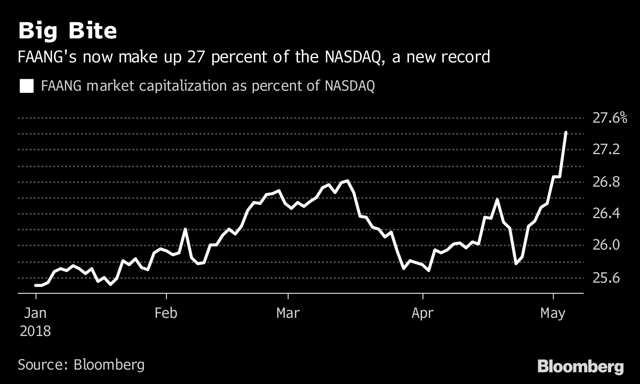 3. Trade, Chinese, & legal wars
Although the FAANG stocks aren't fundamentally exposed to the risks of US tariffs on foreign goods - they are not immune to the trade war either. Should the trade war intensify and start having a real impact on the economy, the highly cyclical gang will suffer from a slowdown in growth.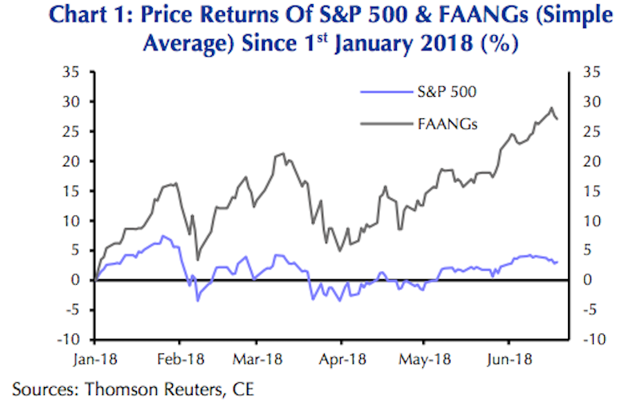 The FAANG may not be "fundamentally exposed", but they can certainly become Chinese/legally exposed, just as Micron Technology (MU) become.
Two days ago, Micron's Taiwanese rival United Microelectronics Corp. (UMC) claimed that a Chinese court has ruled in its favor in a patent dispute. The ruling, temporarily banning Micron chip sales, is cutting the company off from the world's largest semiconductor market.
The result?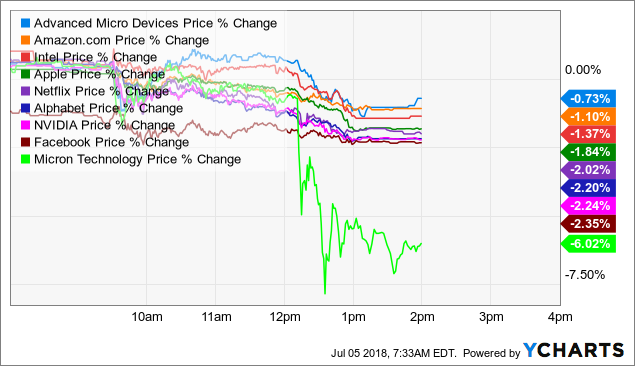 Sure, it was a bad day for the market as a whole, but as the above chart suggests - (one way or another) it's all related.
Average return of the FAANG for that day (7/3/2018): -1.9%.
Even a sample of Micron's American semiconductors fellows - Advanced Micro Devices (AMD), Intel (INTC), and NVIDIA (NVDA) - posted a -1.45% return.
5. Way too high dependency
The FAANG gang accounts for 81% of the S&P 500 return this year. Adding Microsoft (MSFT) to the mix and you get six stocks ("FAANMG") that account for the entire YTD return of the S&P 500.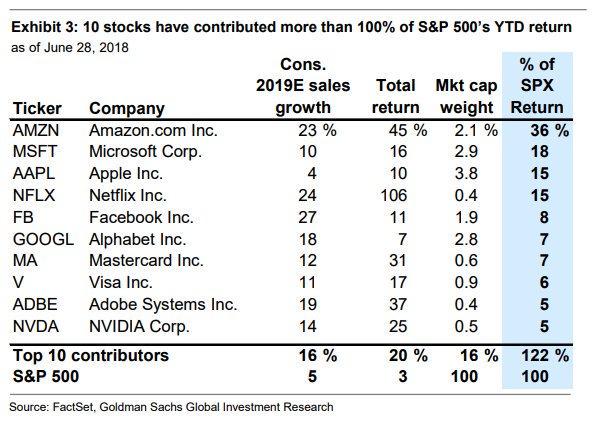 As I said above - a high valuation for itself is no reason to dump a stock.
However, sometimes even valuation alone is enough for me to stay away. This can happen when, for example, I see that the market cap of Netflix with 5,400 employees just passed that of Citigroup (C) with 209,000 employees...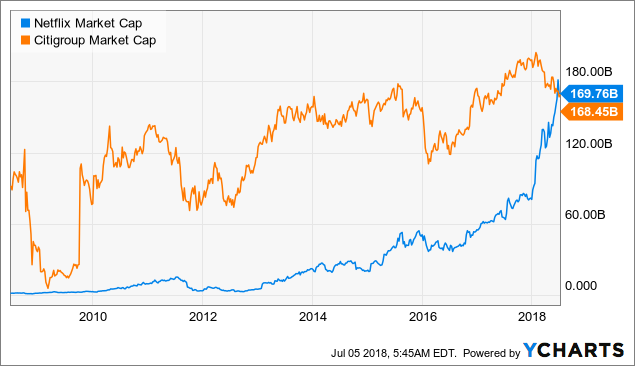 Perhaps, I'm old-fashioned, but this doesn't make sense to me.
For many of you, the big 5 are the CEOs/Founders/presidents/chairmen of the FAANG-gang: Mark Zuckerberg, Tim Cook, Jeff Bezos, Reed Hastings, and Sundar Pichai.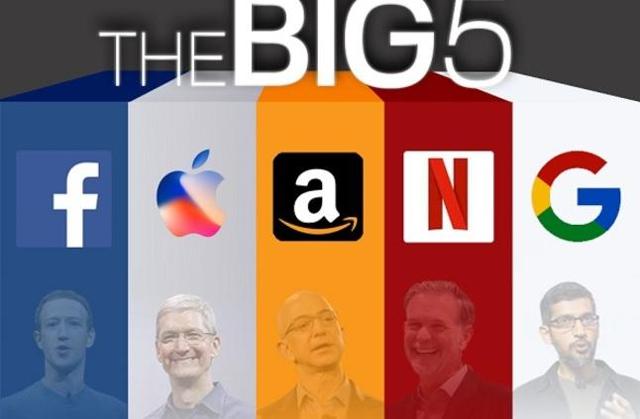 For me, following the addition of "Boogie" to the Golden State Warriors roster, the big 5 are now Stephen Curry, Kevin Durant, Draymond Green, Klay Thompson, and DeMarcus Cousins (or SKDKD; a new, must follow, acronym)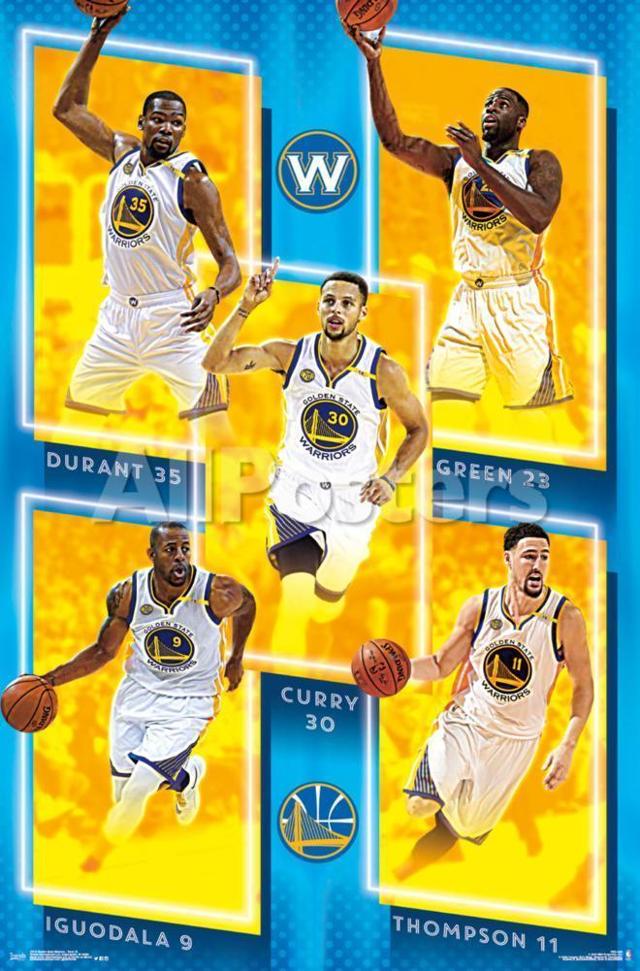 Make sure you remember this new SKDKD acronym; it may perform much better than the FAANG in the coming year/s!
There you go, our dancing lessons are now over. Earlier this week, we taught you how to (not) dance Spanish Flamenco and Brazilian Samba. Today, we learned how to Boogie...
Happy 4th of July everyone!!! Now, Let's Dance!
Author's note: If you like this article please scroll up and follow us. In order to make the most out of following us, please make sure that you're not only following us but also doing so at real time:

That's the only way to get notifications regarding both articles and blog posts (such as this one) that we publish at real time.

The Wheel of FORTUNE monthly review for April is now available. Make sure you check it out while our free trial is still on!
The Wheel of FORTUNE is one of SA Marketplace most comprehensive services. Our universe (of coverage) is unlimited and we touched upon all types of securities: common stocks, preferred shares, public bonds, baby bonds, options, currencies, commodities and even multiple strategies.
Since 3/1/18 Trapping Value is part of The Wheel of FORTUNE, so you now get two for the price of one.
Take advantage of a two-week, free of charge, first-hand experience before you commit to the service on a longer-term basis.
Make sure you read the reviews (168/170 possible stars) subscribers wrote about the service to gain a better understanding of what you may expect out of it.
Disclosure: I am/we are long JPM, C, AMD, NVDA, MU, TCEHY. I wrote this article myself, and it expresses my own opinions. I am not receiving compensation for it (other than from Seeking Alpha). I have no business relationship with any company whose stock is mentioned in this article.
Editor's Note: This article discusses one or more securities that do not trade on a major U.S. exchange. Please be aware of the risks associated with these stocks.