CubeSmart (NYSE:CUBE) is a fast-growing REIT in the self-storage sector. The real estate investment trust has seen strong A/FFO growth in recent years, thanks to the company's aggressive stance on acquisitions. In lockstep with rising cash flow, CubeSmart has grown its dividend at a fast clip, too. However, CubeSmart's valuation today is very rich, which in turn exposes investors to considerable downside risks. An investment in CUBE comes with an entry yield of 3.7 percent.
CubeSmart - Portfolio Overview
CubeSmart's property portfolio consists of both owned and managed real estate. At the end of the March quarter, CubeSmart owned 485 stores and managed another 496 as part of its third-party management business. The REIT's properties are concentrated in the following top 12 metro markets.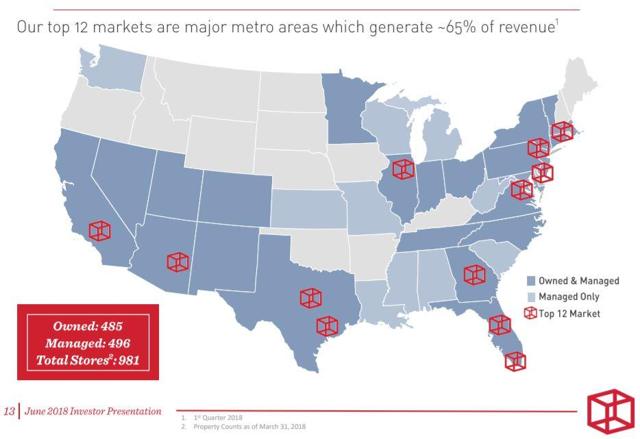 Source: CubeSmart Investor Presentation
What makes CubeSmart particularly attractive as a growth play going forward is that the storage REIT has above-average exposure (relative to its peer group) to top 25 MSA markets.

Source: CubeSmart
CubeSmart's portfolio stats, especially its occupancy rates over time look very good as well. The REIT's occupancy rate has steadily improved in the last seven years, indicating that CubeSmart's storage facilities are met with high customer demand.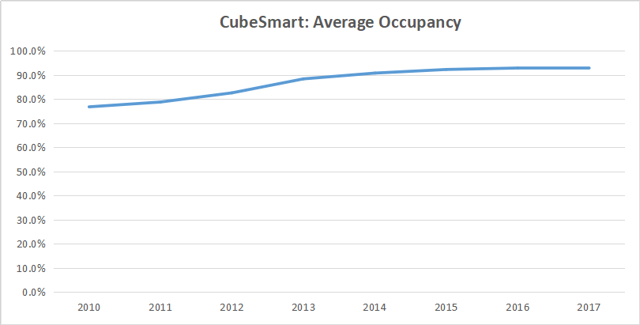 Source: Achilles Research
CubeSmart has grown into a national storage player thanks to its acquisition-centered growth strategy. It hasn't been all that uncommon for CubeSmart to spend hundreds of millions of dollars per year on buying new properties that helped the company scale its real estate business.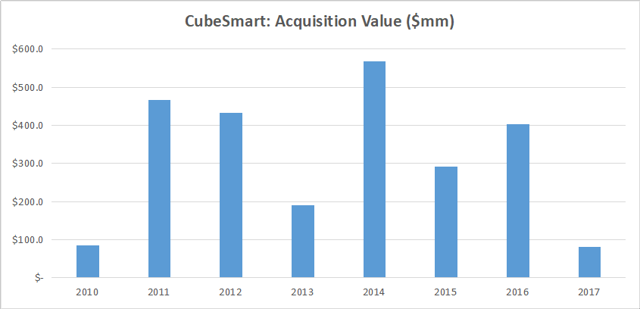 Source: Achilles Research
Thanks to its heavy focus on acquisitions, CubeSmart has seen exceptional AFFO per-share growth over the years. The REIT's AFFO surged from $0.51/share in 2010 to $1.59/share in 2017, reflecting a total growth rate of 212 percent.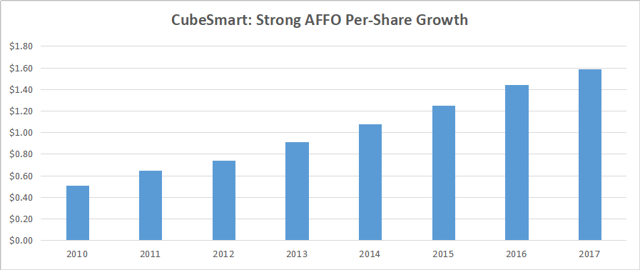 Source: Achilles Research
Decreasing Leverage Stats
CubeSmart has an investment-grade rated balance sheet. Standard & Poor's rates CubeSmart BBB and Moody's rates the storage REIT Baa2. Further, CubeSmart's leverage ratio (net debt/EBITDA) has actually decreased in the last four years, even though the company grew FFO at a fast clip.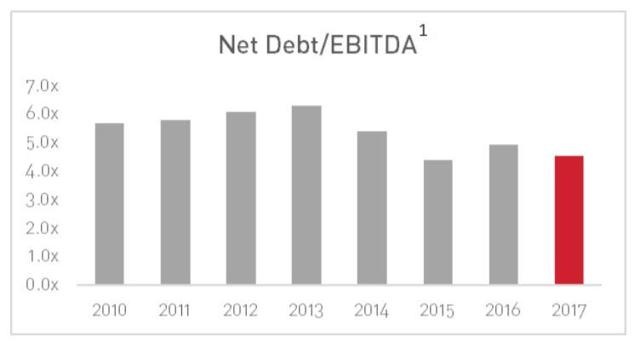 Source: CubeSmart
Dividend Stats
In terms of dividend coverage, shareholders can sleep well at night.
The self-storage REIT covered its dividend with both funds from operations and adjusted funds from operations in each of the last eight quarters. CubeSmart's AFFO-payout ratio averaged just 68 percent in the last two years, leaving heaps of room on the table for further dividend growth.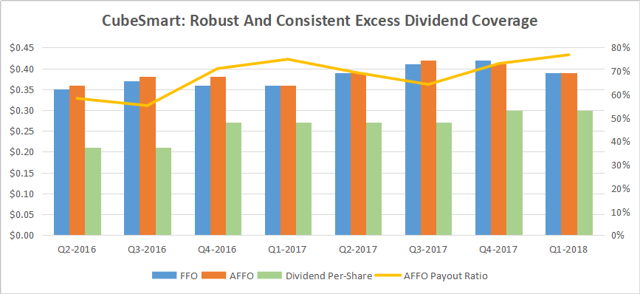 Source: Achilles Research
CubeSmart currently pays shareholders $0.30/share each quarter which implies a 3.72 percent dividend yield. In lockstep with rising A/FFO, the REIT has lifted its dividend at a fast clip.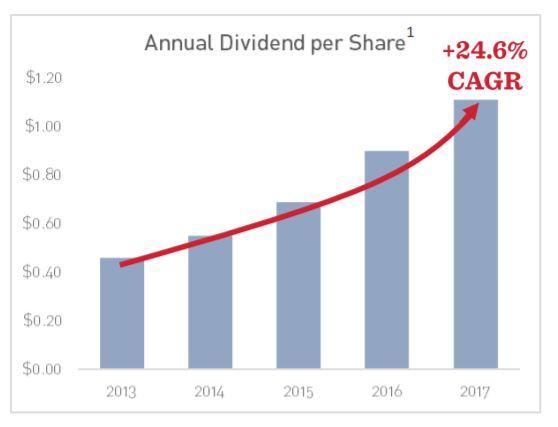 Source: CubeSmart
Valuation
CubeSmart's shares sell for ~20.7x Q1-2018 run-rate AFFO. Investors continue to price in above-average FFO and dividend growth, which has made shares quite expensive.
In terms of price-to-book-value ratio, CubeSmart is not cheap either, ranking about midfield in its peer group of storage REITs.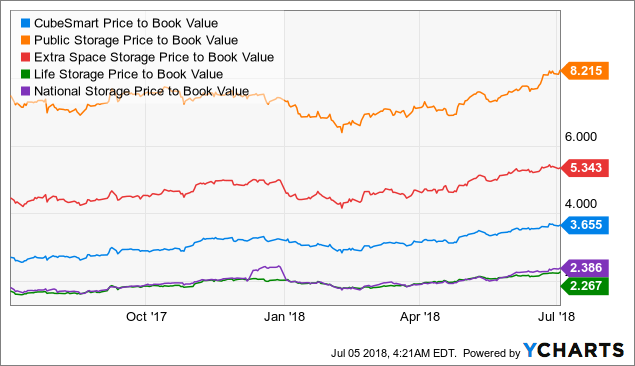 Your Takeaway
CubeSmart is a fast-growing storage REIT with occupancy rates above 90 percent and a conservative AFFO-payout ratio. The company has grown A/FFO and its dividend at impressive growth rates in the past, but those growth rates will likely decrease over time as competition in the sector intensifies. The dividend is covered with A/FFO, but shares are very expensive today, which could imply an unfavorable risk-reward combination. I am not a buyer at these prices and will wait for a drop towards $25 before opening up a long position.
If you like to read more of my articles and like to be kept up to date with the companies I cover, I kindly ask you that you scroll to the top of this page and click 'follow'. I am largely investing in dividend paying stocks but also venture out occasionally and cover special situations that offer appealing reward-to-risk ratios and have potential for significant capital appreciation. Above all, my immediate investment goal is to achieve financial independence.