Korea's FSC announces regulation changes for 2H18
The FSC announced how its regulatory measures will change and when they will come into effect during 2H18. What merits our attention are: 1) increased credit exposure for comprehensive financial investment business entities; 2) reduced credit card merchant fees for businesses that accept small transaction amounts; and 3) the introduction of an integrated supervisory system for financial groups.
Increased credit ceiling helps raise interest income of securities firms
The wider credit exposure for comprehensive financial investment business entities means increasing the credit ceiling for large IBs (over KRW3tn in equity capital) from the current 100% to 200% (as of September 28). Of the 200%, 100% will be restricted to SME and corporate banking loans, but it still means big IBs can use up to 100% of their equity capital to extend credit to individuals. Until now, IBs have had to grant both individual and SME/corporate banking loans within the restriction of the 100% credit ceiling. Thus, the easing of the ceiling will help raise the interest income of securities companies.
Reduced credit card transaction fees to have limited impact on credit card companies' profitability
Reduced credit card merchant fees, to come into effect on July 31, apply to businesses that accept mostly small transaction amounts, such as convenience stores, bakeries, and pharmacies. The authority plans to change the way VAN commissions are charged, from the flat-fee to flat-rate system. Accordingly, the impact on credit card companies should be limited. Additionally, as credit card merchant fees are reduced, credit card firms will be in a favorable position when they go into the regular triennial review of credit card transaction fees scheduled for 2H18.
Even with the integrated supervisory system, the capital adequacy ratios of financial groups remain above 100%
The introduction of an integrated supervisory system for financial groups targets seven major financial groups (Samsung, Hanwha, Kyobo, Mirae Asset, Hyundai Motor Group (OTCPK:HYMTF), DB, and Lotte) that do not have a financial holding company. It intends to manage their soundness as a group as well as to establish/manage a risk management system (taking effect July 2). According to media reports, the implementation of the system reduces the financial groups' capital adequacy ratio (CAR) by about 40-160%p, according to the simulation conducted by the FSC. Samsung Group in particular is likely to suffer a further decline in CAR from 2019 when concentration risks become part of the formula for calculating CAR, because Samsung Life Insurance's stake in Samsung Electronics (OTC:SSNLF) is considered to be a concentration risk. That said, all groups' CARs are above the 100% threshold even after factoring in all potential risks; thus, we do not expect to see movements to raise capital any time soon.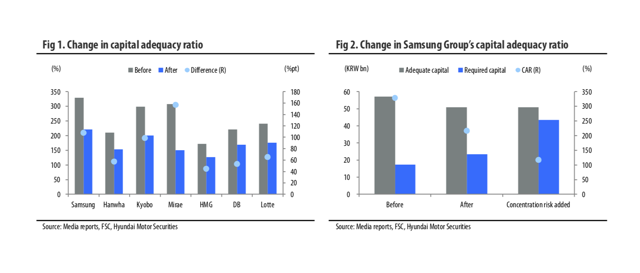 Disclosure: I/we have no positions in any stocks mentioned, and no plans to initiate any positions within the next 72 hours. I wrote this article myself, and it expresses my own opinions. I am not receiving compensation for it (other than from Seeking Alpha). I have no business relationship with any company whose stock is mentioned in this article.
Editor's Note: This article discusses one or more securities that do not trade on a major U.S. exchange. Please be aware of the risks associated with these stocks.