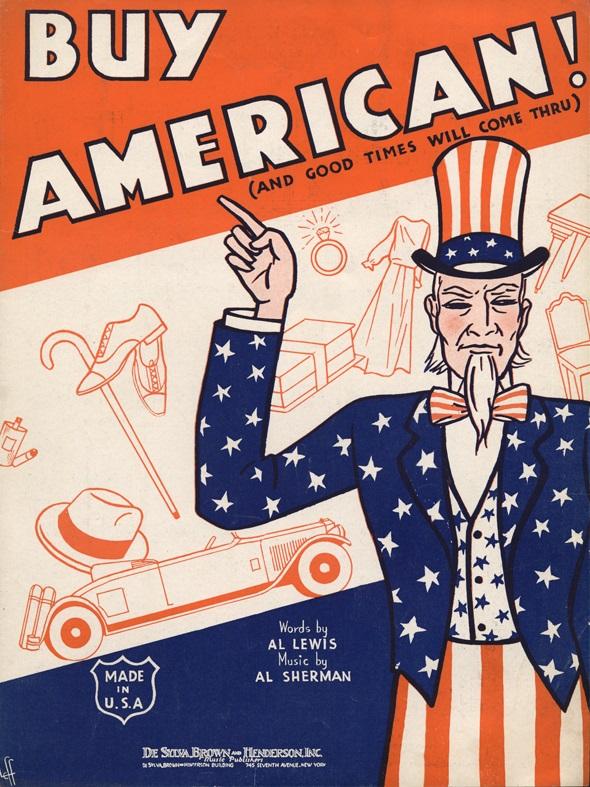 (Courtesy of the Wolfsonian-FIU Library, Mr. & Mrs. Francis Luca, and The Buy American Act of 1933)
The protectionist economic policy favored by President Trump has created some uncertainty among nations the world over, analysts on Wall Street, and investors in the market. On one side is America, with its $500 billion trade deficit ($375b of it belonging to China), seeking to rebalance with the goal of "making America great again". But how much does it matter? Economists Gary Hufbauer and Zhiyao Yu of the Peterson Institute point out three factors that have the effect of raising the trade deficit. First, more government spending and a larger federal budget lead to reduced savings and a trade imbalance. Second, a stronger dollar makes U.S. imports cheaper, leading to higher spending and in turn increasing the deficit. Third, a growing U.S. economy implies a larger deficit, because Americans have more income to buy goods. So, in other words, one could argue that the U.S. deserves a trade shortfall because we (1) have big government, (2) have more buying power, and (3) make more money. Not exactly hard-and-fast rules for the MAGA doctrine meant for American winners.
And so, the President and his administration continue the torrent of trade war threats. How is it playing around the world? Across the pond, Prime Minister Teresa May has drawn fire from the left-wing Labour party for making ties with Trump while at the same time pushing Brexit. The Germans see an American protectionist policy as a reversal of world order rivaling that of World War II. The Chinese seem ready for a fight and willing to not just turn a cold shoulder on the U.S., but also to seek economic refuge by making Europe trade partner #1. Below are a few headlines from international papers around the world that speak to the uncertainty in every investor's mind:
The Tories are too weak to stand up to the powerful, and too in hock with them even if they wanted to. Theresa May is appeasing Donald Trump in the hope of getting a race-to-the-bottom trade deal with the US after we leave the European Union. The Trump trade tariffs show that's a Tory pipe-dream. (Source: Labour party leader Jeremy Corbyn quoted in "Theresa May 'too weak' to stand up to Trump over steel tariffs, Jeremy Corbyn says" - UK - The Independent - June 5th, 2018)

The speed with which the U.S. has been turning its back on the world order it has shaped since the end of World War II has been breathtaking. From global free trade, to common rules and a World Trade Organization that mediates in cases of conflict, Trump is running roughshod over a system that seemed almost custom-built for the German economic model, which lives on exports. (Source: "Berlin Worried about Losing Trump's Trade War" - Germany - Der Spiegel - June 6th, 2018)

The large gap in science and technology between China and developed countries in the West, including the US, should be common knowledge, and not a problem. […] But it became problematic when the people who hype [China's achievements] … fooled the leadership, the public and even themselves. (Source: "China must stop fooling itself it is a world leader in science and technology, magazine editor says" - China - South China Morning Post - June 26th, 2018)

The move by the US was not a "declaration of war" but a wake-up call to look at China's promising future and encourage the EU to view China not as a rival but as a partner. (Source: US tariffs wake-up call for EU to view China as partner - China - Global Times - June 25th, 2018)
To sum up, we've got economists praising the current U.S. trade deficit, English leaders deftly exploiting Trump's trade war for political gain, a German citizenship that knows any tariffs would deal crippling blows to a nation thriving off exports, and a Chinese aristocracy purporting itself as a leader in science and technology while altogether attempting humility in its need to expand. And at the center of it all lies the President - commanding any and all people, businesses, and governments the world over to do one thing: Buy American.
As the trade war continues to rattle markets, there may very well be some opportunities foreign and domestic. Of the foreign nature, NXP Semiconductors (NXPI), Genworth Financial (GNW), and ZTE Corporation (OTCPK:ZTCOY) come to mind. On the domestic side, Dillard's (DDS), Camping World Holdings (CWH), and Patriot Transportation Holding, Inc. (PATI) represent investments that have minimal exposure to international trade wars, trading at EV/EBITDA ratios under 10x, and could even flourish under a protectionist economic policy. Below are three ideas that encompass value investing against a backdrop of contentious foreign misgivings.
Dillard's Inc. and the American Retail Family
Founded in 1938, Dillard's operates 292 retail stores (plus a general contracting company - CDI Contractors) in 29 states across the Southwest, Southeast and Midwest regions of the U.S. The company's retail segments include cosmetics, ladies' apparel accessories & lingerie, Junior and children's apparel, men's apparel and accessories, shoes, and furniture. While the U.S. is prepared to impose tariffs on a total of $250 billion in Chinese goods, none of those tariffs affect apparel. Sure, there could be more to come, but for the moment retailers have been largely spared. That said, Dillard's generates all of its revenues inside the United States and seems prepared to deal with extraneous circumstances should their supply chains become disrupted. Below is a statement from their most recent 10-K:
We purchase merchandise from many sources and do not believe that we are dependent on any one supplier. We have no long-term purchase commitments or arrangements with any of our suppliers, but we consider our relationships to be strong and mutually beneficial (Source: 2017 10-K pg. 2)
Granted, a full-scale trade war would roil U.S. retailers, but at $92/share, DDS trades at 6x 2017 EV/EBITDA. Assuming 2% comparable stores growth (which already occurred in the Q1 release), a constant 4.2% operating margin, and the company's guidance to $225m in D&A, DDS trades at about 5.8x 2018 forward EV/EBITDA. In turn, any negative impact from a trade war would likely be minimized by Dillard's conservative valuation. Similarly, with a newly announced $500m share buyback and strong centralized ownership (William, Alex, and Mike Dillard own a combined 81.6% of the class B voting shares), I gather the Dillard's have no desire to see the family business fall apart because of mildly consequential international tariffs.
Camping World Holdings and the American RV reverie
Fresh out of the private sector, Camping World Holdings CEO Marcus Lemonis has taken his first plunge into the public spotlight with the CWH IPO back in October 2016. Priced at $22/share, Camping World raised $250 million to help pay off its debt. However, over the past 21 months, CWH rose to a high of $47 and fell all the way back to $24/share. It turns out that while Mr. Lemonis does pretty well in front of the camera, there's a steep learning curve when he's beholden to the investor: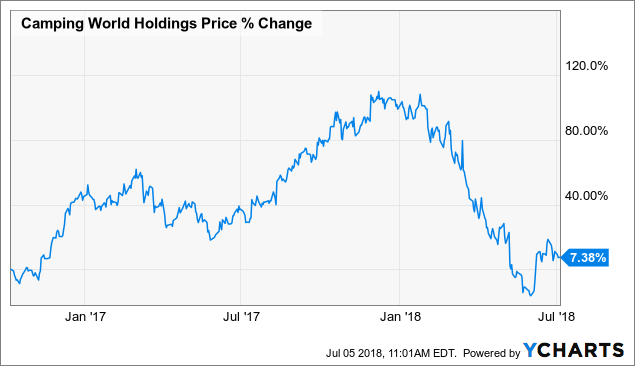 There are likely three reasons why we've seen CWH prices plummet 47% over the past six months. First, management was unable to file its annual 10-K on time due to internal accounting controls. One root of the problem was that, in 2017, the company reported 26.6 million diluted shares outstanding, while at the same time reporting 83.6 million shares in 2016 - a $1.4 billion difference in market cap. Not exactly the best accounting standards. Second, investors appear focused on strictly RV sales, which could be negatively affected by steel and aluminum tariffs. Indeed, even though it's strictly an American company, Camping World may not be able to escape the clutches of a trade war. Third, the company acquired bankrupt Gander Mountain and set out to re-open 70 defunct stores. But the re-openings have not gone exactly as planned, as Mr. Lemonis has decided to scale back on them. Here is the CEO on the Q1 conference call:
We pushed out the cadence because we wanted to get it right the first time and we also encountered - I'll tell you Tim I think what happened that I underestimated. And when I visited the distribution center in Lebanon, I probably have never experienced anything like it. When you take 600,000 square feet of an empty distribution center and you try to add hundreds of thousands of new SKUs and hundreds and thousands of new vendors and you literally move all that product in on a brand new operating system that you never used before and then you have to move all that product out, it was kind of a giant shit show.
Well, at least he's being honest. Anyone who knows his booming TV show The Profit also knows that running a successful business is all about people, process, and product. From a shareholder's standpoint, Mr. Lemonis needs to turn his advice on his own business. First comes the "people". Management has since fired the accounting team, and as a sign of good faith (that also aligns shareholder goals with management outcomes), Mr. Lemonis recently purchased 41,000 shares at an average price of $21.88. Next comes the "process". Although he is slowing down the Gander openings, it is a crucial step toward gaining consumer confidence at the stores. Once again, here is Mr. Lemonis on the call:
Given the number of stores we're opening in a relatively short period of time and the fact that we are completely rebuilding the business, the inventory and the staff from scratch, there are challenges on several fronts, including our IT infrastructure, inventory management and distribution systems. This ultimately led me to the decision to slow down the operating process to ensure that we are opening the stores right the first time. You only get one change to make a first impression with the customer and this was way too important to me to rush it.
The Gander openings will eventually allow CWH access to new RV markets in Minnesota, Wisconsin, Indiana, Illinois, Pennsylvania and Texas, leading to organic growth at the company. Finally, there's the "product". Rather than focusing on the RV market, it is important to realize Mr. Lemonis considers Camping World's "Good Sam Club" - a subscription service that provides discounts on RVs, products, roadside assistance, camping locations, and insurance - as the company's most valuable asset. In this way, CWH will have less exposure to a looming trade war when the membership service provides a continuous stream of revenues outside any material tariffs imposed on steel and aluminum. It is the "category-killer" envisioned by the CEO. All told, at $24.00/share, CWH trades at 5.5x 2017 EV/EBITDA. Assuming 2018 low-end guidance to $4.5 billion in revenues and $431m in EBITDA, the company trades at a forward multiple of 6.5x. But with revenues growing at 20% in the first quarter, there appears to be plenty of room for the American RV reverie to continue.
Patriot Transportation Holding, Inc. and the American Trucking Narrative
Back in January 2015, FRP Holdings (FRPH) spun off its trucking segment into Patriot Transportation. The company hauls petroleum, dry bulk commodities, and liquid chemicals, and is the 11th largest bulk tank carrier in North America. Further, PATI operates terminals in the southeast - Florida, Georgia, Alabama, South Carolina, North Carolina, and Tennessee - with 82% of their revenues sourced from hauling gas and diesel fuel to local gas stations, convenience stores, truck stops, etc. Arguably, because of its localized nature, Patriot Transportation will experience little-to-no turbulence from a foreign trade war. Instead, their business carries with it three risks: (1) it is highly dependent upon oil demand, (2) it is difficult for company to hire and retain drivers, and (3) market capacity is hard to manage. Below is a quote from the most recently quarterly release:
In the past six to eight weeks, capacity in the market has become very tight and there are an abundance of good business opportunities arising. Our task is to provide our drivers to those customers willing to compensate us, not only for our superior customer service, but also for the rising costs of driver pay, retention and insurance expense

The driver shortage remains a significant headwind and we will remain focused on driver retention as we move forward. The combination of recently increased business levels, the increase in driver and equipment productivity and the headcount reductions we've made should benefit the second half of this fiscal year. (Source: 2018 Q2 press release)
According to the IEA, oil demand is projected to grow over the next five years, and even though management is experiencing trouble hiring drivers, it seems like the right kind of problem to have. At $22.50/share, PATI trades to a 4.71x 2017 EV/EBITDA multiple. Assuming a 50 basis point decline in revenues (what company reported in the first six months of the year) and no measurable change in expenses (where management is actually saying the company will benefit), PATI trades at a 5.2x forward multiple.
Conclusion
Even though it seems like the entire world waits with bated breath for President Trump's next tariff move and, as a result, markets churn with incessant uncertainty, there are opportunities in American-based companies that trade at relatively low EV/EBITDA multiples. Dillard's, while it has exposure to foreign unrest due to its retail supply chains, does have the ability to shift its manufacturing to other locations. In the meantime, apparel is a foreign good that is already subject to tariffs and, for the moment, has stayed off the White House's radar. Investors can purchase Camping World Holdings at a price near its IPO, and now that CEO Marcus Lemonis and his management team have experienced a full fiscal year in the public eye, there could be a turnaround in CWH prices regardless of steel and aluminum tariffs. Patriot Transportation, with its entire business centered around oil in the southeast U.S., will generally avoid any negative impact of a trade war and could in fact benefit from higher oil demand in the coming years. At value-based prices, these three companies should be able to weather exogenous effects of tariffs that could be heading their way.
Disclosure: I am/we are long CWH, DDS, GNW, NXPI. I wrote this article myself, and it expresses my own opinions. I am not receiving compensation for it (other than from Seeking Alpha). I have no business relationship with any company whose stock is mentioned in this article.
Additional disclosure: I may initiate a long position in PATI or ZTCOY in the next 72 hours. Nothing contained in this message is an offer or solicitation to buy or sell any security/investment, and is for informational purposes only. The author does not guarantee the accuracy or completeness of the information provided in this document. All statements and expressions herein are the sole opinion of the author and are subject to change without notice. Neither the author nor any of its affiliates accepts any liability whatsoever for any direct or consequential loss howsoever arising, directly or indirectly, from any use of the information contained herein.
Editor's Note: This article covers one or more microcap stocks. Please be aware of the risks associated with these stocks.