Welcome back! Last month I covered M&A, The hottest venture firms, DSNY franchise zones, recycling, landfill news, and China, China, and more China-related news.
This month we follow-up on some of the topics and cover an otherwise quiet month. News related to China saw a lot of movement, Thailand decided to announce aspirations for a Chinese-like approach to certain types of trash, landfill supply expanded as a result of China and new industry statistics were published.
A lot of China-related news came out this month. The biggest trend this month was the large amount of legislative bodies that eased landfill and recycling requirements to accommodate the non-exportable trash.
As usual we start with a monthly price recap.
The "Big Three" averaged -1.83% returns with Republic Services (RSG) outperforming at +0.56% and Waste Connections (WCN) underperforming at -3.33%. At the same time, the S&P 500 returned 0.85%, which means waste underperformed for once. Waste Connections' reversal to underperformer broke a three-month period of outperformance. The discrepancy in performance between RSG and Waste Management (WM) was a continuation of last month's price action.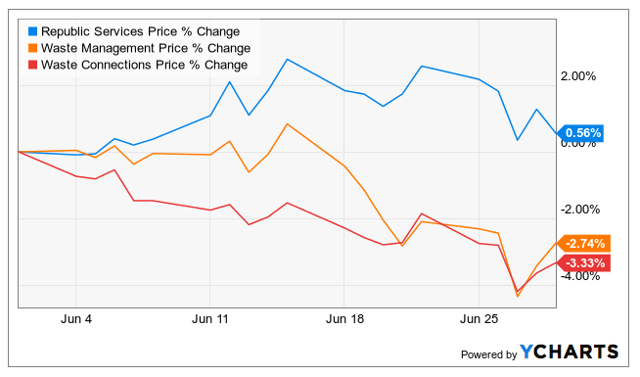 The entire universe performed vastly better with a 0.57% return. Casella Waste Systems (CWST) and Advanced Disposal Services (ADSW) vastly outperformed with a 7.3% and 5.7% return respectively.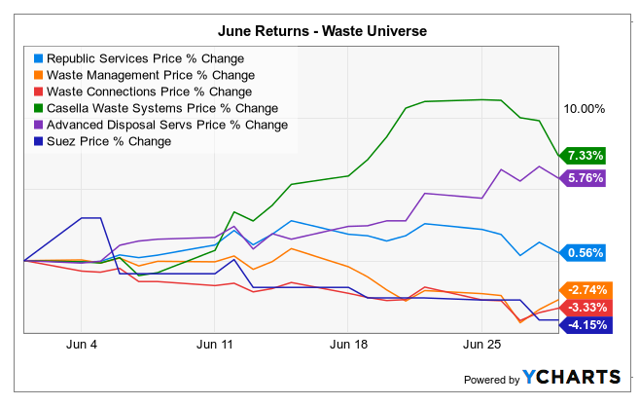 Last month had seen an increase in volatility across nearly all stocks, but this month saw the exact opposite, a general slowdown.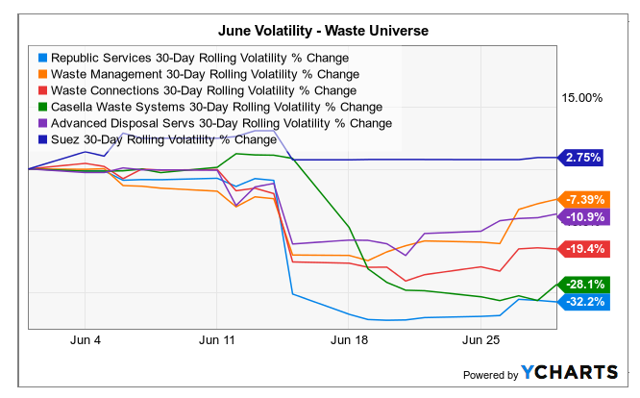 For some perspective, S&P volatility was down roughly 15%.
Usually we start with the easily understood news and move on to the "deeper" analysis, but I've decided to simply cut out the easy news for the "other reads" section and focus on the pieces of analysis where I provide value.
The Regulatory And Political Struggle Continues With China
The China ban has been announced for almost a year now and was instated at the start of the year. As a result the whole supply chain has been disrupted and the different stakeholders sent scrambling. The core issue is how to handle the large amounts of contaminated thrash that would be uneconomic to process and the issue is extremely pertinent.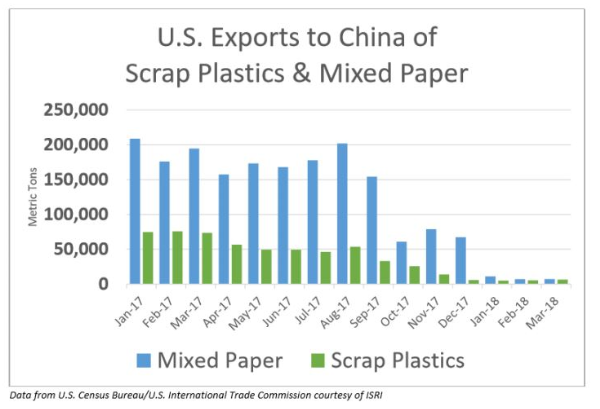 So there are hundreds of thousands of metric tons not being exported to China. There are multiple ways to handle this. One is lowering the contamination rate to be in accordance with Chinese regulation, but the path is extremely long.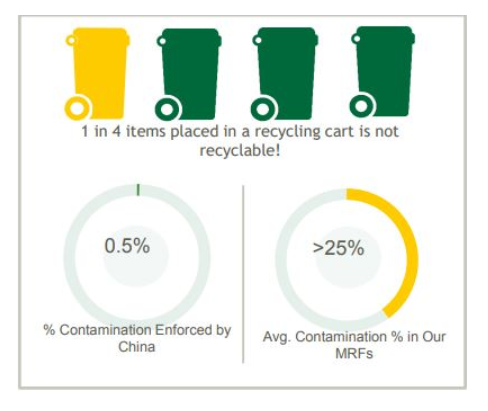 One way of dealing with the issue is avoiding trash generation.
Seattle banned the use of plastic straws, utensils, and cocktail picks in restaurants and cafés this month. The effects of this is rather obvious. Instead of disposable goods (waste volume) users are transitioning to reuseable goods. If implemented across the country, the result will be lower volumes and therefore lower sales and margins across waste companies.
The cost placed on the municipality (from a budget angle) is practically negligible and this is therefore one of the key implementations that waste investors have to keep an eye out for from the regulatory side. Government institutions are attempting to partly solve this issue through education as well.
On the political side, a lot of players (as covered in recent editions) have been attempting to sway the US government. Last month we covered how the National Waste & Recycling association sent a letter to the vice-president to encourage support for helping restart exports. This month the Chinese government fired back. Specifically, the Chinese World Trade Organization department that handles international commerce. The letter can be read here.
One of the interesting paragraphs is quoted below:
We believe that our recently promulgated measures will lead to increasing quantities of solid wastes generated in the United States to be kept within the borders of the United States, thereby spurring a new round of investment in the relevant processing industries. Apart from solving environmental problems faced by both countries, this could also bring more employment opportunities to the US recycling industry and create a win-win situation.
There are two interesting aspects to this. The first should be quite obvious to even the most novice of observers. The Chinese government seems to repeatedly double-down on the contamination standards.
At first read, the political implications stood out, but on a re-read, the truly interesting aspect was the projection for the future of US recycling processing.
China expects the trash to stay domestically instead of other countries developing methods of processing. While this might be a long-term reality, a lot of trash volume has been moving to countries like Vietnam.
As an example, the CCIC scrap ban imposed last month led to a redirection that overloaded Vietnamese ports. As an important aside, it seems that the CCIC debacle has been fixed.
It will be interesting to see if the United States responds as expected or simply re-routes trash to outer SEA nations. For example, Thailand saw a two-fold increase in waste imports post-China legislation. Which leads us nicely to our next piece of news.
South-East Asia: Squeezing The Choke-hold
South-East Asian countries starting out extremely active in the waste space this month.
In a move that could be the warning trumpet for the impending export cataclysm, Thailand has decided to temporarily stop plastic and e-scrap imports.
By itself there is nothing memorable about a temporary stop to waste imports (we saw that with the Vietnamese trouble last month), but the Thai authorities have had continuous trouble with breaches of the law in terms of contamination and materials. This had led government officials to say that they will "revise existing legislation." A lot of the e-waste going into Thailand is from Japan, but plastics are the result of the China situation.
In related news, Indonesia decided to impose a 100% pre-shipment check on imported fiber. While this is technically not entirely new (started April 1st), the English-speaking institutions only caught on this month (hence the delayed report by yours truly).
So what is happening? The Chinese legislative move made trash imports increase drastically across different SEA countries. This led to capacity issues and contamination issues. A combination of unpreparedness and difficulty for capital formation in EMs made the countries' populace suffer under these measures and insist on tighter legislation. This further pressures the United States.
These two news in conjunction with the Vietnam story from last month leads to one primary takeaway: The situation is becoming increasingly untenable for the United States recycling.
What does this practically mean? It means that two core events will accelerate, as covered in my article: The Chinese Storm: Heads Or Tails?
That the US waste operators will be forced to invest more heavily into MRFs and recycling technology.
In the interim, the contaminated trash will have to be moved to landfills.
On the long-term change of the waste industry, we've seen structure changes to pricing and major investments. This month a $120 million material recovery facility from Waste Management survived litigation and can now proceed. So the waste industry is adapting on the recycling space, but it will take time.
Back in January, my contrarian viewpoint was that the Chinese move would be economically beneficial for landfill volumes. We've started seeing that play out in last month's edition (in the other reads section), but this month started seeing an acceleration.
Landfill Supply Expansion As China Looms
If landfill volumes increase and supply expands, the industry benefits. The first point is obvious since increased sales equal increased volumes, but why doesn't increased supply reduce prices? Due to the geographically moated nature of the industry, the price competition is less intense which means supply expansions generally lead to longer sales runway. The issue (for individuals)/opportunity (for investors) saw one of its first national television coverage this month as well on NBC. We've previously covered the exact case they mention in this interview.
While not entirely a result of China, New Hampshire approved a Waste Management landfill expansion.
The city of Arab, Alabama considers scrapping its recycling system and they're not alone. Over the last few months, a large amount of cities have scrapped recycling programs or given out landfill permits and for good reason. If you were moving recycling materials last year, you were earning up to $50 per ton, now it's a business with a ~$5 loss if you're operating efficiently.
This has led to widespread legislative change this month. In California the bill AB-3178 asks state regulators to ease the ambitious landfill volume reduction targets. The target is currently a 50% reduction, but the new bill would ask (quoting Wastedive.com):
California Department of Resources Recycling and Recovery (CalRecycle) to evaluate each jurisdiction's good faith effort to meet that requirement, with China's market impact in mind.

CalRecycle would be asked to factor in efforts to reduce contamination and improve quality, whether circumstances were beyond a jurisdiction's "reasonable control" and whether temporary disposal was necessary to avoid a public health threat." - Source
The bill looks to be a pass with a dozen backers and non-dissenters. This is a fairly apolitical issue.
The story repeats itself in Vermont where the Governor (Phil Scott) signed multiple bills this month. The bills focus on allowing mixed paper to be landfilled, which will be a large contributor to landfill volumes. The governor also signed a bill to delay recycling initiatives.
It is clear that short-term landfill volumes are set to grow materially.
Industry Numbers Are Out
Now that we've reasonably covered the evolutions of the Chinese story, let us look at other areas of interest. One such area is numbers. For any self-respecting investor, qualitatives take primacy. Two sets of numbers that I fancied came out this month. The first was the EBJ industry overview of 2018, the other was an ARF report on landfills.
The Environmental Business Journal (EBJ) publishes their annual overview of the environmental sector, which includes the solid waste sector. There are two components to the report(s). The first is an overview, the second projections. Both provide essential information to investors.
Here is a link to the two resources (1, 2). One is $995, the other is $395. If that is above your preferred level of spending, I highly recommend the waste360.com "highlights." As simply quoting the numbers in the linked piece provides very little analysis, I will not do so, but I highly encourage readers unfamiliar with the specifics to read the article and read it through.
The second report was on landfills from the applied research foundation.
Interesting takeaways include:
Tipping fees are projected to increase another 6% over the next 3 years.
Price projections differ heavily across geographies.
A 4-year CAGR of 1.2% in the Southeast, 1.5% in the Northeast, 1.9% in the Midwest, 2.3% in the western US, and 2.6% in the pacific.
However, I believe the report is FAR too conservative, as it doesn't include the effect of the increased volume from China.
Commercial Waste Zones: The Franchise Debate
Last month we discussed franchise zones. I highly recommend reading the comments on last month's edition as contributor "ShortOnCapital" provided some high-level insights. Props to him.
This month we saw an interesting new commentator enter the arena with an alternative angle to the debate. While we (mostly investors) focus on fuel costs (to the income statement), fuel costs also impact the environment. The argument goes, from the New York Law Journal:
States and cities are striving to improve air quality and reduce greenhouse gas ((NYSE:GHG)) emissions in an era when the federal government is moving in the opposite direction.

[...] vehicles, which account for 23 percent of GHG emissions in New York City.

[...] local governments have found creative ways to reduce emissions from passenger and commercial vehicles without crossing constitutional lines. A prime example is New York City's current effort to reform the commercial waste hauling industry by bidding out the right to operate trucks in specific geographic zones. Preliminary studies suggest that rationalizing collection routes would substantially reduce vehicle miles traveled and, in turn, emissions of air pollutants and GHGs.
While, as we previously argued, the franchise zone structure of New York is half-baked, the argument does transcend the concrete case. In states like California that might provide a convincing argument in many places.
However, the idea is facing some pushback. On the 27th of last month, two council members "introduced a bill that aims to reach the city's zero waste goals by keeping the current system" (source here). The bill includes a few zero-waste goals, but the material part is that it would block the establishment of franchise zones.
It will be interesting to follow the development. The news aren't short-term material for investors, but long term the potential franchise success of New York could lead to national adoption.
MRF automation
I previously linked an article, when discussing China above, that Waste Management had a $120 million facility approved.
California judge denies petition to stop $120M Waste Management facility
While the litigation and subsequent denial is of absolutely no interest to me, a few lines in the article and project document was of immense interest.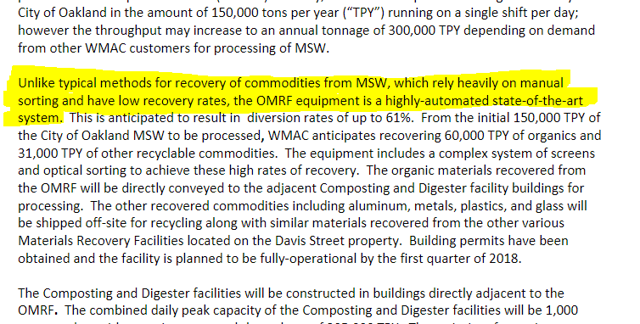 We've previously discussed MRF automation in the April edition but also in the March edition. In the march edition, we included the news that Waste Management had started using robot units installed as test in Q4-17. This is perhaps said evolution coming to fruition.
In the March edition I wrote that:
For the above timeline to hold, Waste Management and Republic Services would have to consistently implement technological innovations in the coming years.
It seems that the China debacle has been unable to stop the implementation.
So what does this mean for investors?
It means higher fixed costs and less variable ones for more operating leverage. It means increased consolidation in high-volume areas such as strategic assets require heavy capital investments and technical expertise.
The development also ensures that the predictions regarding "winners and losers" in relation to labor outlined in my article here, are more likely to come to fruition.
Conclusion And Next Month
While there were a ton of other interesting cases this month, few of them had the continuity and importance of the ones I chose. Feel free to comment below if I missed any interesting news.
Next month will be interesting, but I will not be posting the monthly waste recap on schedule due to vacation timing.
The biggest event will be the second quarter numbers and conference calls. Waste Management has their call on the 25th, Republic Services have their call on the 26th, Waste Connections have their call on the 25th, Advanced Disposal has their call on the 1st of August.
Good investing and see you again mid-August!
Other Reads
In other reads, I found it technologically relevant, but hard to include given space, that a Pennsylvania MRF is to become one of first to take flexible packaging.
It was interesting to see that, even with all the government, institutional, and personal initiatives a new Report Shows NYC's Commercial Recycling Rate Dropped to 21 Percent
We covered the conflict regarding a WtE project in New York last month, but there was no space to discuss the matter in today's article. This month the Anti-WTE bill fails to progress in New York.
Here is a great study on the social effects of the Chinese import ban: 4 takeaways from the new Chinese import ban plastics study
Previous Editions
They all cover the stocks: Republic Services, Waste Management, Waste Connections, Advanced Disposal Services, and Casella Waste Services.
Disclosure: I/we have no positions in any stocks mentioned, and no plans to initiate any positions within the next 72 hours. I wrote this article myself, and it expresses my own opinions. I am not receiving compensation for it (other than from Seeking Alpha). I have no business relationship with any company whose stock is mentioned in this article.