Article Overview
In the past, I have discussed several companies in the aircraft leasing industry, and I continue to hold a bullish view on the industry for the long-term.
In the last 12 months, stocks in the aircraft leasing industry have largely been sideways. Air Lease (NYSE:AL) has moved higher by 10%, Fly Leasing (NYSE:FLY) by 1.1% and Aircastle (NYSE:AYR) stock has declined by 6.3%. AerCap Holdings (NYSE:AER) has done relatively well with returns of 15.3% during the same period.
I see this sideways movement as a good opportunity to accumulate quality names in the industry, and this article provides a comparative analysis on the best investment option among the mentioned stocks.
Bullish On The Aircraft Leasing Industry
There are several reasons to remain bullish on the aircraft leasing industry for the long-term. The key factors are as follows:
The International Air Transport Association expects 7.8 billion passengers to travel in 2036. This will be nearly double the 4 billion air travelers in 2017. With steady growth in passengers, the prospects for the aircraft industry remain bullish.
Increasingly, aircraft companies have been leasing airlines than outright purchases. This has kept demand for aircraft leasing companies robust. According to report by Market Research, the aircraft leasing industry is expected to grow at a CAGR of 4.75% from 2018 to 2023.
Even with rising fuel cost, IATA expects the airline industry to remain profitable in 2018. Even as margin squeezes on a relative basis, the demand for leasing will remain robust as passenger volumes continue to increase. For Air Lease, new aircraft to be delivered in 2018 and 2019 are already leased. This is an indication of the demand.
A Comparative Analysis Of Aircraft Leasing Stocks
The table below gives a comparative analysis of aircraft leasing stocks. The key basis of the analysis is the debt and credit metrics for respective companies. The reason for focusing on debt and related metrics is that aircraft leasing companies depend on leverage for growth. In addition, the capital expenditure, fleet age and minimum future lease rentals (years) also provide perspective on growth and cash flow visibility.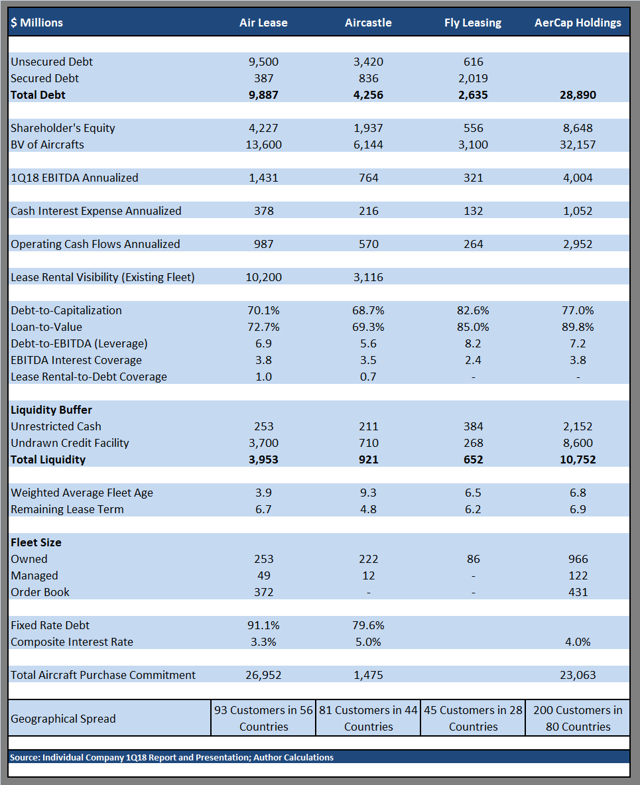 Note: Fields have been left blank where data is not provided by the company.
While the table is self explanatory, the key points worth mentioning are as follows:
Air Lease has the youngest fleet in the industry with a healthy remaining lease term. While AerCap Holdings has a higher fleet age, the company's remaining lease term is attractive, and with a significant pipeline of new aircraft deliveries, the weighted average fleet age will also decline.
All companies in the leasing industry are significantly leveraged. However, I don't see this as a concern. As mentioned above, the aircraft leasing companies expand through leverage. The key point to note is that even with high leverage, all companies have high EBITDA interest coverage. Again, the best coverage is for Air Lease and AerCap Holdings, and these companies also have higher growth visibility.
Air Lease and AerCap Holdings have significant commitments related to new aircraft deliveries. However, both companies have strong liquidity and robust operating cash flows. While I expect debt to increase for all companies in the coming years, I don't see financing new aircraft deliveries as a concern. Also, considering the fact that Air Lease and AerCap Holdings have investment grade credit rating (making debt financing easier).
I must mention here that Aircastle and Fly Leasing have also been working towards building a modern fleet and credit metrics are healthy even for these companies. However, on a relative basis, Air Lease and AerCap are attractive.
In the last 12 months, aircraft leasing stocks have not delivered robust returns, but these two companies have outperformed peers. I expect this trend to sustain.
Conclusion
The aircraft leasing industry has steady growth visibility in the coming years as global air traffic increases and airline companies increasingly opt for leasing of aircraft than outright purchase.
Companies like Air Lease and AerCap Holdings have positioned themselves well to benefit from this growth with sustained delivery of new aircraft in the next 3-5 years. I see current levels in these stocks as a good opportunity to consider fresh exposure.