Introduction To Bullish Thesis On Gold
As an asset class, gold has been an underperformer over the last few years. Returns from the precious metal have been 8.1% in three years, and it has given negative returns of 2.4% in YTD '18.
One perspective can be that gold is in a phase of prolonged consolidation and can move higher after the current sideways trend.
Another perspective is that the US Fed fund rates have been increasing, and that's an indication (in general) of tightening monetary policy. What follows is that the dollar is likely to get stronger and gold can see further decline in the coming quarters.
However, I hold a different view, and I remain bullish on the precious metal with a holding horizon of 3-5 years.
Before discussing my opinion, I would like to mention that I consider gold as an honest currency more than an investment that provides robust returns in a short time horizon. Therefore, I don't advise more than 10% to 15% of portfolio exposure to gold.
Having said that, the precious metal does have boom and bust cycles, and in the boom period, it can deliver stellar returns. It is worth reminding investors here that gold has given returns of 334% from the beginning of 2000 to July 5, 2018. During the same period, the S&P 500 index has returned 95%.
Is It Really Tightening Monetary Policies?
My first reason to remain bullish on gold can be explained from the chart below: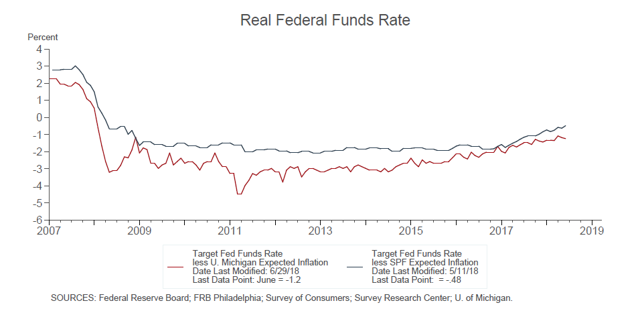 While Fed fund rates have been increasing, real Fed fund rates still remain in the negative territory.
As long as real Fed fund rates are negative, there is no case for calling it tightening of monetary policies. While it can be referred to as relative tightening, the broad scenario is expansionary rather than restrictive.
With inflation expectations also likely to increase in the coming quarters, real Fed fund rates are likely to remain in negative zone.
It is worth reminding readers that the Fed increased interest rates in baby steps between 2004 and 2007. During the same period, credit growth also increased, which eventually resulted in the credit crisis.
Therefore, from the perspective of policymakers, interest rate increase is a relatively blunt tool to tighten monetary policy. The Fed might be intent to tighten monetary conditions, but it is behind the curve from an inflation perspective. Further, the private sector (banking sector) can choose to be in expansionary mode (as in 2004-07) while the policymakers try to tighten policies.
My key point is that Fed fund rate increase does not necessarily imply that the excess cash buffer in the financial (and economic) system will decline. What follows is that gold can potentially move higher as the private sector expands credit.
Another important point that needs to be mentioned is explained by the chart below: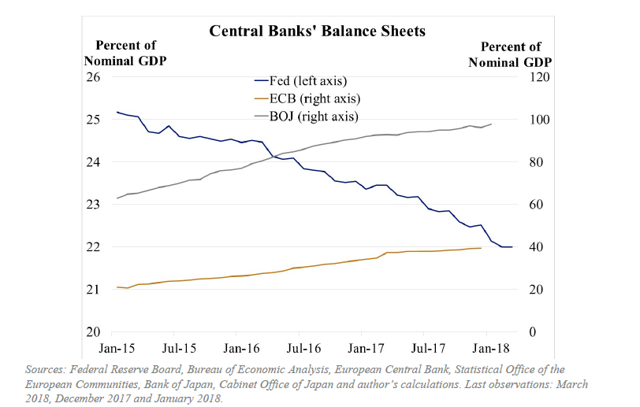 The Fed's balance sheet has been shrinking over the last few years, but during the same period, the ECB and BOJ have continued to expand their balance sheets.
My point is that expansionary monetary policies exist in the US with real negative interest rates, and elsewhere, central bank balance sheet expansion continues. Therefore, the global financial system has ample sources of easy money, and this will continue to manifest itself in the form of asset inflation (from one asset class to another).
With gold remaining sideways for a prolonged period, I would not be surprised to see funds flowing into the asset class. Some factors that I will discuss later will explain why I am bullish on gold even from a demand perspective.
Strong Demand For Gold
Gold has remained sideways in dollar terms in the last few years, but there is no doubt that demand for the precious metal has remained robust, and this is indicative of the long-term fundamentals.
The chart below provides the net purchase of gold by central banks from 1Q10 to 1Q18: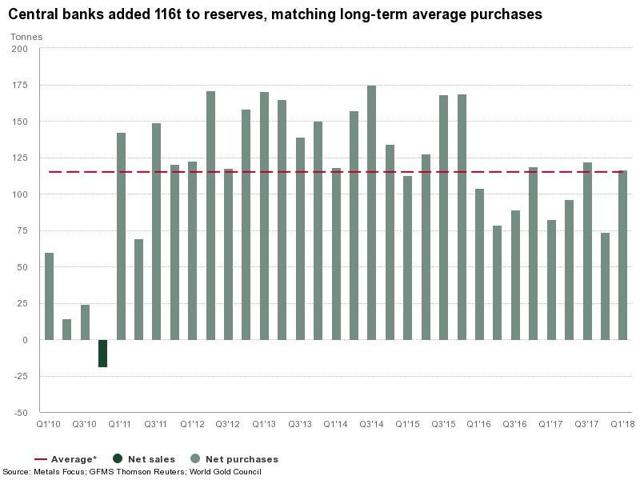 It is clear that demand has remained healthy as central banks of Russia and China among others have been steadily buying gold. The key reason is reserve currency diversification, and as global geopolitical tensions remain escalated, I see demand remaining strong.
It's a fact that gold demand has been weak in terms of ETF demand, and that has impacted prices. Even for 1Q18, demand for gold as an investment class remained weak. However, there are two points to note:
Demand for jewelry from India and China serves as a proxy for investment in gold as an asset class and that demand has remained largely steady.
An increase in oil prices is likely to impact inflation in addition to inflation resulting from easy policies. The point I am making is indicated by the US inflation rate of 2.8% for May 2018, which is at the highest level since February 2012. As inflation trends higher, ETF demand is likely to increase.
Investment Ideas
With bullish view on gold, my investment ideas according to preference are as follows:
Above other investment ideas, I would prefer investment in physical gold. As I mentioned earlier, gold is a store of value unlike most currencies and the best exposure is through holding gold bars or coins.
Ahead of ETFs, I would prefer investment in gold mining stocks. Among the big names in the industry, I like Newmont Mining (NYSE:NEM), and I have written in the past on various factors that make the company an interesting pick. It has clear visibility in terms of maintaining a steady, long-term production profile. Importantly, the company's all-in sustaining cost for the coming years is likely to remain below $1,000 an ounce, and this is likely to support healthy margins as gold trends higher.
Conclusion
Gold might have underperformed in the last few years, but I believe that this is a phase of correction and consolidation in the long-term bull market for the precious metal.
As mentioned earlier, I am not suggesting that investors go overweight on gold. However, portfolio allocation of 10% to 15% towards the precious metal can provide portfolio diversification and potentially strong returns in the next few years.
Disclosure: I/we have no positions in any stocks mentioned, and no plans to initiate any positions within the next 72 hours.
I wrote this article myself, and it expresses my own opinions. I am not receiving compensation for it (other than from Seeking Alpha). I have no business relationship with any company whose stock is mentioned in this article.