The release of the third and final assessment of 2018 GDP for the first quarter ("2018Q1") last week should give the Fed pause in pursuing its plan for additional rate increases in 2018.In the final estimate, the Bureau of Economic Analysis (BEA) said that GDP printed at just 2.0% growth in the first quarter. That's down 30 basis points from its original estimate in April. The biggest losers, as you can see from the chart below, was net exports and personal consumption expenditures, which reduced by 24 points and 13 basis points, respectively, from the first estimate of 2018Q1 (2018Q1E1) and the final estimate (2018Q1E3), which printed at the lowest figure in five years.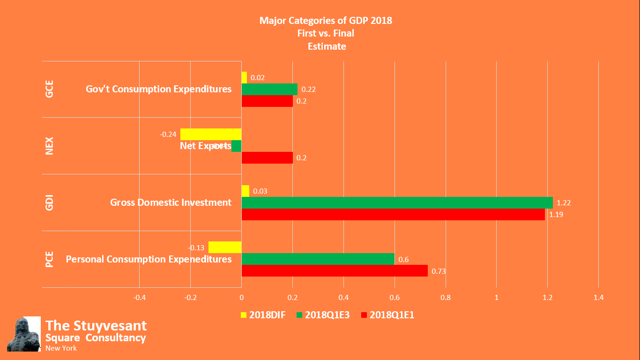 Source: The Stuyvesant Square Consultancy from BEA data
But another element of GDP rescued what would otherwise be a more dismal print of around 1.5 percent. That number was an increase in investment in intellectual property, at 0.51 percent in the final GDP print. IP is a relative newcomer to the GDP estimate, put in place as a revision during the Obama Administration. In the short term, it tends to affect a much smaller segment of the economy than, say, personal consumption expenditures.
Risking a "Sudden Stop"
But mediocre or even poor GDP growth is not the only problem with the Fed rate tightening. The other fear is that by deleveraging its balance sheet and simultaneously funding the Federal budget deficit from the Trump tax cuts, the Federal Reserve could cause a sudden stop in emerging markets.
A sudden stop occurs when liquidity tightens suddenly because investors can obtain a higher risk-free rate from U.S. Treasuries than by investing in more risky emerging markets. It makes it difficult for emerging market economies to function, to pay for foreign trade, and to finance projects. It also tends to make emerging market central bankers raise their own rates to defend their currency, further exacerbating liquidity.
Regular followers know that we have been very supportive of Prime Minister Modi's economic policies in India, and particularly his efforts last year to unwind India's byzantine interstate tax system for a VAT-style nationally imposed Goods and Service Tax (GST). We have also applauded his social reforms, infrastructure plans, and other policies generally.
But we now see higher risk to India because the Fed policy to tighten rates risks a sudden stop spillover effect in India and other emerging markets. For India, it means cheap, abundant, capital could possibly dry up as it seeks a higher return on risk-free US Treasury bonds. That could have calamitous effects on not only India, but other emerging markets in Asia, Eastern Europe, and Latin America.
Narrowing Spreads
We're also concerned about the volatility in the Libor/OIS spread. While it has narrowed from the early part of the year, we're concerned that banks like Deutsche Bank (DB) and others have expressed a willingness to engage in veritable speculation with Indian creditors, even as Deutsche Bank's U.S. subsidiary failed its recent stress test and others, including Goldman and Morgan, were found to be unable to distribute capital and State Street had shortcomings in its risk management and analysis. Similarly, we are concerned about our measure of the yield curve narrowing to just 85 bps. (We use the 3 month vs. the 10 year as the "canary for the coal mine", because Fed policy mechanism affects the 3 month more decidedly and quickly than the 2 year), During the holiday season last year, we warned about the precipitous decline in the yield curve to below 100 bps as well as its volatility. The decline to 85 bps should be read by the Fed as a "caution ahead" sign for the Fed and for investors.
Low Unemployment? Really?
Finally, the Fed should take a more nuanced view of the near record-low U.S. unemployment rate. While low, the US Labor participation rate is also at a near-record low, and more than 300 basis points below what it was prior to the Great Recession. It is at its lowest point since January, 1978, when women were still relative newcomers to the workforce and "working woman" was still a common phrase. For all of these reasons, the Fed should slow its upward march of rate increases for 2018 until such time as U.S. GDP can be reasonably assured to continue in the range of 2.5 percent to 3.5 percent, consistently, over at least four consecutive quarters. The Fed uses Real PCE, or Personal Consumption Expenditures, less food and energy, inflation to judge whether the economy is at risk of inflation, and sets its inflation target at 2 percent. But Real PCE was only 1.2 percent in 2018Q1. It hit 2.0 percent in May, and had run above 1.80 percent in the two prior months, but it is a volatile index, so raising rates based on even less than a full quarter's data seems to us premature.
Summary
We see nearly all of the aforementioned risks from what we view as a radical interpretation of data by the Fed; we believe it slowed the economy by at least 40 basis points in 2018Q1's final measure. Were the Fed to back away from their hawkish sentiment, and simply maintain rates at their status quo, and signal that they will require at least a full quarter of 2 percent inflation before another rate increase, the aforementioned risks would dissipate.
Despite relatively good data of late, we see risk to the broader market, the economy, and especially to emerging markets. We suggest either taking profits on emerging markets or a hedge, as well as a hedge against a broader market downturn.
___________________________________________
Author's note: Our commentaries most often tend to be event-driven. They are mostly written from a public policy, economic, or political/geopolitical perspective. Some are written from a management consulting perspective for companies that we believe to be under-performing and include strategies that we would recommend were the companies our clients. Others discuss new management strategies we believe will fail. This approach lends special value to contrarian investors to uncover potential opportunities in companies that are otherwise in downturn. (Opinions with respect to such companies here, however, assume the company will not change).