Watch out for Avalara (NYSE:AVLR) - the stock is headed for a correction. After pricing its IPO in the middle of June at $24, shares already jumped 87% on the first day of trading, and in recent weeks, the company has notched new all-time highs above 2x its original IPO price.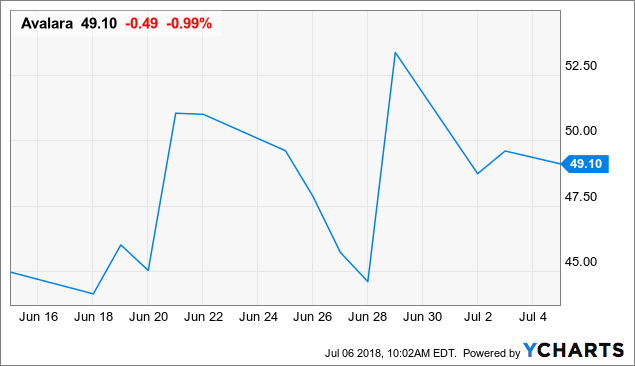 Unlike many popular software companies this year to experience a "phantom rally", like Dropbox (DBX) and Zuora (ZUO), Avalara's rise was actually rooted in fundamentals. The only question: is the catalyst enough to justify Avalara's massive rise?
In late June, the Supreme Court ruled in South Dakota v. Wayfair (W) that would require online retailers to start charging state sales taxes in a split 5-4 ruling. The decision overturned a prior 1992 ruling in Quill Corporation v. North Dakota that barred states from levying sales taxes on online sales unless the companies had a substantial connection to the state. As reported by the Wall Street Journal, Justice Anthony Kennedy (who recently retired from the bench) wrote in his majority opinion that the prior Quill ruling has cost state budgets upwards of $33 billion.
With this multi-billion tax windfall now to flow from e-commerce outlets to states, the thinking goes, a tax compliance company like Avalara is sure to benefit from the vastly increased number of tax filers, especially sellers remitting taxes in small states (like the Dakotas) where they've never filed before.
There's no arguing with this thesis. It's doubtless that Avalara will pick up some additional business in its traditional area of strength, SMBs (small- and mid-sized businesses), that have little experience in managing multi-state sales tax withholdings. In my view, however, the actual revenue impacts Avalara will see won't provide any meaningful lift over Wall Street's expectations or the company's existing growth trajectory. Investors are better off waiting on the sidelines for this stock to cool off.
Valuation raced ahead of reality
Meanwhile, Avalara's valuation has acted like it's won the lottery. A quick check on where Avalara trades today: with 65.0 million shares outstanding post-IPO, and at the company's current share price over $49, Avalara has a current market cap of $3.19 billion. I'll point out that this is substantially over Avalara's initial IPO valuation and ~3x over its estimated private valuation of $1 billion. And for further comparative purposes, it's also 2x the market cap of software peer Instructure (INST), which has approximately the same amount of revenues at a slightly faster growth rate.
If we give credit to the $12.6 million of cash on Avalara's balance sheet and the $163.9 million of expected net IPO proceeds as listed on Avalara's finalized prospectus, the company is left with an enterprise value of $3.01 billion.
Avalara has not yet provided guidance for the current fiscal year, but if we estimate its revenues to grow at 25% this year (in line with a 25% growth rate in Q1 of this year and 27% growth in FY17), we arrive at an estimated FY19 revenue figure of $266.4 million. This puts Avalara's current valuation at a steep 11.3x EV/FY18 revenues - an untenable valuation for a company that's growing at just 25% y/y. For comparison, here's a look at where other established SaaS companies growing in the 25-30% range are currently trading: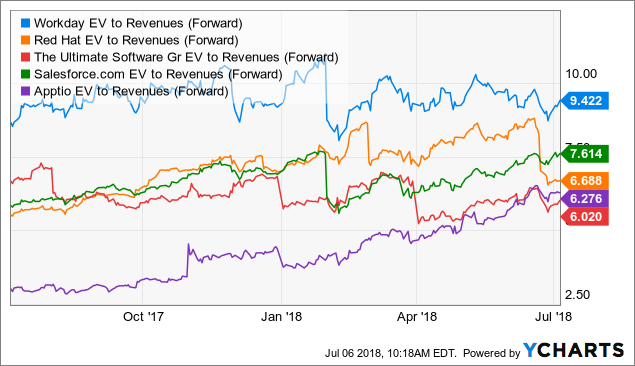 Within this growth group, it seems like anywhere from 6x to 8x forward revenues is a fair price to pay for this level of growth. Even Workday (WDAY), the perennial outlier and a constant market favorite, has begun to fall from favor in investors' eyes and descend from a prior multiple above 10x to the mid-9s.
These comps suggest that Avalara is anywhere between 30% and 45% overvalued. Also consider this fact: Avalara is not the only recent IPO this year to undergo a sharp rally in a matter of days, but it is among the only ones not to suffer a serious correction.
Dropbox is a good example of this phantom rally phenomenon. After trading at a stable $31-33 range for weeks, shares suddenly shot up to an all-time high of $43.50 in the space of a week in late June, before sharply crashing back down to their normal trading levels. DocuSign (DOCU) saw a similar rise and fall, though not to the same dramatic extent as Dropbox.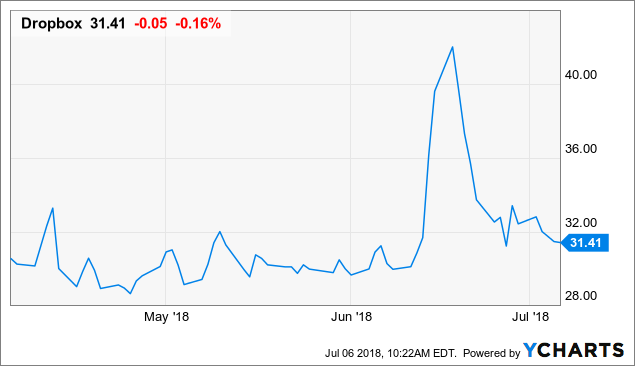 Avalara is about 6-7% off its all-time highs, but I wouldn't be surprised if the shares see a Dropbox-like correction, especially as investors get nervous ahead of its first earnings quarter. In my view, Avalara is worth no more than 8.5x EV/FY18 revenues, implying a price target of $38 and 23% downside from current levels.
Supreme Court ruling unlikely to materially alter Avalara's growth rate
The flip side of this valuation debate, of course, is that the new Supreme Court ruling will propel Avalara's growth rate meaningfully beyond its current 25% y/y, in which case its revenue stream should be valued considerably higher. But is this a reasonable assumption?
First, let's consider the giant that is Amazon (AMZN). The e-commerce giant commanded a 44% market share of all U.S. e-commerce sales in 2017, according to a research reported cited by CNBC.
But here's the kicker - Amazon is already collecting sales taxes in every state. This means that half of the expected potential benefit to Avalara is already not impacted by this ruling. Most observers are noting that Amazon will actually benefit from this ruling, as it increases its competitiveness against e-tailers like Wayfair that haven't been as meticulous about collecting sales taxes from their customers.
And as regards the Wayfairs and other large e-tailers of the world, how likely is it that they will turn to a software compliance provider like Avalara simply because of the ruling? Avalara is primary catered toward mid-market companies; it's unlikely to land a whale like Wayfair through the new tax environment.
Consider also the fact that heightened visibility on the tax compliance space will also invite further competition. Avalara's AvaTax is already up against a slew of startup competitors like TaxJar, Taxware Systems, and TaxCloud. And the biggest elephant in this room, of course, is Intuit's (INTU) QuickBooks, which already has a variety of sales tax features in its core application and is widely considered as the leading financial system/ERP among small- and mid-market customers.
Key takeaways
Since the ruling was released, Avalara shares have acted like its growth would jump significantly from 25% to 35-40%, but this is an extremely unlikely scenario given the limited scope of the ruling and the stiffened competitive environment. Also note that even in the unlikely scenario that Avalara does grow revenues by 40% y/y this year, it would still trade at a 10.0x EV/FY18 revenue multiple. Any way you slice it, Avalara shares are prohibitively expensive.
Investors would be wise to lock in gains on this trade and guard against the potential downside.