On a large n level, and looking at most stocks, markets seem to me to be relatively efficient. I am not looking at academic research and don't have the time to pull this together to make a convincing case. But it is difficult to outperform indices, it is difficult for individuals to predict the behavior of stocks in the future, and the market pricing for most companies often reflects risk and reward accurately. I don't think that's a hugely controversial statement.
But there is alpha to be found, and in individual cases, the market is inefficient. One of the reasons for this is that market participants have different time frames. Another is that the various participants in the market - human or algorithmic - look at the same data and have varying perceptions, which then align into one view or another over time.
Today's Editor's Notes takes a look at a few stories where the market is seeing one thing, but the author makes a case that you need to see the story in another way. Whether it's a transition to a new model or the obsolescence of an existing model (or not!), there's more than one way to look at a given stock, which leads to a potential opportunity. Or not.
Software as a service (SaaS) still attracts buzz and multiples, but its essence is just the subscription model. Book revenue, deliver it regularly over the years on a recurring basis, so that the recurring revenue entails little to no operating expense, allowing the business to scale.
Given it's the week of the 4th of July, looking at American Software (NASDAQ:AMSWA) and its SaaS model seems timely. The company is smaller - $470M market cap - and not very well followed on Seeking Alpha. For all that it pays a nearly 3% dividend yield, even as it has nearly doubled in the last 12 months.
Verza covered the company back in 2012, but here he is focused on the changes in the model as it goes to subscriptions. He highlights a few figures - annual contract value, recurring revenue, services and other revenue - that are key to watch as the company's growth story unfolds. He shares some headline valuation numbers that are not no-brainers, but also not crazy given the shifting model and the lack of attention on the company.
Sentiment check - No comments and not many page views. Vince Martin has been the only other one to cover the company and has been more skeptical of the growth story, which is a helpful counterbalance.
Where to look next - I'm not crazy about DCFs in general. But these sorts of subscription and recurring revenue companies where the argument is 'hey, the numbers look a little expensive now but the model will pay off' can stand a little more financial modeling.
The rise of oil would seem to lead to opportunities for oil services companies. I think I've been writing that sort of sentence for months now. That's apparently not obvious, though, as evidenced here. Fracking suppliers seem to be the bottom of the chain as far as benefiting from the rise and suffering from falls. So if we have room to run in this recovery, they would seem to have the most upside.
Fluids Doc gives a good overview of the space, as per the title. I'm not yet sure Carbo Ceramics (NYSE:CRR) is an obvious beneficiary, but the author is quite clear on how this is a high-upside, risky play if deepwater drilling picks up (which would be the other 'last part of the cycle' segment to rise).
Sentiment Check - Despite the hard years for CRR, commenters are positive on the company, and we haven't had a short idea on the company since 2016.
Where to look next - Liquidity and what the downside is would be where I start, and then how much higher does oil and CRR revenues have to go before the company is earning real cash flow? As well, what is the risk that as the upcycle picks up, competition drowns out the upside?
Speaking of the oil industry, a frequent investor quest is to find companies that will do well in both boom and bust times. And if that's not available, a company that at least operates on a different boom/bust is good to have. Pipeline companies were the subject of thousands of 'they get paid by volume, not by the underlying price of oil' articles, for example.
Refiners seem a purer distillation of this than pipelines though. Laura Starks's review of Delek US Holdings (NYSE:DK) hits most of the beats on the company, including how it's at reasonable valuation numbers even close to 52-week highs. One interesting twist is that with Scott Pruitt stepping down as head of EPA, some policy opens up - while there is wide agreement in the current administration on most environmental policies, there seems to be more space for change as far as policy towards biofuels, refiners, and renewable identification number (RIN) waivers.
Sentiment check - Not a lot of coverage - Tristan Brown has covered it over the years and considered DK not undervalued in May. The commenters who follow this appear to like the opportunity.
Where to look next - Any changes in the regulatory landscape? And what does input cost vs. output cost look for DK in coming months?
The tariff sniping that is going on in the global economy hits a ton of of sectors, but steel and iron seem to be at the epicenter of the storm. Cleveland-Cliffs (CLF) has made the case, however, that this is a good thing and that the tariffs will level the playing field. Leo Nelissen is buying the argument and buying the shares. This is a counter-narrative to much of the discussion around trade, but it's been a long decade for CLF. Are tariffs the way to climb back up?
Sentiment check: Comments are fairly bullish and the bulk of our coverage is as well (you have to go back to last December to find a bearish piece).
Where to look next: Beyond the balance sheet and some sensitivity analysis on how CLF would do with different iron pricing, I'd also want to know why CLF stands out over other companies in the space. If the bet is on iron or steel, there needs to be a compelling case that CLF is the best way to play it.
The top read long idea this week was again about Alibaba (BABA). Indeed, three of our top 10 most read long ideas are about the China e-commerce giant.
Shmulik Karpf writes about ZTO Express (ZTO), which recently received an equity investment from BABA and which delivers packages and parcels in China (the phrase "picks and shovels" shows up in the article). This is really just a teaser for a potential idea, as it only discusses the headline numbers - growing and profitable, so good! - and the presence of Alibaba. But as a place to start for people looking to China for growth opportunities, this is good.
Sentiment Check: Only 4,000 followers on SA, so this is a little under the radar (BABA has 284K). We've published three ZTO-focused articles this year, each bullish.
Where to go next: I would look for more details on ZTO's relationship with BABA and other e-tailers, its competitive positioning, and on governance and structure. The most recent article before Karpf's is a place to start.
Broadcast TV companies frequently trade at low multiples. Let's pull a list of them: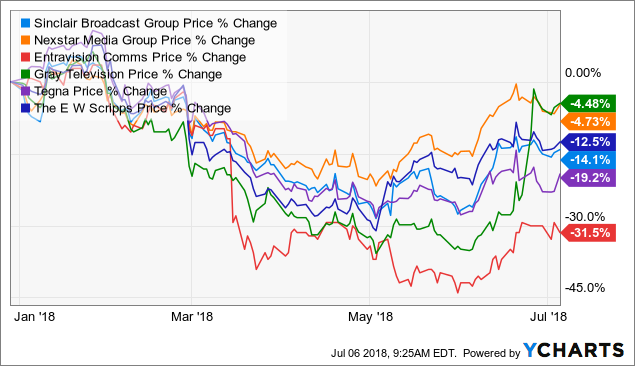 I used to own both Gray Television (GTN) and Entravision (EVC) shares, only recently closing the latter position, so I've had a front-row seat for some of this.
If you look at Sinclair Broadcast Group's (SBGI) peers, you will find a lot of them trade for single-digit PEs. There's the streaming threat, where local networks seem especially vulnerable to a loss of viewing time, and there's potential concerns about the advertising cycle. It doesn't help that President Trump won an election with lower than normal TV advertising spend, which seems like a dangerous trend for broadcasters given their political reliance every other year.
In counter to this, the industry is seeing a lot of consolidation - helped by loosened regulation - and a lot of leverage.
SBGI is attempting to buy Tribune Media Co. (TRCO) and has net debt nearly equal to their market cap. It also trades for single-digit PEs and free cash flow multiples. 7T Capital reviews all the key points in the situation to make the case why the market pricing is wrong.
Sentiment Check: Comments are mostly positive, but not a lot of attention on SBGI. We had one other buy piece in May, but nothing else in the past 2+ years.
Where else to look: It would be nice to see how the company stacks up with peers and what happens if obsolescence does set in, or if the cycle turns.
Short Ideas
We published 14 new short ideas in the last week. 3 are on Tesla (TSLA), which continues to (d)evolve into Harvard Business School case study status, for better or for worse. We're skipping those. Here are a few short ideas that catch my eye.
This is a really crazy case to me. The argument is basically that the FTSE Russell did not correctly adjust for a reverse split Innovate Biopharmaceuticals (NASDAQ:INNT) did, and so Russell weighted ETFs own 10x too many shares in the company. This is a replay of Longfin (OTCPK:LFIN). So just as a technical issue, the stock is overvalued. This is before you get to questions about the company, including the fact that it is a reverse merger with a company named Monster Digital. This is beyond the usual thing you will read in the markets.
Sentiment Check - We published a separate short idea on it, and have not published any long ideas on INNT. There are not many 'what are you doing shorting this company' comments, and many of the ones that are come from the perspective of caution, not of bullishness.
Where to go next: This comment from the author is a worthy read.
A biotech company that is in phase 1 has a long way to go to get to market. So Voyager Therapeutics (VYGR) having a $625M market cap seems to be quite a feat. John Kastanes highlights a few reasons to be concerned - Sanofi (SNY) chose not to exercise its options to VY-AADC ex the US, VYGR's data to date has not distinguished itself, and the company is likely to raise capital in the relatively near future.
As is often the case with biotech, the interpretation of data may vary, as well as which parts of the story to tell. But the base rate for success for a pre-phase 2 company on the one hand, and the market confidence to assign a meaningful valuation to such an early stage company on the other, make for an interesting stand-off.
Sentiment check - It takes a while to get through the immediate 'you're wrong' comments, but the comment stream gets fairly interesting in its discussion of the story. Previous articles lean bullish, and this is our first short idea on the company.
Where to go next - The partnership with AbbVie (ABBV) is something I would look at, and I've said it before but I take Marty Chilberg's work seriously, so his article would be worth reading.
To tie this article together, ARRIS (ARRS) appears to be facing the same challenges as Sinclair and other broadcasters, and in the inverse situation to SaaS companies, where software is a threat to their hardware business. Adam Gold is a new contributor to SA but a hedge fund manager, so there's some expertise coming to the table here.
Essentially, ARRIS faces threats to its main business line from competitors ranging from Apple (AAPL) (with Apple TV) to Amazon (AMZN) (Fire TV) to Roku (ROKU), as well as direct to consumer plays like Netflix (NFLX), Disney (DIS), and so on. Those are a lot of competitors to worry about. (Early disclosure - I am long DIS). That could lead to impairment of goodwill, which would threaten much of ARRS's book value. While that may seem like an accounting issue, the company also has a fair deal of debt and covenant issues to think about. This is one of those value or value trap stories that can be instructive for all types of investors.
Sentiment Check - There is in addition a patent infringement case angle, as brought up by Anthony Cataldo and several commenters. It's been 18 months since we've had the long case, which is that cord-cutting is overrated. Which may be true, as SBGI bulls will argue.
Where to look next - I think some modeling out of what ARRS's balance sheet and earnings are likely to be in a couple of years would be helpful, and I would want to look closer at what the covenant story is here. But this is definitely something to watch.
I'm unable to review it in full (my wife is a Brazil soccer team supporter, so gotta start watching the Belgium match!), but Terra Tech: Complete Smokeshow - Questionable Management, Poorly Run Business, And Dilution Risk by Fuzzy Panda Research seems worthy of a read, and was our most read and most commented on short idea of the past week, non-Tesla category.
Thanks for reading Editor's Notes! This is a twice weekly newsletter, with a mid-week edition on a battleground or hotly followed stock (though we skipped this week for the holiday) and a Friday review of the long and short ideas published in the week prior. Any articles stand out for you this week? Let me know below, I'd love to hear what you're finding on SA.
Disclosure: I am/we are long DIS. I wrote this article myself, and it expresses my own opinions. I am not receiving compensation for it. I have no business relationship with any company whose stock is mentioned in this article.
Editor's Note: This article discusses one or more securities that do not trade on a major U.S. exchange. Please be aware of the risks associated with these stocks.