US companies expanded payrolls by 202,000 in June, the Labor Department reported today. The solid gain marks the second time in as many months that employment grew by more than 200,000.
Last month's increase translates to a 1.9% year-over-year rise, unchanged from the annual gain in May. The back-to-back 1.9% advances reflect the strongest year-over-year increases in more than a year. In turn, the latest data reaffirms that US economic growth remains on track to expand at a healthy rate for the near term and that recession risk is virtually nil at the moment.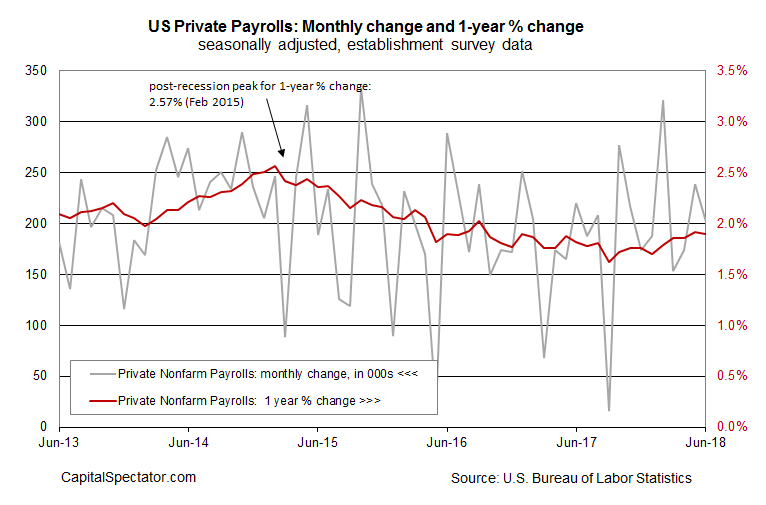 "This is a good job-creation number, but on the other hand we still see continued soft wage growth," advises Michael Feroli, chief US economist at JPMorgan Chase. "It's positive in the sense that we still have some capacity to grow above trend without triggering too much inflation worry." As a result, today's release "probably places less pressure on the Fed to feel like they're behind the curve. It's probably relieving for the Fed."
To extent that Feroli's analysis is correct, the June employment numbers can be viewed as a factor that reduces the risk that the central bank will soon raise interest rates again and invert the Treasury yield curve - a sign that would be widely viewed that recession risk is elevated.
Yield spreads aside, today's annual change in private payrolls as a guide strongly suggests that economic output remains on track to expand at a healthy rate for the foreseeable future. The wild card for this rosy outlook is linked to what happens next with the trade war that escalated today. The Trump administration on Friday imposed new trade tariffs on China, which responded in kind.
The economic implications of rising trade tensions for the US, China and the world economy are unclear at this stage, although most economists warn that there will be some price to pay in terms of growth. Exactly how much of a price remains open for debate. The critical variable is what happens in the days and weeks ahead in Washington and Beijing.
For now, at least, the US macro trend remains strong and the second-quarter data will likely reflect an acceleration in output. Now-casting.com's current estimate for Q2 GDP sees a 3.4% increase when the Bureau of Economic Analysis publishes its report on July 27. The projection represents a healthy improvement over the 2.0% rise in Q1.
With most of the key preliminary numbers for Q2 published, attention now turns to the possibility that demons may be lying in wait around the next bend. Uncertainty is high about how trade policy may (or may not) change in the weeks ahead. In turn, the mystery creates a bigger-than-usual cloud of unknowing about what's in store for the second half of the year.