Real Estate Weekly Review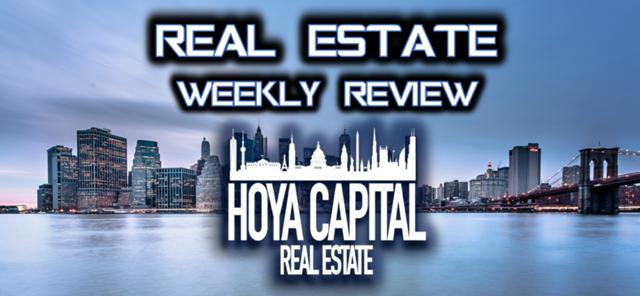 On a holiday-shortened week, there was no shortage of fireworks in the financial markets. Trade tensions continue to mount as the US imposed the previously announced tariffs on $34 billion in Chinese goods, which was matched tit-for-tat by a $34 billion tariff instituted on US goods by China. So far, there is no evidence that these tariff tensions are slowing the US labor market, which continues to be an engine of global growth. Nonfarm payrolls exceeded expectations in June. The pace of hiring has accelerated in 2018, attributable to the positive effects of corporate tax cuts and continued deregulation.
Recent economic data has hinted at the continuation of the 'Goldilocks' economy of strong economic growth and muted inflationary pressures, which has propelled the interest-rate-sensitive sectors, including homebuilders. The REIT ETFs (VNQ and IYR) finished the week higher by nearly 2%, led by the most rate-sensitive sectors. REIT ETFs are at the highest level since the passage of tax reform last December, jumping 15% from February's lows.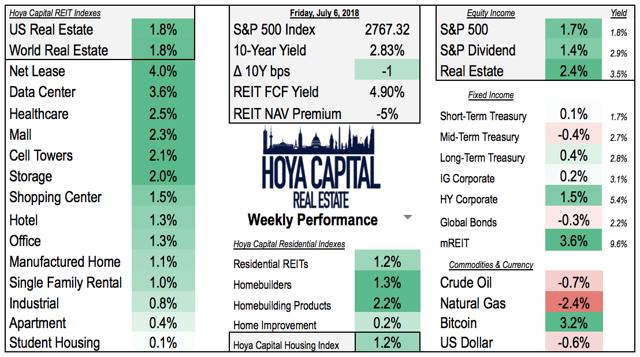 (Hoya Capital Real Estate, Performance as of 3 pm Friday)
Homebuilders (XHB and ITB), meanwhile, climbed more than 1% as mortgage rates continued to pull back from recent highs. The Hoya Capital Housing Index, which tracks an average of residential REITs, homebuilders, homebuilding products, and home improvement retailers, climbed 1.2% on the week. In other areas of the real estate sector, mortgage REITs (REM) surged nearly 4% while international real estate (VNQI) finished higher by nearly 2%.
REITs & Homebuilders in the News
Digital Realty Trust (DLR) is reportedly in talks to buy Brazilian data-center operator Ascenty in a deal that could be valued at roughly $1 billion, according to Bloomberg. Digital Realty acquired fellow REIT DuPont Fabros last summer in a $7.6 billion deal. With a favorable cost of capital, US data center REITs continue to expand their footprint domestically and internationally. DLR finished the week higher by nearly 3%.
This week, we published Shopping Center REITs: Good Riddance to the Retail Apocalypse. We noted that absent a revolution in last-mile delivery technology, high-quality retail stores will continue to be the center of retail distribution. Physical stores are the cheapest and most economically efficient distribution center. In a potentially game-changing ruling, the Supreme Court determined that online retailers can no longer escape state sales tax, effectively negating the "online discount" that had helped fuel e-commerce growth. The effects, we believe, will be most pronounced in the electronics, sporting goods, furniture, and clothing sectors where consumers are most likely to shop online for the specific purpose of avoiding sales taxes. We expect many otherwise struggling big-box retailers, including Best Buy (BBY), Dick's Sporting Goods (DKS), Macy's (M) and others to see a significant improvement in sales over the coming years specifically related to this ruling.
Along with data center REITs, the most rate-sensitive REIT names were among the biggest winners of the week, including net lease REITs VEREIT (VER), and Spirit (SRC). UMH Properties (UMH), CyrusOne (CONE), Tanger (SKT), SL Green (SLG), QTS (QTS), and GGP (GGP) each jumped more than 4% on the week.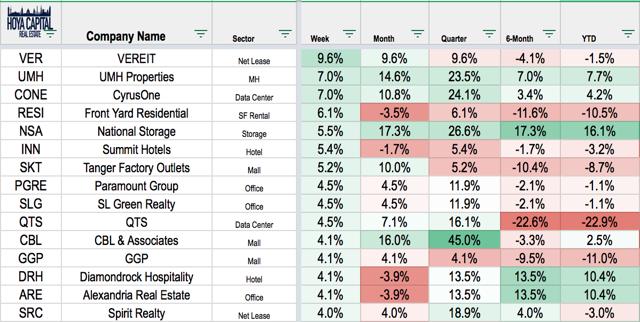 2018 Performance
REITs are now higher by 0.6% YTD on a price-basis, continuing a steady recovery after a brutal start to 2018 that saw the sector down nearly 10% on the year in mid-February. Despite the recent strong performance, REITs are still underperforming the S&P 500 on the year, which is higher by roughly 3%. Homebuilders are off by nearly 15% after rising more than 50% last year. The 10-year yield has climbed 43 basis points since the start of the year, aided by the 24% climb in the price of crude oil.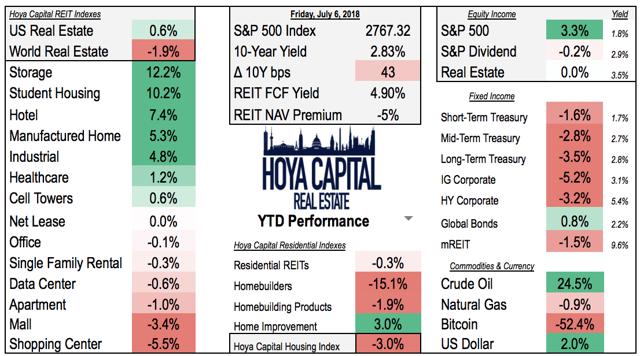 Hotel, manufactured housing, storage, and industrial REITs have led the way so far in 2018 while retail REITs have continued to lag. Below is the total return performance by real estate sector, as categorized by NAREIT.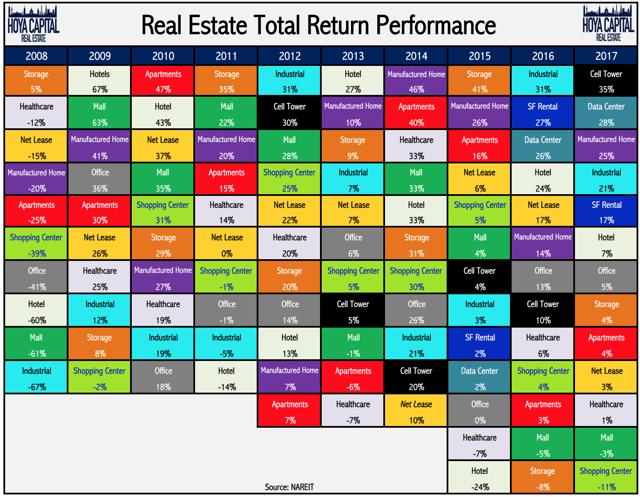 REITs ended 2017 with a total return of roughly 5%, lower than its 20-year average annual return of 12%. Going forward, absent continued cap-rate compression, it is reasonable to expect REITs to return an average of 6-8% per year with an annual standard deviation averaging 5-15%. This risk/return profile is roughly in line with large-cap US equities.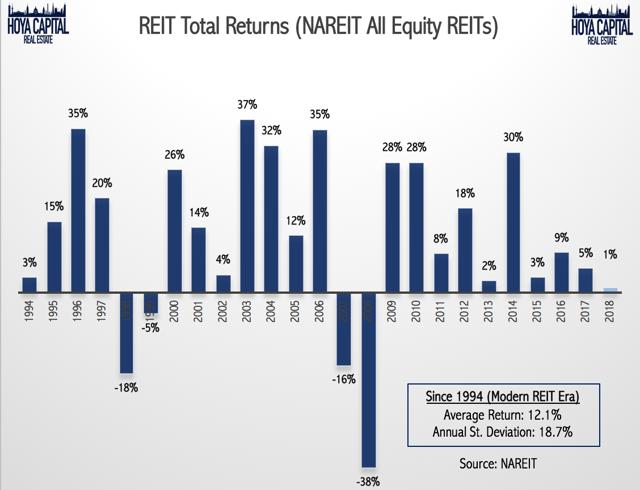 Real Estate Economic Data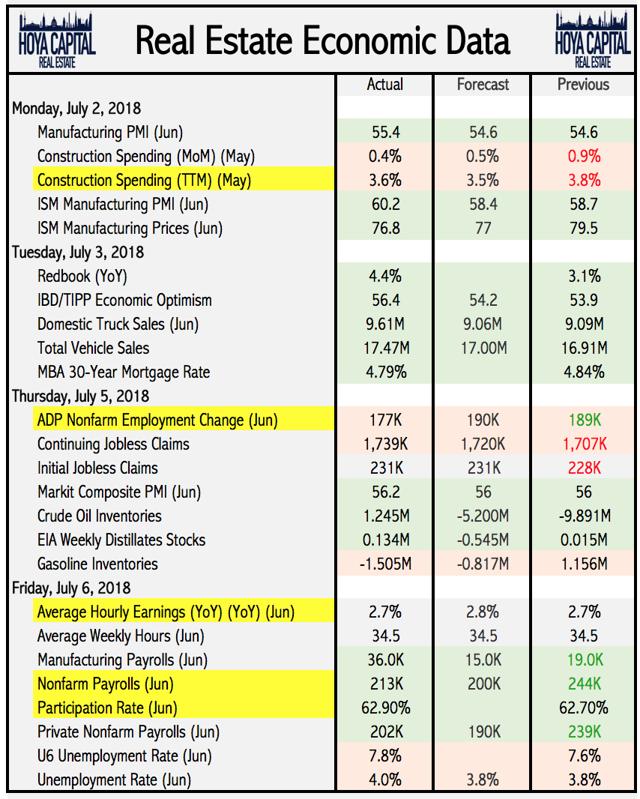 (Hoya Capital Real Estate, HousingWire)
Labor Market Continues to Exceed Expectations
Evidence of broad-based strength in the labor markets continued to show in June with few signs that the labor market has significantly tightened. The BLS reported a 213k rise in employment, which, combined with the upward revisions from prior months, was well above expectations. Earlier in the week, ADP reported a 177k rise in employment, roughly meeting expectations. Overall, the pace of hiring has accelerated since mid-2017, reversing a multi-year slowdown that many analysts attributed to tightening labor market conditions. Deregulation and corporate tax reform appear to have added another leg to the labor market recovery, which is already the longest on record at 93 straight months of job gains.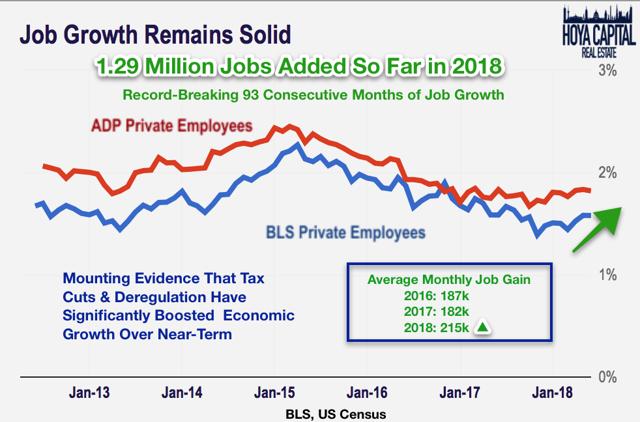 Investors remain keenly focused on average hourly earnings data for signs of tightness in the labor markets, which would generally be expected at the late stages of the economic cycle and would typically precede a slowdown in hiring. Wage growth is a positive for the US economy and corporate earnings when it results from productivity gains, but wage growth attributable to tight hiring conditions or government mandates is generally inflationary and results in higher interest rates and downward pressure to real economic growth. After a scare in the February data, downward revisions to that month and four subsequent months of moderate wage growth, it appears that Goldilocks conditions may be sticking around, at least for the time being. Average hourly earnings rose 2.7% in June which was below expectations and signals that wage pressure remains modest.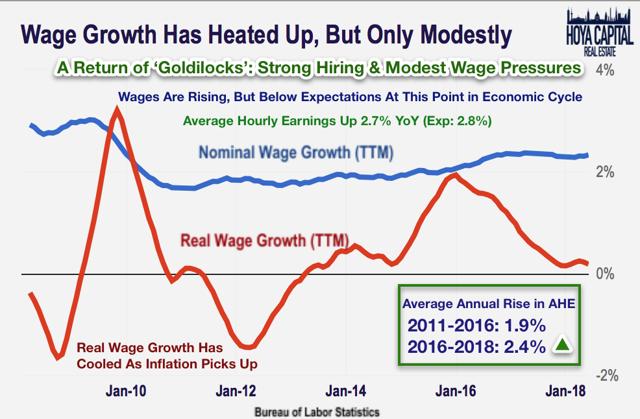 Goods-producing sectors have seen a dramatic resurgence since late 2016. Manufacturing jobs, which had entered a mild recession in 2016, have seen significant growth in recent quarters. Jobs growth in the goods-producing sectors grew 3.0% over last year, which is now at a multi-decade high. On the other hand, the services sectors, which account for 85% of the economy, have seen more modest growth. Services employment rose 1.4% from last year, but a recovery in the retail sector has reversed the recent deceleration.

Perhaps the most encouraging data point from this month's report was the uptick in labor force participation. The most hotly-debated topic among economists is whether or not the 20 million prime-working-aged Americans aged 25-54 that are not in the labor force will return or remain on the sidelines. The U3 unemployment rate ticked up to 4.0%, but this was entirely because of an increase in the number of individuals in the labor market. The prime-working age male participation rate continues to tick higher, but remains low by historical standards. There are several common explanations for the sustained decline in prime-working age male labor force participation: high incarceration rates, the expansion and abuse of government benefits programs, opioid usage, and longer time spent in the educational system. Structural reforms may be needed to fully unleash that segment of the workforce. If this can be accomplished, we believe this suggests further slack in the labor markets and continued modest pressure on wage growth.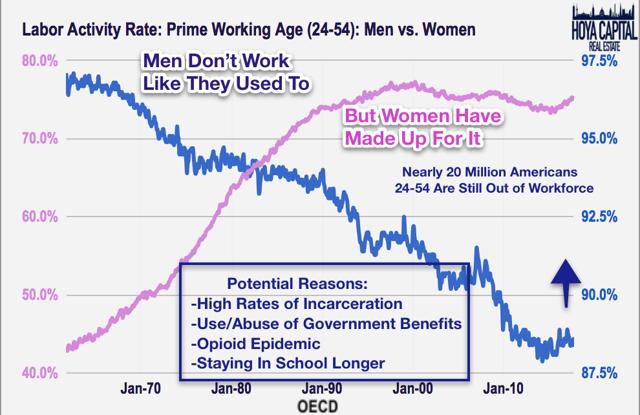 Construction Spending Continues to Moderate
Construction spending has continued to moderate in recent quarters following a surge of activity from 2014 through 2017. Total construction spending rose 3.6% over the last twelve months, hovering near the lowest rate of growth of the post-recession period. On a TTM basis, residential spending continues to be the bright spot, rising 9.8%. Growth in non-residential spending has dipped -0.7% over the last year, the slowest rate of growth since 2011. Public spending has seen a mild recovery of late, almost breaking into positive territory on a TTM basis.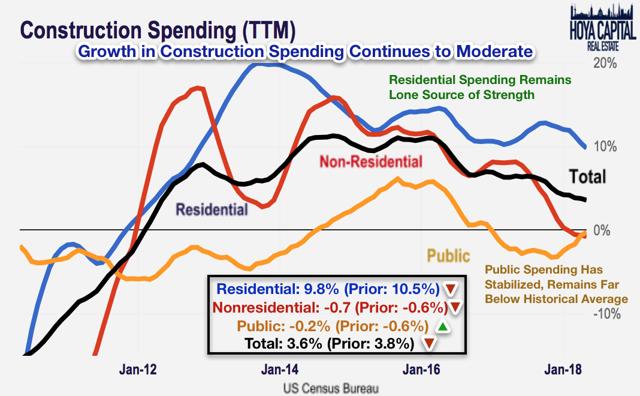 After several years of above-trend supply growth, all of the major non-residential commercial real estate have seen slowing construction activity. Developers have pulled back amid rising construction costs, tight lending markets, and slowing fundamentals in major CRE sectors caused by pockets of oversupply.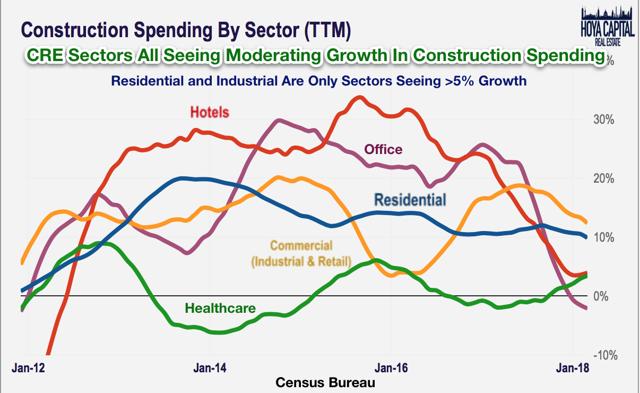 While overall inflation remains relatively modest, there are undoubtedly pockets of inflation emerging, particularly in the construction industry. Rising construction costs are a significant concern for homebuilders and developers. The price of US steel and lumber are each higher by more than 100% since the start of 2016. Turner Construction releases a construction cost index every quarter. Construction costs rose 5.0% in 2017, the seventh consecutive year of accelerating construction cost inflation, and have risen nearly 6% YoY so far in 2018.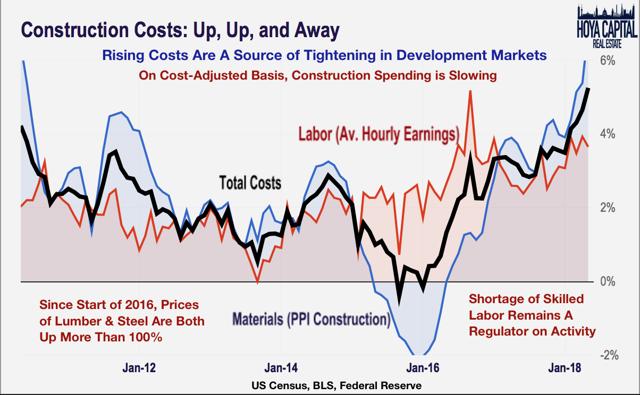 If we are indeed at or near the end of this construction cycle, it's fair to say that supply growth was more moderate than past cycles. Tight financial regulatory conditions, a relative lack of desirable land, restrictive land-use zoning and rising construction costs have served as impediments to supply growth. Overbuilding in the 2000s was a contributing factor to the "bust" in commercial real estate valuations during the financial crisis. After adjusting for construction inflation, real construction spending remains significantly below the peak of the prior cycle.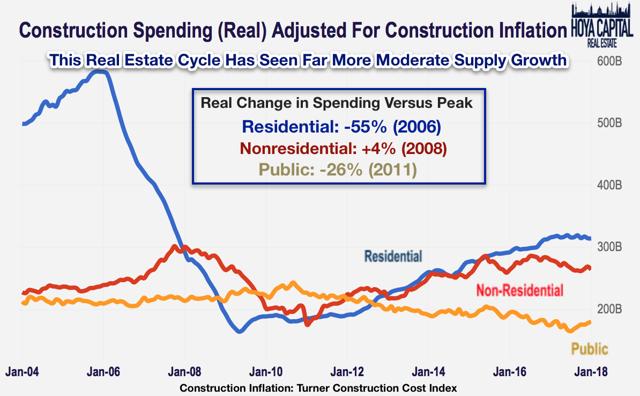 Bottom Line
On a busy week of economic data and mounting trade tensions, REITs continued their recent resurgence, climbing into positive territory for 2018 after a dismal start to the year. With most REITs near their 52-week highs, REIT ETFs are at the highest level since the passage of tax reform last December, jumping 15% from February's lows. Recent economic data has hinted at the continuation of the 'Goldilocks' economy of strong economic growth and muted inflationary pressures, which has boosted the interest-rate-sensitive sectors, including homebuilders.
The pace of hiring has accelerated in 2018, attributable to the positive effects of corporate tax cuts and continued deregulation. Discouraged workers appear to be re-entering the labor markets. Construction spending has moderated in recent quarters as construction costs continue to far exceed the broader inflation rate. Rising costs have served as a regulator of further development activity.
Be sure to check out all of our reports to see how each real estate sector stacks up: Net Lease, Malls, Industrial, Data Center, Apartments, Shopping Center, Hotel, Office, Healthcare, Industrial, Single Family Rental, Cell Tower, Manufactured Housing, Storage, Homebuilders, and Student Housing.
Please add your comments if you have additional insight or opinions. We encourage readers to follow our Seeking Alpha page (click "Follow" at the top) to continue to stay up to date on our REIT rankings, weekly recaps, and analysis on the real estate and income sectors.
Disclosure: I am/we are long VNQ, SPY, MAA, CPT, OHI, PLD, GGP, STOR, SHO, SUI, ELS, ACC, EDR, DLR, COR, REG, CUBE, PSA, EXR, BXP, EQR, INVH, SPG, HST, TCO, AMT, SBRA, AMZN.
I wrote this article myself, and it expresses my own opinions. I am not receiving compensation for it (other than from Seeking Alpha). I have no business relationship with any company whose stock is mentioned in this article.
Additional disclosure: All of our research is for educational purposes only, always provided free of charge exclusively on Seeking Alpha. Recommendations and commentary are purely theoretical and not intended as investment advice. Information presented is believed to be factual and up-to-date, but we do not guarantee its accuracy and it should not be regarded as a complete analysis of the subjects discussed. For investment advice, consult your financial advisor.