Jim Rickards is a Wall Street insider, prolific author and who garners the respect and attention of many elite financiers around the world.
In a recent article, Mr. Rickards outlined why and how he believes that the price of gold has been pegged by China to the supra-national currency of the International Monetary Fund ("IMF"), the Special Drawing Right ("SDR"). In this article, I intend to build upon this general idea, and provide some additional empirical evidence for the reader's consideration.
Gold Priced in SDRs
On October 1st, 2016, the IMF added the Chinese yuan to the currency basket of the SDR. Since that time, we can see how the price of gold – expressed in SDRs – has traded in a compressing range between 850 and 950 SDRs per ounce. In his article, Mr. Rickards opines that China has pegged the price of gold to 900 SDRs per ounce.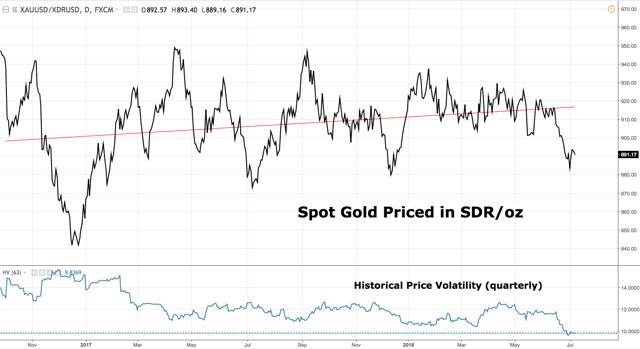 Source: TradingView
The linear regression slope of gold-priced-in-SDRs from October 2016 to the present day shows a slightly upward sloping line. The volatility of this data has steadily declined. The most recent quarterly volatility of gold priced in SDRs is was 9.8%, which is lower than the volatility of gold priced in U.S. dollars at 10.2%.
Gold Priced In Chinese Yuan
Over the same period, the price of gold has a linear regression midpoint near 271 Chinese yuan per gram. The linear regression midpoint is nearly a flat horizontal line. In addition, the most recent quarterly volatility of gold priced in Yuan is only 7.8%.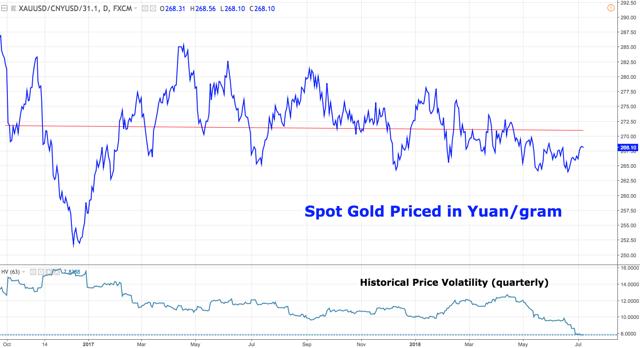 Source: TradingView
Questions to Consider
If China has indeed pegged the value of gold to some currency, is it possible that it has pegged the value to its own currency? The regression line for gold priced in yuan is more flat than the regression line for gold priced in SDRs. And the volatility of gold priced in yuan is lower. Wouldn't it be easier for China to peg the price gold to its own currency rather than a basket of currencies?
Disclaimer: This article was written for information purposes and is not a recommendation to buy or sell any securities. All my articles are subject to the disclaimer found here.
Commodity Conquest
In my Commodity Conquest service, I publish a daily commodity report for gold, crude oil, natural gas, and agriculture. I also do in-depth coverage of eight energy firms.
My verifiable trading record from on all completed trades through June 22nd has included a win rate of over 65% with an average return of 2.7% and an average holding period of 11.3 days.

Disclosure: I/we have no positions in any stocks mentioned, and no plans to initiate any positions within the next 72 hours.
I wrote this article myself, and it expresses my own opinions. I am not receiving compensation for it (other than from Seeking Alpha). I have no business relationship with any company whose stock is mentioned in this article.
Additional disclosure: We are always net long precious metals.