Discipline is the bridge between goals and accomplishment. - Jim Rohn
Last week we noted the difference in the market environment investors are faced with this year. In 2017 it basically was a rising tide lifts all boats scene. If you had exposure to equities both domestically and internationally, you likely had a strong year. That isn't working so well in 2018. This year presents more challenges for investors, suggesting that market participants need to be flexible in their approach.
Stock picking has been the best way to outperform the averages, and that stock selection has NOT included the disappointing international scene. Every international market ETF is in the red for 2018.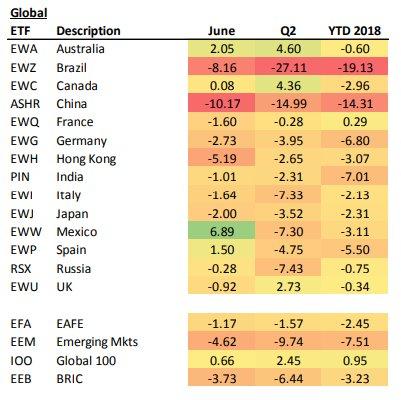 Source: Bespoke
In contrast, the U.S. scene has offered some select opportunity. The S&P 500 Growth index is up nearly 8% YTD, and the Value index is down 1.5%. Looking at sectors, areas like Consumer Staples, Financials, Industrials, and Materials have caused pain for investors, while exposure to Technology, Energy, and Consumer Discretionary has yielded nice gains. Anyone outperforming their benchmarks in the first half needed to be overweight these strong areas of the market.
For many investors, it is best not to get too wrapped up in the quest to outperform. Sure, it is nice, but overtrading and believing you can outwit the market can backfire. As in most decisions investors are faced with, there are no easy answers. So it becomes a fine line to understand what is happening around us versus overplaying the situation.

Investor worries are everywhere. Trade war talk is at the top of the list. Then it's the two "Ds", debt and the deficit. Slowing global growth and a shrinking Fed balance sheet, along with rising interest rates, make up the bulk of the wall of worry. My bullish views are being challenged as fears of a major market top are being tossed around. That's not so unusual; it has been the norm during this bull market. Even before we get through this year's earnings results, the question arises, "What will happen in 2019, after the earnings growth this year?" Ladies and gentleman that is not a scenario that marks market tops.

Economy
This tweet from Urban Carmel sums up the mindset of many investors today.

Recessions don't happen out of thin air. Data starts shifting ahead of a recession. Manufacturing activity sags. Housing starts tumble. Jobless claims start rising. You know the drill, and we are not seeing any of it yet.
Doug Short shares some wonderful information with investors. Here is his latest graphic display on the probability for recession. The Leading Economic Index posted a new uptrend high in May. In the past 50 years, the final peak has been at least 7 months before next recession.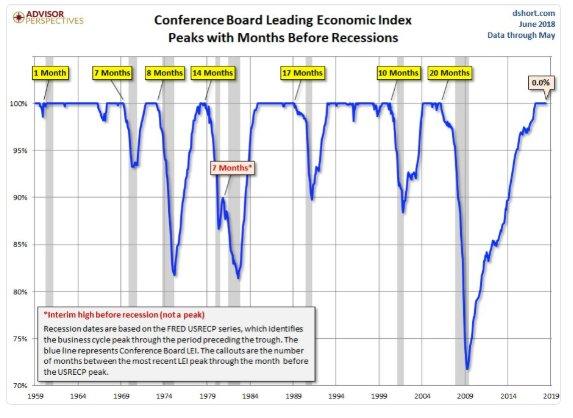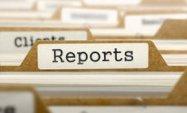 Final June Markit PMI fell 1.0 point to 55.4 after dipping 0.1 point to 56.4 in May; and it compares to the 54.6 preliminary June print. It was at 52.0 last June. Chris Williamson, Chief Business Economist at IHS Markit:
"The PMI for June rounds off the best quarter for manufacturing for almost four years, but also fires some warning shots about what lies ahead. As such, the second quarter could represent a peak in the production cycle. The survey has a good track record of accurately anticipating changes in the official manufacturing output data, and suggests the goods-producing sector is growing at an annualized rate of around 2.5%.

On the downside, new orders inflows were the weakest for seven months, with rising domestic demand countered by a drop in export sales for the first time since July of last year. Business optimism about the year ahead also fell to the lowest since January, with survey respondents worried in particular about the potential impact of trade wars and tariffs."
Construction spending report revealed a 0.4% increase in May, slightly below expectations and following a 0.9% gain in April. The report included revisions going back to 2011 and left a weaker path for residential and nonresidential construction into Q2, but a boost for public construction spending. Construction spending is now 74% above the bottom in January of 2011. Private residential construction is 137% above the October 2010 bottom. New residential construction, which drives the GDP residential construction component, is 192% above its bottom in May of 2011.
ISM Manufacturing popped to 60.2 in June, which is the second highest reading in 14 years, aside from February's 60.8 figure. The May read was 58.7 after a 9-month low of 57.3 in April. The index is oscillating around robust levels, as sentiment surveys are defying the expected drop-back in Q2. Analysts saw a 47.8 expansion low in January of 2016. With this week's solid ISM reading, the ISM adjusted average of the major producer sentiment surveys is poised to sustain the 59 cycle-high set in May versus 58 readings in six of eight months through April.
Factory Orders data slightly beat estimates with a big 1.1% petroleum led May non-durable increase for shipments and orders and upward revisions in their durables counterparts.
IBD/TIPP economic optimism index rose 4.6% to 56.4 in July following the 0.6% increase to 53.9 in June, extending its run higher. This is the second highest level since 2004 and is just shy of the 56.7 print from February which was a 13-year peak. It represents the third monthly gain after two months of declines, and it's the 22nd straight month above 50 (signaling optimism, below 50 is pessimism).
Importantly, the view on Federal policies improved to 52.9 in July from 48.3 in June, back in solidly optimistic territory for the first time since late 2006. Most results have been below the 50 threshold since the financial crisis. In fact, this is the highest level since 2006, despite the tariff discussions.
The 6-month economic outlook index rose to 53.4 from 51.2 previously, though it's well off the 57.5 print that followed President Trump signing into law the tax cuts. The 6-month personal financial outlook index edged up to 62.8 from 62.1, but is below the 14-year high of 64.0 in January.
Perhaps this is all a precursor signaling both consumer and business spending remains resilient and may start to improve.

Another solid month on the employment front. The unemployment rate actually increased, because the much aligned, often moaned about labor participation rate increased. One of those naysayer arguments that no one need pay attention to.

June vehicle sales are running at a 17 million rate, with Ford (NYSE:F), GM (NYSE:GM), Toyota (NYSE:TM), Honda (NYSE:HMC) and Nissan (OTCPK:NSANY) reporting. This compares to a sales pace of 16.8M in May and 17.1M in April versus an 18.5 million hurricane boosted cycle high last September.
A 17 million vehicle sales rate should translate to a 0.6% rise for retail sales in June, and a 0.6% retail sales ex-autos increase. Analysts expect a 0.6% June rise in personal consumption with a 0.4% "real" increase, and a 0.2% PCE chain price rise that tracks an assumed 0.2% June CPI increase.
Analysts estimate Q2 growth rates of 5.1% for nominal consumption and 2.7% for "real" consumption, following respective Q1 growth rates of 3.4% and 0.6%, with GDP growth of 4.0% in Q2 after a 2.0% Q1 clip.
If auto sales are any measure, consumers aren't pulling back.

Global Economy
JPMorgan Global Manufacturing PMI report shows manufacturing growth at an 11-month low with a reading of 53, down from the prior month report of 53.1

Eurozone Manufacturing PMI falls to 54.9 in June, an 18-month low in June. Chris Williamson, Chief Business Economist at IHS Markit:
"Eurozone manufacturing reported its weakest expansion for one-and-a-half years in June, with risks clearly tilted towards output growth waning further in coming months. Production growth has weakened markedly since the end of last year, and new order inflows have slowed even more. Manufacturers may therefore need to rein-in their production further to adjust to the recent downturn in order book growth unless demand revives."

"The biggest concern is the extent to which export order book growth has cooled since the start of the year, and could soon go into decline. The survey reveals mounting worries from companies relating to the impact of tariffs and trade wars, suggesting firms are bracing themselves for the potential for further export losses. Not surprisingly, business expectations for future production deteriorated in June to the lowest November 2015."
Eurozone Composite PMI improved to 54.9 in June up from 54.1. Chris Williamson, Chief Business Economist at IHS Markit:
"Eurozone growth regained momentum in June, rounding off a respectable second quarter performance, for which the survey data point to GDP rising by just over 0.5%. June also saw new orders and employment growth perk up, suggesting rising demand continues to motivate companies to expand capacity."

"Firms' costs and average selling prices for goods and services are meanwhile rising at rates close to seven-year highs, which will likely feed through to higher consumer price inflation in coming months. The upturn in the pace of economic growth and resurgent price pressures adds support to the ECB's view that stimulus should be tapered later this year, but the details of the survey also justify the central bank's cautious approach to policy."
Eurozone Retail PMI remained steady at 51.8, the May report was 51.7. Trevor Balchin, Economics Director at IHS Markit:
"The eurozone retail sector continued its recent solid run of growth in June. Sales have risen month-on-month since April 2017, except for a blip in April this year. The three largest economies in the eurozone continued to show widely differing trends, however."

"Germany posted a nineteenth straight monthly increase in retail sales, and the strongest expansion in nearly three years. In contrast, Italian sales fell for the seventh time in eight months, albeit at a weaker pace. France registered a decline for the first time since March 2017."

Caixin China General Manufacturing PMI fell fractionally from 51.1 in May to 51.0 in June to signal a further steadiness in operating conditions.
Nikkei Hong Kong Purchasing Managers' Index, a single-figure measure of developments in overall business conditions, edged lower to 47.7 in June from 47.8 in May, signalling the steepest deterioration for nearly two years.
Bernard Aw, Principal Economist at IHS Markit:
"The deterioration of private sector activity in Hong Kong extended into the end of the second quarter, as PMI surveys suggested the economy suffered its first quarterly decline since the start of 2017. Output and new orders both continued to decline at solid rates, with Chinese demand softening for a second straight month. Business confidence fell to the lowest in 15 months, dampening any hopes that the private sector could mount a quick recovery."

"Furthermore, anecdotal evidence highlighted concerns that rising trade frictions between the US and China will weigh on growth. Private-sector firms also faced other difficulties, including limited stocks at distributors and a sharp rise in paid prices for inputs. Purchase cost inflation was lifted to the highest in nearly seven years, with increased prices for paper, plastics and copper cited as sources of increased costs. While firms want to pass these increased costs onto clients, weak demand conditions restricted the extent to which they can raise selling prices."

Nikkei Japan Manufacturing PMI showed moderate improvement coming in at 53 for June up from the May read of 52.8. Joe Hayes, Economist at IHS Markit:
"Japan manufacturing PMI data continue to signal that the sector's current expansion phase still has legs. Output growth edged up in June, supported by further inflows of new work and an accelerated rate of employment growth."

"Concerns do remain however, as new order growth eased to a ten-month low and export sales decreased for the first time since August 2016. Moreover, with input price inflation jumping to a three-and-a-half year high, manufacturers may be forced to absorb higher cost burdens in order to remain competitive, particularly if the yen faces further safe haven demand."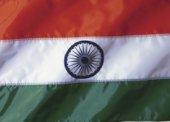 Nikkei India Manufacturing PMI rolled in at 53.1, the strongest pace in 2018 so far. Aashna Dodhia, Economist at IHS Markit:
"India's manufacturing economy closed the quarter on a solid footing against a backdrop of robust demand conditions, highlighted by the sharpest gains in output and new orders since last December. Meanwhile, orders from international markets rose at the strongest pace since February."

"On the jobs front, the latest survey data pointed to a healthy labour market, with job creation accelerating to the sharpest since December 2017. The RBI recently raised interest rates for the first time in four years to contain inflation and stabilize the rupee. However, input cost inflation quickened to the strongest since July 2014 in June, suggesting that the central bank could remain under pressure to tighten monetary policy."

U.K. Manufacturing PMI remained unchanged at 54.4 in June. Rob Dobson, Director at IHS Markit:
"The UK manufacturing sector ended the second quarter on a subdued footing. The turnaround in performance since the start the year has been remarkable, with impressive growth rates late last year turning into some of the weakest rates of expansion seen over the past two years in recent months."

"The slowdown in new order growth since earlier in the year has also left manufacturers increasingly reliant on backlogs of work and inventory building to maintain higher output. This is a position that cannot be sustained far beyond the immediate horizon. The trend in demand will need to stage a much firmer rebound if a further slowdown in output growth is to be avoided."
A big improvement for U.K Services PMI in June with a reading of 55.1 up from the May report of 54. Chris Williamson, Chief Business Economist at IHS Markit:
"Stronger growth of service sector activity adds to signs that the economy rebounded in the second quarter and opens the door for an August rate hike, especially when viewed alongside the news that inflationary pressures spiked higher."

"The survey data indicate that the economy likely grew by 0.4% in the second quarter, up from 0.2% in the opening quarter of 2018. The sharp rise in business costs, linked to surging oil prices and the need to offer higher wages, suggests inflation will also pick up again from its current rate of 2.4%."

Overall a mixed bag being presented on the global economic front, primarily due to the weak/neutral readings being reported in the Eurozone. However, the picture here in the U.S. is one of an improving situation. It's not too hot nor too cold, just right.

Earnings Observations
Bespoke Investment Group:
"Earnings and forward guidance, ultimately the things that impact individual stock price movements the most, were strong to end 2017 and they've remained strong in 2018. Our 'guidance spread' measures the percentage of stocks raising guidance minus the percentage lowering guidance on a quarterly basis. After years of negative guidance spreads, this reading finally turned positive at the start of 2017 as companies finally turned more bullish on their futures."
Don't believe we need to pay attention to that? Think again. Remember there is no reason for a CEO to go out on a limb at be overly optimistic about things IF they truly see a positive change. So when they do indeed start issuing upbeat guidance, we should pay attention.
FactSet Research Weekly Update:
Earnings Growth: For Q2 2018, the estimated earnings growth rate for the S&P 500 is 20.0%. If 20.0% is the actual growth rate for the quarter, it will mark the second highest earnings growth since Q3 2010 (34.0%).

The forward 12-month P/E ratio for the S&P 500 is 16.2. This P/E ratio is equal to the 5-year average (16.2) and above the 10-year average (14.4).

The Political Scene
Clocks counting the deadline to when the Chinese tariffs go into effect, non-stop "black" headlines of how it will turn into a disaster for global trade and our economy and stock market. That was the investment scene this entire week. The much advertised $34 billion of trade tariffs against China went into effect on Friday, and as expected, the much advertised Chinese response also took place. The stock market yawned. It has been my view that none of this comes as a shock; it has been talked about ad nauseam for months. Therefore the reaction that we witnessed should also come as no surprise.
It is also my view that the entire situation is being extrapolated to the worst possible outcome. For now, I have to disagree on all of the negatives that are being bandied about. No one likes tariffs, no one wins with tariffs being imposed. Investors have heard these words enough to be able to recite them in their sleep.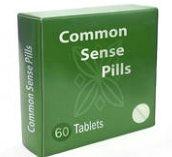 It's all about using some common sense. Newsflash; there are tariffs in place, and now there are a few more tariffs in place, global trade hasn't imploded, and I don't see the world imploding now. In some cases the increased costs that we are being told will hurt corporations will be passed along. There is the one faction that says economic disaster ensues; the other says no one will stop buying or suddenly limit their purchase of bourbon or ketchup. Entrepreneurs will find a way to limit any negatives that may befall their businesses. Somehow the world is still spinning with a 25% import tariff on U.S. automakers, that may actually now be reduced.
As far as the economic situation here and the negatives that are talked about, let's also apply some common sense to the situation by looking at the other side of the equation. Oops, so sorry. I am not sure if anyone has mentioned that side before, so it may come as a shock to most. IF this trade scuffle were taking place in a vacuum, I might have a little more concern, but it isn't. It comes AFTER the incentives to boost the American economy and lift businesses out of the quicksand, they have been mired in since the financial crisis.
Corporate tax cuts, deregulation, repatriating money from overseas, etc., all have been set in motion. It seems many have already forgotten those facts. There is a HIGH probability that those incentives will totally, and completely cancel out ANY tariff penalties that the gloom and doom crowd presents to investors.
The effect on China, minimal. It is transforming into a service oriented economy, it is no longer export driven. Net exports (the value of a country's exports minus the value of its imports) account for only 2% of China's GDP, down from a peak of 9% in 2007. In contrast, domestic consumption now accounts for the majority of China's economic growth and more than half of its GDP. 2017 was the sixth consecutive year in which the consumption and services share of China's GDP was larger than the manufacturing and construction share.
Then there is the fact that the administration is negotiating the trade issue without the support of America's allies, therefore the impact on China's exports would be relatively small. Last year, Chinese exports to the U.S. accounted for only 19% of total Chinese exports. I doubt that shrinks to zero. Some common sense please.
Meanwhile, German auto makers are uniting in suggesting eliminating all auto tariffs between the U.S. and the E.U. Now there is a glimpse of common sense being applied.

The Fed
Minutes from the last Federal Reserve meeting:
"With regard to the medium-term outlook for monetary policy, participants generally judged that, with the economy already very strong and inflation expected to run at 2 percent on a sustained basis over the medium term, it would likely be appropriate to continue gradually raising the target range for the federal funds rate to a setting that was at or somewhat above their estimates of its longer-run level by 2019 or 2020. Participants reaffirmed that adjustments to the path for the policy rate would depend on their assessments of the evolution of the economic outlook and risks to the outlook relative to the Committee's statutory objectives."

"Participants commented on a number of risks and uncertainties associated with their outlook for economic activity, the labor market, and inflation over the medium term. Most participants noted that uncertainty and risks associated with trade policy had intensified and were concerned that such uncertainty and risks eventually could have negative effects on business sentiment and investment spending. Participants generally continued to see recent fiscal policy changes as supportive of economic growth over the next few years, and a few indicated that fiscal policy posed an upside risk. A few participants raised the concern that fiscal policy is not currently on a sustainable path. Many participants saw potential downside risks to economic growth and inflation associated with political and economic developments in Europe and some EMEs."
In summary, a benign report with no surprises.

Sentiment
In the week ending June 30th, 20 billion flowed out of equity funds and ETFs. The only bigger outflow this year was the first week in February, which happened to be the year to date low for the S&P. All of the so-called smart money that left in February did so at S&P 2500. Lipper Fund Research reports another $8.3b outflow this week. Equity fund outflows now stand at 5 weeks in a row.
There was very little change in investor sentiment over the last week. Based on the AAII survey, individual investors are still a lot more bearish than bullish. Bullish sentiment saw a slight decline on the week, falling from 28.5% down to 27.9%, which is the lowest level since early April. Meanwhile, Bearish sentiment, also saw a slight decline, falling from 40.8% down to 39.3%, but keep in mind that follows a very large 15 percentage point increase in the prior week.

Crude Oil
The EIA weekly inventory report reported a slight increase of 1.2 million barrels in crude inventories. Despite that increase, absolute levels of crude inventories continue to trend below their five-year average. Gasoline inventories decreased by 1.5 million barrels. None of that had much impact, as WTI closed on Friday at $73.82, down $0.43 for the week. A slight give back after the $9+ gain in the prior two weeks.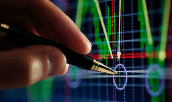 The Technical Picture
Crosscurrents and confusion aren't just present on the fundamental side of the investment scene, they exist as well in the technical picture. The DAILY chart below shows that while the pullbacks down to the 2,690s support area have held, the subsequent rallies have been reaching lower highs: 2,746, 2,743, 2,737. That was the case until Friday, the day when the market was supposed to drop because of tariff talks becoming reality.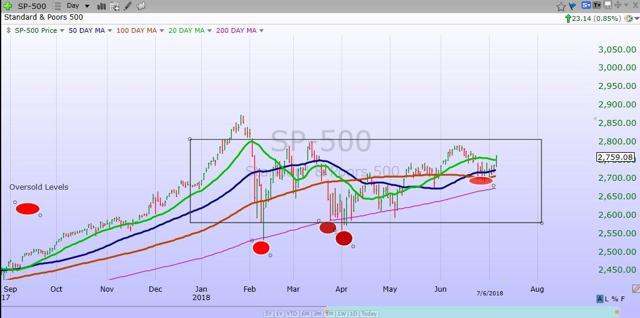 Chart courtesy of FreeStockCharts.com
Instead the S&P tacked on another 23 points to close at 2,759, breaking the string of lower highs in the recent short-term retreat. Perhaps a push to the upper end of the trading range, or a retest to the 2690s level again, take your pick. Until we see a decided change, that is the scenario that we will go with, a choppy market pattern. I see no concern unless we start to see the S&P break decidedly below the 200-day moving average (purple line - 2,671), and stay there. On the flip side, I can envision this as the first step in the S&P forging a new all-time high. All of that analysis is the short-term outlook, the longer-term uptrend remains solidly in place.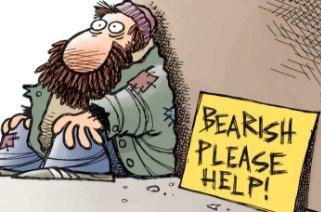 Market Skeptics
We hear a lot about corporate debt and how it will come back to haunt us. Worrying about that, or worse yet preparing for that haunting event, could be very costly.
Urban Carmel notes that corporate leverage today is not materially different than it was in other expansion cycles like 1993 or 2003. The delinquency rate on corporate loans is lower than at any time during the prior three expansion cycles. High yield spreads are falling and default rates are well below average.

Chart courtesy of Urban Carmel, Data from Federal Reserve

Individual Stocks and Sectors
A view based on how the Financial Sector performs as the Treasury (2s to 10s) yield curve is flattening. Over the last two cycles, when relative performance to the S&P turns for the financials, it can be dramatic.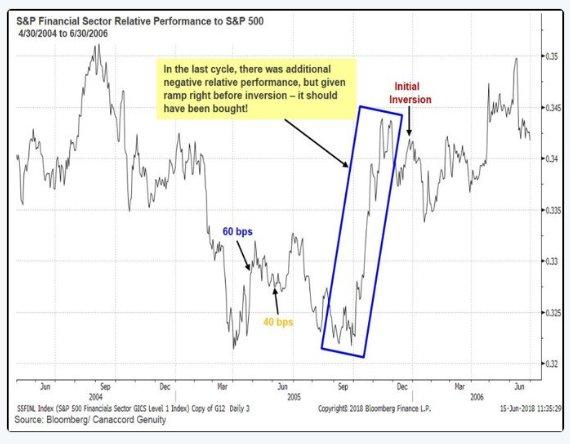 More evidence that supports the view that the banks may not be dead money just yet.
However, here is something that was right in front of me that was missed when I made my call to get bullish on the Financial stocks a few weeks ago. One data point that I rely on as a great contrarian indicator is the Global Fund Manager reports. Remember when everyone is on one side of the boat, it is best NOT to be there. Take a look at the tremendous overweight position in the banks.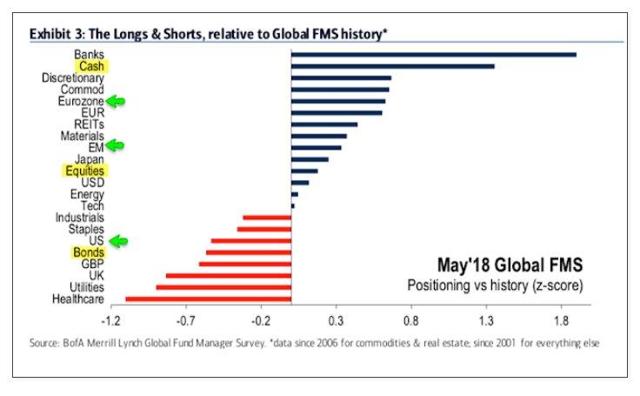 There was simply no one left to buy and support prices. My guess is that this positioning is being wound down now as the under performance in the sector continues. I am not ready to toss in the towel on that call just yet.

While the equity market continues to consolidate the gains from last year, a very normal and expected occurrence, I'll stay with my view that the risk remains to the upside for stocks. The S&P forward earnings picture continues to improve and at some point that trumps all.
Ok, I will agree, nobody wins a trade war, but if I look around the globe, the U.S. has lost a lot less than its counterparts. Europe and emerging market indexes all broke below their first half trading ranges, signaling they are still searching for a bottom.
FBN Securities notes:
"The president has concluded that with the U.S. economy standing above all others, he's holding the best hand, with the rewriting of the tax code and historically low unemployment giving him plenty of outs."

Maybe so, but there are always concerns when it comes to investing, some worthy of attention, some not so much. The breakdown of the global markets is a concern that is worth paying attention to. An issue that stands out for me is one that we have discussed here in the last month or so.
The synchronized global recovery that catapulted the S&P to new highs in January is not very synchronized lately. As we have seen U.S. metrics remain on the upswing, however, the rest of the globe has gone into a stall. Is it a pause? Or might it be something more sinister? The Eurozone stands out as the leading culprit in this discussion.
It has to be noted that despite the stall, the global economies still remain in expansion mode, albeit just barely. So long as that remains the case, it would not appear to be a reason for the bull market to end here in the U.S. Perhaps that will signal further concessions from abroad when it comes to ending this trade issue in an amicable way.
For anyone that hasn't noticed, and for those that are calling for the end of the bull market, I note that the S&P is still considered to be in a bull market until it experiences a pullback of 20% from its January 26th, 2018, high.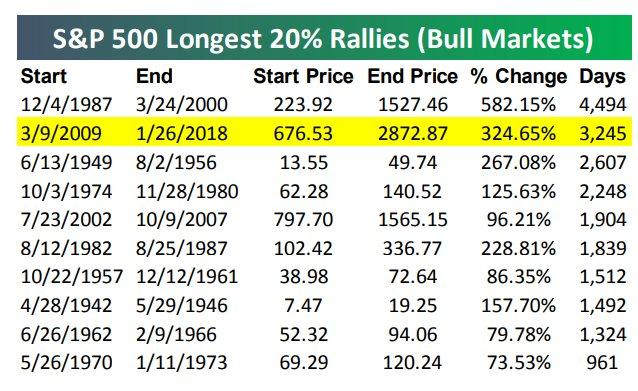 Source: Bespoke, Data as of July 1, 2018
If some want to take the January 26th date as the "end" to the current bull (we can't use the current date until the 1/26 high is taken out), the current bull stands at 3,245 calendar days, which is the second longest bull market on record. The S&P's gain of 324% in price during the current bull is also the second strongest on record.
No one knows when this bull market will end, and that includes the people calling for the last high to be THE top. There are a number of reasons that I disagree. The following is on the top of the list.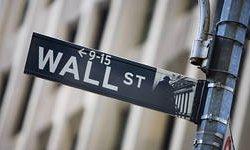 Given the investment landscape, in times of concern and anxiety, the global investor will now look around at their options. It is my view the U.S. is where they are going to be putting their money in the intermediate term. The one asset that the U.S. brings to the table that is lacking elsewhere, solid corporate earnings results.
Global fund managers were overweight global indices and emerging markets at the beginning of 2018. As they have pared down their commitments abroad, it is probably the main culprit for the free fall in some global indices. However, fund managers are still overweight those areas of the globe, and underweight U.S. allocations. They are also overweight cash.
So while some talk of all of the negatives an investor faces, a perfect storm may be brewing. A storm that some don't see coming because they are distracted by the noise of the day. It is a situation that could easily catapult the S&P to new highs later this year as that money finds a home here in U.S. equities. I'll add in the fact that far too many remain "cautious" as highlighted by this exceptional analysis from Liz Ann Sonders. I have never seen a top in the markets when so many are feeling that way. It surely isn't time to go all in here (it never is), but I don't think this time will be different when it comes to sentiment.
It will take over exuberance, a feeling that nothing can be, or go wrong. Then a boom in the economy occurs before the bust. Instead, what I see is that Goldilocks is still with us, and for all of those reasons and more, I remain bullish.
Best of Luck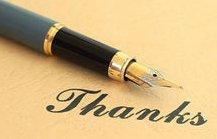 to all of the readers that contribute to this forum to make these articles a better experience for all.

I would also like to take a moment and remind all of the readers of an important issue. In these types of forums, readers bring a host of situations and variables to the table when visiting these articles. Therefore it is impossible to pinpoint what may be right for each individual situation. Please keep that in mind when forming your investment strategy.
The stock market will fool most of the people most of the time. Savvy Investors realized it wasn't time to sell stocks over the trade tariffs. It is time to get in on the right side of the trade. It's not just about results, it's about learning what the stock market is all about. Learn to manage your money successfully. Please consider joining one of the most successful new ventures here on Seeking Alpha. Solid results, equals satisfied subscribers and the recent reviews of The Savvy Investor Marketplace service speak to just that.
Disclosure: I/we have no positions in any stocks mentioned, and no plans to initiate any positions within the next 72 hours.
I wrote this article myself, and it expresses my own opinions. I am not receiving compensation for it (other than from Seeking Alpha). I have no business relationship with any company whose stock is mentioned in this article.
Additional disclosure: This article contains my views of the equity market and what strategy and positioning is comfortable for me. Of course, it is not suited for everyone, there are far too many variables. Hopefully it sparks ideas, adds some common sense to the intricate investing process, and makes investors feel more calm, putting them in control.

The opinions rendered here, are just that – opinions – and along with positions can change at any time.
As always I encourage readers to use common sense when it comes to managing any ideas that I decide to share with the community. Nowhere is it implied that any stock should be bought and put away until you die. Periodic reviews are mandatory to ad