Remember Wimpy in Popeye saying, "I'd gladly pay you Tuesday for a hamburger today."
This is the way consumer debt works - it allows one to purchase today borrowing money with the promise to pay back tomorrow. I am not talking about home mortgages here as shelter is necessary whether one rents or buys. As you pay back a loan, that money is not available for other purchases.
Even if interest rates on the borrowed money are zero - the effect of buying with borrowed money is higher economic growth in the period of purchase, and less spending in the periods when the loans were being repaid. Currently, the average interest on credit card balance is over 13%, car loans are over 4%, and the interest on consumer loans is almost 10%. The interest on loans outstanding takes additional money from households which could be used for additional spending in the current period.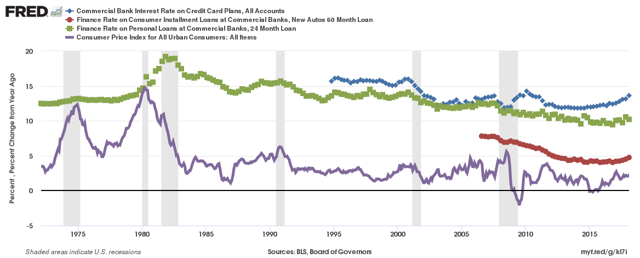 The purple line on the above graph is inflation. If income is keeping up with inflation, inflation is an offset to the cost of the interest. Currently, for most consumer loans, the delta between inflation and interest is over 8%.
But the gorilla in the room is the growth rate of consumer loans relative to consumer spending. If spending and borrowing were growing at the same rate, the relative economic affect would not be noticed. The situation since 2000 - loans are growing faster than spending.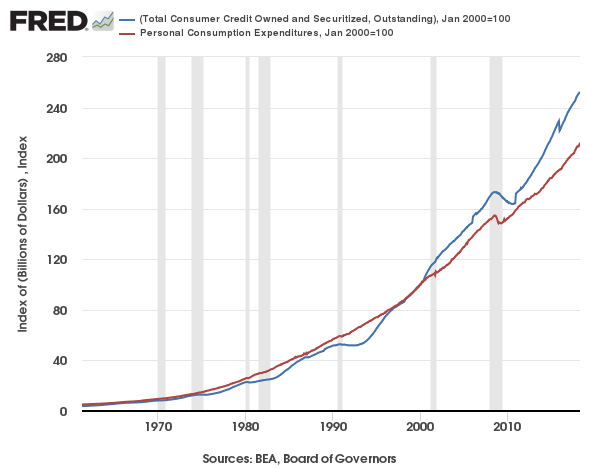 A higher growth rate of loans outstanding relative to spending slows economic growth. This dynamic specifically is deadly to all households except those in the upper quartile (where there is little borrowing for daily needs). It is the spending of the majority of the population in a consumer economy which drives economic growth. This dynamic on its own will increasingly slow economic growth. This does not bode well for the manufacturing or service sectors.
My usual weekly wrap is in my instablog.