Canadian Solar (NASDAQ:CSIQ) Wednesday posted a fourth-quarter loss as it continued to feel pressure from weaker margins and sharply higher expenses.
For the three months ended December 31, the solar panel maker reported a loss of $59.9 million, or $1.39 per share, compared with a year-earlier profit of $25.5 million, or 58 cents per share. Revenue improved 4.7 percent to $474.1 million.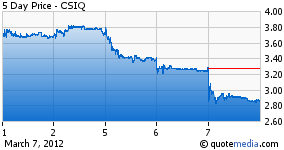 Analysts polled by Thomson Reuters expected a loss of 36 cents per share on revenue of $485 million.
Canadian Solar senior vice president and chief financial officer Michael G. Potter said: "During the fourth quarter, we continued our emphasis on working capital management, specifically working to reduce inventory and control receivables levels.
"We are currently examining our worldwide cost structure to ensure it is properly aligned with our expected shift towards more project business and changes in our targeted geographies. By closely managing our operating expenses, we are confident we can continue to excel in a challenging global market as the industry continues to mature."
The period marked the company's second straight quarterly loss. Like many of its rivals, Canadian Solar has suffered under sliding prices for solar panels as demand has weakened in key European markets and a flood of cheaper panels from China has pressured the solar-panel market.
These difficulties have sent shares of solar panel companies plummeting over the last year and triggered a wave of solar company bankruptcies. Meanwhile, U.S. trade authorities are investigating domestic manufacturers' complaints over possible dumping of solar panels on the U.S. market by Chinese makers.
Despite those challenges, in January Canadian Solar raised its shipment guidance for the fourth quarter, pointing to stronger-than-expected customer demand. Shipments rose to 436 megawatts from 237 megawatts a year earlier, meeting the company's revised February expectations of 430 megawatts to 440 megawatts.
For the current quarter, the company predicted shipments between 340 megawatts and 350 megawatts. For the year, it sees shipments of 1,800 megawatts to 2,000 megawatts, above its 2011 shipments of 1,323 megawatts.
Gross margin narrowed to 8.7 percent from 17 percent as selling prices continued to decline and input costs rose 15 percent. For the current quarter, Canadian Solar said it expects margins to come in between 5 percent and 8 percent.
Operating expenses jumped 80 percent due in part to freight and other export-related expenses associated with higher shipment volume. Foreign exchange losses rose to $14.1 million from $1.2 million.
While Canadian Solar has corporate offices in Canada and its shares trade on the Nasdaq, the company's operations is in China.
Disclosure: None