By Hamish Chamberlayne
Hamish Chamberlayne, Portfolio Manager for Janus Henderson's Global Sustainable Equity Strategy, discusses 2018's news flow and long-term trends.
What are your key observations about 2018 to date?
There is strong evidence that investment trends continue to favor those companies transforming the world for the better. Our belief is companies that are committed to building a sustainable economy are likely to thrive in an environment that is rapidly evolving. Climate change, resource constraints, and aging and growing populations are some of the most complex megatrends humanity has ever faced and demand innovative and lasting solutions. We view sustainability and the disruption necessary to bring about change as being two sides of the same investment coin. Technological disruption, in particular, is now penetrating every sector of the economy.
News flow this year bears witness to continuing momentum in clean tech investment. China plans to invest $368 billion into renewable energy projects by 2020, and it is now the world's largest electric vehicle (EV) market. In the Middle East, SoftBank's Vision Fund, which invests in disruptive future technologies, has announced it will help back a $200 billion 200 gigawatt (GW) solar power development in Saudi Arabia. To put this in perspective, 200 GW is the equivalent capacity of approximately 200 average-size nuclear reactors.1 On the topic of plastics pollution, the BBC Blue Planet II series received worldwide acclaim for highlighting the terrible impact that plastic is having on our oceans.
What are the key themes that are shaping the markets?
The themes we see for companies driving sustainability and promoting responsible industry have not changed. Taking a broad view of the market, it is apparent that the fastest growth subsectors are increasingly aligned with sustainability. We are finding exciting opportunities in areas such as cloud computing and artificial intelligence, the electrification of transport, energy efficiency, smart cities, industry 4.0, sustainable infrastructure, financial services, education and research, and healthcare. We view these as long-term trends that should transcend both economic and political cycles. Thanks to the UN Sustainable Development Goals,2 we see sustainability growing in importance at company management and board level. Companies and investors are realizing sustainability simply makes good business sense. And if it makes good business sense, then it should make good investment sense.
We also want to stress that there are two sides to this investment approach - selecting stocks for their positive impact on the environment or society, and to avoid investing in those companies with unsustainable business practices or that are having a negative impact on our world. We strongly believe the death knell has sounded for big oil, given overwhelming scientific consensus that burning fossil fuels is driving irreversible climate change. Oil is also the primary raw material in plastics production. The disruption from the transition away from oil as a primary input into everything that we consume is likely to create major losers as well as big winners.
Ten Key Themes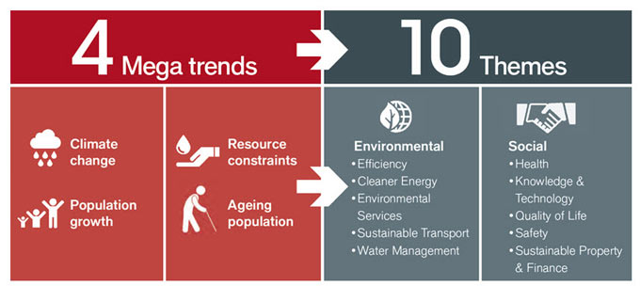 Where are you currently seeing the most opportunities?
We see much innovation in the Knowledge & Technology and Efficiency themes. We see technology as a key enabler of sustainability; it is crucial to understand, however, whether or not a company is on the right side of technological disruption. Semiconductor companies are having a transformative impact on many areas. These include medical technology and health diagnostics, electric and autonomous cars, smart cities and factory automation, renewable energy and energy efficiency, and water and environmental services. Semiconductors are the backbone of a smart and connected world, and the industry is evolving from serving computing and smartphone markets to being adopted in a growing number of industrial and Internet of Things applications.
1Estimates based on World Nuclear Association data, as of April 2018.
2The United Nations Sustainable Development Goals are a universal call to action to end poverty, protect the planet and ensure that all people enjoy peace and prosperity.
https://sustainabledevelopment.un.org/sdgs
Glossary:
Gigawatt = A measure of power that is the equivalent of a billion watts.
Industry 4.0 = A name for the current trend of automation and data exchange in manufacturing technologies. It includes the Internet of Things.
Internet of Things = The interconnection via the Internet of computing devices embedded in everyday objects, enabling them to send and receive data.
SRI = Sustainable and responsible investing.
Sustainable economy = Economic development that attempts to satisfy the needs of humans, but in a manner that helps sustain natural resources and the environment for future generations.

C-0618-18143
Disclaimer: Please consider the charges, risks, expenses and investment objectives carefully before investing. Please see a prospectus or, if available, a summary prospectus containing this and other information. Read it carefully before you invest or send money.
The opinions and views expressed are as of the date published and are subject to change without notice. They are for information purposes only and should not be used or construed as an offer to sell, a solicitation of an offer to buy, or a recommendation to buy, sell or hold any security, investment strategy or market sector. No forecasts can be guaranteed. Opinions and examples are meant as an illustration of broader themes and are not an indication of trading intent. It is not intended to indicate or imply that any illustration/example mentioned is now or was ever held in any portfolio. Janus Henderson Group plc through its subsidiaries may manage investment products with a financial interest in securities mentioned herein and any comments should not be construed as a reflection on the past or future profitability. There is no guarantee that the information supplied is accurate, complete, or timely, nor are there any warranties with regards to the results obtained from its use. Past performance is no guarantee of future results. Investing involves risk, including the possible loss of principal and fluctuation of value.
Terms of Use
Janus Henderson Investors ©2001-2018. All rights reserved.