(Source: imgflip)
It's no secret that I'm not a fan of trade wars, because historically they lead to dramatically slower growth or even outright recessions. In fact, while the risks of a trade war remain low for now, they are among the three biggest risks to the second longest US economic expansion in history. And if anything can stop America from setting a new record for the longest expansion in history (at least since 1850 when records began), it's a full blown trade war.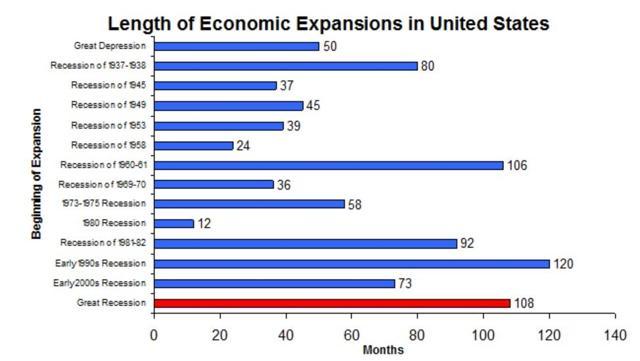 (Source: Ploutos)
Given that the stock market hates uncertainty, it's no surprise that the market's higher volatility this year has largely been a result of America's tit-for-tat tariff threats.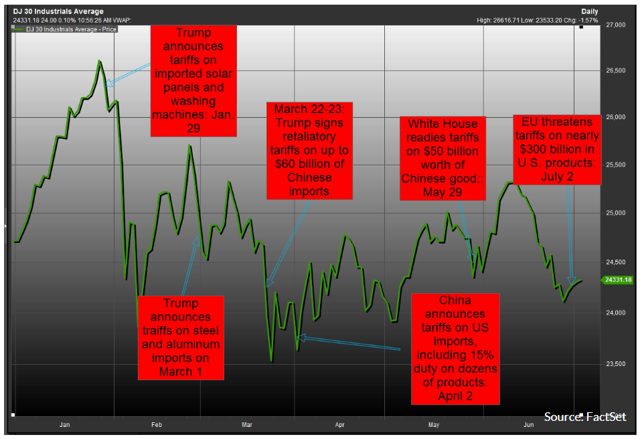 (Source: Marketwatch)
This is why, despite continuing very strong economic fundamentals, the S&P 500 (SPY), and Dow Jones Industrial Average (DIA) are largely flat for the year. Only the tech heavy Nasdaq (QQQ) has generated strong returns so far this year, largely as a result of a few key names (like Netflix and Amazon), roaring higher in what might prove to be an unsustainable melt up.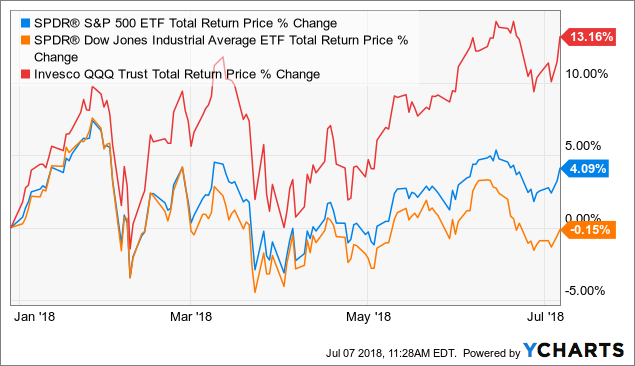 SPY Total Return Price data by YCharts
But while a full blown trade war would be terrible, there is a surprising potential silver lining to current market fears. So let's take a look at why, if we can avoid an actual trade war, then today's market fears could lead to a great rally to end the year. A rally that, given current fundamentals and past market history, could well extend into a very strong 2019. Or to put another way, learn why fears of a trade war (that doesn't actually happen) is a great reason to avoid selling out of fear, uncertainty, and doubt.
Investors Are Right To Worry About A Trade War
In the past week there was a lot of trade related issues to be fearful of. On the China front 25% tariffs went into effect on $34 billion of Chinese imports on Friday, July 6th. Another $14 billion are coming soon. China has vowed to retaliate dollar for dollar, mostly against US agricultural imports, and is now enforcing its own tariffs. As a result of this retaliation, President Trump has vowed ongoing tariff increases, which might ultimately total tariffs against $500 billion of Chinese imports. The President's threats seem to be based on the idea that because China imports far less from the US they will run out of imports to retaliate on. However in reality the Chinese could simply adjust their tariff amounts to match US tariffs dollar for dollar. The Brookings Institute estimates that Chinese retaliatory tariffs might end up costing us 2.1 million jobs, and that's assuming we don't end up slapping duties on all Chinese imports.
Then on the EU front, the president has threatened to impose 20% tariffs on foreign cars and foreign car components, which would likely have a devastating impact on America's automotive sector. According to Toyota (TM), which employs 37,000 US employees in its US factories (and 367,000 more through suppliers and dealers), tariffs on foreign auto parts could lead to American auto sales falling by about 2 million per year. General Motors (GM) has also warned that these tariffs would lead to a "smaller GM", implying large layoffs to its 110,000 US workers employed in its 47 domestic factories.
And of course that doesn't even take into account the retaliatory tariffs the EU has threatened to impose on the US if we tariff their vehicles. The EU's response to the Trump auto tariff threat was two fold. First it pointed out that EU automakers employ 110,000 US workers in American factories, 60% of whose production is exported (thus lowering the trade deficit the President is so obsessed with). The other was to threaten 20% tariffs on $300 billion in US imports.
If these individual conflicts expand into a full blown trade war then the US economy might get hammered, resulting in:
While these are some scary numbers, it's important to realize they are based on a full blown trade war, in which the US imposes 10% tariffs (or higher) on all imports and our trade partners retaliate. The good news is that the risks of that worst case scenario remain very low (though higher than before the threats started).
Why We're Likely To Avoid A Trade War
With trade policy seemingly shifting on a daily basis, it's understandable there is a lot of fear of worst case scenarios. However, there are three reasons for optimism that we will avoid a full blown trade war.
First, on June 28th, European Commission President Jean-Claude Juncker proposed that to avoid US auto tariffs the EU would be willing to completely drop all tariffs on US vehicles (currently 10% vs US tariffs on EU cars of 2.5%). The deal would likely have to extend to at least 90% of the global market (thus including EU, U.S., Japan, Canada, South Korea, Mexico and China), to meet WTO standards. The plan has strong backing from Germany, who is the de facto leader of the EU. In addition, Trump has called for an elimination of all global tariffs (and subsidies), implying that the administration is likely to accept this deal.
The second is, while Trump has been extremely aggressive towards China on several trade issues (including some that very valid ones), he's also been open to making strikingly generous ovatures. These indicate that he may in fact be looking for strike a long lasting deal rather than allow permanent tariffs to remain in effect. The most obvious example is the May bailout of Chinese phone giant ZTE.
Back in April the US determined that ZTE had been blatantly side stepping Iranian sanctions for six years. As a result it imposed a total ban of US sales of phone components, (including 4G radios and chips), to the company. The result was that ZTE would be forced to close. However during his negotiations with China over trade Trump shocked many, including in his own party, by tweeting that:
President Xi of China, and I, are working together to give massive Chinese phone company, ZTE, a way to get back into business, fast. Too many jobs in China lost. Commerce Department has been instructed to get it done!" - President Trump
This action flies directly in the face of Trump's hard line stance on US/China trade, and also caused him to catch a lot of flack from hawks in Congress. Thus there is strong evidence that Trump is potentially looking to end this trade conflict eventually, as opposed to imposing permanent tariffs on Chinese goods.
Finally, there's Trump's recent statement that he wants to wait until after the November 6th midterm elections before signing a revised NAFTA. NAFTA 2.0 talks are now in their 10th round with 66% of the issues still not resolved. The biggest three sticking points are:
The Chapter 19 & 20 dispute mechanisms (Review and Dispute Settlement in Antidumping and Countervailing Duty Matters).
Minimum levels of North American content for autos (85% up from 62.5% today, with 50% of that being US sourced)
A sunset clause that would terminate the NAFTA if it is not renegotiated every five years.
14 million US jobs are tied to US exports to Canada and Mexico, meaning that a US pull out of NAFTA would likely decimate the labor market and potentially cause US net job creation to run backwards for the first time in eight years.
However, I'm inclined to believe that Trump's pro-tariff policies are largely an attempt to shore up his base ahead of the US midterms. That's because Trump has predicted a "red wave" in November. While 31% of Americans oppose tariffs vs 27% who support them, Trump might be betting that the supporters of this "tough trade stance" will turn out in larger numbers in a few months.
Thus far tariffs that have gone into effect have been small, and the second round of tariffs against $200 billion in Chinese imports can't likely occur until September (due to the comment period). This is why I still have hope that these trade fights are mostly for political reasons. Don't get me wrong, that second round of tariffs on Chinese imports would be a blow to US growth, but it's also not likely to sink us into recession. And given Trump's earlier indications that he's looking to ultimately cut a deal I'm inclined to think that trade deals will start getting done in November and December. Which brings us to the main thesis of this article; a potentially very strong stock market rally.
Stocks Trading Flat All Year Might Set Us Up For An Epic Rally
Thus far fears of a trade fights hitting US economic growth and aggregate corporate earnings have been largely speculative. That's because tariffs have just recently gone into effect and the current economic data remains very strong.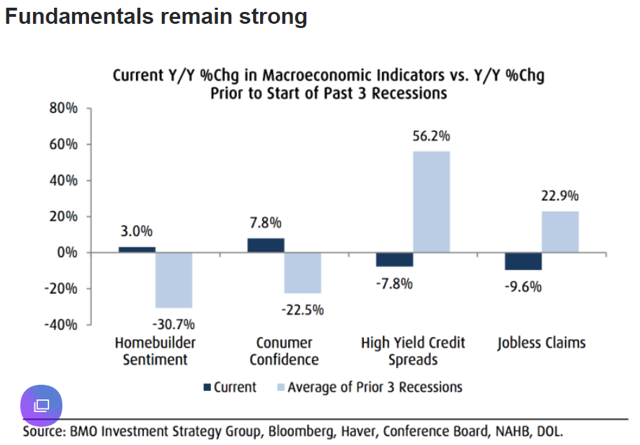 Meanwhile, thanks to rising consumer spending, a strong economy, and corporate tax cuts, S&P 500 earnings are soaring. For example, according to Factset Research (FDS), the 20 companies that have so far reported earnings have seen 85% of them beat on EPS and 90% on revenues.
In fact, at this point Factset is estimating 20% EPS growth for Q2 2018, which is ahead of the 18.9% that analysts were expecting. If those numbers hold then the S&P 500's forward PE ratio will have fallen to 16.2, which is right at its 5 year average. And while that's above the 10 year average of 14.4, keep in mind that this includes the Great Recession when earnings fell off a cliff.
Basically, this means that trade war fears have caused the market to trade sideways and allowed excellent fundamentals to catch up and deflate excessive valuations into reasonable ones. But there's another big reason to be bullish on stocks over the next 18 months or so. In fact there are three historical trends that, combined with strong fundamentals and reasonable valuations could see stocks take off relatively soon.
The first historical trend is that since 1871 87% of the time Q4 of a midterm election year to Q1 of the following year sees a positive return. On average the S&P 500 gains 14% during this six month period.
And who is president appears to also have an important effect, with GOP presidents being correlated with strong average returns of about 6% and 8% in November and December, respectively.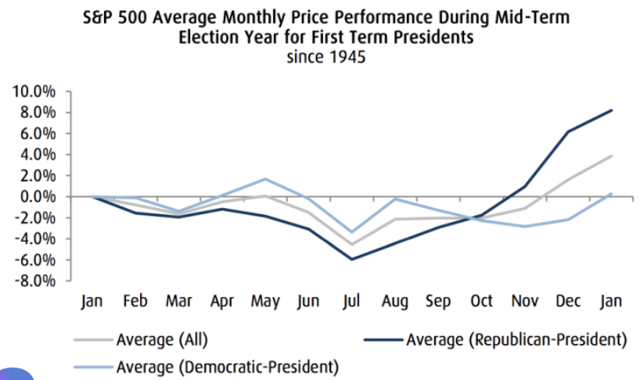 (Source: BMO Investment Strategy Group)
Ok, so that's some interesting historical patterns, but who cares about six months? Well according to Chief Equity Strategist Sam Stovall of S&P Capital IQ, since 1945 100% of the time the S&P 500's 12 month returns starting from October 31st of a midterm have been positive. That means that during this year long period following the last 17 midterms, stocks have gone up between 3.2% and 33.6%, with an average of 17.5%.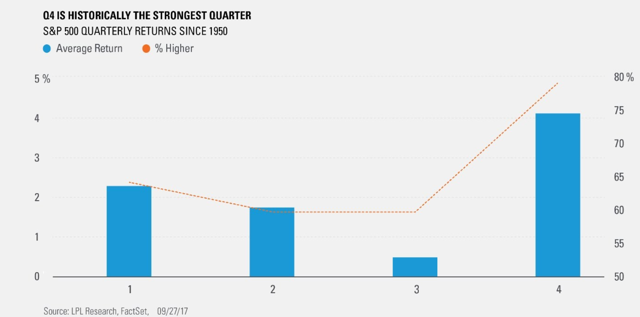 (Source: a place of possibility)
Finally, we can't forget that Q4 of any given year has, over the past 77 years, tended to be the single best month for the market. This means that, assuming that trade war fears ebb post election, the stage could be set for a stock market rally of over 20% between Q4 of 2018 and the end of 2019.
Now some have asked me why I bother doing such historical analyses at all. "Aren't you a long-term buy and hold investor who doesn't plan to sell for decades if ever?". While that's true I'd point out two things. First, I'm only human, and like everyone I enjoy seeing my portfolio go up in value. Since something is always on sale (out of favor dividend stocks in certain sectors) I don't need the market to be falling to find good places to put my money.
Second, and most importantly, during times of uncertainty, such as we have now over trade, many investors feel the temptation to cash out and wait for the smoke to clear. As Warren Buffett has said "The future is never clear; you pay a very high price in the stock market for a cheery consensus. Uncertainty actually is the friend of the buyer of long-term values."
In other words, if you are feeling deep uncertainty surrounding America's escalating trade conflict you are not alone. Most of the market feels the same way. But this is exactly what creates the opportunity to buy so many quality dividend growth stocks at attractive valuations right now. And when the uncertainty ends as it inevitably will at some point? Well then those with the courage to hang on and keeping buying quality companies at attractive prices will be richly rewarded.
Bottom Line: Every Cloud Has A Silver Lining As Long As It's Not A Tornado That Lands On Your House
Don't get me wrong, if we actually get into a full blown trade war there won't be a strong rally to end the year. In fact there won't be much upside for anyone other than a select few deep value investors who are sitting on giant piles of cash and looking forward to the next recession and bear market.
However, assuming that the US avoids making a massive mistake that badly damages our economy (and that of our trade partners) then today's trade war fears might soon give way to euphoria. Because if robust past historical market trends hold true in late 2018 and 2019 then the combination of: a strong economy, lower valuations, and an end to our trade conflicts, could set the stage for an epic 15 month market rally.
This is why I recommend that most investors avoid the temptation to sell their stocks now, "just in case". History shows that the stock market is very good at climbing an ever present wall of worry, and so long periods of sideways trading markets are usually followed by strong rallies. Unless you have an actual needs for lot of cash (such as being already retired and thus holding three to four years of expenses in cash), chances are that avoiding the market right now is going to result in a lot more regret than sticking to one's existing long-term investment plan.
Disclosure: I/we have no positions in any stocks mentioned, and no plans to initiate any positions within the next 72 hours. I wrote this article myself, and it expresses my own opinions. I am not receiving compensation for it (other than from Seeking Alpha). I have no business relationship with any company whose stock is mentioned in this article.