Welcome to the anniversary of the Brunch, Craft Beer, and Investing Portfolio reviews. If this is your first time, the following paragraph is just for you.
I began my Roth IRA two years ago, during an internship, when I decided to invest [most of] the money I earned. Shortly after stumbling upon Seeking Alpha and diversifying my invested assets, I decided to start this series with two objectives: to encourage other young millennials [and even Gen Zs, now] to invest and to hold myself accountable. I have had a great experience writing about my portfolio, and I appreciate the encouragement and criticism.
If you review the previous articles under similar titles, you'll see an evolution in strategy, in holdings, and in objective. I recognize that my strategy may seem inconsistent, and all my picks are not so long-term oriented. This is purposeful. Maintaining flexibility in strategy is my method for managing risk. The portfolio has a few staples, a few higher-risk holdings, a few income-oriented holdings, and a few dividend growth stocks. It allows me to reallocate capital toward higher-risk or lower-risk assets based on the economic environment, sentiment, volatility, etc.; evolving the portfolio is essential to my diversification (I do it because it's fun).
In reflecting on the past year of my portfolio, I've come to a few conclusions:
My heart isn't in value investing.
I want to focus on strong fundamentals for most holdings, but feel I've missed opportunities by emphasizing an explicit value proposition (albeit short term).
I enjoy learning about companies with which I'm unfamiliar, but need to complete more due diligence before investing in them.
I still invest emotionally and need to remind myself of behavioral economic principles.
This is all part of the experience. I will reflect on my realizations going forward. I know that with the conclusions above, I have done well in keeping with my strategy change detailed in the last write-up. Key components to the change include:
Reducing downside risk
Building my cash position
Focusing on fundamentals
Using this in conjunction with my self-evaluation above, I have a couple of theories:
A focus on fundamentals does not exclusively mean value-focused.
I have reduced downside risk by emphasizing dividends, but neglected significant growth opportunities.
The former thought emphasizes my impartiality to any particular fundamentals; in the last six months, I've wanted every possible metric to look good. For instance, being too concerned about leverage prevents me from looking at companies that have made lucrative acquisitions. I can overcome this by doing additional due diligence.
The latter comes from my selling of more volatile companies to prioritize well-covered dividends. While both factors may serve to preserve capital, the emphasis on downside protection has blinded me from growth companies that have well-structured business models and are investing in the future of their business. Overcoming this is a matter of accepting risk and embracing my long time horizon.
The makeup of the portfolio as of June 30th, 2018, is below, alphabetical by ticker: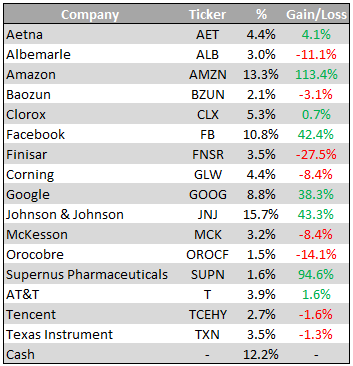 I benchmark my portfolio to the S&P 500, but also compare it to the Nasdaq. The former is a more accurate representation of my mixed-strategy, less-risk approach. The latter was a good benchmark when my portfolio was more speculative, and tech- and biotech-focused. Also, results are as of June 30th, 2018.
Performance through June 30th, 2018 was 5.79% vs. the S&P's 2.65% and the Nasdaq's 9.37%. Over a year's time, my Roth's 12.44% did not beat the S&P's 14.37% or the Nasdaq's 17.57%. I attribute this to my change in strategy and refinement of my investment focus. Perhaps indexing should have been a pillar of my risk reduction plan, but where's the fun in that? Besides, a good portion of my 401k is indexed.
Buys
AT&T (T) was purchased post-approval of its Time Warner (NYSE:TWX) acquisition. This stalwart sported a dividend yield of ~6.3%, strong dividend coverage of ~40%, and a P/E below its 5-year historical average, at a 5-year low price. I purchased a small position to leave room for any additional downside. Management has shown its desire to refocus the communications behemoth. If it can realign its legacy business with current market trends, investors may see modest organic growth. In-demand content is necessary and helpful, but it won't guarantee success. The purchase was ultimately about getting a reliable company at a fair price, with an attractive yield to weather any volatility. The advent of a more certain economic environment and stable political position would encourage me to liquidate this position for more promising growth opportunities.
Baozun (BZUN) was a BTFD opportunity to increase my exposure to growth-focused companies. Its sell-off seemed a fearful reaction to rhetoric about curtailing Chinese investments. In my annual self-reflection, I acknowledged that I became an emotional investor. This purchase was made despite trade fears. It's a dominant player in its eCommerce space with significant support from larger Chinese companies. It helps non-Chinese businesses gain Chinese exposure, aiding the navigation of an unfamiliar and complex market. Overall, I'm excited about this company. I expect the trade war to cause volatility in Baozun, so I initiated a small position to buy lower if it drops more.
Tencent (OTCPK:TCEHY) was purchased after June 30th, but prior to publishing. I had watched the stock for some time. With similar rationale to Baozun, I ignored the emotional fear of a trade war and bought a dominant company. Tencent is well-capitalized and has exceptional sales and earnings growth. Its diverse revenues and widespread reliance provide additional risk mitigation, and it can handle some margin compression to focus on investments.
Sells
MKS Instruments (MKSI) was sold to lock in gains via a tight stop-limit order in place for Lam Research's (LRCX) April earnings report. MKS is a solid company and was purchased after a semi-equipment-manufacturer sell-off. The expectation was that its diverse lines of business would reduce volatility that's recently affected semi equipment juggernauts such as Lam, Applied Materials (AMAT), and KLA-Tencor (KLAC). While it did outperform those peers over the time I held it, it fell with them after Lam's impressive April earnings report. Fundamentals are strong, though. I expect the semi equipment makers to do well, but experience enhanced volatility in stock prices as traders fear the turn of the cycle and trade impacts. Seems I got lucky playing that volatility.
Facebook (FB) ended up being a short-term trade for me. The company is still in a great financial position. It has a business that is difficult for users to shed and almost imperative for businesses to use. It has additional areas to monetize. I'm not terribly concerned how the market will react to new allegations, but it seemed like a solid opportunity to take some profits on a concentrated position (~16% of my portfolio at the time, my largest holding). I secured an 11% gain on the shares I bought on the dip during the Cambridge Analytica scandal. It remains ~11% of my portfolio.
Micron (MU) is a roller coaster. I'm not shy of volatility; I've dabbled in developmental biotech micro-caps. Ultimately, my lack of experience with the memory cycle got the better of me, and trade worries topped it off. In any case, I settled for a solid 30% gain in a cyclical stock that's extremely reactive to analyst forecasts. I'm happy taking profits and prioritizing my cash position.
Cara Therapeutics (NASDAQ:CARA) was sold to reduce speculative exposure, rebuild cash, and take gains after positive news was announced for Phase 2/3. I want this company and its pipeline to succeed, but the ongoing speculative nature and resultant volatility no longer aligned with my evolved portfolio strategy. In the end, it covered the full AT&T purchase, so I didn't reduce my available cash from the previous sales.
Investment Outlook Over the Next Year
My time horizon is decades away. Imperative to taking advantage of short-term price declines is an adequate cash position, created by selling winners and additional contributions. To accomplish this, I maintain long-term outlooks for some stocks, and shorter-term outlooks for others. With the portfolio another year older, I'll refocus my sights for the year to come.
What's making me nervous is the juxtaposing political and economic narratives. Admittedly, it is the source of my hesitation to seize the proverbial dips. A list of political economy concerns follow:
International trade strategies that seem inappropriate, callus, and costly. My economic perspective on trade is reflected in this piece by Shareholders Unite.
Increasing job openings with low unemployment and immigration barriers.
Purportedly high valuations supported with buybacks and debt.
Personal debt in an aging cycle.
Political theater (lawsuits, appointments, inflammatory and inconsistent rhetoric, a lack of cooperation/diplomacy, etc.).
Mid-terms are right around the corner.
Nationalism, labor mobility, re-education, and resisting global specialization.
I think there are more economically beneficial policy solutions to many of the "problems", but they don't dominate American political rhetoric. Other, longer-term factors with economic consequences will be:
Boomers retiring, and the resulting selling of assets.
The continued decline in the birth rate, a not-so-recent, global trend.
Population growth and immigration barriers.
Financial implications of student debt and health care costs.
ETFs as short-term trading vehicles, FANG [or alternate acronym]-hype, and the weighting of the indexes.
I'm not without confidence in current economy, though.
The American Manufacturing Association reported some stellar confidence metrics.
Industrial production is growing.
Fiscal stimulus should support capital investment, buybacks, and wage inflation, although historically short term.
Sure enough, CapEx, buybacks, M&A, and R&D all increased YoY.
Government spending hasn't slowed down, so the deficit is growing.
Truck tonnage and construction spending are still up.
Still, almost every president oversaw the entry/exit into/out of a recession of some magnitude.
What am I watching?
I have increasingly followed one particular fund: Fidelity Select Medical Technology and Devices Portfolio (FSMEX). What attracts me to this fund is the following:
I can buy it with no transaction fee (Fidelity is my broker).
It is consistent with my sector preferences in Tech and Health Care.
10-year Beta is 0.7, 10-year Sharpe is 0.88.
Expense Ratio is below 1% (0.76%).
Its top ten holdings (~60% of exposure) are all companies I don't currently have exposure to, but have been on my watchlist at some point.
Stocks I'm paying attention to include Newell Brands (NWL), Royal Caribbean (RCL), DXC Technology (DXC), Tencent, Alibaba (BABA), Cognizant Technology Solutions (CTSH), Accenture (ACN), Microsoft (MSFT), LVMH Moet Hennessy Louis Vuitton (OTCPK:LVMUY), CACI International (CACI), LGI Homes (LGIH), Kroger (KR), UnitedHealth (UNH), Simulations Plus (SLP), and Prologis (PLD). I'm also looking for exposure in genetics, data security, data processing, and home health care. Stocks I'm waiting for broad sell-offs to buy are Adobe (ADBE), Salesforce (CRM), Rollins (ROL), Hermes (OTCPK:HESAY), Michael Kors (KORS), Visa (V), Mastercard (MA), New Relic (NEWR), The Trade Desk (TTD), and all of the stocks listed above.
Thanks for reading! If you want to keep up with the portfolio or any insights I share, be sure to click the Follow button!
Disclosure: I am/we are long AET, ALB, AMZN, BZUN, CLX, FB, FNSR, GLW, GOOG, JNJ, MCK, OROCF, SUPN, T, TCEHY, TXN.
I wrote this article myself, and it expresses my own opinions. I am not receiving compensation for it (other than from Seeking Alpha). I have no business relationship with any company whose stock is mentioned in this article.
Additional disclosure: May initiate a long position in ANY STOCK OR FUND LISTED over the next 72 hours.
Editor's Note: This article covers one or more microcap stocks. Please be aware of the risks associated with these stocks.