In a rising broad market and a mixed commodity price backdrop, midstream stocks traded up but lagged the S&P 500 and utilities this week. Recent midstream corporation and utility outperformance has helped the Alerian Energy Infrastructure Index (AMEI) cut into the YTD lead the Alerian MLP Index has maintained since the MLP spike in January.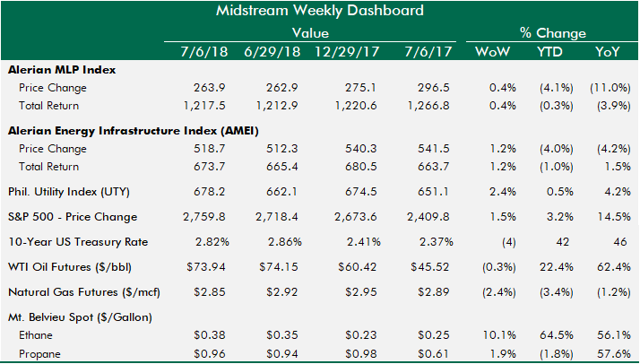 Midstream news was light, but we can expect more action in the next few weeks as we build towards 2Q earnings season in a few weeks. Last week's weakness seemed at least partially due to lack of interest in buying midstream into the quarter end, but this week we didn't get the commensurate rotation into midstream that you'd expect at the beginning of the quarter if that were the case. But perhaps the screwy mid-week July 4th holiday and the oppressive heat across the East Coast tempered some potential enthusiasm that a fresh quarter usually brings.
Midstream stocks are in a bit of a holding pattern, and haven't yet garnered broad-based interest, despite higher commodity prices in recent months. As noted last week in the first-half performance review, we are in seeing the beginnings of a performance shift in favor of non-K-1 issuing midstream stocks. That shift should continue to be supported by changes in investment mandates across the midstream space to target a more inclusive universe for fund vehicles previously focused solely on MLPs. But that's intra-sector. Bigger picture, energy stocks haven't rallied much on the 14% oil move from $65 to $74/bbl.
Those of us who care about energy and midstream stocks believe more capital should be flowing into midstream and are frustrated by underwhelming performance of late.
I took some time off this week and did a lot of watching. I watched my kids build LEGOs, watched them consume many hot dogs and ice cream sundaes, watched them run around with sparklers, watched them go down water slides and off diving boards. I also watched movies, watched soccer, and periodically watched my midstream and MLP portfolios. And of course, I watched fireworks, including some bottle rockets...
Poll Question: Bottle Rockets
The current situation for midstream and MLPs reminds me of the uncertainty involved with bottle rockets, especially shoddy ones bought in sketchy sheds on the side of the road. Basically, four things can happen: (1) you have trouble lighting the fuse because you have no fluid in your lighter or bad matches; (2) the fuse lights and proceeds and the bottle rocket lifts off as expected; (3) the fuse lights but takes much longer than expected before the rocket takes off; or (4) nothing happens and it's a dud.
This relates to midstream, because this year's performance for the group hasn't gone as expected - the fuse (fundamental outlook, oil prices, good quarterly results) has been lit and nothing has happened. Is midstream out of matches? Are we on a delayed fuse that's approaching the rocket? Is midstream a dud for the rest of the year and we'll try another rocket next year? I'm in the delayed fuse camp, but I'm interested in your opinion.
Not much news this week to move stocks on a relative basis. Boardwalk Pipeline Partners (NYSE:BWP) did rally up nearly to its takeout price announced Friday, another 3.6% on top of last week's 13.5% gain. NuStar Energy (NYSE:NS) rebounded from the bottom spot last week to lead the way this week. Summit Midstream Partners (NYSE:SMLP) traded well. On the downside, there weren't many big losers, but liquids-focused names like Magellan Midstream Partners (NYSE:MMP), Buckeye Partners (NYSE:BPL) and Blueknight Energy Partners (NASDAQ:BKEP) underperformed.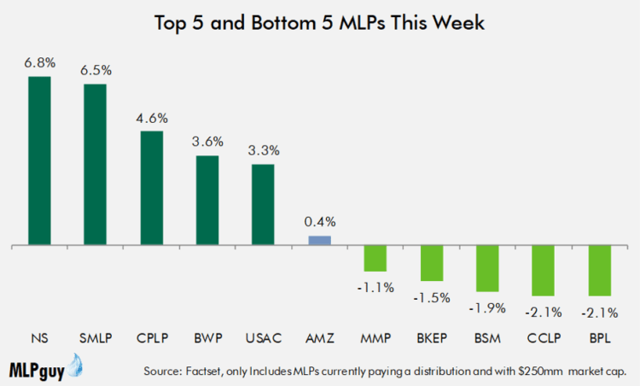 On the year-to-date leaderboard, no material changes. Crestwood Equity Partners (NYSE:CEQP) is back to +30% YTD.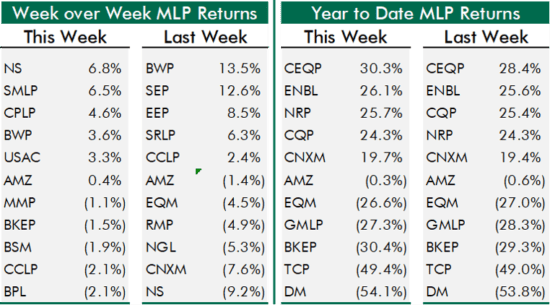 General Partners and Midstream Corporations
Action was similarly subdued in the general partner and midstream corporation group, but on average this group outperformed the MLP Index. NuStar GP Holdings (NYSE:NSH) traded up big, and every other stock in the group was positive this week, except Plains GP Holdings (NYSE:PAGP).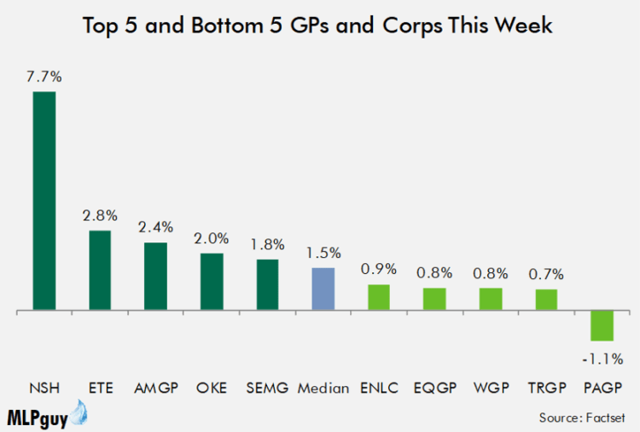 ONEOK Inc. (NYSE:OKE) continues to grind higher at the top of the leaderboard. SemGroup Corp. (NYSE:SEMG) sunk back to the bottom of the group this week. Tallgrass Energy GP closed the merger with Tallgrass Energy Partners and is now Tallgrass Energy LP Class A TGE (NYSE:TGE), and I'll reflect its new symbol in the charts next week.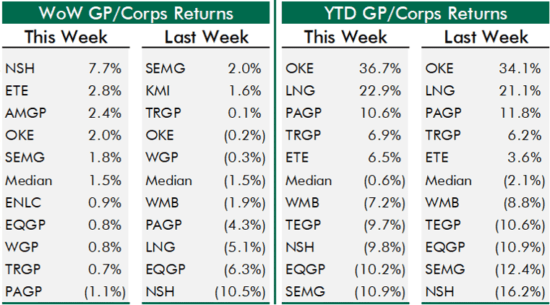 Canadian Midstream
Enbridge Inc. (NYSE:ENB) took a breather this week, despite another positive data point on its de-leveraging path with the latest asset sale. The smaller midstream players outperformed this week (Inter Pipeline (OTCPK:IPPLF), PPL Corp. (NYSE:PPL) and KeyCorp. (NYSE:KEY)), in a reverse of what happened last week.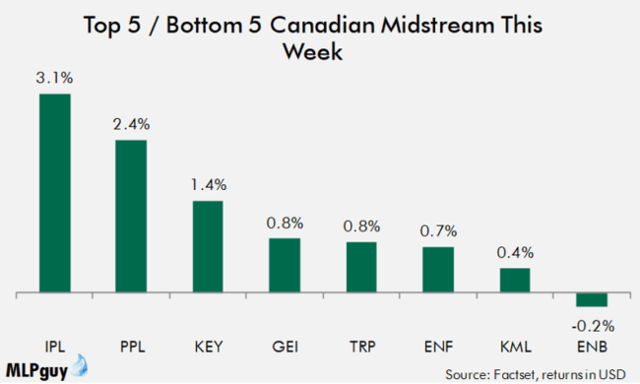 For the year overall, smaller players are winning and the whole group is performing better lately.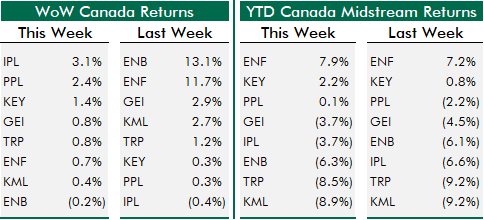 News of the (Midstream) World
After a flurry of press releases after-market last Friday, there was scant news flow this week. What little news there was consisted of Brookfield entities buying assets. ENB's 4th of July asset sale announcement was pretty much the only news.
Capital Markets
Growth Projects / M&A
Enbridge (ENB-CA) announced the sale of its Western Canadian natural gas gathering and processing business to Brookfield Infrastructure Partners (NYSE:BIP) for C$4.3 billion (US$3.3 billion) (press release).

The assets include 19 natural gas processing facilities with total operating capacity of 3.3 Bcf/d and 3,550 km of gathering pipelines with connectivity to major demand markets, including the Northwest US, the Midwest and Western Canada.
ENB has announced C$7.5 billion in asset sales this year, more than double its initial target of $3 billion.
DCF/share through 2020 and credit metric targets remain unchanged.
Teekay Offshore Partners (NYSE:TOO) announced that Brookfield Business Partners (NYSE:BBU) has exercised its option to acquire an additional 2% ownership interest in Teekay's GP, and as a result, will hold 51% interest in the GP (press release).
Editor's Note: This article discusses one or more securities that do not trade on a major U.S. exchange. Please be aware of the risks associated with these stocks.