Notes from the Dog House
Monday was a tough day at the DDR. We got poorer as the energy related stocks that make up the Oilfield All-Star portfolio swooned in response to events from the weekend. The Tweeter-in-Chief had precipitated a firestorm (fire and oil are always a bad combination) in the energy sector by tweeting as follows over the weekend.
The portfolio tanked as the hedgies assumed that President Trump's good buddy, King Salman would have one of his junior princelings put on his personal safety gear, and run out to the oil well behind the palace with a Stillson wrench and open the valve a hair. Just enough to deliver another 2-million barrels by the next day. Easy-Peasy! The world would once again be awash in $26.00 oil. The hedgies were sure it was the end of the world as they knew it. They bailed in droves on the way out to the Hamptons.
Even in the ranks of the faithful, meaning the members of the DDR, there were signs of faltering and panic. Some had to be talked down off the ledge, fingers poised over the sell button. That's OK, that's what the Doc is here for. We poured oil on the troubled waters (would you expect me to choose any other metaphor?) with a brief article entitled, "Trump's Tweets, Any Impact?". We held our resolve and stared down that increase...because we knew better.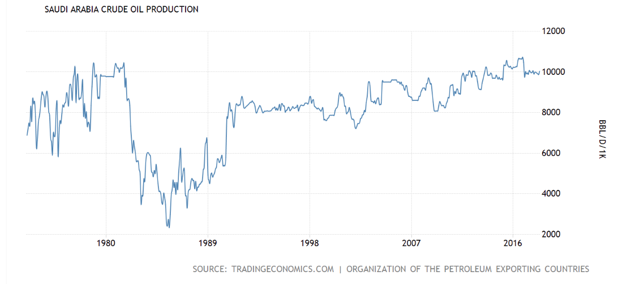 A careful, or perhaps just a casual glance of the graph above will reveal the flaw in the President's thinking. Saudi Arabia has never, (read this carefully, it's important) has never produced much more oil than it is producing now.
Of course Saudi Arabia says they have 20% in reserve capacity, that's the equivalent of a Madison Avenue ad exec saying, "Sure we can handle the order. Just give me your credit card number." It is marketing pure and simple.
This 2-million BOPD is an illusion. It's just not the way oilfields work.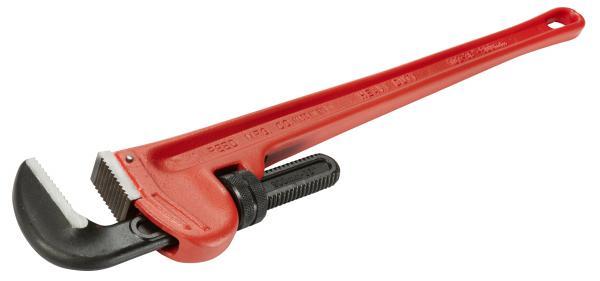 So what this means is that with even the biggest Stillson our young princeling can find, President Trump is not going to get his 2-million BOPD. It also means perhaps that the president should be subscribing to The Daily Drilling Report for more accurate information. I know budgets are tight right now, so I'm willing to extend a 20% National Security discount to POTUS. Heck, I'll even include a DDR coffee mug with the subscription.
By the end of the week members of the DDR were glad they'd stuck to their guns (figuratively speaking of course), and not flipped open the covers to the nuclear sell buttons and thereby committing Global Portfolio Annihilation. The Oilfield All-Stars recorded a nice gain for the week.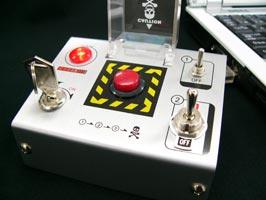 The Daily Drilling Report holds the view that the world will see scarcity of the gooey black stuff (Ok, Ok, I know it's not all gooey and black. It's just fun to write.), before it sees surpluses again. The reasons have all been fairly well documented by other writers like HFIR and Andrew Hecht, but I'll bulletize them for completeness sake.
Venezuela. The aliens have landed and taken over the oilfields to save their dying planet that has been horribly polluted by spent lithium ion batteries in the land fills.
Other OPEC members-Nigeria, Angola, Libya ex. lacking capacity to meet quotas. The aliens hit them first, before going to VZ.
Iran. Aliens landed and took over the country about 30 years ago and nobody except the Russians likes them. And the Russians have all the oil they need.
Lack of capex by the big IOC's. Chickens will come home to roost on this debacle, trust me. We're going to have to find other uses for gas pumps if we're not careful.
Capacity constraints in the Permian.
Other stuff too, I am sure. But, I'll bet there's 2-million BOPD in the bullets above, so I'll stop. Read Hecht and HFIR if you want more color on this short-fall. These guys are amazing! The president should subscribe to them too. (Hecht, HFIR- if you stop by, any chance you're giving National Security POTUS discounts? Come on guys...it's for the country!)

Companies discussed in the DDR last week!
We started out in kind of a whimsical frame mind with an allegorical offering entitled, "Goldilocks And Three Little Frackers, A Cautionary Tale" (You may not have noticed, but the old Doc is an inveterate kidder who earnestly believes that everything goes better with a little humor. So be warned cornball, oilfield humor can appear without further notice!)
In this one we discussed the progress, or lack there-of, made by three fracking specialists-chosen completely at random, Liberty Oilfield Services, (LBRT), Mammoth Energy Services, (TUSK), and Keane Group, (FRAC) since the first of the year. We didn't see much, and that was our point.
These specialist companies often get pumped pretty hard on SA, by writers who may or may not have ever seen a drilling rig. My purpose was to caution members of the DDR that these companies are among the first to drop like a stone when 'Winter comes' to the oilfield. We view them as being among the riskiest ways to track shale.
Weatherford, (WFT)
This one rose to the top of the pile on Monday, and we took a pretty good look. "Weatherford Soldiers On, Down But Not Out. Yet" We actually saw some things we liked in this $3.00/share monolith. New management is cleaning house and streamlining the business. Asset sales of non-core business is in high gear. Revenue is picking up. Debt is shrinking YoY. All good stuff.
At the end of the day, we couldn't find a way to pull the trigger, but resolved to keep an eye on them as earnings roll-out.
Halliburton, (HAL) and Tetra Technologies, (TTI)
On Monday in between replying to panicked emails from subs, and writing articles, we noticed this headline. "TETRA Technologies, Halliburton to develop, market completion fluids" There was a minimal number of comments, so we were one of a few who did notice apparently. And, that's a shame as this is a plus for both companies. Tetra has engineered a break-through in oilfield completion brines, and Halliburton has taken notice, and wrapped up an exclusive. We have discussed Tetra at length in the DDR in the past. We are long both TTI and HAL.
We put out a brief article on Monday for members entitled, "Hally and Tetra, A Few Thoughts" In it we ran back through why this technology is transformative for Tetra and the industry.
Later in the week a high priced professional analyst firm raised Tetra to a "Buy", and quoted an $8.00 price target. In the release the analyst cited CS Neptune (a technology that was discussed first on SA by yours truly in an article entitled, "Tetra Takes CS Neptune For A Victory Lap" published last November), and managed to make a technical error regarding it in the few paragraphs allotted. Oh well, better late, than never I guess!
Core Laboratories, (CLB)
Core Lab is a company with an impressive technology moat when it comes to reservoir characterization service, its traditional mainstay. In recent years is has branched out into more exotic field services such as its Hero-PERFRAC perforating technology.

The market awards CLB with an impressive multiple in the high 50's for reasons we can't readily explain, and have thus stayed away.

Recently it pre-announced taking down earning estimates and the stock was appropriately crushed falling as much as $15 in a single day. This drew our attention and we waited with sharpened knives to cut off a slice of this relatively high div payer for income and growth. We had hoped it might have dropped below $100. It never got close and has since rebounded nicely. The wait continues for this one.
Guest Article: Denbury Resources vs California Resources
Laurentian Research graced us with another fine article that he had previously published to his site, The Natural Resources Hub. A short extract appears below summarizing his thoughts on the two.
Both Denbury and California Resources stocks have appreciated a lot since February 2016, when oil hit the long-term bottom (Fig. 2). Although oil price has only gone up approximately 185%, Denbury delivered 440% and California clocked in 1,360% (Fig. 2).

Even their leverage cannot fully explain the progress made by these two stocks. Therefore, it naturally follows that an enormous risk exists for them which is yet to be properly appreciated by investors.
Basically this was a call for caution and perhaps taking some off the table if you were long. The Fluidsdoc is a fan of caution, and Laurentian Research!
Energy Transfer Partners, (ETP)
We dove fairly deeply into this one. ETP gets a lot of coverage, but we wanted to see for ourselves. The attraction of course is the monster, some say unsustainable yield nearing 12%, and the potential for price appreciation as the company moves from capital intensive building to pipelining crude oil, NGL's and gas where they need to go.
MLP's have been out of favor for a while, and the Daily Drilling Report likes to look at stocks that have been kicked to the curb by other investors. Often times we find value that others have missed.
We were left at the end with the conclusion that the upside risks, outweighed the downside risks and took a position.
Finally, we talked briefly about how much we liked how two of our portfolio Permian weighted All-Stars, Tetra Technologies, and Apache, (APA) had performed during the week.


Sometimes its nice to take a small victory lap when our picks do well. We indulged and then punched our ticket for the night.
Your takeaway
Energy stocks have rallied hard over the last year or so. We believe that there are still bargains out there. You just have to know what to look for!
Oil, while volatile is on an upward trajectory. We remain convinced of that, and it underpins our investment thesis for the energy sector.
Next week will be another busy one. Articles on LNG companies, the Deepwater drillers are in the works. Who knows what else the week will throw extra our way?
One thing for sure. We'll be all over it.
Disclaimer: I am not an accountant, CPA, or CFA. This article is intended to provide information to interested parties. As I have no knowledge of individual investor circumstances, goals, and/or portfolio concentration or diversification, readers are expected to complete their own due diligence before purchasing any stocks mentioned or recommended.
The Daily Drilling Report
I hope you will think about a subscription to this service. I am different than anyone else covering the oilfield on Seeking Alpha. I have spent years on drilling rigs, working with oil companies, and intend to put this knowledge to work for all of us.
Like many of you, I am a retiree. I live on social security, a pension from my employer, and savings. Savings supply over 50% of my present income, so you can bet that I am looking for ways to maintain, and increase it. I want safe, secure dividends from my big-cap companies, along with some price appreciation. I want to score some long-ball home runs from my small caps - companies that have the potential to double or triple within a couple of years. Those are things I want, and I expect you want them too.
Disclosure: I am/we are long TTI, HAL, APA.
I wrote this article myself, and it expresses my own opinions. I am not receiving compensation for it (other than from Seeking Alpha). I have no business relationship with any company whose stock is mentioned in this article.