Now that we have recently past the half way point in the calendar year 2018, it is always fun to reflect upon past performance and measure how your portfolio (or portfolios) performed relative to the S&P 500 or another more applicable benchmark. In today's piece, I am going to share my actual portfolio performance and discuss the highlights and lessons learned. I will also provide a tracking spreadsheet for every security that I wrote about on the public site in 2018 (please note I have written about many other ideas on Market Adventures).
As reader may be aware, I manage three different portfolios and I will share the actual results for all three.
"High Octane PA"
"Buy and Hold PA"
"Conservative PA"
As readers may have worked out, I pride myself on transparency and keeping it real. As such, I am providing a snapshot of the first half actual performance for 2018. This way, readers can verify the actual results for themselves. In terms of reporting, all accounts are held at Fidelity and Fidelity makes it easy to track results with their performance tab. As an aside, I am an avid reader of other Seeking Alpha authors, and it would be very powerful to me, as a reader, to see this type of transparency when reporting returns. I have read countless articles where people discuss their actual performance and suggest they are handily beating their benchmarks, but I never seen the summary data in the actual articles. I would argue that seeing the actual numbers is much better than saying your portfolio returned 20% and there is no data to back it up.
High Octane PA: Up 10.6%
As you can see, on December 31, 2017, the portfolio value of the High Octane PA was $139,677 and its ending balance for the period ending June 30, 2018 was $154,494, resulting in a total return of 10.6%. Although the S&P 500 only returned 3.4% (including dividends) during the first half of 2018, this portfolio is higher beta than the S&P 500 and far less diversified, so I am not sure if measuring it versus the S&P 500 is the right benchmark or fair.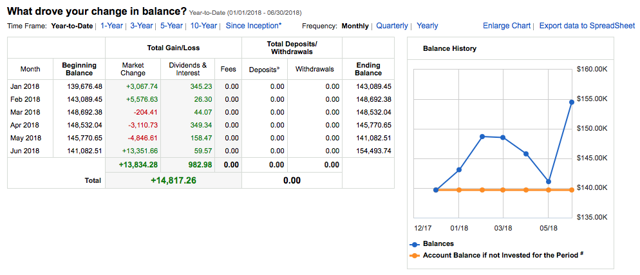 Source: Fidelity Account Performance Tab
Despite starting the year behind by eight ball, as a relatively aggressive call option bet on Range Resources (RRC) expired worthless in January 2018 (the bet was made during the Q3 2017), resulting in a 299 basis points (bps) hit to the account, on balance, we did some good tactical trading during the first half and easily recovered this loss.


In terms of other realized losses, the only other notable loss experienced was a modest loss on some Weight Watchers (WTW) put options, costing the portfolio about 86 Bps points of performance.

On the plus side of the ledger, we picked up 254 Bps of positive performance trading Canopy Growth Corporation (CGC). Incidentally, on Market Adventures, I recommended Canopy on two occasions (December 2017 and then again in early Q2 2018). In retrospect, I was super conservative sizing this bet and was far too quick to take profits. We easily left at least another 300 Bps to 500 Bps of potential performance on the table, had I left held our long position in Canopy Growth longer.

The other notable, albeit fairly modest, trading gains in this account were from Stein Mart Inc (SMRT) picking up 133 Bps of performance and a quick scalp trade in Iconix Brand Group Inc. (ICON) where we added 139 Bps points of performance.


If you add up all the trading cats and dogs, and tally all realized net trading gains and losses, as this portfolio is more tactical, we generated 600 bps of positive trading performance despite the 299 Bps drag from RRC calls options and 86 bps from WTW puts options.
Going back to transparency, this portfolio does have large long position in GNC Holdings, Inc. (GNC), with a cost basis just over $5. This bet is currently firmly in the red and is a drag on absolute performance. Hindsight is 20-20 and clearly it would have been advantageous if we sold some GNC after they pre-announced better than expected Q4 2017 results as well as if we sold on February 13, 2018, the day of the Harbin/CITIC deal announcement. On both occasions, shares of GNC briefly traded north of $5. In fact, in pre-market trading, as the market was initially thrilled by the Harbin/CITIC deal (and the short were caught off guard), GNC shares traded as high as $5.80, on February 13, 2018. Of course, for me personally, it is hard to trade GNC because I have done so much work on the company and remain confident in the company's turnaround. Clearly, even going back to 2017, GNC has proven to be a great trading stock but hasn't been a good buy and hold bet.
In terms of lessons learned, clearly, sizing is an important aspect of risk management. As a general rule, and this is something that I learned from a mentor who formerly managed $4 billion in mutual assets as an equity portfolio manager (now retired), investors should never have more than 15% of their portfolio in any individual security. His logic was as follows: "If you love an idea and it is sized at 15%, if you are right you will still generate a meaningful absolute return. However, if you are wrong, the bet won't permanently impair your capital and you can live to fight another day."
Every time I think GNC is getting ready to rally, some exogenous event occurs. Over the past few weeks, the fear that President Trump's new tariffs will somehow negatively affect all pending M&A and JV deals with the U.S. and Chinese companies has iced what was a nice recent rally from $2.90 to $4.37 (or nearly 50% in a short period of time). Despite the scary headlines, I continue to believe the Harbin/CITIC deal will make it across the finish line. Moreover, I am looking forward to GNC's Q2 2018 earnings results, which should be released during the last week of July.
Also, in this portfolio, we have raised a bunch of cash (dry powder) and currently hold a 40% cash position. This added cash will provide the piece of mind to let the GNC turnaround play out. In addition to GNC, there are three other equity positions currently held and we are constantly hunting for compelling future trading ideas.
Buy and Hold PA: Up 7.9%
This portfolio is truly what the name says.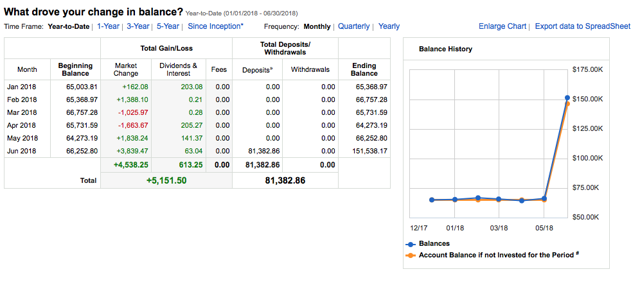 Source: Fidelity Account Performance Tab
Year to date, I have only sold one security, Macy's Inc. (M). As you can see, I held Macy's for just over one year and including dividends (not captured in Fidelity's "realized gain/loss details"), and Macy's generated a total return of 75%. This was a nice contrarian bet that played out nicely. I just wish I sized it much more aggressively, but as usually, at that time, I didn't have enough dry powder available.


Also, to really stress that this is truly a buy and hold portfolio, in 2017, I only made four sales. In December 2017, at $7.20 per share, I sold all my shares of Famous Dave's (DAVE) for a net return of 22%. My initial DAVE shares were purchased back in November 2015 and I periodically added more shares along the way in 2016 and in Q2 2017. Whole Foods was a legacy position that I owned since 2015 and the other two were bets were quickly exited when my thesis changed.


This portfolio currently holds nearly 59% in cash, as I recently rolled over my 401k (total proceeds were $81.4K). By the way, I voluntarily left my corporate credit analyst role, where I was in good standing and earning a steady paycheck, in order to invest and write full time on SA.
Back to the Buy and Hold PA, I currently own shares of GNC Holdings, Inc. (NYSE:GNC), Range Resources (NYSE:RRC), and Antero Resources (AR). I also own an international growth stock, an absolute gem that is completely under the radar screen, but I am keeping this one close to the vest, as I keep a lot of content private for Market Adventures readers. Again, keeping it real, my cost basis on my GNC bet is $6.40 and clearly it is notably under water. That said, I feel good about GNC's turnaround and don't lose any sleep over this bet. Despite a select few members of SA's peanut gallery insisting that GNC will go to zero and I'm the world's biggest muppet for ever owning it and recommending it, I tend to ignore the good opinions of others. As a value investor, you have to be willing to go against he crowd and be wrong as turnaround and value plays take longer than you often anticipate.
Conservative PA: Up 7.4%
Out of all the portfolios, I am especially proud of this performance. This portfolio beat the S&P 500 by 400 Bps during the first half of 2018, despite holding roughly a 50% cash position throughout the entire time period. In others word, I was extremely careful and opportunistic about deploying capital. For the most part, the portfolio consists of Blue Chips dividend stocks and no single security holds more than a 10% portfolio weighting. In fact, most stocks are sized at a 5% weighting or less. Everyone stock currently in the portfolio pays a dividend. In the beginning of January, I was of the opinion that interest rates were poised to rise, so we held our dry powder and waited for a number of great Blue Chips dividend stocks to become attractive. They did in late April and early May 2018, and we pounced, buying a number of great companies, at what proved to be very attractive prices.
For a flavor of what is this portfolio, I will share the four securities that mentioned in free site pieces under my "Conservative PA: Blue Chips Series". These include PepsiCo (PEP), Procter & Gamble (PG), Kimberly-Clark (KMB), and The Hershey Company (HSY). There are other securities in this portfolio, but I am only sharing the four companies that I have written about publicly on the free site, at least at this time.
Source: Fidelity Account Performance Tab
2018 Recommendations on the public site
Also, I took the time to compile all of my public site recommendation for 2018. I used an "R" to denote recommended price if I didn't already own it or I didn't purchase it and a "P" to denote the purchase price. Please note that many public site articles were published with a lag as I share my best ideas on Market Adventures, first. Also, there are plenty of other ideas and companies that I have discussed on Market Adventures, but I haven't yet shared on the public site.
Again, as for the tracking sheet, I think this is the fairest way to present the data.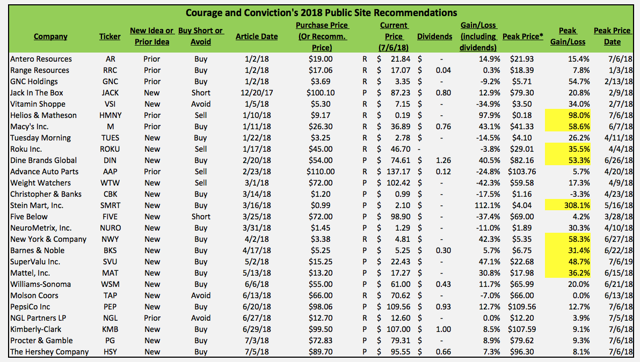 The average equal weighted average return for all ideas from the recommendation date or purchase today through July 6, 2018 is 10.9%. And for fun, the average peak return is 37.2%. Now of course no one perfectly times every trade, so this is purely an extreme measure. My point is that many of the ideas were volatile and high octane, so for instance Stein Mart, to the pick the most extreme example, was briefly a 308% return from my March purchase price of $0.99 to the May 52 week high of $4.04.
Also, I excluded two pieces, as they were victory lap time pieces (Signet written on 3/16/18 and World Wide Wresting Entertainment written on 5/18/18) and references to recommendations from prior years. They were purely for educational purposes and not formal buy or sell recommendations, per se.
Takeaway
My goal for this piece was to transparently share with readers my actual returns for the three portfolios that I manage. These are actual returns, as in real dollars, not spreadsheet returns, and I am using thirty party reporting (Fidelity) to verify them. Perhaps, this piece might inspire other authors to offer the same level of candor and transparency when presenting their returns. I think this level of transparency arms the readership with better contextual information. And lastly, I took the time to compile all of my free site recommendations/ purchases for every free site piece that I wrote in 2018. This should remind readers that I have written about many difference companies and that my coverage universe is expanding now that I am investing and writing full time on Seeking Alpha.
Overall, my first half 2018 performance is fine, but I am looking to perform even better during the second half. I have had a lot of good ideas in 2018, but I could have been more patient and held them for longer, thus capturing large pieces of the move and generate significantly higher returns, especially in the "High Octane PA".
Disclosure: I am/we are long KMB, GNC, AR, RRC, CBK, HSY. I wrote this article myself, and it expresses my own opinions. I am not receiving compensation for it (other than from Seeking Alpha). I have no business relationship with any company whose stock is mentioned in this article.
Editor's Note: This article covers one or more microcap stocks. Please be aware of the risks associated with these stocks.