Earlier in 2018, I noted:
Monthly inflation measures may slow down somewhat in February, although year-over-year increases will likely continue at the Fed's target rate. I am raising the inflation alert level from Green to Yellow, but it is too early to ring the bell for Red Alert. I remain invested in the Value Portfolio, but I will be highly selective about my sector allocations in 2018. Energy is an area of interest.
Also in November of 2017, I noted:
Oil prices have risen by more than 40% in the second half of 2017, but this is just the beginning. Because energy equities have not yet reacted to the recent surge in oil prices, I expect the energy sector to be a winner in 2018. I am invested in Tesla, Ensco, and Noble Energy because these companies are even more deeply undervalued compared to others in the energy sector, but for investors who prefer a diversified portfolio, I recommend XLE.
Since publication, (NYSEARCA:XLE) has increased more than 11 percent, which has more than doubled the index return in the same period: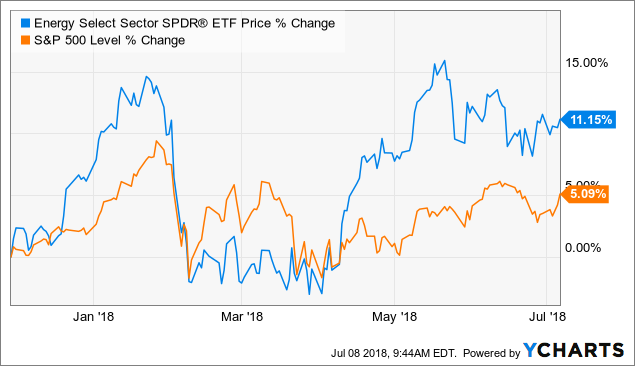 Oil prices have also continued to increase, as predicted: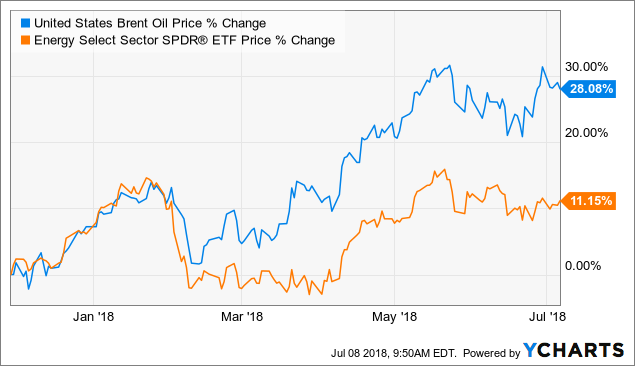 The preceding graph illustrates that oil prices have tripled the return of XLE, and I expect energy prices to continue to increase through year-end, deeming both traditional and renewable energy investments smart additions to portfolios in 2018.
This, however, comes at a cost.
Inflation Has Increased
The Consumer Price Index ("CPI") is a measure of the average change over time in the prices paid by urban consumers for a market basket of consumer goods and services.
On Thursday, the Bureau of Labor Statistics is expected to announce further pressure in this closely watched inflation metric:

The expected increase in year-over-year inflation represents a continuation of recent trends in this important metric: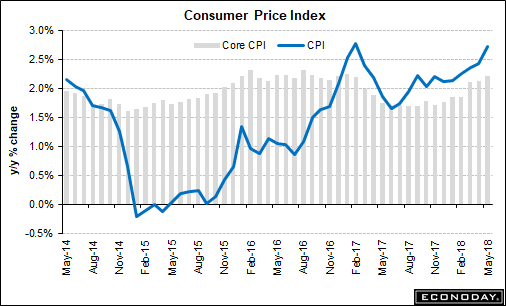 The above graph also illustrates that core inflation measures have recently creeped above the Federal Reserve's 2 percent target:
The FOMC noted in its statement that the Committee judges that inflation at the rate of 2 percent (as measured by the annual change in the price index for personal consumption expenditures, or PCE) is most consistent over the longer run with the Federal Reserve's statutory mandate.
My observation above is also in-line with recent trends the Federal Reserve's preferred measure: the PCE index, which had accelerated to 2.3 percent in May:

This is the beginning of the end.
Inflation Will Continue To Increase
The second half of 2018 will be hot due to higher energy prices.
In May, Goldman Sachs analysts expected oil prices to hit $82.50 per barrel by the end of this summer due to increased geopolitical tensions in the Middle East, plunging Venezuelan production, and the U.S. withdrawal from the Iran nuclear deal. I agree with this prediction and the reasoning.
Last week, Goldman Sachs analysts noted that they did not expect tariff wars to derail rising oil prices. I also agree with this prediction, as oil market fundamentals continue to point to an increasingly undersupplied market: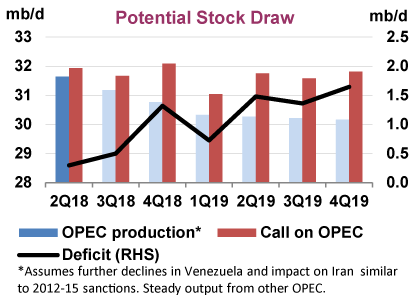 Source: The International Energy Agency
Energy prices play an important role in inflation measures, and other key components are also showing rising pressure.
Unemployment and Underemployment
Even though the most recent unemployment report showed an uptick in the unemployment rate, I note that the employment market has tightened at a rapid rate in recent years towards multi-decade extremes: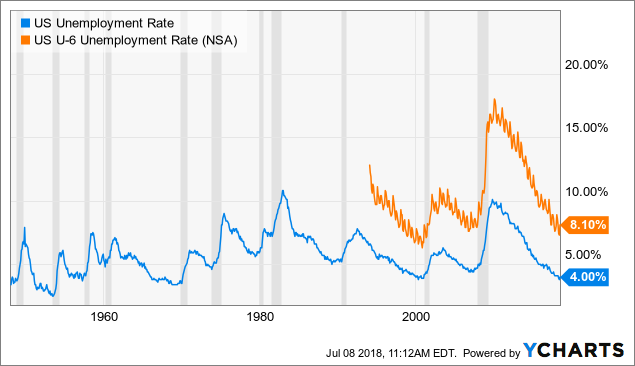 The significant tightening in employment conditions has recently initiated a rising trend in wages, albeit from a persistently low level: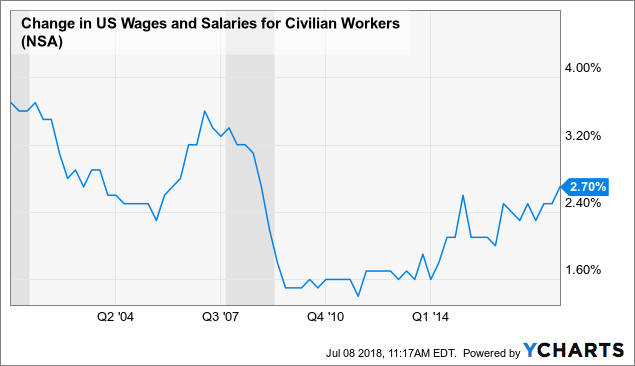 I expect accelerating wage growth to be the last shoe to drop in the coming months, before the Federal Reserve rings the alarm bell in the third quarter.
Bottom Line
Earlier this year, I initiated a close watch on inflation with a Yellow rating, and the time has come to raise the alert level: Red.
I remain invested in the Value Portfolio, but I will be highly selective in the remainder of the year. Energy continues to be an area of interest, while I gradually rotate out of certain cyclical industries into businesses whose revenue and profits are relatively independent of macroeconomic factors.