Most everyone knows of Honeywell Int'l (NASDAQ:HON) and the legendary blues guitarist Eric Clapton, but fewer know of Crane Company (NYSE:CR) and the upstart blues guitarist Joe Bonamassa. Honeywell is a behemoth of a conglomerate with a market cap of over $108 billion and a current member of the Fortune 100 (at #73) but got kicked out of the DJIA in 2008. Crane is a midcap conglomerate valued at $4.8 billion and a member of the S&P Midcap 400. Clapton has been strumming his way into the hearts of rockers and blues lovers since 1963 as a founding member of The Yardbirds (along with Jeff Beck and Jimmy Page). After hearing him play, B.B. King invited Bonamassa to tour with his band for 20 shows in 1989 – at the age of 12.
Honeywell is a diversified company with four operating segments: Aerospace (2017 revenue $14.7 billion, 36% of total 2017 sales), Home and Building Technologies ($11.0 billion, 27%), Performance Materials and Technologies ($9.1 billion, 22%), Safety and Productivity Solutions ($5.6 billion, 11%). Total 2017 revenue was $40.35 billion.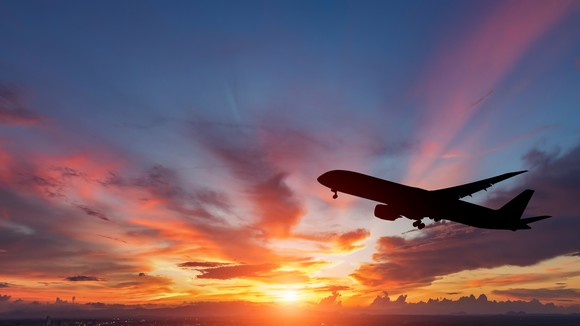 Crane is also quite diversified with four operating segments: The Fluid Handling segment (2017 revenue $1.1 billion, 37% of 2017 sales), Payment & Merchandising Technologies ($775 million, 28%), Aerospace & Electronics segment ($725 million, 25%), Engineered Materials ($290 million, 10%). Total 2017 revenue was $2.88 billion.
Both companies will look a bit different at the end of 2018 than they did at the end of 2017. Honeywell will spin out about $7.5 billion in revenues into two new companies from its Home and Global Distributing assets ($4.5 billion in revenue) along with its Transportation business ($3.0 billion). Post spin-off, Homes and Global Distribution will include heating, ventilation and air conditioning controls, coupled with security and fire protection products. Transportation will include turbocharging technologies for automobile, truck, and other vehicle engine markets. One spin-out is expected to be completed by the end of September and the other by the end of December. The exact configuration of the remade balance sheets and legacy liabilities is still being determined and share price split/valuations are currently unknown. On a purely revenue basis, these spin-offs amount to about 21% of Honeywell. Investors should expect the value of HON stock to decline in proportion to the value of each spin-off, as determined by the market at that time. Below is a chart of pre and post spin-off for HON, as offered by Forbes.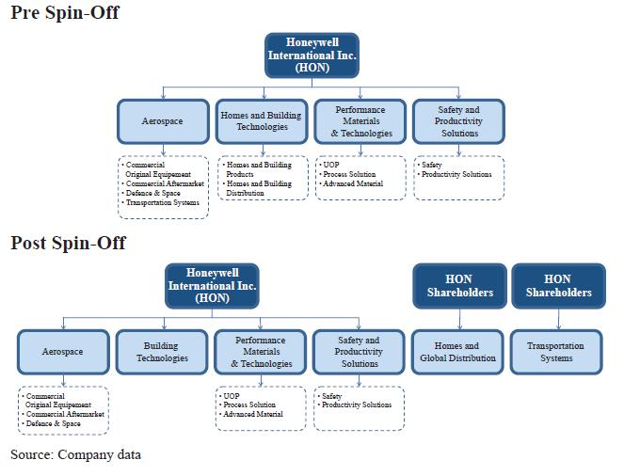 The following comparison of HON and CR will be based on the current un-split composition of HON. The goal of any spin-off is to create investments that will increase shareholder value over time.
Crane is currently digesting a large acquisition in its Payment segment that will be a driver for overall earnings growth of 20+% in 2018, 13% average over the next three years, and supports management's 10% long-term growth projection. The acquisition will add $500 million in revenue to the segment, increasing this business to the majority at 39% of proforma 2017 revenue. According to a January 2018 presentation, Payment's adjusted margins have been expanding after bottoming out at 7% in 2009 to 21% in 2017. In 2018, Payment and Fluid Handling combined should comprise 70% of Crane's revenues.
Honeywell and Crane experienced anemic revenue expansion in 2017, with performance of less than 2% sales growth over 2016 and created their respective strategies to jump-start their businesses.
Honeywell and Crane operate businesses in the aerospace sector, with HON's exposure being a larger portion of their overall business. As currently configured, Aerospace generated 37% of total 2017 sales and after the separation should equal about 47% of the post spin-off Honeywell. For Crane, Aerospace generated about 25% of 2017 revenue, and is projected to decline to 21% with the 2018 expansion of the Payments operating unit. HON's list of products used in airplanes is impressive and includes the following product groups, per their website: Air & Thermal Management, Auxiliary Power Units, Cabin Management & Entertainment, Cockpit Systems & Displays, Engines, Lighting, Microelectronics, Navigation & Radios, Recorders & Transmitters, Satellite Communications, Sensors, Terrain & Traffic Awareness, Weather Radar, and Wheels & Braking Systems. Crane's list of Aerospace product groupings is a bit more modest and includes: Cabin Systems, Fluid Management Solutions, Landing Systems, Microwave Components & Integrated Assemblies, Power Components & Subsystems, and Sensing Components & Systems.
According to the CEO of Boeing (BA), the aerospace market is changing, transforming from a high-cycle business of years past to a long-term sustained growth business. As an example, BA has a current order backlog valued $488 billion, or about 4.8 years of business at its current pace of about $100 billion in annual revenues. It seems both HON and CR could be poised to take advantage of this new stability in an important segment of their respective corporations. Even though 2017 was not a year of growth for either of the firm's aerospace businesses, it seems the path towards better growth may lie ahead.
Neither company could be considered as undervalued in a current market where value is difficult to find. Below are current fastgraph.com charts for HON and CR, indicating a current P/E above its "normal" P/E, with CR closer to being fairly priced than HON. Both firms' stock prices are below their 20-yr highs of this past January by 15% for HON and 22% for CR.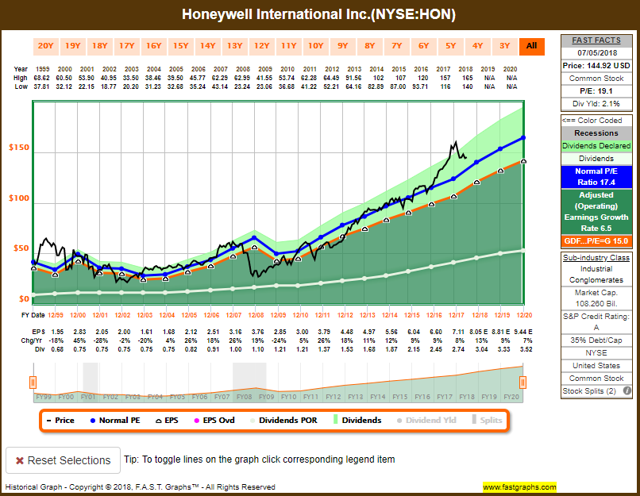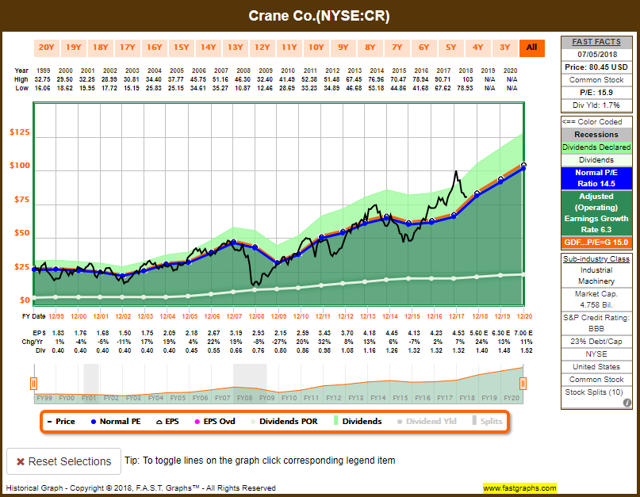 Also from fastgraph.com are the following charts of Return On Invested Capital, an important long-term fundamental evaluation tool. ROIC should be a preferred metric over Return On Equity as it includes debt financing and equity as components of capital. Management at Honeywell and Crane are very close in their generation of long-term returns for shareholders. It appears CR has an edge in its stability of ROIC, especially during the last recession. Both have substantially outdone the conglomerate industry average TTM ROIC of 8.9%, according to fidelity.com.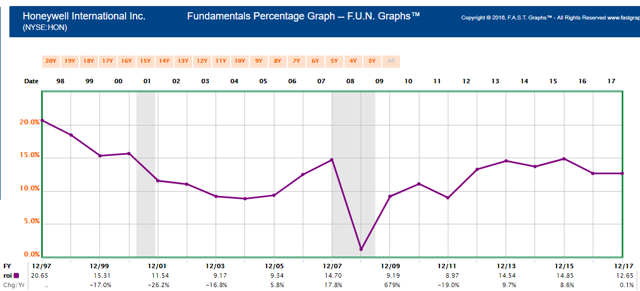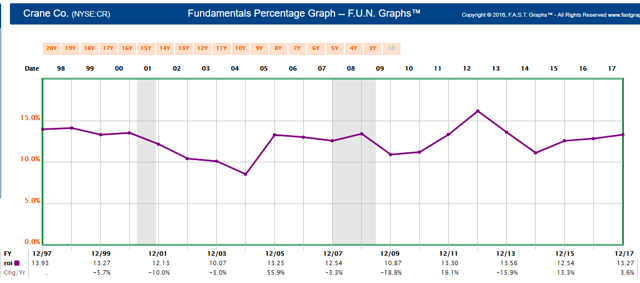 The Industrial Conglomerates Industry within the Industrials Sector includes diversified industrial companies with business activities in three or more sectors, none of which contributes a majority of revenues. Over the past three years, HON and CR have outperformed both the S&P 500 and the Industrial Conglomerates of the Industrial sector of the S&P 500. Below is a 3-yr price-only performance chart of the Conglomerate Industry (-10.2%), the S&P 500 (+31.3%), CR (34.9%), and HON (+41.5%), from fidelity.com.
Compared to the current valuation of Honeywell, Crane looks reasonably priced. On a Price to Book Value basis, CR trades at 3.3x while HON trades at 6.1x. CR currently has a forward P/E ratio of 14, while HON has a forward P/E of 18. In addition, CR has a 2019 PEG Ratio of .97 vs. HON at 1.60. HON has a higher SPGMI 10-yr Quality Ranking at A- vs. B+ for CR and higher credit ratings at A for HON and BBB for CR. Crane is rated Full Speed Ahead with a Guiding Mast Investments rating of 80.0 and a broker consensus timeliness of 1.4. Honeywell is rated Neutral with GMI rating of 67.7 and a broker timeliness of 1.8.
Crane offers more favorable potential with anticipated 2-yr average annual total returns of 17.8% vs. 12.4% for Honeywell, based on achieving their respective consensus broker price targets over the next 24 months.
Crane management has a long history of generating free cash flow and managing share count – and directly shareholder's returns. Management's forecast is for free cash flow in the $250 million range for 2018, and about level since 2016. Since 2008, management has generated over $1.9 billion in free cash flow, and is impressive for a firm with a current market cap of $4.7 billion. 10-yr combined free cash flow for CR amounts to 40% of its current market cap whereas HON's 10-yr combined free cash flow amounts to 32% of its current market cap. Crane's shares outstanding have been maintained at 60 million since 2008.
Crane management has a clear statement of its business focus. From its website:
Since 2000, Crane has pursued a consistent strategy for profitable growth. We continue to transition to a more integrated operating company with a common business system, and we use our excess cash flow to make strategic acquisitions to strengthen existing businesses, to increase our dividend, and to repurchase our stock.

We have made substantial, tangible progress in the execution of this strategy. We are a better company in many ways: our financial results have improved; significantly, we have a strong balance sheet that provides us with substantial financial flexibility. We have developed highly disciplined business management processes; we have created a smaller number of larger business units; and in so doing, we have reduced costs, improved customer focus and formed stronger and deeper management teams.

Nonetheless, we believe we are just getting started. In so many respects, the better we get, the more opportunities we see. As we capture these opportunities, we expect to continue to build long-term value for our shareholders.
Overall, I like Crane's diversified products and customers, including currency-focused technologies, aircraft OEM components, industrial values and pumps, and engineered materials. While investor valuations for the different components of Honeywell will be difficult to ascertain at this time, Crane offers a clearer picture of future growth. Honeywell seems to be more of a "techy" company than Crane and will maintain its larger exposure to the aerospace industry after restructuring. However, with its own aerospace exposure coupled with a newer high-tech Payment segment, it would be a mistake to downplay Crane as an "industrial tech" company. I recently took a starter position in Crane as I am looking for more conservative and diversified capital gains-focused selections.
As to Clapton vs. Bonamassa, they both get my "Top 10 Guitarist Ever" vote. It is almost as if I came of age on Clapton and have transitioned into retirement with the prodigious talents of Bonamassa. What better way to end this discussion than with a performance of the classic Texas blues number "Further on up the Road," with both exchanging guitar solos during Joe Bonamassa's concert at the Royal Albert Hall in London in 2009. At the end of the LP record version, Bonamassa can be heard saying, "Now, that's the coolest thing I have ever done" – coming from someone who toured with B.B. King at age 12. Enjoy your listen, and don't forget the volume.
Author's Note: Please refer to my profile page for the necessary disclosures.