That's it, we reached the halfway mark for the year. The S&P 500 has definitely given us a roller-coaster ride. Up one month and down the other. It should provide for some buy opportunities should you have some cash on hand to invest.
These roller-coaster moments are when you need to stick to your strategy, not panic, and remember why you bought the stocks you hold in the first place. My dividend growth strategy works through the thick and thin.
Stock Trades
June was quiet with one addition to my dividend growth portfolio. I have been working on topping up our spousal TFSA account and with a new contribution, I have purchased Alimentation Couche-Tard (OTCPK:ANCUF) (TSE:ATD.B). The addition of this consumer defensive dividend growth stock brings my total stocks for the sector to 6.
Last month, I shared my top 5 performers which happened to all be US stocks. This time around, I will share my top 5 Canadian stocks. It's important to note that I don't bother with a YTD return or a 1-year return. I focus on my annual rate of return (ROR) since inception. There are too many fluctuations in the short term to really understand the long-term return on an investment.
Not surprised by the banks on the list I hope. If you remember the performance of my top holdings last month, you will notice a large difference between the US and Canadian blue chip stocks.
Sector Diversification - June 2018
A snapshot of my portfolio diversification on July 8th, 2018. I made a slight adjustment to my ratios by making the consumer defensive and healthcare sectors the same. I created a small imbalance and I am hoping to rectify it over the year. I wish I could have known what the best ratio should have been, but it has taken me a long time to get the ratios right.
Since I focus on growth, the top 5 sectors have 79% allocated to them and the last 4 sectors have 21%, which I consider income sectors since it's more regulated by governments.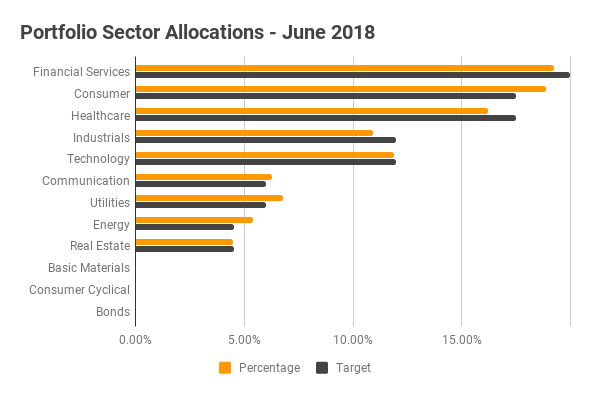 Dividend Income
My June 2018 dividend income is $1,613.13. I finally have USD $1,000 cash in my RRSP account which I consider my minimal investment amount as I have to pay 1% for the transaction, but it doesn't buy many shares in that account. Most of the holdings start at $150 which adds approximately $2 per share at that amount. I will exercise patience and wait to have more before deploying the money.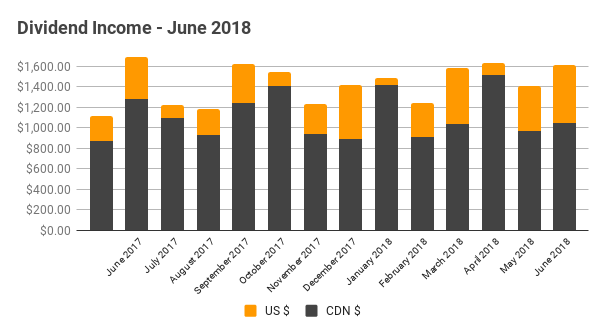 Disclosure: Please note that I may have a position in one or many of the holdings listed. For a complete list of my holdings, please see my Dividend Portfolio.
Disclaimer: Please note that this blog post represents my opinion and not an advice/recommendation. I am not a financial adviser, I am not qualified to give financial advice. Before you buy any stocks/funds consult with a qualified financial planner. Make your investment decisions at your own risk - see my full disclaimer for more details.