In early January, I published my top picks for 2018, see article here. As a reminder for readers not familiar with my strategy, I am a dividend growth investor in my mid 30s with a long-term horizon (hopefully), and my plan is to invest in well-rounded companies with a quality track record, superb management team, and strong dividend growth potential.
Towards the end of last year, numerous followers asked that I put out a list of stock picks for the year. As such, I constructed the list below with the goal to beat the performance of SPY. The portfolio started with investable funds of $100,000 that were allocated amongst the stocks listed below. This portfolio will not be actively managed; however, I will provide commentary around any ideas or changes I would consider making.
This piece will focus on our progress through the month of May, which saw a return of the bull market, after a rough start to the year. The portfolio got off to a rough first quarter, which contained the single largest point drop in the market ever. However, after a strong month of May from some of our top weighted picks, we are back in the black again.
June 2018 Results
We have reached the HALFWAY point of the trading year and so far, we are only outgaining the S&P 500 by a mere 51 basis points. We have seen great results from a lot of our picks, but unfortunately, a couple outliers so far have really hurt the overall results. Starbucks (NASDAQ:SBUX) has really continued to disappoint for a number of years now and this month in particular they saw a decrease of 13.7% after comments from the CEO warning investors about poor earnings, which will be released later in July.
The beginning of the year saw a continuation of the long-standing bull market, however, things turned volatile starting in the month of February. Since we began tracking our trades at the beginning of the year, the S&P 500 has decreased about 0.8% during that span, of which, it was down 0.5% during the month of June. Geopolitical concerns still arise with renewed fears of a trade war not only with China, but with many other countries as well now. Unrest in the in the Middle East, and talks with North Korea de-nuclearizing itself, are all still big topics watched closely by investors.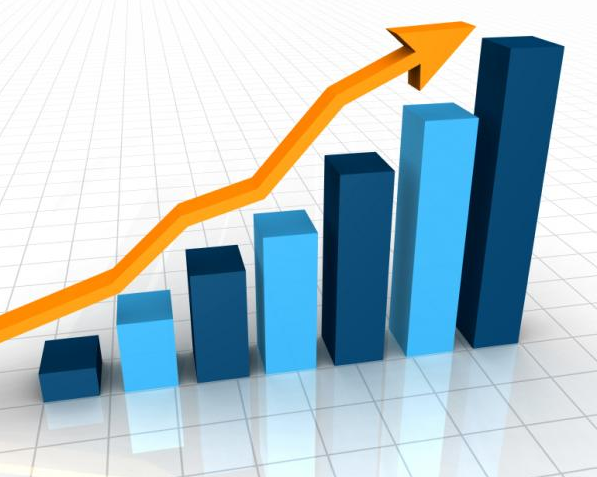 In addition to those Geopolitical concerns, the Fed is continuing its plan at raising rates at a rapid pace, with a potential for two more rate hikes likely coming in 2018. Based on the strength of the most recent jobs report, reporting an unemployment rate of 4%, which is slightly above last month's 18-year low, believe it is a foregone conclusion that the Fed will not slow down this pace. This past month (June), we saw another rate hike and expect we will see another in September followed by one additional hike to close out the year in December.
So without further ado, here are the June results for the Big Ticket 2018 stock picks.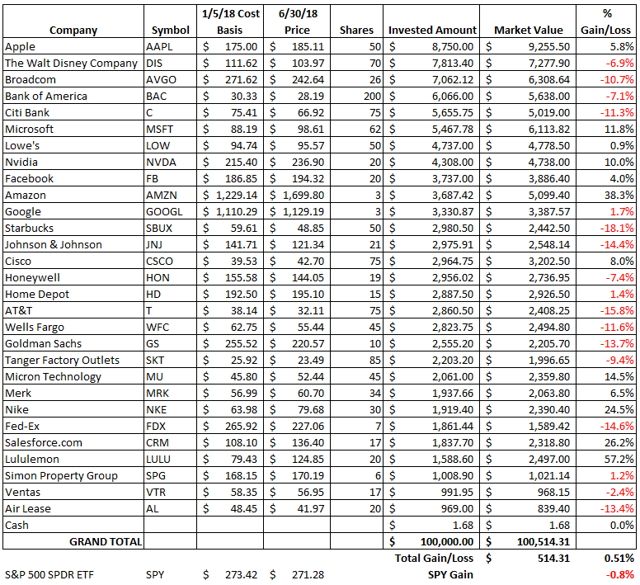 Source: Chart created by author
Through the month of June, the portfolio outperformed the SPY by a mere 71 basis points. Coming off our strongest month of the year last month (May), to see results in the black yet again has given us some momentum, even with the few jabs we took this month, which we will discuss shortly. Our top three performers for the month were Lululemon (LULU), Nike (NKE), and Tanger Factory Outlet (SKT). What do all three of these companies have in common... RETAIL. Is retail back???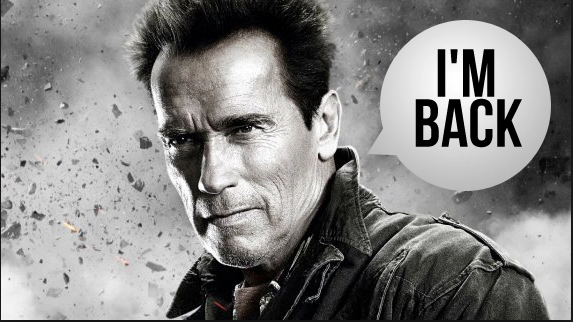 Retail was never truly dead like many thought, as retailer and landlords continue to provide positive results during recent quarters. Lululemon has been on fire, up 57% through the first half of the year. They have continued to sell well with women, but they are really beginning to resonate with men, which is where much of the growth is seen. I myself really enjoy the few clothing items I do have of theirs.
Nike is another athletic retailer that has continued to perform well in 2018, with the stock up 24.5% through the first half of the year. The company reported fourth quarter earnings at the end of the month and subsequently saw their stock rise over 11% the next trading day. Much of the cheer from investors was the return of growth in North America sales, which snapped a yearlong streak of quarterly declines for the region. In our actual accounts, we took some profits on this one at the end of the month.
Our third big winner of the month was Tanger Factory Outlet. This could go hand in hand with the first two winners we discussed as they have locations in various SKT centers. REITs have been getting pounded in 2018, but in June, they got some relief as investors began jumping back in REITs as a safety net. All three of our REITs in the portfolio saw 5% growth or higher during the month. SKT continues to perform at a high level, even though their short-term leasing has added a slight red flag for me to watch, they continue to bring in quality results and pay a strong and reliable dividend. This is a hold for us at the moment.
The three laggards for the month of June were Starbucks, Micron Technology (MU), and FedEx (FDX).
Starbucks had yet another poor showing in June with the stock down 14% after the CEO warned investors about continued slowing growth in the US region, which has been a continued problem area as of late. Did Howard Schultz sneak out the backdoor yet again? His timing was spot on the first time, so we will see how it plays out this time around. The growing consensus I keep hearing from investors is their lack of confidence in CEO Kevin Johnson.
Kevin Johnson, while working under Schultz as COO, was known for his innovative ideas, as he was largely behind the move to mobile orders. The company keeps drilling the potential China has, but results are not what they used to be and investors are re-pricing the coffee giant. This is a tough position to hold at the moment, but we think it will get back up into the mid $50s by the end of the year.
Micron was coming off a month in which it gained over 25%, but quickly retreated in June. Micron has been a roller coaster for much of the year as they were hit hard during the first quarter of the year due to weakness amongst all chipmakers. Now they are being hit hard as their chips have been banned from selling in China due to a patent infringement lawsuit. The ban is temporary and the company says the ban should not hurt quarterly revenues more than 1% of its annual sales. We will have to take a wait and see approach with this one.
Looking Ahead
Even though we do not make changes to the portfolio throughout the year, we do like to give insight as to what changes, if any, we would make during that given month. At the conclusion of June, we would still look for any opportunities on pullbacks to increase our exposure to Apple (NASDAQ:AAPL). We are big believers in the company and their future, particularly in their services segment. The company is going through a transition to become a more powerful software company. Cisco (CSCO) has pulled back a little after hitting an all-time high in mid-May, making them an intriguing option right now.
They are at the tail end of the transition they set out to complete a few years ago, which has seen them focus more on service revenue, which has returned the company growth. Another move we would make would be to trim our position in Wells Fargo (WFC). The company still has a lot to cleanup and gain back the public's trust before we invest any more money in them. As the Fed continues to increase rates, we believe the financial sector will perform well through the remainder of the year.
The idea of the updates is to be completely transparent with my followers. Many contributors today will make stocks picks, but only follow-up on those if they are positive, but I feel that readers respect you more when you are transparent regardless of the outcome. With that being said, here is to a solid July. Best of luck to all our followers!
Now that you have had a chance to digest the portfolio results to date, I look forward to hearing your thoughts on the portfolio and hearing some of your ideas for any changes to be made. Good luck to everyone and happy investing!
Note: I hope you all enjoyed the article and found it informative. If you do not currently follow us and would like to be notified of future articles, please hit the "Follow" button above. As always, I look forward to reading your comments below and feel free to leave any feedback. Happy Investing!
Disclosure: I am/we are long AAPL, GOOGL, DIS, SBUX, JNJ, SPY. I wrote this article myself, and it expresses my own opinions. I am not receiving compensation for it (other than from Seeking Alpha). I have no business relationship with any company whose stock is mentioned in this article.