Lithium battery -based electric vehicles and stationary energy storage systems have captured headlines over the past year as battery technology prices continue to decline. In less than a decade, lithium battery technology prices have declined from over $1,000/KWh to below $300/KWh. Although technology advancements have played a role in decreasing the size of the battery pack, the greatest part of the price decrease is associated with the increase in global battery production output. The primary increase in battery production is driven by large-scale investment from existing Asian battery manufacturers who are looking to capitalize on new energy vehicle mandates in China, as well as by a shift to electric vehicles around the world.
These macroeconomic trends have been the basis for my investment thesis, which remains unchanged: invest in late-stage exploration and early-stage production companies along with companies that offer some form of strategic value, such as a well-positioned land package or end-user relationship.
The plunge in lithium battery prices has also increased the number of applications where the technology will be competitive with traditional technologies. For example, residential energy storage systems have traditionally utilized lead acid batteries but in recent years there has been a widespread shift to residential battery systems. Lead acid batteries are being bumped out of telecommunication and grid infrastructure applications in favor of lithium-based battery systems. A large number of motive applications are shifting away from gasoline-based motors in favor of lithium technologies, including lawn mowers, municipal bus fleets, mining machinery, and locomotives to ferries. Although some of these applications may seem non-core to the overall growth of the lithium industry, they will collectively create demand for the lithium supply chain and create investment opportunities for companies that operate within the space. As lithium battery prices continue to decrease, the number of applications that use the technology will continue to rise.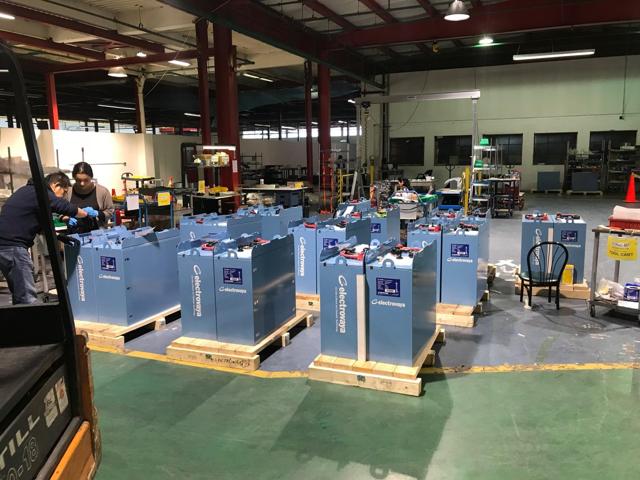 Electrovaya – Lithium forklift batteries await shipment
Lithium batteries, a drop in replacement for lead acid in fork lifts
This is exactly what is occurring within the materials-handling market. A decrease in lithium battery price has spurred a niche opportunity to move the industry from lead acid to lithium batteries. The key advantages that lithium batteries present in such a scenario include:
Savings on energy cost – Higher efficiency charging reduces energy costs up to 30% Cycle life – Upwards of 10,000 cycles with certain lithium battery chemistries Warranty – Generally 10-year warranties for lithium batteries Increased Productivity – Decrease down time from opportunity charging and lack of battery swapping Reduction in Maintenance – Eliminates watering or fuel stack replacement leading to cost savings
In addition, lithium battery -based materials-handling electric vehicles easily integrate into the existing infrastructure and generally have an attractive user interface compared to traditional lead acid -based systems.
1.1 Materials Handling Vehicles Sold in 2017
Although the integration of lithium batteries into the materials-handling market is relatively limited, an increasing number of players are being attracted to the space. Toronto-based Electrovaya is a lithium-focused battery technology company that is actively pursuing the market with their drop-in batteries. China's largest battery manufacturer, BYD, has developed electric vehicles specifically for the materials handling market that utilize the company's lithium iron phosphate battery technologies. Based on Electrovaya's recent report, it is estimated that approximately 280,000 materials-handling vehicles were sold in North America, and 1.1 million vehicles were sold globally in 2016. In the USA, over 65%, or 185,000, were electric vehicles, most powered by lead acid batteries, some utilizing fuel cell technologies.

Warehouse electric fork lift charging network
In comparison, the total battery and hybrid electric passenger vehicle market in North America in 2016 was approximately 200,000 units. Worldwide sales during this period exceeded 1.2 million. Of course, potential demand from materials handling will not keep pace with passenger vehicles, but it does illustrate the type of demand that can arise from applications that are likely well below the demand radar. Further, with a growing number of warehouses being established globally due to the rise in e-commerce and m-commerce, there will be an increase in the overall outlook for the materials-handling electric vehicle market.
This has been reflected in M&A activity, such as the $8.4 billion acquisition of DCT Industrial by Prologis. Prologis owns or manages more than 3,200 properties worldwide and leases facilities to around 5,000 customers, the largest being Amazon.com, followed by DHL. In January 2018, a popular Canadian REIT, Pure Industrial Real Estate Trust, was acquired by Blackstone in a $3.8 billion transaction. Pure owned and operated a diversified portfolio of income-producing industrial properties servicing key distribution and logistics markets in North America.
Blue sky opportunity for Electrovaya
This is a pure blue sky opportunity for the lithium battery technology sector, especially for companies such as Electrovaya who are investing to establish a foothold in an untapped market. As lithium battery technology prices continue to decrease and additional competitors enter the market, materials-handling companies will eventually shift entirely towards lithium battery solutions. In June 2018, Electrovaya announced the onboarding of new partners and repeat orders totally $1.2 million from existing customers located in Canada, United States and Mexico. These orders collectively amount to around 60 electric vehicles based on a turnkey price of $1000/KWh with an average power rating of 20KWh. Like many lithium based applications, the market is still early but the barriers for wide-scale adaption continue to fall which will ensure that the market for such technology will open over the next years.
Electrovaya's drop in low voltage lead acid replacement systems having a usable power capacity from 12KWh up to 44KWh represents more battery capacity than that of a plugin hybrid, but a capacity that is in line with various electric vehicles. An average system size of 20KWh over the total addressable materials-handling electric vehicles market of 600,000 units (using a 50-50 global split in units between electric- and fuel-based), provides an opportunity for over 12,000MWh or 12GWh of battery storage capacity. In 2017, total global automotive sales amounted to around 80 million units, meaning that the addressable market for materials handling represents roughly less than 1% of total automotive sales. This is an incredible figure when considering that total global new energy vehicle sales in 2017 represented approximately a 1.5% penetration rate.
Growth in lithium battery demand supports investment in junior explorers
A decrease in lithium battery systems' cost will continue to allow for the expansion of devices based on this technology platform. Therefore, I continue to believe that advanced lithium exploration, early-stage producers, and select strategic lithium property plays will continue to perform well throughout 2018 and into 2019 and 2020. These group of lithium juniors are best positioned as they have a direct exposure to rising demand for lithium chemicals.
My top investment is Advantage Lithium, a high ly strategic player actively developing their flagship project in the Olaroz-Cauchari Basin. Their project is a spin-off from Orocobre's exploration land package that straddles the property of Lithium America and is only 15 km away from Orocobre's production facility at Olaroz. For those unfamiliar with Orocobre, they are the only company in the past 20 years to bring a meaningful new supply of lithium chemicals from a brine project to market. The Cauchari project is 25% owned by Orocobre, which also controls around 30% of the company's shares. For additional details on Advantage Lithium please review my notes from the November 2017 Argentina site visit (here) and the various other reports that I have produced (profile here).
In recent weeks, Advantage Lithium has updated their resource estimate for the Cauchari project. Here are the key updates on the resource estimate:
6-fold increase from 500,000T LCE to 3 million T LCE. The company has completed a 43-101 compliant resource, a significant milestone for junior exploration firms. Phase 2 drilling is now completed, including an expansion to the Southeast zone and previously unexplored Northwest zone. Phase 3 drilling will continue to expand the basin at depth as none of the boreholes have reached the basin floor, creating the potential for the resource to be further expanded. The brine chemistry continues to reflect that of Orocobre's Olaroz project, with a magnesium to lithium ratio averaging 2.5.
In recent weeks, Australia-based Galaxy Resources and South Korean -based POSCO announced the sale of a land package, including certain northern land tenements at its Sal de Vida lithium brine project, located in Argentina. Cash consideration of $350 million was paid for approximately 2.54 million tonnes of LCE of JORC -compliant total resources, which translates into a price of $140/T LCE. Based on Advantage Lithium's 140 million issued shares and a 75% ownership position in Cauchari, which contains at least 3 million T LCE, this implies a price target of over $2.00 / share.
In my opinion, Advantage Lithium is one of the most strategic publicly-traded junior lithium exploration companies in the market today. My position on Advantage Lithium is shared by various high-quality research firms, including the following:
Eight Capital has recently updated the target price to C$2.50/share from $1.90/share, and Cantor Fitzgerald initiated coverage on the company in May 2018 with a target of C$2.00/share. National Bank of Canada has recently initiated coverage with a buy rating and price target of C$1.90/ share. As noted above, these price targets are strongly in-line with my buy recommendation and price target of $2.00/ share.