Market Intro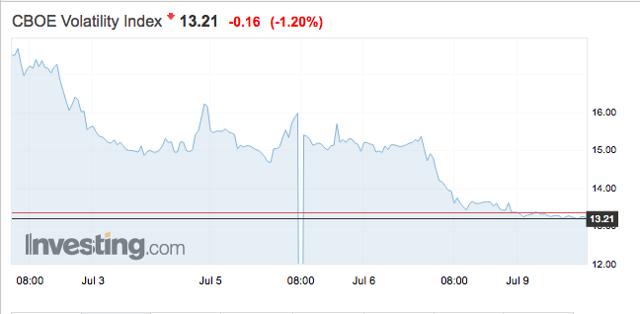 This upcoming week looks set to begin quite the opposite of last Monday, when S&P futures were struggling right around the 2700 mark (SPY) at the week's open. The general tone for international stocks (ACWX, EFA, EEM) was also favorable as the week wore on, and today's session has seen a strong showing for Asian markets.

CNBC: Asian Markets, Monday close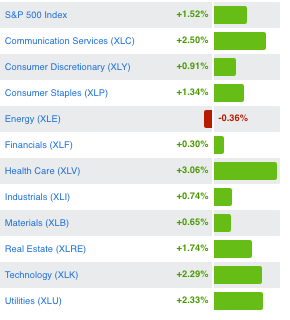 Sector SPDR: 5-day performance
Energy (XLE) was the only sector that failed to participate in the surge last week. Abating tariff concerns appear to offer the chance to continue positive action, but those who trade in volatility may consider that when all sectors participate in a rally, it may actually be a clue to higher vol going forward (as perhaps correlations are higher).

CNBC: Monday 9:22 EST
US Treasuries (IEF, TLT, AGG) climbed quite a bit early in the year; since that time one could well consider them to be range bound, between perhaps 2.75 and 3.05 with only occasional sightings outside this band. The yield curve is now at the flattest levels in a decade, but Treasury vol is not sending out any kind of special warnings about this.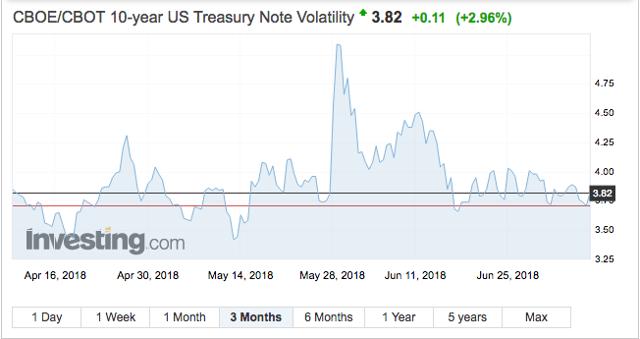 Thoughts on Volatility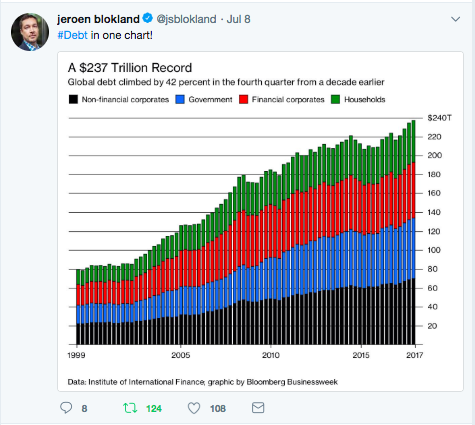 Speaking globally, debt levels are certainly substantially higher than a decade ago. And this is during a period that some call a "beautiful deleveraging". Trouble is, while there has been a recomposition of debts, it is quite difficult to say that we have in any real sense deleveraged. This is important because (see Gundlach Tweet)…

The "deleveraging" that we have undergone as a nation and as a globe was mostly executed via ultra-low rates; in fact, arguably the lowest global rates in human history. As such, borrowers enjoyed some temporary release from travails as debt service was lower. If and as rates rise, however, well in the aggregate we really have not deleveraged at all. This does not have to mean the bull market is over, but we may well consider the low-vol trade to be in the latter innings of its life.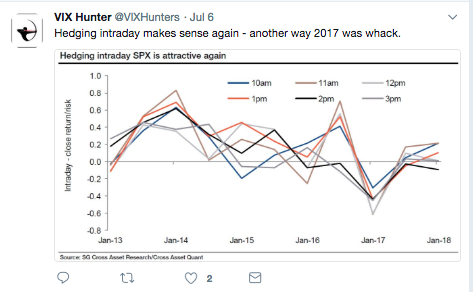 The inter vs. intraday vol trade has really become interesting over the calendar year, and this summer is no exception. Reversals, many of them lower, have become far more typical than we've seen of any period going back at least to early 2016. Today's market behavior reminds me a great deal of summer 2015, with a lot of chop in what amounted to a very small range.
Term Structure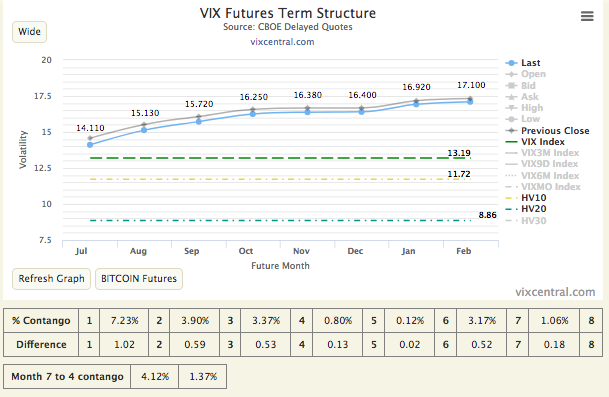 For the first time in a month or more, the HV10 trades within a stone's throw of spot VIX. I expect the term structure to be "well behaved" here, insomuch as the M1 and M2 will in my opinion have a Goldilocks amount of reaction to changes in spot VIX. By this I mean that over the past several weeks we have observed periods where the front of the term structure frequently under-reacted to changes in spot, and other times where perhaps VX futures responded too vigorously. My view is that VX futures will move sympathetically to spot at this time, but not do so in an overly dramatic fashion.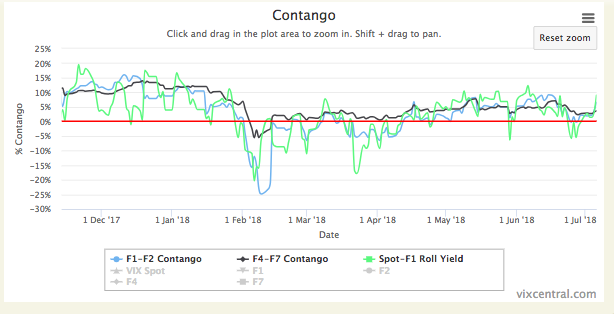 Contango is getting something of a reboot over the last few sessions. Good news for vol shorts (SVXY): the condition is not just at the level of the futures, but between M1 and spot itself, giving roll decay a chance to work its magic.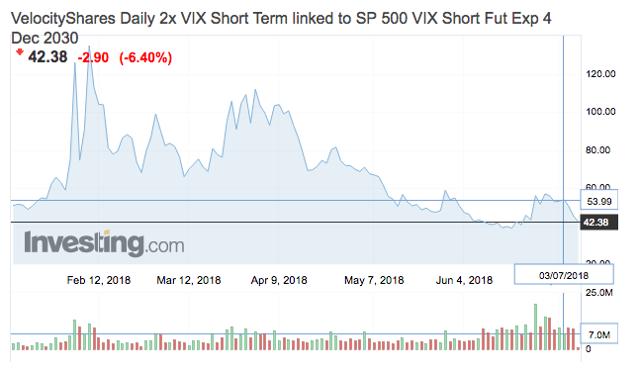 I have to say for now that it is difficult for me to imagine a more hostile set of conditions for leveraged long VIX (TVIX) for any environment other than perhaps a comatose period such as experienced last year. There actually is room for the term structure to decline from here; spikes are more likely to be temporary than prolonged shifts; short vol is actually not in my view overdone (HV for instance has risen substantially over the last couple weeks).
Conclusion
If this is your first time reading Market Volatility Bulletin, thanks for giving it a try. If you're a regular, we thank you for your ongoing contributions in the comments section.
Thank you for reading.
Please consider following us.
Disclosure: I/we have no positions in any stocks mentioned, and no plans to initiate any positions within the next 72 hours. I wrote this article myself, and it expresses my own opinions. I am not receiving compensation for it (other than from Seeking Alpha). I have no business relationship with any company whose stock is mentioned in this article.
Additional disclosure: I actively trade the futures and options markets, potentially taking multiple positions on any given day, both long and short. I also hold a more traditional portfolio of stocks and bonds that I do not "trade". I do believe the S&P 500 is priced for poor forward-looking returns over a long timeframe, and so my trading activity centers around a negative delta for hedging purposes.