The long-run promise of President Trump to pressure China into cutting its trade surplus with the U.S. kicked into high gear on Friday when tariffs on $34 billion worth of Chinese goods were levied by the administration. The Chinese government immediately matched the $34 billion figure with its own tariffs on U.S. cars, soybeans, and lobsters.
On the Macro side, it was a great week. Payrolls flashed 213,000 new jobs in June while the unemployment rate increased to 4.0 percent on the back of an increase in labor force participation - as healthy a reason as any. The ISM manufacturing index increased to 60.2 as activity remained strong with new orders and employment indices also solid.
Market
The market had one of the best weeks this year for total asset returns (the height of the right-most bar in the chart below).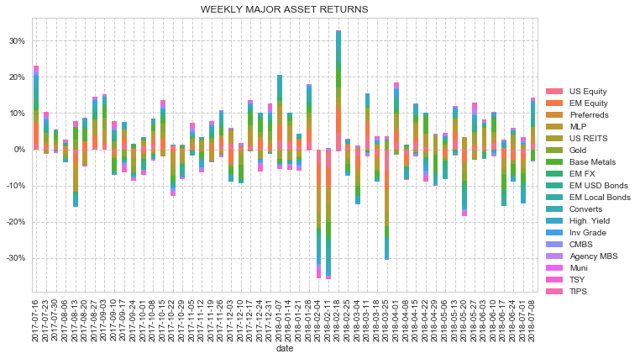 Source: ADS Analytics LLC
Outside of base metals, most sectors finished flat to higher with Emerging Market bonds seeing a partial reversal in the dismal performance of the last few months.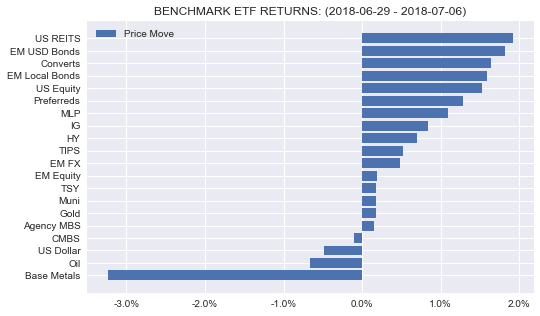 Source: ADS Analytics LLC
This week we introduce a new indicator - Market Alpha Opportunity, defined as the difference between the maximum and minimum sector weekly return. This metric has bounced back but remains off the 2016 highs. We like to see a middle-of-the-road number here as a very high reading is indicative of excessive market volatility and a very low reading is indicative of a lack of diversification in the market.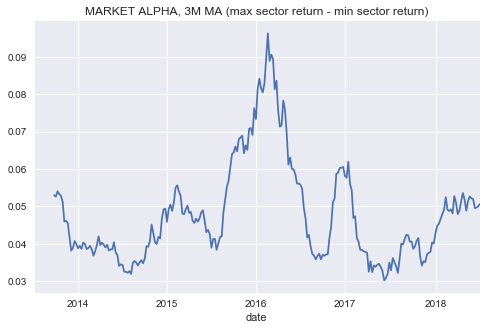 Source: ADS Analytics LLC
Checking up on other market metrics relevant to fund investors - correlation between stocks and bonds remains negative and roughly in the middle of the 3-year range. Although we prefer to track the covariance between stocks and bonds (which also captures the respective asset volatilities), we appreciate that it is less intuitive. Like correlation, it also remains healthy.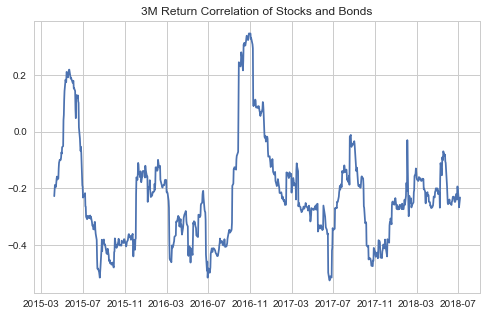 A similar metric we like to follow is the number of trading days in the last three months where both stocks and bonds fell. This reading has retraced as well from the post-election and February highs, both of which saw market weakness on the back of inflation fears.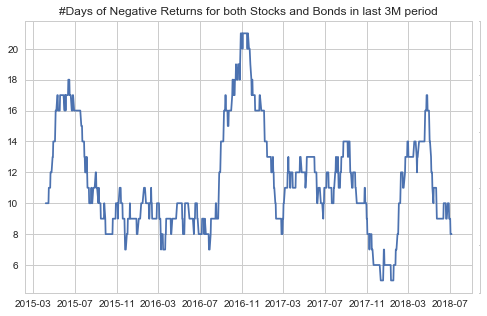 Our conclusion here is that the market has normalized in the last few weeks and months and presents an attractive environment to fund investors.
Fund Space
Looking at the weekly price action in the Fixed Income CEF space - most spread products finished in the green while Govies trailed with slightly negative returns.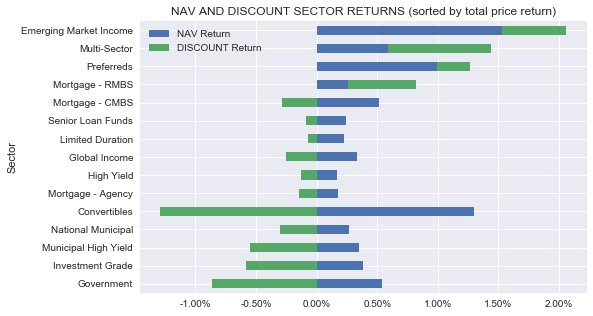 Source: ADS Analytics LLC
Zooming out slightly and looking at the bigger picture of returns and sector stats, the obvious thing that strikes us is that, with the exception of RMBS, 1Y price returns (second column) are, at first glance, fairly middling.
That said, we have to keep in mind that 2018 has delivered volatility that we have not seen in some time. Secondly, 10-year Treasury yields are trading 50bp higher year-on-year which is not the easiest thing to digest for Fixed Income. Thirdly, NAVs have actually delivered a nice return - meaning that wider discounts are presenting an attractive opportunity for entry. Fourthly, wider spreads in some sectors such as High Yield are providing a fundamental valuation anchor.
On this basis, we find the Muni sector particularly attractive at around a -2 Z-score. A cheap valuation of the sector combined with a negative correlation/covariance with equities makes for an attractive combination.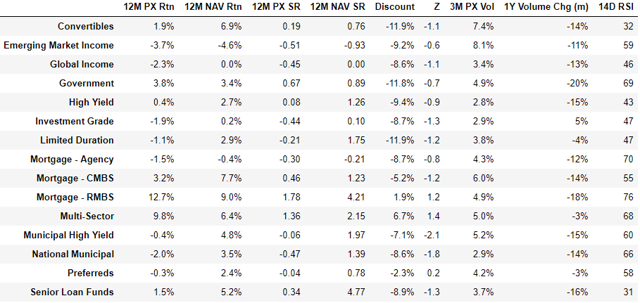 Source: ADS Analytics LLC
We close on a heat map depiction of annual gross price Fixed Income sector returns. The preponderance of yellow coloring in the right-most column echoes a disappointing picture from the previous chart, particularly when compared to the heavily strong (green) returns of 2016 and 2017.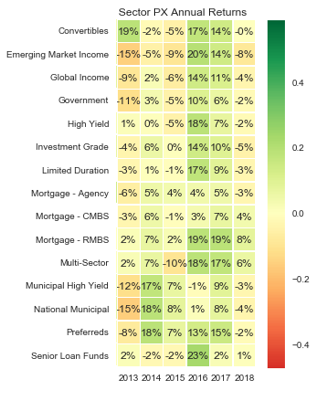 Please let us know what other indicators are important in your investment process.
Good Luck!
Disclosure: I/we have no positions in any stocks mentioned, and no plans to initiate any positions within the next 72 hours. I wrote this article myself, and it expresses my own opinions. I am not receiving compensation for it (other than from Seeking Alpha). I have no business relationship with any company whose stock is mentioned in this article.
Additional disclosure: This article is for information purposes only and does not constitute investment advice or an offer or the solicitation of an offer to buy or sell any securities. Past performance is not a guarantee and may not be repeated. Investment strategies are not suitable for everyone and you should always conduct your own research or speak to a financial advisor. Although information in this document has been obtained from sources believed to be reliable, ADS ANALYTICS LLC does not guarantee its accuracy or completeness and accept no liability for any direct or consequential losses arising from its use. ADS ANALYTICS LLC does not provide tax or legal advice. Any such taxpayer should seek advice based on the taxpayer's particular circumstances from an independent tax advisor.