Technology, historically, goes through phases in sentiment commonly known as the Gartner hype cycle. First, a technology is discounted in its pioneer phase due to lack of applications. Once a proof of concept is established, optimism results in irrational expectations and the sector prices in unlimited potential. When companies fail to meet overly lofty benchmarks, people sour on the industry and forget about until well after it delivers on many of the hopeful promises but on a much longer time frame than previously expected. Then, the technology's profit rises in lines with actual results.
Trading the Gartner hype cycle correctly is an incredibly profitable way to invest in tech companies. While hot fads such as cryptocurrencies and FANGs are rolling off the peak of inflated expectations, the once overhyped 3D printing sector has bottomed out after quarters of earnings misses not living up the hype. Sentiment has collapsed, but the demand for 3D printing solutions has grown at a CAGR of 33.3% for the past 3 years, and the total market size will be $12B by the end of 2018. With the leading companies in the industry only having market caps of ~$1.2B, there is plenty of upside in valuations in the market due to shaking off gloom and doom from years of poor stock performance.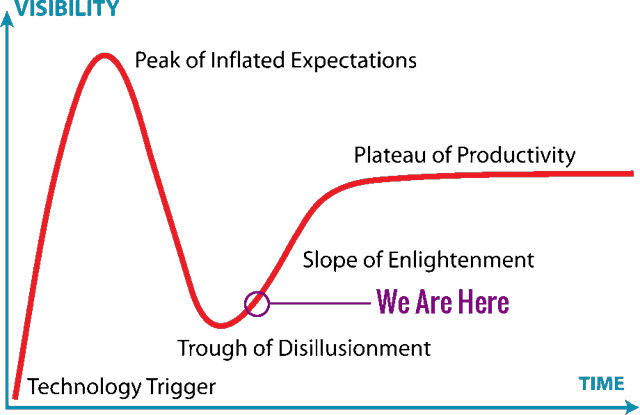 Expected place of 3D printing within Gartner hype cycle
The best of breed stock to go long for the recovery of 3D printing is Stratasys (SSYS). Stratasys is down over 82% from its peak valuation and suffered major losses trying to grow fast enough to match investors' hyped expectations. It didn't work out that way, but operations have cleaned up significantly since bottoming out in 2015. They have a stronger balance sheet than their main competitors 3D Systems (DDD) and voxeljet (VJET) with a miniscule amount of debt (0.02X equity value) and positive free cash flow. Stratasys has also developed a favorable niche in the specialty aerospace parts industry where their fast prototype runs and ability to print custom metallic parts offers a much better value proposition than small custom machine shops which have higher material and labor costs. Deals with companies such as Airbus (OTCPK:EADSF) supplier Indaero and Philips (NYSE:PHG) show some traction to this strategy.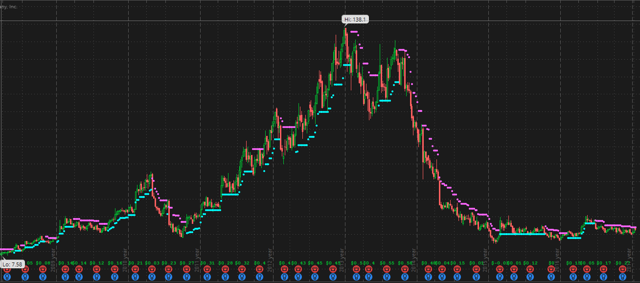 Stratasys stock performance 2009-2010 source: ThinkorSwim
Overall, the future of 3D printing remains bright despite negative sentiment on the stocks. As seen in the chart above, SSYS has done a complete U-turn in stock price since 2010 despite much larger revenues and more applicable uses for its technology. Upside will come from realized potential of 3D printing for specialized parts in aerospace, healthcare, and high-tech industries. The biggest risk to my thesis is valuation on an earnings basis remains somewhat high and a general macro slowdown or rising rates shifting investment into automation back into hiring human labor.
Disclosure: I/we have no positions in any stocks mentioned, but may initiate a long position in SSYS over the next 72 hours.
I wrote this article myself, and it expresses my own opinions. I am not receiving compensation for it (other than from Seeking Alpha). I have no business relationship with any company whose stock is mentioned in this article.