REITs performance has been in the Top 3 performing sectors for 3 out of the last 4 months. For June 2018, REITs had a 5.3% return, which followed a return of 3.7% the previous month. If you were holding on for dear life from July 2017 to February 2018, you will have been handsomely rewarded in recent months and I think that trend should continue. If you waited until March to jump back into REITs then congratulations on excellent market timing.
The average return for all sectors was 1.98% in June and has now been positive for three consecutive months after 2 months of declines in February and March. I'd also note that dispersion has decreased for two consecutive months after hitting 13.4% in April - its highest level since September 2017. What does that mean? A higher dispersion between the best and worst performing sectors could lead to opportunities for outperformance using tactical allocation among sectors. But be careful, choosing incorrectly can lead to underperformance. In April, for example, when the dispersion reached 13.4%, an overweight to Energy (VDE) would have resulted in outperformance versus having an overweight to Consumer Staples (VDC), which lost 3.7% and would have hurt portfolio returns.
We're not proponents of market-timing, especially from month to month, but a gradual increase in REITs over the last 12 months would have been a smart move, just like a consistent underweight in Communications (VOX), which was constantly in the bottom half of performance.
As always, diversification is key.
June 2018 Performance
Our portfolio underperformed the benchmark MSCI US REIT Index (RMZ) for the month of June primarily due to stop loss orders that were triggered. The portfolio ended up with over 30% in cash by the end of the month. As some of you may know, I have been in the process of relocating from Miami to Nashville and in anticipation of not being in front of a computer and keeping a close eye on the portfolio positions, I created relatively tight trailing stop loss orders. When they were triggered, it took some time to reposition the portfolio again, so we missed the recovery by being overweight to cash for a big part of the month.
To contributors to the portfolio were Education Realty Trust (EDR), which is being bought out, and contributed 0.32% to the portfolio after popping 10%+ during the month - followed by Kimco Realty (KIM) which also contributed 32bps to the portfolio as retail REITs recovered. Rounding out the top 5 were American Tower Corp (AMT), Regency Centers (REG), and Monmouth Realty (MNR).
The biggest detractor was Weyerhaeuser (WY) with a -0.17% impact on the portfolio after most Timber REITs declined. Uniti (UNIT) also declined, which detracted 0.13% from the portfolio.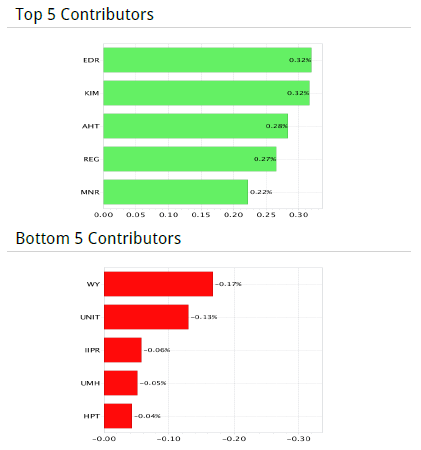 The average weight, return and contribution of each position is shown below: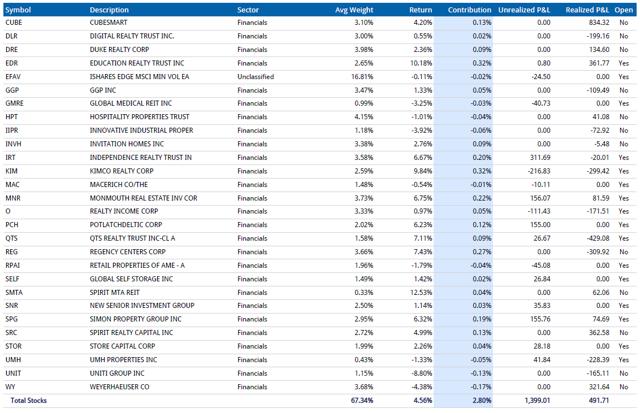 A breakdown of the performance by symbol is shown below:
What we like to see in this chart is dark green towards the left and light green towards the right. If there is any red, we prefer it to be at the bottom right. Except for Hospitality Properties Trust (HPT), with an acceptable -0.04% and Weyerhaeuser, the results for the month were quite positive. Once again, what hurt performance versus the index was a 32% ending balance in cash.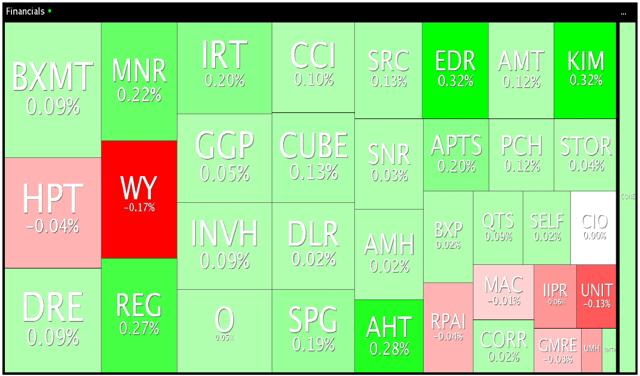 YTD
On a YTD basis, the portfolio is now slightly underperforming the index, after two months of positive, albeit, lagging performance.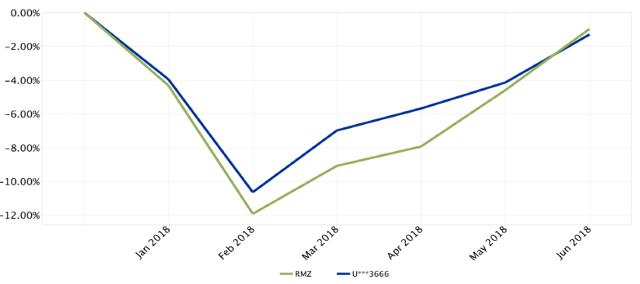 The portfolio has now underperformed the index for two consecutive months during the best performing months for the index in 2018.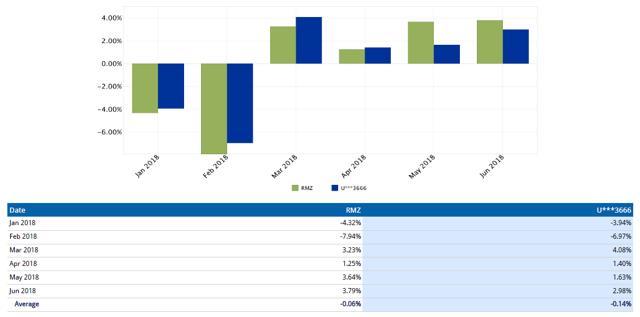 The portfolio continues to exhibit better risk metrics than the index, partly due to active management and partly due to an increase in cash, although that will be temporary. The monthly standard deviation for the portfolio is 3.96% compared to the index's 4.5%. Annualized, that's 13.7% versus 15.2%. The comparison is similar for downside deviation as well.

Performance by Symbol
The leading contributor to the portfolio on a YTD basis is Education Realty Trust, after this month's 10% plus return, followed by Cubesmart (CUBE), as storage REITs have found their mojo again.
A disappointment has been QTS Realty (QTS) which has now detracted 0.84% from the portfolio on a YTD basis, as well as Healthcare Trust of America (HTA).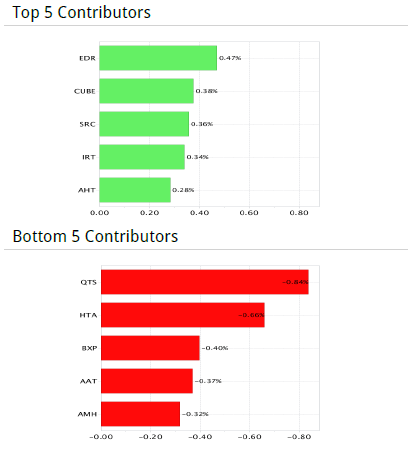 Since Inception
Despite two months of underperformance, the portfolio continues to outpace the REIT index, finally recovering from the drawdown that occurred in the 1 st quarter. The REIT index has still not reached its breakeven point.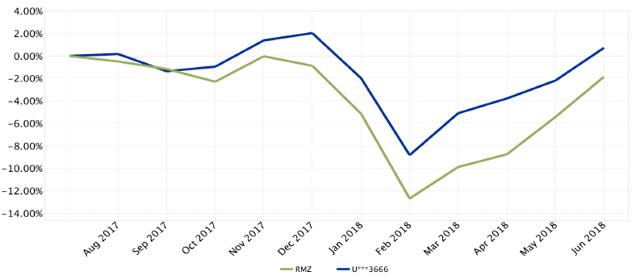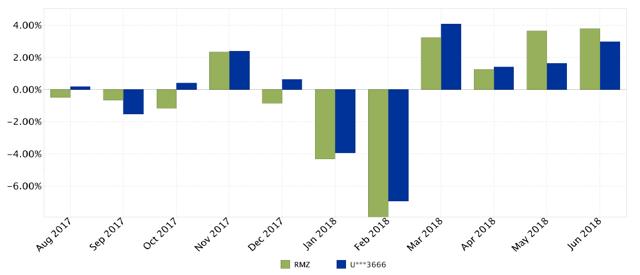 Standard deviation for the portfolio continues to improve relative to the index and is now at 3.05% monthly, which is approximately 10.05% annualized. I'd also like to point out that the portfolio has had 8 months of positive returns over the last 11 months (since inception) versus just 5 for the index over the same period.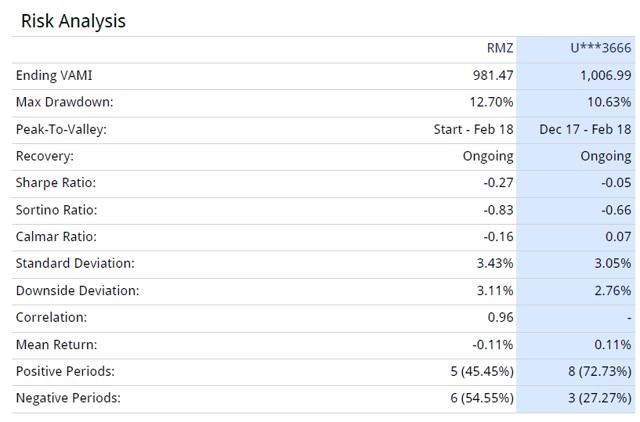 Dividends
Dividends declined slightly this month due to the stop loss sales that were triggered combined with lower scheduled dividend payments from current holdings.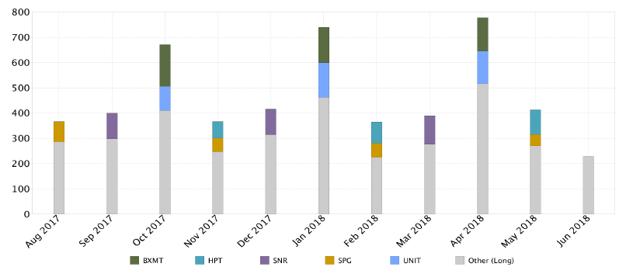 Current Portfolio
Changes to our tactical allocations were as follows: Office REITs was increased 1% from 6% to 7% and still remains an underweight in the portfolio. The weighting was increased because fundamentals, particularly in secondary markets, remains strong, while primary markets have topped out. Industrial was reduced by 2%, primarily due to the perceived negative impact of sales tax implications for online sales. We don't know how this will play out and we could be wrong, but we see quite a bit of fight in the retail sector – it won't go down easily.
With that in mind, Regional Malls was increased to its neutral weight of 8%, while Apartments was decreased 1% to neutral as well. The biggest changes were in Single Family Homes, where we reduced our allocation by 3%, while increasing our allocation to Healthcare by 3%. We think healthcare has been down long enough and you can call it a contrarian play, but we think the demographic trends are too strong to ignore – but the winners and losers are certainly going to be different than what we thought just a year ago.
We also made some slight changes to Data Center REITs, Specialty REITs, and mREITs.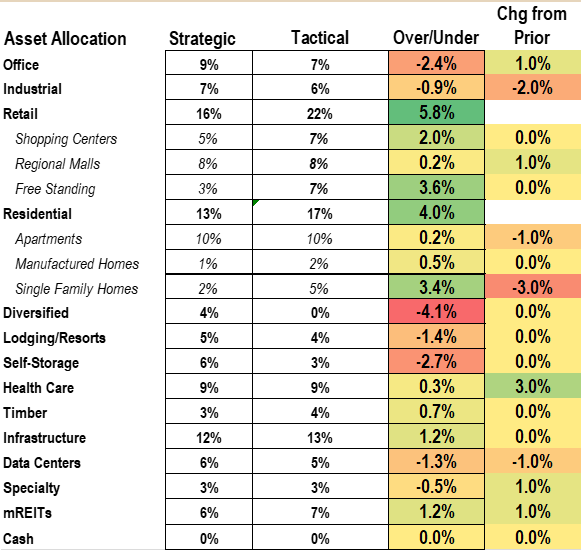 The individual positions within the portfolio are shown below and you will note a 0% allocation to SNR, which is still at 5% within the portfolio. By the time this article is published that position will probably be sold.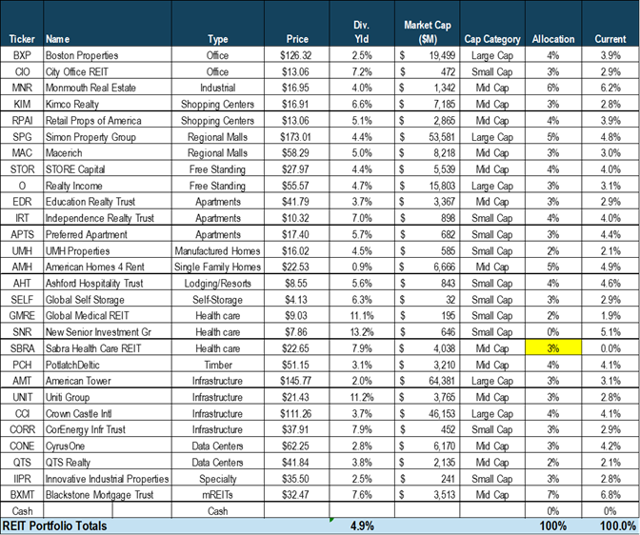 The current breakdown by market cap is as follows and we continue to increase the small cap portion of the portfolio as we focus more of our research on less followed stocks in the small cap space. The portfolio is currently at its highest allocation to small caps since we started it and we intend for it to continue to move from large cap to small cap, although we will never be completely out of the large cap space.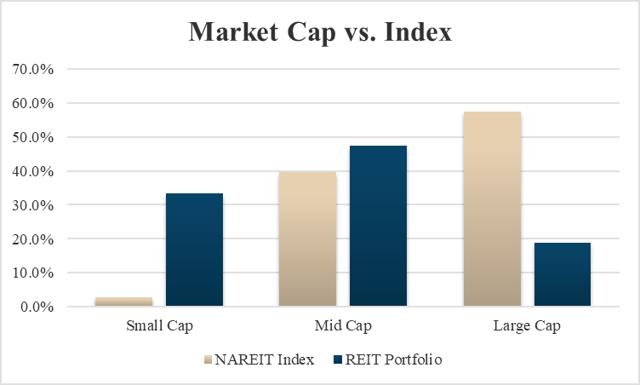 Disclaimer: Please note, this article is meant to identify an idea for further research and analysis and should not be taken as a recommendation to invest. It is intended only to provide information to interested parties. Readers should carefully consider their own investment objectives, risk tolerance, time horizon, tax situation, liquidity needs, and concentration levels, or contact their advisor to determine if any ideas presented here are appropriate for their unique circumstances.
Past performance is not an indicator of future performance.
Investing in any security has risks and readers should ensure they understand these risks before investing.
Real Estate Investment Trusts are subject to decreases in value, adverse economic conditions, overbuilding, competition, fluctuations in rental income, and fluctuations in property taxes and operating expenses.
This post is illustrative and educational and is not a specific offer of products or services.
Information on this blog is not an offer to buy or sell, or a solicitation of any offer to buy or sell the securities mentioned herein, nor is the author compensated by any of the products mentioned.
Information presented is believed to be factual and up-to-date, but we do not guarantee its accuracy and it should not be regarded as a complete analysis of the topics or subjects discussed.
Information presented is not believed to be exhaustive nor are all the risks associated with the topic of each article explicitly mentioned. Readers are cautioned to perform their own analysis or seek the advice of their financial advisor before making any investment decisions based on this information.
Investment decisions should be based on an individual's own goals, time horizon, and tolerance for risk. Nothing in this content should be considered to be legal or tax advice and you are encouraged to consult your own lawyer, accountant, or other advisor before making any financial decision.
All expressions of opinion reflect the judgment of the author, which does not assume any duty to update any of the information
Any positive comments made by others should not be construed as an endorsement of the author's abilities to act as an investment advisor.
Disclosure: I am/we are long BXP.
I wrote this article myself, and it expresses my own opinions. I am not receiving compensation for it (other than from Seeking Alpha). I have no business relationship with any company whose stock is mentioned in this article.
Additional disclosure: BXP
CIO
MNR
KIM
RPAI
SPG
MAC
STOR
O
EDR
IRT
APTS
UMH
AMH
AHT
SELF
GMRE
SNR
SBRA
PCH
AMT
UNIT
CCI
CORR
CONE
QTS
IIPR
BXMT