Given how much time I spent over the weekend talking about the growing disconnect between, on the one hand, U.S. small caps (IWM) and tech (QQQ) and, on the other hand, Chinese equities, emerging market assets and some beaten down sectors in the European market, I wanted to pen a quick update on Monday evening.
By the time this post is published, we'll have a better read on whether Monday's action was more "dead cat bounce" or more "renewed faith in the outlook", but however things turn out, you should note that Chinese equities staged their largest single-day rally since 2016 to start the week. The Shanghai Composite rose 2.5% and the SSE 50 was up nearly 3%.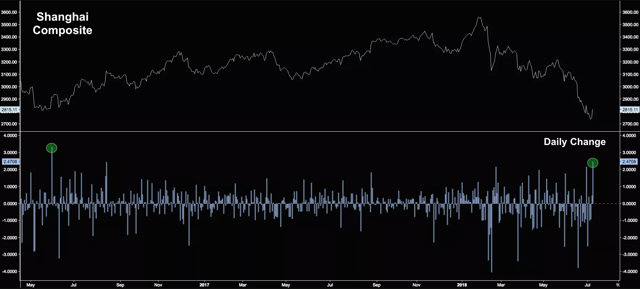 (Heisenberg)
That's small comfort for mainland investors as shares are still sitting in a bear market. Monday's rally came as the Shanghai Exchange actually implored people to buy in what amounted to a blog post. There are some amusing excerpts here, but suffice to say that's not atypical in China. It's the kind of thing you see when authorities want to try less assertive measures first before resorting to overt intervention.
Last week, I wrote a lengthy retrospective of the 2015 crash in Chinese stocks and Goldman was out on Monday with something similar in terms of comparing this time to last time. Anyone who remembers 2015 knows that a repeat of that episode would be catastrophic for global sentiment especially considering it would come against a backdrop of a recalcitrant U.S. President and an unapologetic Fed that seems inclined to hike until there's clear evidence that the slowdown in global growth is materially affecting the U.S. economy. That would mark a stark contrast to 2015, when the Fed delayed hiking in September in order to avoid exacerbating global turmoil emanating from China's equity crash and the subsequent devaluation of the yuan. Here's a quick excerpt from Goldman's piece:
Different starting points: China A shares had an impressive run from 2H14 to 1H15, rallying 65% and 151% 6m and 12m before the peak in June 2015. At its peak, China A shares had total market cap of US$11tn (US$308bn ADVT for June 2015), representing 107% of 2014 GDP, and 41% of US market cap at the time. From Jan 2017 to Jan 2018, while China A shares delivered 26% returns, it was underperforming its DM and EM peers.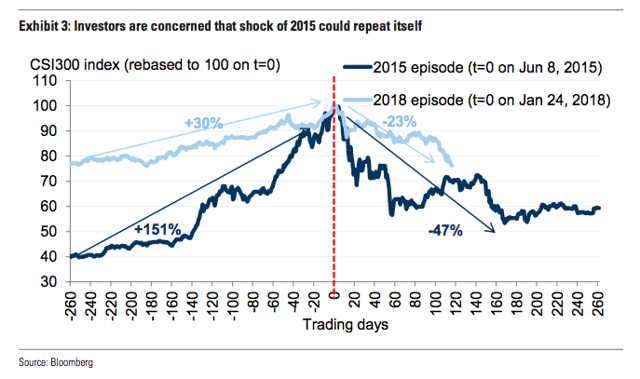 As you can see, the run up to the current bear market wasn't nearly as spectacular as it was in the months ahead of the 2015 crash and Goldman also notes that valuations are much more supportive this time around: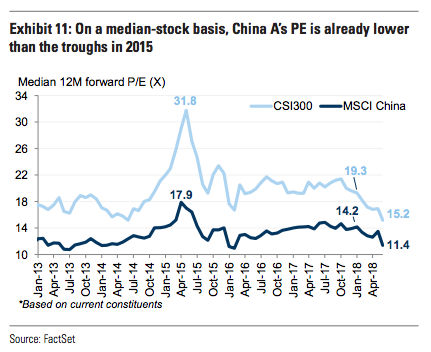 (Goldman)
There's a lot more to this story than that, but for our purposes here, that gives you a decent baseline when it comes to conceptualizing where things stood in 2015 versus where things stand now with regard to the downturn in Chinese stocks.
Most of the commentary I read from traders to start the week clearly suggested folks were viewing Monday's bounce as something that should be sold, and quickly at that, before there's another escalation in the trade rhetoric.
That said, emerging markets are perking up a bit as the MSCI EM FX index (which is attempting to pick itself up off the mat after the worst quarter since 2015) is bouncing off its lowest levels since October: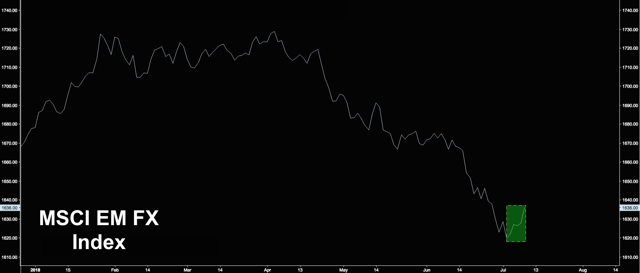 (Heisenberg)
For their part, EM equities (EEM) staged their biggest gain in more than a week. MSCI's gauge of developing nation stocks has now pared its losses since the January highs to under 16%.
There's a raft of data due from China this week that will help set the tone for emerging market assets going forward. One thing you want to watch out for if you're looking for potential stumbling blocks is Turkish President Recep Tayyip Erdogan's decision to put his son-in-law in charge of the economy. Mehmet Simsek was left out of Erdogan's new cabinet and that does not bode well for the lira. Erdogan also issued a decree that seems to suggest he's moving ahead with efforts to take a more hands on approach to monetary policy. All of that is bad for the currency and for the investment thesis in Turkey more generally.
So there are a couple of things to think about on China and EM more broadly.
As for U.S. small caps and tech shares, you'll recall that over the weekend, I made a point of drawing attention to their recent outperformance. You can read my full take on that in the post mentioned here at the outset, but the reason I wanted to bring it up again on Monday evening is because both Morgan Stanley and Barclays were out today suggesting that investors be cautious on U.S. small caps from here.
Morgan's take was similar to my own (more here), but Barclays' took a more in-depth look at the assumption that small caps are actually more insulated in the event we get an all-out trade war than their large cap cousins. The bank's conclusion is that in fact they are not. Here are the key points:
While small caps have lower international sales as a % of total sales than large caps (20% vs 30%), their export/sales is only slightly lower (5.5% vs 6.6%).

Small caps have significantly weaker EBITDA margins, resulting in a higher % of earnings loss for the same increase in costs relative to sales.

While small caps have Export/Sales ratio relative to large caps, their Imports/Sales ratio is much higher. Thus the impact of import tariffs (imposed by the U.S. government) is likely to be much higher than large caps.
In short, to the extent you were basing your preference for U.S. small caps on a surface level analysis of where those companies derive their revenue, your thesis is at least partially faulty.
In their note, Morgan Stanley also cut tech, on the contention that "2Q earnings season will bring an inevitable acknowledgement from companies that trade tensions increase the risk to forward earnings estimates, even if managements don't formally lower the bar." The bank also suggested the space is over-owned and over-loved. It would be hard to argue with that latter characterization.
Amusingly, Monday was a bit of trial run for what it might look like if recent trends reverse. Chinese equities were world beaters, emerging markets stabilized, the Russell 2000 underperformed in the U.S. (SPX +0.9% versus RUT +0.6%) as two of the big boys (Morgan and Barclays) soured on small caps, relatively speaking.
If nothing else, the evolution here is interesting and again, it comes ahead of a deluge of top-tier data out of China and also ahead of Thursday's closely watched CPI print in the U.S.
I would reiterate the point I made over the weekend which is simply that if you're looking for which recent dynamic is most likely to reverse in the near-term, I would think small cap outperformance is as good a candidate as any.
One reader over at Heisenberg Report suggested it might be time to go bargain hunting in Chinese equities, and while I don't entirely disagree, I have serious doubts about whether it's realistic to expect average investors to know enough about the policy crosscurrents in China to make an informed decision in that regard.