England are through to the semis and the nation is dreaming. This time it seems we really do have a chance. I still remember precisely where I was the last time we made it this far. 14 years old, Waddle & Pearce missing penalties, Gazza's tears… damn. My sons are the same age now as I was then and these moments don't come around often, so it would have been criminal not to watch ridiculous amounts of the football together in the last few weeks. So yes, I'm writing this article a week late… but for good reason. It's coming home.
Before I get onto the NAPS Portfolios, I must share my completely failed attempt to win the "Stockopedia World Cup Sweepstake." To cut a long story short, we each had to pick 6 teams with varying payoffs depending on 1) how bad those teams were and 2) how deep they would go into the tournament. For an office like ours, it's a great excuse to go down the rabbit hole developing quant models. My own selections, based on ELO Ratings, have completely failed me. Not only are all my teams out… but I had a bet on Colombia rather than England, which led to my younger son violently punching me when they equalized in extra time. I am forever indebted to Jordan Pickford's fine penalty saves as in an alternate universe Colombia win the Cup, my son never speaks to me again and everyone in the office quits due to my smugness.
For those of you that hate football, aren't English, and are furious that I've even mentioned it, humour me. There are far worse things to theme a NAPS article about… erm… Love Island?
Tournament Performance Record
Just to recap… the NAPS Portfolio was last discussed at New Year where it was bacronymed as the 'No Admin Portfolio System.' It's a fully mechanical 20-stock portfolio of the highest ranked stocks by StockRank, equally diversified across 10 sectors, rebalanced annually. This simple and rather idle investment approach has dramatically outperformed the market in the last three and a half years.
Every July I compare the SNAPS Portfolio, which is the same approach but rebalanced 6 monthly rather than annually. As you can see in the charts below, the NAPS currently has the edge on the SNAPS from a performance perspective.
Year to date this approach has beaten the market comfortably, though not to the dramatic extent seen in 2017. The NAPS & SNAPS are up 4.8% year to date compared to the UK benchmark index (FTSE All Share) which is currently down 0.4%.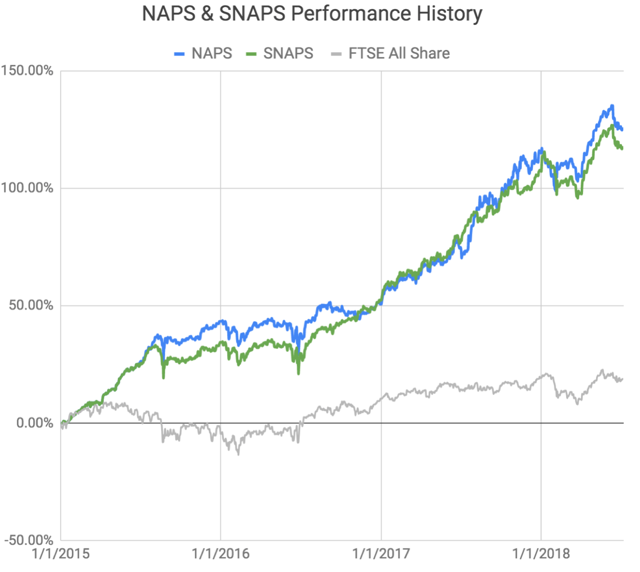 My initial expectation was that the more frequently substituted SNAPS would outperform before trading costs, but probably not after. It's still far too early to draw any conclusions, but the less substituted NAPS seems to be giving more time at the front for its strikers (e.g. last year's IQE & GAW) to flourish. After all if Harry Kane has less minutes on the pitch he can't win the Golden Boot (Gareth Southgate please take note).
Don't bring 5 men to an 11-a-side game
This year's performance has been driven in particular by Plus500 (OTC:PLSQF). It's a stock that many love to hate due to perceived issues in its business model, but it has nearly doubled in six months. The magnitude of its outperformance relative to its peers can be seen in the graphic below.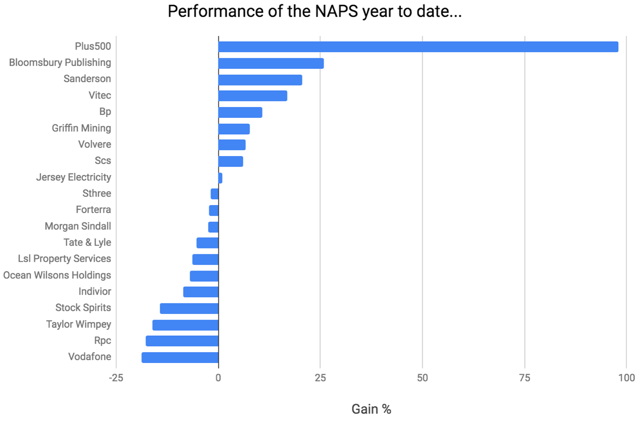 If Plus500 is stripped out of the portfolio, the total portfolio performance is flat year to date; i.e., one stock has provided all of the outperformance in a year which has been pretty average for investors.
There is indeed a lesson here. Asymmetric returns are typical across holdings in stock market portfolios. In any year, just a few stocks will often dominate your returns. Look back at last year's NAPS results and you'll see that GAW and IQE were the main return drivers. Owning a few big winners like these is half the battle to consistently outperforming the market.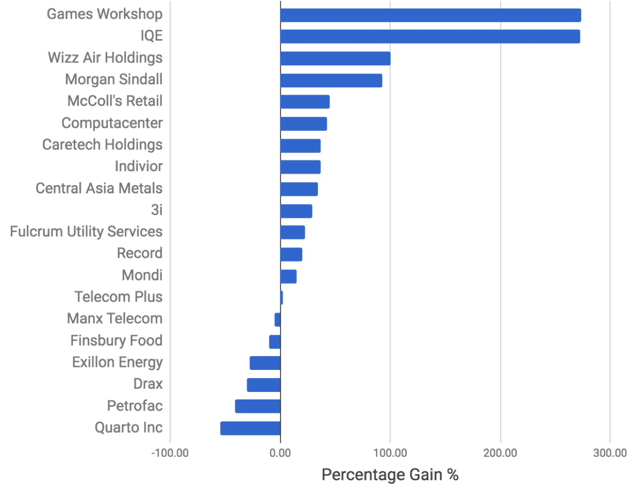 Warren Buffett once said that "diversification is a hedge for ignorance," but I've long thought this was one of the most dangerous quotes in finance. As individual investors we're prone to being wildly overconfident anyway, so it's just reckless of the great man to encourage us to concentrate our portfolios any more than we already do.
Yes, research by Elton and Gruber in 1977 did conclude that most of the gains to be had from diversification come from adding just the first few stocks to a portfolio. They found that owning just 5 stocks gives you 71% of the benefits of diversification (in terms of volatility reduction) compared to the market as a whole.
But this approach to diversification only focuses on minimising risk. It fails to recognise that concentrated stock portfolios have a much lower likelihood of maximising returns; i.e., selecting just a few stocks means a greater likelihood of missing out on selecting big winners and a higher probability of going bust. I go deeper into this idea in an article answering "How many stocks should you own in your portfolio?"
So one of the tricks of the NAPS approach is that it sends its scouts far enough in the hope of signing a Ronaldo. In the last few years, just buying the top 5 shares by StockRank would have led to a far worse performance than buying the top 20 - so casting a broader net pays.
You can't defend with strikers…
Back at the last World Cup I had the idea that a stock portfolio should be constructed like a football team. It sounds a bit daft, but it works quite well as a mental model. You see both activities require risk seeking (attacking) and risk averting (defending) behaviours in equal measure.
In football, this is plain common sense as you are playing against your opposition face to face for 90 minutes. If you don't attack, you can't score goals, if you don't defend, you concede them.
But in stock markets, you often can't see the opposition for years. In a bull market, it seems like there's no opposition. The market just goes up. So naive investors load up their portfolios for the offensive. They pick a team full of strikers - i.e., speculative, small cap shares all in one or two sectors - and as it's a bull market, their portfolios tend to rise. So they pick even more strikers.
But the outcome of this is often disastrous. When the opposition does eventually show its face, in a correction, recession, bear market or worse, these portfolios are completely exposed. Trying to defend with strikers doesn't work. Speculative small caps correct hard and fast. The only type of stocks that do okay in these periods are lower-volatility, quality, defensive shares.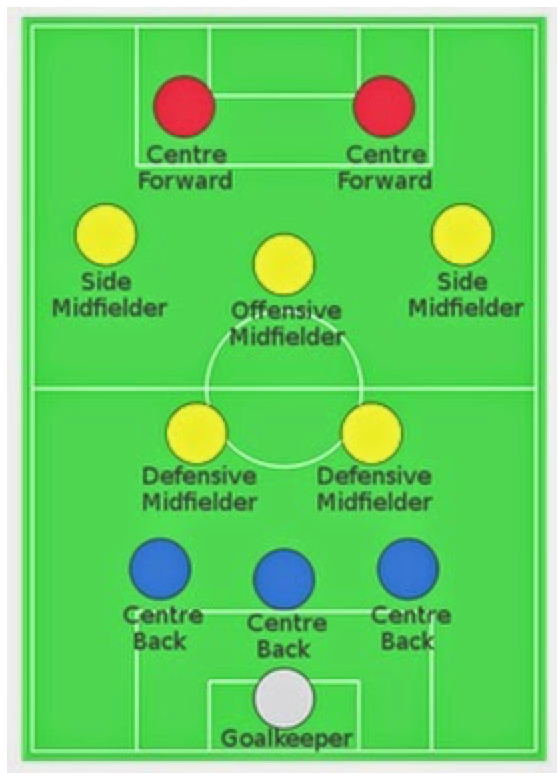 As the timings of corrections are unknown, the only sensible thing to do is build a robust all-weather team; i.e., Purposefully select a balanced team - with strikers (speculative/small cap/cyclicals), midfielders (adventurous/mid cap/sensitive stocks) and defenders (conservative/large cap/defensives).
(Read this brief e-book about the RiskRatings if you'd like to know more on this topic.)
Building your team…
It's not as hard as it sounds with the full toolbox available at Stockopedia. While the suite of StockRanks gives an overall "Opta Player Rating" for each stock, that doesn't help you pick the team. It's the classification systems that help you understand each stock's 'preferred playing position.'
The four most important classifications are:
Sectors (e.g., cyclicals to defensives)
Size groups (small cap to large cap)
Risk Ratings (conservative to highly speculative)
Styles (from super stock to sucker stock)
These classifications are published at the top of all StockReports. In combination they start to sound just like football player types and help enormously with team selection… you wouldn't choose a "highly speculative, small cap, high flyer" as a central defender. If you have then I really can't help you!
So these features give great benefits to discretionary stock pickers, but from the perspective of the NAPS Portfolio, this approach to diversification is systematically baked in. Let's have a look at this year's SNAPS Selections (published below) through the diversification lens.

Although the labels are quite small in that graphic you can see the point. 25% of the 'team' is in conservative & defensive stocks. 40% is in adventurous & speculative stocks. The process this time came out with more large caps than small caps, so there's a bit more experience in this team than usual. Old legs don't tend to run as fast, but they put themselves in less dangerous positions.
The SNAPS Team Sheet 2018… back towards 4-4-2
Long time followers of the NAPS will know that the initial strategy was simple. It was the 4-4-2 of portfolio construction. Select the top 2 stocks by StockRank from each sector. There is nothing wrong with this approach, but it can lead to unusual skews - such as too many microcaps.
Given the popularity of these NAPS articles I felt it wise to be responsible. So I've experimented with adding a few more constraints to spread the positions across size groups and risk ratings. But adding additional diversification constraints can put its own strangle on the selection process, driving down the average StockRank of each selection. It's all got a bit 3-5-1-1.
In constructing the SNAPS Portfolio last weekend, I initially used the same rules I'd used at New Year. But this only selected 15 of the desired 20 stocks above an acceptable average StockRank. So for this year's SNAPS I've gone back towards the basics, dropping the RiskRating & Size Group constraints and using the rules as follows:
A maximum of 3 in each sector, and no more than 1 in each industry group
Minimum £50m market cap & maximum 5% bid-ask spread
Order by StockRank descending
As you can see in the above pie charts, the portfolio that emerges is still well diversified across size groups and risk ratings. So I'm quite comfortable with the spread. There are more lower risk stocks and large caps than usual, but given this year's market is a bit on edge (the opposition is a bit aggressive) I don't think it's a bad thing to be playing a bit defensively.
The benefit of 6 monthly diversification is that the average StockRank (factor exposure) is increased. In theory this should improve the before cost returns… but in practice it's failed to do so so far. The lines in red below show the current StockRanks of the NAPS portfolio versus the new SNAPS in blue. What I tend to do in my own NAPS-style portfolio is rebalance a quarter quarterly - this brings a bit of the benefit of both. I have considered rolling this approach into quarterly NAPS updates and may do in future.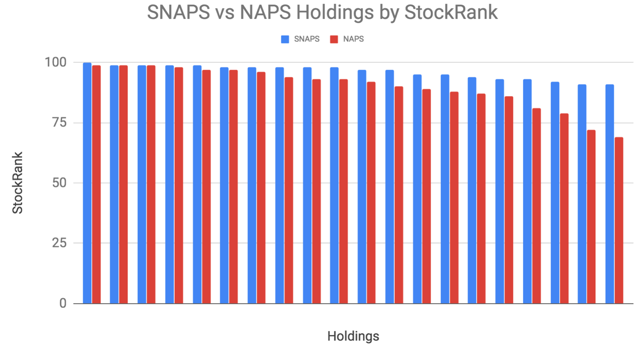 Thanks to Keelan Cooper, who is now on his third internship at Stockopedia, for providing the following company writeups. Keelan had his first internship at Stockopedia when he was 16 after bounding up at a conference and impressing all with his enthusiasm, industriousness and in depth knowledge of all things Stockopedia. He was one of the main researchers of the data set that ended up as our influential Profit Warning Survival Guide - without Keelan's work Lord Lee wouldn't have penned this piece in the FT. I'm always impressed by young people that have their heads screwed on early, the future is extremely bright for Keelan.
Here are the selections:
Basic Materials
Griffin Mining Speculative, Small Cap, Super Stock - Metals & Mining Market Cap: £226.7m, StockRank: 99
Griffin Mining (OTC:GFMIF) has retained its position as one of the top mining stocks in the 2018 SNAPS folio. This zinc, gold, silver and lead miner, operating the Caijiaying Mine in the Hebei Province of China has seen its share price finish this half year at a similar point to where it started off. However, it has continued its impressive financial performance, and last year it broke every record the company had previously set for production, revenues and profits. A potential catalyst for the shares remains the issuing of the mining licence for its Zone II development, towards the south of the Caijiaying Mine, which it has been waiting on for several years now.
Company statement: "It is almost impossible to downplay what has been achieved in 2017… The Company broke every record it had ever previously set."
Mondi Balanced, Large Cap, High Flyer - Containers & Packaging Market Cap: £9.96bn, StockRank: 94
A NAPS regular, the integrated paper and packaging company, Mondi (OTCPK:MONDY) has some of the greatest quality characteristics in its industry. It ranks among the top quartile for returns on capital, returns on equity and operating margins. The company's operations are quite straightforward, it manages its forests and extracts raw materials such as wood fibre, which it runs this through the pulp and paper mills and transforms into packaging and paper solutions. This simple process, which it does better than most in its industry, has given the company a significant cost advantage and has enabled the company to consistently grow its profits year after year. It does look like the company's growth won't be as impressive going forward though, with forecasted EPS growth of 8.63% well below the industry median.
Company statement: "Our outlook for the business remains positive. We continue to experience a strong pricing environment in a number of our key product segments, supported by good demand growth, although we do continue to see inflationary cost pressures across the Group and currencies are currently a headwind."
James Latham Balanced, Small Cap, Super Stock - Paper & Forest Products Market Cap: £143.3m, StockRank: 93
James Latham is a timber and panel products supplier, and this marks its first time in the SNAPS portfolio. The company has experienced a rough first half this year, with its share price falling quite steadily since January. This may have been due to increased cost pressures that the company is facing, and lower volume growth in the company's core product ranges. Despite these difficulties, the balance sheet remains in great shape. The company has net cash, its current ratio is a remarkable 3.21 and this puts the company in a comfortable situation should a recession hit at any point.
Company statement: "Despite the strong start to the year, there is increasing uncertainty surrounding the economic outlook, but we remain confident that we are in a strong position to continue to grow the business."
Technology
Computacenter (OTC:CUUCY) Balanced, Mid Cap, High Flyer - Software & IT Services Market Cap: £1.65bn, StockRank: 95
Taking Sanderson's place in the SNAPS folio is one of Europe's leading providers of IT infrastructure services, Computacenter. The company has been a regular in the NAPS portfolios and it's not hard to see why. It has become a High Flyer with excellent quality and momentum characteristics after seeing its share price more than double since it first entered the portfolio in 2015. Evidently, this has seen the company's valuation starting to drop to unsavoury levels with a ValueRank of 42, and management has said that growth for 2018 looks challenging after a strong 2017. Computacenter does maintain a strong balance sheet though and is therefore well-positioned if it wanted to make any acquisitions to boost growth, or return more cash back to shareholders. Paul Scott wrote about the company back in January after its trading update and seemed to like what he saw (you can read the article here).
Company statement: "While it is still early in the year, the first quarter's performance has been better than expected, particularly for our Supply Chain revenues. This leads the Board to believe that 2018 is likely to be a year of further progress for Computacenter in profitability as well as earnings per share."
Spirent Communications (OTCPK:SPNUF) Adventurous, Mid Cap, High Flyer - Communications & Networking Market Cap: £708.4m, StockRank: 94
Spirent Communications is a leading communications technology company, which focuses on connected devices, networks & security and lifecycle service assurance. It specialises in offering products and services that cater for high-speed ethernet, cloud performance and cyber security as well as mobile networks, data services, and automotive technologies. The financial health of the company is sound (Piotroski F-score 8/9), liquidity ratios outstanding (current ratio 2.07) and growth prospects exciting (forecast EPS growth 22.7%), but its low ValueRank of 38 may argue that much of this has already been priced into the shares.
Company statement: "As highlighted at the full year results and as expected, trading in the first quarter was impacted by the timing of key orders… We continue to expect a heavier performance weighting to the second half of the year… Overall, management's expectations for the year remain unchanged."
Industrials
Ocean Wilsons Holding (OTC:OCWSF) Conservative, Mid Cap, Super Stock - Transport Infrastructure Market Cap: £360.7m, StockRank: 98
This Bermuda-based company operates through two main divisions. Through its 58.25% stake in Wilson Sons, it operates its maritime and logistics services in Brazil. Through Ocean Wilsons Investments Limited, it manages an international investment portfolio currently worth US$274.7 million. Since joining the NAPS portfolio at the start of the year, the company has experienced a largely underwhelming first-half performance. Its shares are trading lower despite it posting an increase in profits, an increase in the value of its investment portfolio, an increase in earnings per share and its dividend. Taking a fundamental view of the company, there really isn't much not to like. It looks cheap, trading on a forward P/E of 11.9, it generates excellent free cash flow P/FCF 6.97, has high operating margins 22.1%, is debt free, and its liquidity ratios are impeccable. The only issue it seems to have is its momentum, with brokers recently lowering their EPS forecasts. There may also be the slight concern over the company operating in Brazil, an economy which has been struggling in recent times.
Company statement: "The Group delivered a strong performance in 2017 from both our Brazilian and investment portfolio businesses… We remain confident of the strength of our businesses and look forward to the opportunities that a growing Brazilian economy will bring."
Keller Adventurous, Mid Cap, Super Stock - Construction & Engineering Market Cap: £730.7m, StockRank: 99
A newcomer to the SNAPS folio is the world's largest geotechnical solutions specialist, Keller (OTC:KLRGY). The company, established in 1860, provides solutions for ground improvement, earth retention, building foundations and provides instrumentation, monitoring and much more. The financial health of the company is improving, and its order book - and bidding activity - remain robust. Currently operating in over 40 countries, the company estimates that the value of geotechnical contracting in the markets in which it operates is currently around $27 billion, giving it scope for further growth. However, as China, Japan, Korea and Russia are non-addressable markets, the company does miss out on a further $25 billion of geotechnical contracts each year.
Company statement: "The Group has positive momentum in all its divisions and remains on course to meet the Board's expectations for the full year."
Royal Mail (OTCPK:ROYMY) Balanced, Large Cap, Super Stock - Freight & Logistics Services Market Cap: £5.05bn, StockRank: 99
Royal Mail has been a consistently high ranking share for sometime now, but this is the first time it has made it into the portfolio. The company is responsible for the vast majority of letter and parcel deliveries in the UK. In fact, operating through its core UKPIL division, it delivers more letters and parcels each year than all of its competitors combined. GLS is the other core division through which the Royal Mail Group operates, delivering parcels in continental Europe and the Republic of Ireland. It ranks strongly across all value, quality and momentum characteristics but does suffer from wafer-thin operating margins (1.54%) due to the increasing competition from new entrants, as well as from established competitors, such as Amazon (NASDAQ:AMZN). The shares started the year very strongly but peaked in early May and fell sharply soon after the company's annual results, which stated that GDPR compliance along with labour market pressures may impact letter volumes and margins for the year ahead.
Company statement: "Trading in the first few weeks of 2018-19 has been in line with our expectations."
Energy
BP (NYSE:BP) Balanced, Large Cap, Super Stock - Oil & Gas Market Cap: £115.56bn, StockRank: 96
Since joining the NAPS portfolio in January, oil & gas giant BP has experienced a volatile few months. Its share price tumbled due to the falling oil prices in late February and March, but recovered again to finish the last quarter strongly. The strong forward momentum is expected to continue with brokers consistently upping their EPS forecasts over the last few months. With oil prices now starting to stabilise at these higher levels, BP should see its profits jump in the coming years. The company just announced its best quarterly results in three years. However, due to the erratic nature of oil prices, one can never be certain if these prices will persist for long. Notwithstanding any huge oil price shocks, BP should build upon its recent strong performance.
Company statement: "We have delivered another strong set of results. Our safe and reliable operations and strong financial delivery have continued into 2018."
Healthcare
GlaxoSmithKline (NYSE:GSK) Conservative, Large Cap, Super Stock - Pharmaceuticals Market Cap: £75.87bn, StockRank: 96
This pharmaceutical giant needs no introduction, from prescription medicines such as Advair and Augmentin, to consumer healthcare products like Otrivin, pain-reliever Panadol and Sensodyne toothpaste, you likely have several GlaxoSmithKline products in your home right now. The company is also a leader in the field of vaccinations, the treatment of HIV/AIDS and dermatology. The share price gravitated lower in the first few months of the year, with uncertainty looming over the potential generic competition to Advair in the US. However, it has picked up in recent months, as their new product launches for the treatment of shingles (Shingrix), HIV treatment (Juluca) and chronic obstructive pulmonary disease (Trelegy Ellipta) have seen encouraging starts. A forecast dividend yield of 5.2% and the best return on equity in its industry are a testament to the quality of this company.
Company statement: "The Group expects to make continued progress in 2018, although the expectation for Adjusted EPS growth is impacted by a number of factors including, in particular, uncertainties relating to the timing and extent of potential generic competition to Advair in the US."
Consumer Defensives
J Sainsbury (OTCQX:JSAIY) Balanced, Large Cap, Super Stock - Food & Drug Retailing Market Cap: £7.07bn, StockRank: 92
A strong performer this year, the UK's second largest supermarket chain Sainsbury's saw its share price rocket 15% at the end of April, when it announced plans to merge with its rival Asda. It is estimated that the combined group would represent 31.4% of the UK grocery market, making it the market leader at the expense of Tesco (OTCPK:TSCDY). The merger is expected to reduce prices for customers by up to 10% for the products they regularly buy, and still create £500 million in synergies for the company. Sainsbury's has also managed to successfully integrate its Argos acquisition, continue its cost savings, and reduce debt over the last year. Its valuation looks particularly appealing, with a price to book value less than 1, price to free cash flow ratio of 10.5, and price to sales ratio of 0.25. The QualityRank of 57 suggests that there is more to be done to improve its returns on capital and operating margins though.
Company statement: "The market remains competitive. However, we are well placed to navigate the external environment and we remain focused on delivering our strategy."
Wynnstay Conservative, Small Cap, Super Stock - Food & Tobacco Market Cap: £98.8m, StockRank: 98
Wynnstay is a provider of products and services to the agricultural industry and the rural economy. It supplies animal nutrition products, fertilisers, and agrochemicals and also operates a retail division to sell specialist products to farmers, smallholders and pet owners. The company is highly cash generative and has a solid balance sheet. Overall, Wynnstay seems well positioned to benefit from the world's ever-growing demand for food production, despite the uncertainty surrounding the UK agricultural industry after Brexit.
Company statement: "Trading remains in line with overall budgets and the Group is well-positioned to meet current market expectations for the full year."
Financials
Hansteen Holdings (OTC:HTHPF) Conservative, Mid Cap, Super Stock - Residential & Commercial REITs Market Cap: £430.3m, StockRank: 98
Hansteen Holdings in a Real Estate Investment Trust, operating predominantly in the UK as well as in France and Belgium, which invests in undervalued industrial property. It currently has 325 properties worth over £818.1 million under management. The company attempts to selectively acquire properties that have high yields and where the potential to add value can be realised through intensive improvement programmes. This is a rewarding strategy that has resulted in record year-on-year realised profits. The sale of the company's German and Dutch assets last year has also benefited its financial health, and it now boasts very strong liquidity ratios. This will, however, lead to an expected drop in profits for the following years if other immediately accretive acquisitions are not made. The industry's fundamental outlook looks positive, with the growth of e-commerce fueling demand for urban industrial and logistics space.
Company statement: "The last 12 months have been an extremely busy and successful period for Hansteen with the three key elements of our business model working well … We continue to believe that our diverse portfolio of urban industrial and warehouse properties presents a relatively rare opportunity in today's property sector to achieve a combination of income and capital growth".
Plus500 Speculative, Mid Cap, Super Stock - Investment Banking & Investment Services Market Cap: £1.84bn, StockRank: 98
The top performer of the NAPS folio this year holds onto its place in the SNAPS rebalancing. Plus500 is an online trading platform provider, offering a wide range of financial instruments such as equities, commodities, CFDs, crypto and forex trading. The company has seen its stock more than double since January, after consistent upward guidance by management. Since the start of the year, phrases like "increased its expectations", "ahead of market expectations" and "materially increased its expectations" have peppered the company's trading updates. After its share price surge, the valuation is starting to look a little stretched, but it still trades on a forecast PE ratio of 10.2x and a forecast PEG ratio of less than 1.
Company statement: "Plus500, a leading online service provider for trading CFDs internationally is pleased to announce that due to a strong Q2, the Board has again materially increased its expectations for the Group's financial performance for the year ending 31 December 2018."
Belvoir Lettings Adventurous, Micro Cap, Super Stock - Real Estate Operations Market Cap: £36.9m, StockRank: 97
Belvoir Lettings manages over 58,000 properties across the UK through its network of 300 franchised lettings and estate agents. The company boasts very strong quality characteristics with high returns on capital and high returns on equity when compared to others operating in its industry. It has impressively managed to grow its profits every single year for the last 21 years, and has a forecast dividend yield of 6.68%. The ongoing consolidation in the industry should continue to benefit the company, however, there is the risk of government regulation affecting letting fees, and therefore future profitability. Our very own Paul Scott likes the profits and the divis but has highlighted the company's weak balance sheet as a potential issue (see his commentary here).
Company statement: "Trading during the first four months of the current financial year has continued well and is in line with the Board's expectations."
Consumer Cyclicals
SCS Adventurous, Small Cap, Super Stock - Speciality Retailers Market Cap: £88.6m, StockRank: 99
Maintaining its place in the SNAPS folio is furniture and flooring specialist SCS. Despite its strong balance sheet, improving profitability and its growing e-commerce platform, the shares have drifted over the past 6 months. This may be in part due to the demise of high street retailer, House of Fraser, from which it operates 27 concessions. The proposed closures of 31 House of Fraser stores, approved in June by creditors, will most certainly have an impact on SCS' future trading. However, the company's comfortable cash position, strong free cash flow and growing online presence should soften any potential blow. There's also the juicy 7.1% forecast dividend yield to be had in the meantime.
Company statement: "Despite the challenging trading conditions, the Group continues to deliver profitable growth and the Board is pleased with the Group's year to date trading, which is in line with its expectations."
Persimmon (OTCPK:PSMMY) Adventurous, Large Cap, Super Stock - Homebuilding & Construction Supplies Market Cap: £7.89bn, StockRank: 99
Previously seen in the SNAPS 2017 folio, one of the UK's biggest housebuilders returns to the fold. The housebuilders have seen their impressive run tail off in recent months, mainly due to slowing growth in house prices, the imminent threat of interest rates rising and Help to Buy schemes ending soon. Despite this, their fundamentals still remain strong and Persimmon is no exception. Persimmon has managed to consistently better its profits year on year since 2012 and it has a massive net cash cushion to fall upon. Its strong cash position has enabled the company to fund a very generous capital return plan, the current forecast dividend yield is an astonishing 9.18%.
Company statement: "Customer activity since the start of the year has been encouraging with the Group's total enquiry levels running c. 13% ahead of the prior year. This has resulted in robust trading since the start of the year with visitor levels to site, sales conversion rates and cancellation rates all running in line with our expectations."
Bloomsbury Publishing Balanced, Small Cap, Super Stock - Media & Publishing Market Cap: £177.8m, StockRank: 99
Another stock to keep its place in the folio is the group renowned for publishing the Harry Potter series, Bloomsbury Publishing (OTC:BMBYF). This mid-sized global publishing house founded in 1986 has been growing aggressively in the last few years through acquisitions, and it's a strategy that seems to be paying off. A strong autumn book line up combined with the recent acquisition of I.B. Tauris & Co.Ltd means that expectations for the 2018/2019 will be well ahead of management's previous expectations. Although the share price has jumped to reflect this optimism, the valuation still looks reasonable.
Company statement: "I am delighted with the performance of our business over the last twelve months. It has been a great year that has put Bloomsbury in a very strong and exciting position."
Utilities
Pennon Conservative, Large Cap, Style Neutral - Multiline Utilities Market Cap: £3.33bn, StockRank: 90
Pennon (OTCPK:PEGRY) is one of the largest environment infrastructure groups in the UK and focuses on Water, Wastewater and Waste management. The Waste management division transforms waste into energy, and produces enough energy to power 400,000 homes. The company's assets are worth around £6.2 billion, but it does carry a large amount of debt too. As a utility company the EPS growth will commonly be uninspiring, however, a forecast 5.27% dividend yield along with a strong track record of DPS growth should provide reasons to be more cheerful.
Company statement: "The Group has performed well in 2017/18, in line with management expectations."
Drax Speculative, Mid Cap, Style Neutral - Electric Utilities & IPPs Market Cap: £1.32bn, StockRank: 90
Drax (OTCPK:DRXGY) replaces Jersey Electricity as the top Utilities in the SNAPS portfolio. The company is engaged in the production of wooden pellets, which it supplies to its Power Generation business to produce electricity. It currently produces 6% of the UK's electricity and 15% of its total renewable electricity. Its impressive recovery, which started the end of February, is largely due to its full-year profits, boosted by its acquisition of Opus Energy, coming in ahead of analysts' expectations. Continued government subsidies, a £50 million share buy-back programme, and excitement building around its bioenergy carbon capture project have all contributed to the forward momentum, its MomentumRank now sits at 93. A forward PE ratio of 23.1 and poor quality metrics suggest a hint of caution though.
Company statement: "We continued to transform the business in 2017, delivering a strong EBITDA performance, in line with expectations. This was delivered by all parts of the business making positive contributions for the first time."
So that's it for the SNAPS this year. Please feel free to comment and give your suggestions, and let me know what additional rules you are using in your own NAPS style investing.
And please feel free to use this thread for world cup musings!